CQ WEEKLY – IN FOCUS
Nov. 12, 2011 – 12:38 p.m.
Obama's Energy Agenda In the Hot Seat
By Margaret Kriz Hobson, CQ Staff
For the past four months, House Republicans investigating a $535 million Energy Department loan guarantee to a now-defunct solar-panel manufacturer have been busy subpoenaing documents, interrogating witnesses and churning out press releases. About the only thing they haven't done yet is question the man who has publicly taken responsibility for the loan guarantee — Energy Secretary Steven Chu.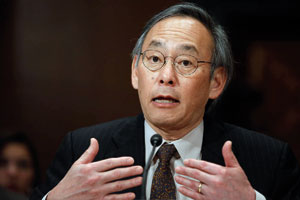 | | |
| --- | --- |
| IN THE SPOTLIGHT: Chu testifies on the Energy Department's fiscal 2012 budget in a May Senate hearing. (CHIP SOMODEVILLA / GETTY IMAGES) |   |
But this week the physicist will testify before a House Energy and Commerce subcommittee. Until now, Chu has not been a main target of the investigators, who are more focused on learning if the White House interceded on behalf of politically connected investors in Solyndra, the California company that filed for bankruptcy in September.
But with conservative commentators and GOP presidential candidate Newt Gingrich calling for Chu's resignation, the secretary finds himself in the hot seat. The White House is standing behind Chu, with presidential press secretary Jay Carney saying recently that Chu has President Obama's "full confidence," although the administration has ordered its own internal review of the loan guarantees.
Political scientist Norman J. Ornstein, a resident scholar at the American Enterprise Institute, doubts Chu will become the "sacrificial lamb."
"Barring some additional revelation, you've got a guy who's never been accused of personal corruption, who's operated fairly independently, from what we can gather, in the department," Ornstein said. "He's a Nobel Prize winner. Unless there is something that comes closer to a smoking gun here than what I've seen, my guess is that he goes through a bit of rockiness but then survives."
But the debate about Chu's role in the Solyndra affair is a proxy for a broader fight over energy policy. Chu has been an architect of the administration's drive to promote clean-energy technologies, although conservatives reject the idea that the government should take on that role. Supporters of Obama's agenda view the Solyndra loan guarantee as a well-intentioned mistake, while critics see it as a symptom of a misguided policy.
"This whole idea that the president is going to reach out to America with 'green' technologies is suspect," said Florida Republican Cliff Stearns, chairman of the House Energy and Commerce Subcommittee on Oversight and Investigations, which is leading the Solyndra probe. "We are a country that has a huge amount of resources in coal, in gas, in oil. The president should realize that green energy is not going to be the solution."
Transformation
When Chu was tapped to join Obama's Cabinet, his marching orders were to completely transform the Energy Department. Since the agency's creation during the Carter administration, its primary responsibility has been managing nuclear weapons research and weapons-site cleanup, as well as 21 national laboratories.
Obama wanted the department to spur on clean-energy technologies that could be developed commercially. Obama said that pursuing clean energy sources would be the department's "guiding principle" and that by appointing Chu, his administration "will value science."
Clean-energy advocates say that during nearly three years on the job, Chu has made significant progress through programs such as the Advanced Research Projects Agency-Energy, which provides seed money for technologies that could create whole new industries. They also applaud his efforts to promote new efficiency standards for refrigerators, air conditioners and furnaces, and his efforts to boost development of advanced batteries.
Chu's biggest challenge has been more financial than scientific. He was told to kick-start the department's flailing loan-guarantee programs created by energy laws in 2005 and 2007. No loan guarantees were made under the Bush administration, and lawmakers were pressing for money for projects in their districts. The 2009 stimulus created a third loan program. Since 2009, the department has provided $35.9 billion in financial backing through all of the programs.
Obama's Energy Agenda In the Hot Seat
"He was given a lot of money to get out in a very short period of time and a bureaucracy that just isn't good at that kind of thing," said Eileen Claussen, head of the Center for Climate and Energy Solutions, formerly known as the Pew Center on Global Climate Change. "Were there going to be mistakes? Absolutely."
Solyndra was the first loan guarantee recipient to go bankrupt, but others are following. More recently, Beacon Power, which made large flywheels that store energy, has filed for protection from its creditors. So has Ener1, a lithium-ion-battery maker that got an Energy Department grant.
'Standard of Excellence'
Supporters of the administration's energy policies praise Chu's overall performance.
"He's done a great job to move the country in the right direction as far as energy policy goes," said Senate Energy and Natural Resources Committee Chairman Jeff Bingaman, a New Mexico Democrat. "He's brought a standard of excellence in science and engineering that has reinvigorated the department."
But critics say Chu's success in reshaping the nation's energy policy is exactly the problem.
"Essentially the charge he's been given is to distort the energy markets to the advantage of certain technologies over others," said Kyle Isakower, the American Petroleum Institute's vice president for regulatory and economic policy. "It's our position — a very strong position — that the government shouldn't be in the position of picking winners and losers in the energy sector."
The politics and economics of energy policy have changed since 2009, when Congress was on the doorstep of restricting greenhouse gas emissions. The 2010 elections swept into power fiscal conservatives, many of whom also find the science of global warming dubious. House Republicans are targeting the Energy Department's renewable energy and research programs for major budget cuts.
Meanwhile, advances in hydraulic fracturing technology to extract natural gas from deep underground have transformed energy markets. New supplies of cheap natural gas — which burns cleaner than coal — have made renewable sources less attractive to power companies.
"The reality is you've got a Republican House and enough Republicans and a few Democrats in the Senate, including those who come from coal states, who are not all that eager to allow [Obama] to move ahead with the green energy future program right now," Ornstein said. "So, Solyndra or not, I think he was going to have more trouble with this agenda."
FOR FURTHER READING: Solar forecast, CQ Weekly, p. 2266; Solyndra, p. 1919; Chu nomination, 2009 CQ Almanac, p. 11-4; stimulus funding (PL 111-5), 2009 CQ Almanac, p. 7-3; 2005 research (PL 109-58), 2005 Almanac, p. 8-4.