CQ WEEKLY – COVER STORY
Nov. 12, 2011 – 1:15 p.m.
An Ailing Postal System
By Rachael Bade, CQ Staff
In 1970, Congress decided that the Post Office needed to be more like a business. It changed the name to the U.S. Postal Service, gave it a degree of independence and sent it on a journey that ended in fiscal crisis a generation later.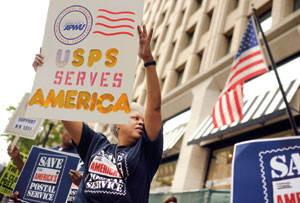 | | |
| --- | --- |
| DEFENDER: Postal worker Gloria Hinton in September supports her union's call for the use of pension overpayments as a cash infusion for the system. (TOM WILLIAMS / CQ ROLL CALL) |   |
In 2006, Congress tried again. It overhauled the Postal Service under the leadership of Rep. John M. McHugh, a New York Republican who declared triumphantly that his bill had provided the agency with "the tools to both act and compete as a modern business."
By 2009, it was at risk again. The Government Accountability Office advised Congress that the service "urgently" needed the freedom to cut costs like a regular business.
Now, with the Postal Service confronting possible insolvency, Congress is considering another overhaul, intended by its sponsors to get Congress out of the way so the agency can, yes, be more like a business.
At issue once again is the Postal Service's confused identity. It is "independent" and gets almost no taxpayer funds for operating expenses, yet it's under the control of Congress. It ought to behave as a business — or some people want it to — but voters see it as a public service.
Consider some telling exchanges on Nov. 9 between Democrats Jon Tester of Montana and Thomas R. Carper of Delaware during a committee markup of the latest postal legislation in the Senate.
Tester proposed a very unbusinesslike amendment capping the salary of Postal Service executives at about $174,000, saying it "could save you about 200 grand."
"You could keep open post offices in towns like Alzada, Dupuyer, Wolf Creek, Willow Creek and Zurich," he said, referring to Montana facilities currently being considered for closure. "That's five post offices."
Carper, a sponsor of the measure, reminded him that the legislation was supposed to give the service the flexibility of a modern business. The Postal Service is huge, Carper said, bigger than FedEx and UPS, which pay their executives millions. It needs a CEO just as capable.
Tester shot back: "If the goal here is to make the USPS into UPS or FedEx, we need to take the 'US' off the front of the 'Postal Service' and just make it the Postal Service. Privatize it. Get done with it." As long as the "US" is there, he said, it's a public service as far as he's concerned.
The committee went on to approve a bill that left the agency somewhere between a business and a service, confused as always, and not necessarily capable of getting itself out of the trouble it's in.
To understand the dilemma of the U.S. Postal Service — and why the difference between a business and a service matters— imagine an airline forced to fly a fleet of 747s each day with the seats half empty. The company would have to downsize fast or go out of business.
An Ailing Postal System
The Postal Service maintains a far-flung fleet of vehicles, too, plus a network of retail locations that outnumber the domestic outlets of Wal-Mart, McDonald's and Starbucks combined, as well as the second-largest civilian work force in America — all created in and for another century. But this huge infrastructure is carrying less and less mail each year, with a decline of 20 percent just in the past five years, for reasons apparent to everyone: email, electronic bill paying and electronic greeting cards.
On top of that, the Postal Service has crushing pension and benefit obligations it can't meet. It has had to borrow $15 billion from the Treasury to stay afloat. The Postal Service "is not crying wolf here," said Republican Susan Collins of Maine, a cosponsor of the Senate bill who has specialized in the agency and its problems.
If worse comes to worst, it may be unable to meet its payroll by next summer and need help from Congress to keep delivering the mail.
Unlike that airline, the Postal Service is not a business. It's under the thumb of Congress, which has dressed it up in a business suit, calling it independent but keeping it tied up, unable to do the downsizing necessary for its survival. Yet it isn't really a government agency either. As a result, the Postal Service is edging toward insolvency.
Former Growth Industry
Postmaster General Patrick Donahoe says the Postal Service needs to cut $20 billion in costs — which is more than a quarter of its fiscal 2010 operating expenses — by 2015. He has a plan to achieve that goal by shuttering hundreds of postal facilities, slicing the workforce by 40 percent, streamlining services and adjusting employee benefits. He also wants the freedom to eliminate six-day-per-week delivery.
But under the law, the service can't cut back on the number of delivery days (which it says could save $3 billion annually) or reduce employee benefits without lawmakers' approval. It can raise mail-service rates on its own, but not faster than inflation. It can close post offices (some 3,700 are now being considered for closing), but not without an elaborate procedure that can drag on for months, involving notice, a period for comment and a period for appeal.
And not without members of Congress being summoned into battle by outraged constituents who seem to believe that the Postal Service is, indeed, a service. Witness just a small sample of the headlines from across the country as the agency studies which post offices to close:
"Rahall Calls for Review of Postal Closures." "Baucus Invites Postmaster General to Montana." "West Virginia Congressional Delegation Warns Postmaster General on Impact of Proposed Consolidations." "In Onslow, Braley Discusses Efforts to Stop Post Office Closures."
The closures represent a fraction of the Postal Service's staggering expanse. Although it has shuttered more than 500 post offices and just under 200 facilities in the past five years, it still has 32,000 retail offices — with 90 percent of its retail revenue coming from only 15,000 locations. It services 151 million addresses per day, processing an average of 563 million pieces of mail. It pays $1.9 billion in salaries every two weeks to about 555,000 career employees. The largest civilian fleet on the planet, with about 215,000 vehicles, belongs to the Postal Service.
Following the strikes and reorganization of the 1970s, the Postal Service saw itself as a growing industry. Revenue and mail volume were on the rise.
Projecting good business well into the future, it grew its workforce by about 252,000 employees from 1971 to 1999, clueless, like so many other industries, about the digital disruption ahead. By 2006, fewer and fewer people were licking the flaps of envelopes, affixing stamps and dropping letters in those blue drop boxes.
An Ailing Postal System
The Postal Service's business is heavily commercial, not so much as a means of communication between one person and another but as a "broadcast" medium through which companies communicate with millions of people.
That's one of the reasons the financial tumult in 2008 hit the Postal Service so hard. It would not recover. Instead, the decline of mail volume accelerated, particularly among users in advertising, financial services and the housing industry.
Postal Service retail revenue dropped about 15 percent over the past five years, producing an estimated net loss of about $10 billion in fiscal 2011, after $8.5 billion in losses in fiscal 2010 and $3.8 billion the year before. Overall, the volume of mail dropped by about 20 percent from 2006 to 2010, the number of pieces sinking from 213 billion to 171 billion annually.
The forecast is bleak, with a projected decline in volume of 15 percent to 34 percent by 2020.
"Prior to 2006, our operational goal was to stay ahead of the growth curve; to ensure that we had the capacity to support the volume increases," postal Chief Operating Officer Megan Brennan said at a news conference in September. "Now, our operational goal is to stay ahead of the cost curve. We're contracting . . . to get ahead of the volume declines."
At the moment, the Postal Service is well behind the cost curve.
According to the GAO, the Postal Service avoided insolvency by the end of fiscal 2011 only by getting Congress to defer a required $5.5 billion retiree health benefit payment to the Treasury.
And although lawmakers deferred the due date for seven weeks, the mail carrier still can't afford to pay the Nov. 18 bill.
The payments are mandated by the 2006 overhaul, which required the service to prefund future retiree health benefits at an accelerated rate to cover several decades — a burden Donahoe has called "onerous" and a cause of much of the agency's liquidity problem.
In addition, the service maxed out a $15 billion line of credit from the Treasury, leaving it with debt and little borrowing capacity.
Game Plan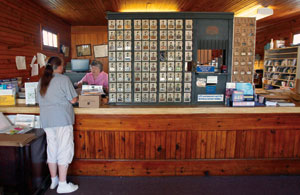 | | |
| --- | --- |
| ON THE LIST: Postmaster Maxine Evans waits on a customer in her Ewell, Md., post office in August. It is among thousands being considered for closure. (MARK WILSON / GETTY IMAGES) |   |
Donahoe has warned as often as he can that, barring relief from Congress — including relief from unnecessary benefit funding obligations — an end to mail delivery "is entirely within the realm of possibility." His recovery plan includes facility closures that would allow for "fuller trucks with less stops," as Brennan described it, starting with the closure of up to 3,700 post offices and half of the nation's 487 mail-processing facilities.
An Ailing Postal System
To replace closed facilities, the Postal Service has introduced what it calls "Village Post Offices," in which key postal services are sold at local retail stores. In addition to permitting customers to purchase postal products and services where they shop, the agency wants to create kiosks to service customers and encourage them to purchase more products online. (Finland's postal service already does this; it also is experimenting with letting customers view their mail online and then decide whether they want it delivered.)
To the dismay of the postal unions, Donahoe said he'll also need to trim the workforce, which currently accounts for more than 80 percent of total costs.
While the service has decreased its workforce through attrition by 200,000 over the past decade, it would like to cut another 220,000 employees by 2015, also by attrition.
In addition to consolidating, Donahoe wants to ditch the service's promise of overnight delivery for first-class mail and modify the requirement to a two- or three-day delivery standard. That might save money, but it could also infuriate some customers who overnight birthday cards and bills and don't want to pay extra for express mail.
Legislative Fixes
Congress is considering two separate and competing legislative fixes for the service. A House Republican overhaul bill, which the service opposes, would set up a commission to make billions in cuts, as opposed to having the agency do the trimming itself. Introduced by Republican Darrell Issa of California, chairman of the Oversight and Government Reform Committee, the bill would transfer power from Postal Service management to another authority if the agency ran a deficit of more than $2 billion for more than two years.
The Postal Service has been more receptive to the bipartisan legislation that the Senate panel approved, which gives it greater flexibility to change its business model, although not the freedom it desires to make its own decisions on reducing deliveries and closing facilities.
Collins says the Senate measure directs the service to "make some painful choices and not simply to slash services and raise prices," which, she adds, would only result in a "death spiral" that would drive away more customers.
The Senate bill would permit the service to use a refund from a retirement account to offer at least 100,000 employees up to $25,000 in buyouts to reduce the workforce. It would create arbitration standards requiring the consideration of the Postal Service's financial condition during contract disputes between unions and the agency, and it would give the service flexibility to brainstorm and create non-postal products that could also bring in revenue.
The bill approved by the House Oversight panel, on the other hand, would free the Postal Service to submit a proposal to the Postal Regulatory Commission to move to five-day delivery within six months of passage.
Last week, in the markup of the Senate Homeland Security and Governmental Affairs Committee, the ambivalence of the past 30 years about the postal agency spilled out as senators debated how much liberty it should have to eliminate Saturday delivery.
"Mail volume is declining because of the permanent shift to e-commerce," said Arizona Republican John McCain, arguing in favor of a switch to five-day delivery. "Let the Postal Service recognize that and make the necessary adjustments."
Kansas Republican Jerry Moran challenged that conclusion. "Is this not a function of the government, to deliver mail? And is it not a role that Congress should play in determining what those standards should be? . . . Is there something unique about the Postal Service that says we do have a role in determining what the standard should be so that Americans across the country have access to the Postal Service?"
An Ailing Postal System
On one side of the argument, the agency and some lawmakers point to a Postal Service study that estimated $3 billion in annual savings if it changed to five-day home delivery. On the other side, the unions, the Postal Regulatory Commission and lawmakers such as Collins view the move away from six-day delivery as a nail in the agency's coffin.
They and other critics believe it could drive away customers who found that they couldn't receive prescription medications and magazines as often as they liked. The commission released a study showing that the $1.7 billion dollars saved by cutting out Saturday deliveries could be wiped out by lost business.
The Postal Service also wants more control over postage pricing. Other countries, it notes, charge more for first-class mail. Norway charges the equivalent of $1.50; Japan, 97 cents; France, 79 cents; Britain, 66 cents.
Privatization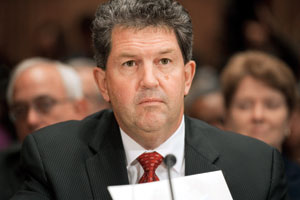 | | |
| --- | --- |
| PUSHING: Donahoe is pressing Congress to loosen control so the Postal Service can make the adjustments necessary to survive. (TOM WILLIAMS / CQ ROLL CALL) |   |
The idea of totally privatizing the Postal Service has been advanced most vigorously by conservative think-tankers.
Michael Crew, director of the Center for Research in Regulated Industries, says Congress, by its nature, will always be one step behind the needs of the mail carrier. In order to stay afloat for the long term, Crew says, the Postal Service needs to have a level of flexibility it won't get with Congress in the mix. "The biggest part of the problem is that the Postal Service is not allowed to operate as a business," he says. "Government doesn't operate like the markets operate."
R. Richard Geddes, an American Enterprise Institute expert and professor at Cornell University, agrees. "Washington's refusal to allow the necessary cost-side adjustments to demand-driven market realities is at the core of the Postal Service's problems," he wrote in an AEI essay published in early November. "However, as long as the fundamental government-owned, legally enforced monopoly structure remains, there is no credible way of eliminating, or even substantially reducing, governmental interference with postal managerial decisions."
But Congress has never been willing to go all the way and "privatize" the Postal Service, and there's no sign of wavering.
Postal Service management is not looking to privatize either. That would mean paying taxes, and the loss of confidence that when in trouble, as it is now, it will not be allowed to fail. Federal agencies, after all, cannot go bankrupt.
Privatization opponents note that the Constitution specifically authorizes Congress "to establish Post Offices and post roads" (Article 1, Sec. 8), with the implication that they are to serve the nation, not private shareholders.
More practically, say Connecticut independent Sen. Joseph I. Lieberman and others, too many people — and industries — are dependent on the service to let it slip. Not everyone agrees that the size and scope of the agency is the problem, anyway.
Postal unions point the finger at Congress' 2006 requirement that the service prefund future retirement benefits, at a cost of about $55 billion between 2006 and 2016.
An Ailing Postal System
The National Association for Letter Carriers (NALC) noted that no other government agency and few businesses have such a requirement.
Without the prefunding mandate, the service wouldn't have lost money, opponents and unions say.
Indeed, according to Postal Service numbers, the agency would have had a $3.3 billion net profit rather than a $5.1 billion net loss in 2007 and a $2.8 billion net profit instead of a $2.8 billion net loss in 2008.
The union contends that the prefund mandate not only endangers the quality of mail service, but also threatens "tens of thousands of good postal jobs."
But the authors of the 2006 postal overhaul say the unfunded liabilities needed to be paid in advance so that taxpayers wouldn't be forced to foot the bill.
Unhappy Letter Carriers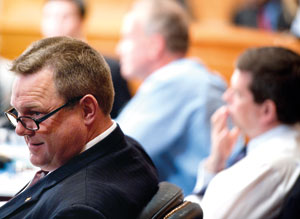 | | |
| --- | --- |
| SKEPTIC: Tester, worrying about small post offices, doubts the wisdom of treating a service as a business. (BILL CLARK / CQ ROLL CALL) |   |
Not surprisingly, the NALC is highly critical of both the Senate and House bills. In a statement, it called the Senate bill "misguided," a job-killer. The Issa bill, it said, "seeks to exploit the crisis to advance anti-worker ideological goals. Radically downsizing the government and gutting the collective-bargaining rights of hard-working postal employees appear to be the main goals of the legislation."
Lawmakers overall seem to support a plan to phase out where possible door-to-door delivery, which requires more time and resources than simpler curbside or mailbox services.
Some lawmakers have suggested Postal Service partnerships with local and state governments so that visitors could go to post offices not only to drop off mail, but also to purchase a fishing license, for example. Great Britain has similar partnerships in which banks and post offices are located in the same building.
Carper put forward a proposal that would authorize the Postal Service to ship beer and wine, as its competitors do. Issa introduced a proposal that would permit the mail carrier to sell advertising on postal facilities and vehicles.
"One of the ways we can help the most is by choosing not to be a 535-member board of directors of the Postal Service," said Carper, who is sponsoring the main Senate overhaul proposal with Collins, Lieberman and Republican Scott P. Brown of Massachusetts.
But in order to compete in the age of the Internet, the Postal Service will have to go beyond the current proposals. "Innovation is needed somehow in the postal area — a form of mail that incorporates all the advances we've seen through Google and Microsoft and fiber optics," Crew said.
An Ailing Postal System
"What we need now is innovation to deal with what the postal service is facing. If you start to lose your market, you either go out of business or you find ways of innovating to maintaining your existing business. Innovation is critical to staying in business ."
FOR FURTHER READING: Senate bill (S 1789) approved, p. 2397; House bill (HR 2039) approved, CQ Weekly, p. 2172; background, 2010 CQ Weekly, p. 671; 2006 overhaul (PL 109-435), 2006 Almanac, p. 11-3.