CQ WEEKLY – VANTAGE POINT
Nov. 27, 2011 – 3:58 p.m.
Selling a Security Risk
By Jennifer Scholtes, CQ Staff
Many on Capitol Hill fear that Huawei Technologies, the world's largest computer hardware maker, is in cahoots with China's People's Liberation Army. So flares have gone up as the company has continued to increase its holdings and edge further into the U.S. market in recent months. With Asian corporations gaining stronger footholds within the technology-device sector, lawmakers are warning that allowing such moves could be a major national security misstep.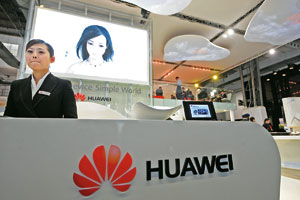 | | |
| --- | --- |
| GLOBAL REACH: Huawei has become the biggest maker of computer hardware — and a security concern. (DENIS DOYLE / BLOOMBERG NEWS ) |   |
Huawei Technologies, known for its popular Android cell phone line and devices such as network switches, announced this month that it is paying $530 million for full control of a joint venture, Huawei Symantec, that it had started with U.S. computer security company Symantec Corp. U.S. lawmakers are worried about a perceived cozy relationship between China and several of its private hardware manufacturers that supply components for American security equipment. They fear that manufacturers could build equipment with the capability to capture calls, email, data and GPS locations for espionage.
Most recently, lawmakers have made a push for the Obama administration to look more closely at Huawei hardware being used in Defense Department systems. Sen. James M. Inhofe , an Oklahoma Republican, has offered two amendments to the defense authorization bill (scheduled to be taken up in the Senate the week of Nov. 28) to bar the department from incorporating equipment from Huawei or its affiliates and requiring that Congress be told which networks already use the equipment.
In August, five GOP lawmakers sent a letter to the departments of Defense and Energy laying out concerns about a recent deal between MPAK Technologies and the University of Tennessee's National Center for Computational Engineering, which has provided research assistance for some of the departments' classified programs. MPAK plans to install Huawei technology at the center.
The contract is a poor fit, the letter said, "given Huawei's close ties to the [Chinese] government and its military and intelligence sectors, its history of alleged corrupt practices and infringement on intellectual property rights, and concerns it may act as an agent for a foreign government."
In a report to Congress this year, the Defense Department concluded that Huawei and two other Chinese information technology companies — Datang and Zhongxing — have close ties to the People's Liberation Army. And this month the U.S. China Economic and Security Review Commission sent lawmakers a report detailing the Chinese government's strategy for increasing its hold on the technology industry. The commission, which Congress created in 2000 to keep tabs on the national security implications of economic relations with China, reported that China's government provides inexpensive loans, tax benefits, utility services and free land to some of its technology manufacturers.
Huawei officials have defended the billions of dollars the company has received from the Chinese government by pointing to the fact that many businesses receive tax incentives and research and development funding from their governments. Bill Plummer, vice president for external affairs at Huawei, said the company's founder and CEO, Ren Zhengfei, left the People's Liberation Army more than 25 years ago. Suggestions that the corporation is somehow connected to the Chinese government are "hogwash," Plummer said.
Virginia Republican Rep. Frank R. Wolf has spoken throughout the year about his concerns with Chinese technology. During a speech on the House floor this month, Wolf said China exports its "repressive technologies to likeminded governments" and noted that Huawei provides components for Iran's government-controlled cell phone industry, playing a role in the uranium-enriching nation's state security network. "It seems that not only is the U.S. failing to change China, but rather, China is changing us," Wolf said.