CQ WEEKLY – IN FOCUS
Nov. 27, 2011 – 4:50 p.m.
Hot Enough to Cook the Bottom Line
By Margaret Kriz Hobson, CQ Staff
Climate changeis re-emerging on the Washington policy stage, driven not only by environmentalists but also by an increasing number of business executives who blame rising temperatures for weather disasters that have taken a chunk out of their companies' bottom lines.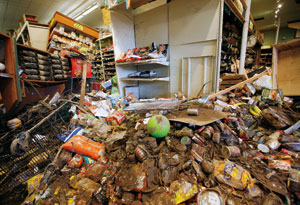 | | |
| --- | --- |
| MARKET FORCES: A supermarket in upstate New York suffers flood damage after a hurricane in August. (MONIKA GRAFF / GETTY IMAGES) |   |
The issue largely has faded from this year's legislative agenda, which has been dominated instead by fights over deficit reduction, government debt and federal regulation. The only serious climate change debates this year have centered on attempts by the House Republican majority to block EPA restrictions on industrial emissions of carbon dioxide.
The effort to rein in the EPA has been pushed by some of the same industry lobbying powerhouses, including the U.S. Chamber of Commerce, that helped kill legislation in the last Congress to cap greenhouse gas emissions and create a market for trading pollution allowances. These business groups argue that mandating a cap on emissions would be too costly and would damage the economy.
But a segment of business leaders contend that global warming, and the extreme weather many scientists link to a changing climate, is the bigger threat to the economy. Recent scientific studies have added urgency to those concerns.
The U.N. Intergovernmental Panel on Climate Change this month concluded that global warming is destabilizing the earth's atmosphere and adding to the severity of floods and heat waves around the globe. According to the report, scientists predict that those extreme weather events will become more frequent if humans keep pumping greenhouse gases into the atmosphere. Another recent study by the World Meteorological Organization estimated that carbon dioxide levels accumulating in the atmosphere are at historic highs. The report said most of the heat-trapping pollution is coming from cars and power plants that burn fossil fuels, the loss of forests that absorb carbon dioxide and land-use changes.
Capital Concern
"This is a capital markets issue as well as a public health, national security and environmental threat issue," said Mindy Lubber, president of Ceres, a coalition of investors and environmental groups focusing on environmental issues. "And it may very well be the capital market leaders that help get us the change we need to start bringing our carbon footprint down."
The insurance industry says the costs of climate change have become tangible, forcing underwriters to increase premiums to recoup payments made for this year's weather calamities. According to the National Climatic Data Center, the United States has suffered a record number of billion-dollar droughts and rainfall disasters in 2011.
"We've seen an increase in the frequency of extreme droughts, extreme rainfall or precipitation events and extreme temperature events," said David Friedberg, chief executive officer of the Climate Corporation, which insures farmers against weather-related losses. "As a result, we've charged more over the past two seasons than we have historically and will continue to charge more as the likelihood of these events continues to climb."
Friedberg predicted that as insurance rates rise, "either farmers are going to make less money and farming is going to become a less sustainable activity, or commodity prices are going to have to climb."
Gulf Coast businesses that have been battered by Hurricane Katrina and other weather problems worry that big storms could become more frequent, further damaging their region. "I look at the Gulf Coast, with its vanishing wetlands and extreme vulnerability, and I see a crisis near at hand yet still within our power to avoid," said J. Wayne Leonard, chairman of Entergy Corp., a utility that provides power to 2.7 million customers in Arkansas, Louisiana, Mississippi and Texas and is the nation's second-largest generator of nuclear power. "We now urgently face the need to adapt to climate change effects such as rising seas and stronger storms."
Hot Enough to Cook the Bottom Line
Some companies say they're struggling with a patchwork of conflicting climate laws that have emerged in various states and local jurisdictions as Congress has delayed a national approach to climate change. "Absent activity at the federal level, we're seeing a lot of states and cities enacting legislation," said Dan Probst, chairman of energy and sustainability services at Jones Lang LaSalle, an international real estate management firm. "Unfortunately it causes building owners to respond differently in each city where they do business. So we'd love to see more engagement at the federal level."
Beyond 'Cap and Trade'
The business leaders have not coalesced around a policy option, although they agree that the cap-and-trade approach considered during the last Congress is off the table. Some are dusting off proposals to discourage U.S. greenhouse gases through a carbon tax. In early November, Entergy's Leonard called for a per-ton fee on all industrial emissions of carbon dioxide.
"We must harness the power of the market, and we must give a fresh look at simpler, tax-based approaches," he said. "One price on emissions could replace a thousand little directives and credits that have essentially gotten us nowhere."
Leonard is not the only advocate of a tax on carbon dioxide. Adele Morris, policy director for climate and energy economics at the Brookings Institution, said economists are suggesting a carbon tax as a way of controlling greenhouse gases while also boosting the federal treasury. "Given the deficit problem and the crying need for new sources of revenue, people are asking, 'Is there an opening for a discussion of the carbon tax?' " she said.
Of course, selling any form of a carbon tax will pose its own political challenges, not the least of which is Republican opposition to anything that could be labeled a tax hike. Opponents of the cap-and-trade bill that passed the House in 2009 succeeded in scuttling Senate negotiations on a companion measure by portraying the model as a business-killer and labeling it "cap and tax." There are still some hard feelings among veteran House Democrats over President Bill Clinton's 1993 effort to enact a broad-based energy tax known as the "Btu tax." The House passed the tax as part of a budget reconciliation bill, only to later watch the proposal be cast aside before it came up in the Senate. Many House Democrats saw that vote as a factor in the Republican takeover of the chamber a year later.
Entergy is working with companies such as Shell and HP to help re-energize the Pew Center on Global Climate Change, a Washington policy group that lost its Pew funding after last year's climate change debate, recently renamed the Center for Climate and Energy Solutions. The center was instrumental in organizing the Climate Action Partnership, a coalition of companies and environmental groups that was instrumental in building support for the unsuccessful cap-and-trade legislation.
Now the policy group is floating a variety of approaches, including a federal clean energy standard that would require utility companies to use some renewable or non-polluting fuels to generate electricity. The Senate Energy and Natural Resources Committee approved a similar proposal in the previous Congress, but the idea hasn't gained traction this year.
Eileen Claussen, head of the Center for Climate and Energy Solutions, said corporate officials are taking a political risk in advocating new greenhouse gas controls at a time when the nation's unemployment rate remains high and conservatives in the House and Senate oppose any new environmental mandates.
"Politically, it's very hard for the companies to say that climate change is a very important issue," she said. "This is a time when they're looking to members of Congress for tax reform and other issues. And yet the companies are not running away; they think it's too important."
Although Congress is unlikely to act on climate change in the foreseeable future, many business executives are convinced that Washington will eventually be forced to address the problem comprehensively.
"People are saying, 'Hey, let's get ready for the next round, which may be a year or two,' " Brookings' Morris said. "Let's do our homework now to think through how we might do this."
FOR FURTHER READING: Senate rejects climate bill, 2010 CQ Almanac, p. 12-7; House passes cap-and-trade bill, 2009 CQ Almanac, p. 10-3; Senate rejects Kyoto global warming treaty, 1997 CQ Almanac, p. 4-14; BTU tax, 1993 CQ Almanac, p. 102.