CQ WEEKLY – VANTAGE POINT
Dec. 3, 2011 – 10:48 a.m.
Trade Group Pay Continues to Rise
By Shawn Zeller, CQ Staff
The recession and the stalled recovery have wreaked havoc on many businesses and their workers. Many Washington trade groups have pleaded for regulatory relief, tax breaks and even bailouts in the name of helping the economy. Executives at the most prominent of these associations, though, are not suffering.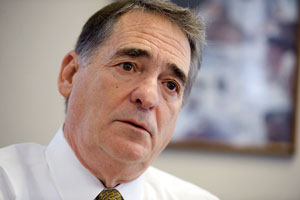 | | |
| --- | --- |
| PAYDAY: Tauzin received $11.6 million the year he left PhRMA. (TOM WILLIAMS / CQ ROLL CALL) |   |
A survey of the top 10 trade groups, ranked by how much they reported spending on lobbying in 2010, shows that median pay for top executives increased by 50 percent from 2007 to 2010. And the payouts would not be out of place on Wall Street: U.S. Chamber of Commerce CEO Thomas J. Donohue took home $4.8 million in 2010. Former Sen. Gordon H. Smith, an Oregon Republican defeated in 2008, was paid $1.4 million by the National Association of Broadcasters — eight times his Senate salary.
Such raises in an economy struggling with 8.6 percent unemployment might seem counter-intuitive, acknowledges Julian Ha, a headhunter for trade groups with the firm Heidrick and Struggles. But, he says, they reflect the fact that "during a down market, the strains of these jobs increase dramatically. These roles become more visible, and trade group members lean on their associations more heavily to get out in front of these issues."
The trade groups contend that the big pay increases were fair compensation for the difficult work their executives took on and for the good jobs they did at it.
Of all the industry groups, none has been closer to the economic morass than the National Association of Realtors. After the housing market collapsed, the average income for real estate brokers tumbled from $42,600 to $35,700 in two years. In Washington, meanwhile, there have been proposals to require at least a 20 percent down payment for low-interest mortgages and talk of eliminating the tax deduction for mortgage interest.
To bolster its lobbying, the NAR hiked their own dues by $40 a year, to $120. They also gave chief executive Dale Stinton a 73 percent salary bump, to $1.9 million a year. Stephanie Singer, a spokeswoman for the association, said Stinton's raise was justified because his "leadership has helped NAR and its members confront these challenges head-on."
This sentiment was common among trade groups. J.P. Fielder, a spokesman for the Chamber, said Donohue's compensation "accurately reflects his leadership of the American business community."
But in certain cases, there appeared to be guiding factors besides job performance.
The biggest payday of all went to former GOP Rep. Billy Tauzin of Louisiana, who was chief executive of the Pharmaceutical Research and Manufacturers of America. Tauzin left the group in 2010 amid a backlash from its members over his handling of the debate over the health care overhaul.
Still, Tauzin received $11.6A million from PhRMA in 2010, far outpacing his peers' salaries. Matthew Bennett, a spokesman for the association, said Tauzin's compensation reflected pay in the "external market from which we would expect to recruit our executives," as well as Tauzin's "skills, performance and responsibilities."