CQ WEEKLY – COVER STORY
Dec. 3, 2011 – 11:55 a.m.
Newt's Next Act
By Richard E. Cohen and Fred Barbash, CQ Staff
As Newt Gingrich has become a leading Republican presidential hopeful, he has pointed proudly to his record during four years as House Speaker. Gingrich contends that with the collaboration of President Bill Clinton he achieved some of the GOP's chief goals. "Under Newt's leadership," his campaign website boasts, Congress passed the first balanced budget in a generation, cut taxes for the first time in 16 years and overhauled welfare.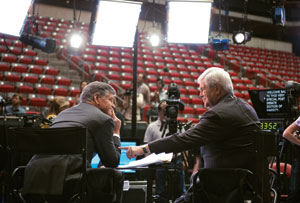 | | |
| --- | --- |
| SPOTLIGHTS ONCE MORE: Gingrich's superior debating skills have helped move him to the top rung of candidates in a debate-heavy primary campaign season that's proven challenging for some of his opponents. (TOM WILLIAMS / CQ ROLL CALL) |   |
Thus, his is a campaign premised on a record of getting things done in a divided government. To a nation weary of congressional paralysis, that's appealing.
It's fair enough, too. Apportionment of credit is always debatable, but things did happen on his watch. The budget was balanced; welfare was overhauled; and taxes were cut.
But if he was that great as Speaker, why did his colleagues try to oust him? Why did Americans give him approval ratings in the 30 percent range during his time in office?
And why do so many politicians and political scientists, when asked when politics got so poisonous, mention Gingrich?
He brings a history of unrelenting partisanship, which Americans do not like and which is not, on the surface, compatible with ending gridlock. No one, for example, was surprised when in a recent book, "To Save America," Gingrich called the Obama administration and congressional Democrats a "secular socialist machine" that "represents as great a threat to America as Nazi Germany or the Soviet Union." His careless words continue to trip him up. Had he not suggested that Massachusetts Rep. Barney Frank be jailed for his close relationship with lobbyists for Fannie Mae and Freddie Mac, how much would people care that, as it turned out, Gingrich was once on the Freddie Mac payroll?
But his most historic achievement was about winning — the 1994 congressional election — and finding ways to win.
And among the chief lessons of Gingrich's time as Speaker is this: Being partisan and being effective are not necessarily incompatible, as long as each side feels it has something to gain. That was best illustrated by one of the acts Gingrich claims as a major achievement: an overhaul of the nation's welfare law, the first significant entitlement revamping since the New Deal.
The welfare bill was a product of competition more than collaboration. Clinton and Republicans worked on separate tracks, each hoping to maneuver the other side into capitulation.
The new law, signed by Clinton on Aug. 22, 1996, ended the federal guarantee of providing welfare checks to all eligible mothers and children. Instead, states were allowed to create their own welfare programs within certain federal restrictions, such as new work requirements and time limits on welfare benefits.
"Welfare reform" had been a hot topic for two decades as enrollment in the program grew, along with the costs, and there was considerable public resentment at the idea of people who were not working getting long-term federal benefits at the expense of those who were.
Indeed, both Gingrich and Clinton had spotted welfare early in their pursuit of national office as a field where they could make a mark.
Newt's Next Act
Gingrich's interest was openly partisan. Early focus groups, sponsored by Gingrich's political action committee, GOPAC, had established welfare as a "hot button" that could be used for GOP advantage to differentiate the left from the right without actually using those terms, which it found Americans dislike because they connote conflict.
While Americans don't want open conflict, said a GOPAC memo based on the survey, they can be roused by welfare because they "see a system that allows the 'able bodied' to exist on the efforts of others as clearly wrong."
Thus, Gingrich made a welfare overhaul one of the priorities of his "Contract With America," the legislative agenda of promises that he and dozens of other Republican candidates for Congress successfully used to take over the House in the 1994 election.
Clinton likewise had promised a welfare overhaul — to "end welfare as we know it" — as part of his 1992 presidential campaign.
So the Speaker of the House and the president had a common goal.
But they were not close to agreement on a bill until 1996, when both were in weakened states. Clinton had received a drubbing from Gingrich and the GOP in the 1994 midterms, which gave Republicans control of both chambers.
Gingrich, for his part, was experiencing plummeting approval ratings thanks to his role in the government shutdowns of 1995 and 1996, for which the public generally blamed him.
Weakened States
By the summer of 1996, Clinton had vetoed two Republican welfare bills and was threatening to veto a third, primarily because Republicans had coupled it with a revamping of the Medicaid health program, which Clinton called a "poison pill." In order to get a presidential signature, Republicans understood they would have to send Clinton a stand-alone welfare bill, separate from Medicaid.
On the eve of the 1996 political conventions, with Sen. Bob Dole challenging Clinton for the presidency, Gingrich and his colleagues in Congress did not want to give Clinton the opportunity to argue that Republicans couldn't finish the job of overhauling welfare and, by implication, all the other jobs of governing.
Clinton, for his part, wanted to go into the general election having delivered on his 1992 promise of ending welfare "as we know it."
Gingrich's role in unlinking welfare from Medicaid was his most significant tactical contribution, according to a book by Ron Haskins, a Republican aide to the House Ways and Means Committee at the time and now a Brookings Institution scholar. First, Gingrich sent out a forceful letter to House Republicans — many of whom owed their seats in part to him — urging them to approve the separation. Then, along with leadership lieutenants Dick Armey and Tom DeLay, both representing Texas, he worked the floor. "They didn't have to say much," Haskins wrote in "Work Over Welfare: The Inside Story of the 1996 Welfare Reform Law."
"Just seeing the leaders on the floor showed our members how high the stakes were. . . . They knew unity was the key to legislative success," wrote Haskins.
Newt's Next Act
Once the bill passed both chambers, Clinton announced that he would sign it, angering many of his supporters on the left.
Gingrich did not miss a partisan beat. At a news conference on July 31, 1996, he chided Clinton for delaying enactment of the welfare overhaul, saying Republicans really deserved the credit for "a dramatic shift here toward a much more common-sense, practical welfare reform bill that the American people support."
Assessing Gingrich's role, Haskins credits him with "heating up the kettle" on the subject long before he was Speaker. On welfare and other topics, he writes, Gingrich's role was "to brew a set of ideas for reform of many federal programs . . . and to spread these ideas among many Republicans in the House — and even more important, among Republican candidates for Congress. Gingrich's primary genius was leadership," in the sense of "thinking up a million ways to surround his acolytes with his ideas and convince them that with these ideas they could conquer the world — or at least break the Democrats' stranglehold on the House."
Contract With America
Breaking the stranglehold and replacing it with a Republican majority was easily Gingrich's most historic achievement. Clinton, in his memoir, "My Life," said the Contract With America that Gingrich drew up for the 1994 campaign proved that he was "a better politician than I was. He understood that he could nationalize a midterm election with the contract, with incessant attacks on the Democrats. . . .The nationalization of midterm elections," Clinton wrote, "was Newt Gingrich's major contribution to modern electioneering."
When Republicans in 1994 unexpectedly won House control with a 54-seat gain, it was a remarkable accomplishment for the party and a singular success for Gingrich. Democrats had held the House majority for 40 years — the longest period of one-party control in the nation's history. Many Republicans were so despairing of their fate that two political scientists at the time wrote a book, "Congress' Permanent Minority? Republicans in the U.S. House."
For Gingrich, his rise capped eight terms in the House: the first decade as an occasionally bomb-throwing back-bencher who had few legislative achievements while pushing for bolder policy and political actions, plus nearly six years as minority whip. He captured the latter post by two votes as the insurgent candidate backed by a cross-section of members demanding more aggressive leadership.
The Gingrich Plan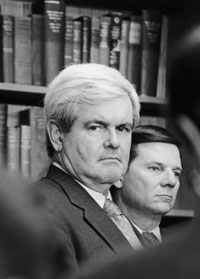 | | |
| --- | --- |
| RIVALS: DeLay of Texas was among the plotters in a failed attempt to oust Gingrich in 1997. (20TH CENTURY / CQ ROLL CALL) |   |
As whip, Gingrich occasionally clashed with senior Republicans in Congress and President George Bush — in particular, opposing tax hikes in the landmark 1990 bipartisan budget deal. Under pressure from Gingrich, House Minority Leader Robert H. Michel of Illinois in late 1993 announced his retirement, which opened the door to the Georgia Republican's takeover of his party.
The House GOP's 1994 campaign was crafted by Gingrich at the national level, and he worked exhaustively with many of the party's successful challengers on recruiting, training, fundraising and communications.
"There is no close historical comparison to Newt Gingrich's role in leading the House Republicans to their majority," wrote Ronald M. Peters Jr., author of several books on House Speakers. "From the perspective of House Republicans, their majority was due to Gingrich's leadership."
To some extent, Gingrich was building on GOP accomplishments under eight years of President Ronald Reagan. With his typical bravado, Gingrich said in a 1986 interview that Reagan's success represented only the first stage of the Republican revolution. "He is the brilliant articulator of a vision that will take a generation to sort out," Gingrich said at the time, the implication being that Gingrich was the one who would do the sorting.
Newt's Next Act
That was in fact exactly what he had in mind, and it's what comes through most vividly in some 1,200 pages of documents made public in 1997 by the House ethics committee. The memos and notes, some in Gingrich's handwriting, showed Gingrich and his allies at his political action committee, GOPAC, as they planned for a long and powerful future of conservative rule.
It's hard to picture other politicians — say, Mitt Romney, or even Barack Obama — hunched over a desk, pen in hand, weaving dreams and schemes for a long-range assault on enemy territory, complete with a marketing slogan. He called it "Renewing American Civilization," but made clear that it was also about renewing the Republican Party.
In early 1990, GOPAC, at Gingrich's instigation, came up with two new projects designed to spread the Gingrich message. One was a television production called American Opportunities Workshop, which would be broadcast in 600 cites to roughly 20,000 people. It was targeted to non-voters, in the hope of persuading them to become Republican voters. The other was a college course to be disseminated around the country.
"The fact that 50 percent of all potential voters are currently outside politics (non-voters) creates the possibility that a new appeal might alter the current balance of political power by bringing in a vast number of new voters," he wrote in a memo. "It is possible to articulate a vision of 'an America that can be' which is appealing to most Americans, reflects the broad values of a governing conservatism and is very difficult for the Democrats to co-opt because of their ideology and their interest groups."
The enterprise would have Gingrich at its center, doing the thinking, appearing on television and teaching the courses.
Those who didn't already know Gingrich were soon to discover that in addition to the compromising Newt, the partisan Newt and the scheming Newt, there was the ego Newt.
Styling the Speaker's job as that of a prime minister and virtually the equal of the presidency, Gingrich in January 1995 said, "the potential is there to define a new vision" for Congress that would supplant a presidency "that has, temporarily at least, lost its sense of authority with the country."
Perhaps Gingrich's most famous utterance was a complaint about his being seated in the back of Air Force One with Senate Majority Leader Bob Dole on the way to the November 1995 funeral for Israeli Prime Minister Yitzhak Rabin. He suggested as well that the arrangement may have complicated the budget negotiations (which ultimately produced two government shutdowns).
"Both us got on that airplane expecting to spend several hours talking about the budget and how do we avoid the shutdown," he said. "Every president we had ever flown with had us up front. Every president we had ever flown with had talked to us at length."
At that point, Gingrich's public approval ratings began to sink and never recovered.
1997 Coup Attempt
Gingrich also stirred up the House. Bolstered by an army of Republicans indebted to him, he centralized power more than any Speaker since the House revolted against the rule of Illinois Republican Joseph G. Cannon, who held the office from 1903 to 1911. He shaped the legislative agenda, firmly commanded the House's institutional structure and became a prominent national figure.
By July, 1997, an attempt to oust Gingrich as Speaker was under way, encouraged by Majority Whip DeLay — a longstanding Gingrich adversary, including in GOP leadership contests.
Newt's Next Act
Other leaders — including GOP Conference Chairman John A. Boehner of Ohio — complained about the lack of communication and about the Speaker's cooperation with Clinton.
In retrospect, South Carolina's Lindsey Graham, then serving in the House, said, "we probably let him down. But a lot of it was due to the structure he created. He ran everything."
Gingrich's woes made him ripe for second-guessing. In turn, he often had a thin skin about criticism. "Newt could be vindictive toward those who didn't follow him," recalls former Republican Rep. Peter Hoekstra of Michigan.
"The congressional GOP is less homogeneous and more complicated than it may seem," scholars William F. Connelly Jr. and John J. Pitney Jr. wrote in a 1999 article, "The House Republicans: Lessons for Political Science." "Once they voted on the Contract, they were bound to start squabbling again." In particular, many of the junior members worried that Gingrich was too willing to compromise with Democrats.
"After the coup attempt, Newt felt that he had to respond to the conservatives," says former Rep. Christopher Shays, a Connecticut Republican. "Politically, that was a huge mistake. It got us off message with the incredibly positive things we were doing."
Gingrich's greatest ordeal, however, stemmed from GOPAC's ambitious plans to promote Gingrich and his message. Finding themselves without the money to pay for the effort, GOPAC's officers had turned the projects over to nonprofit organizations under their control.
The use of those nonprofits for political activities would, in 1997, form the basis for a highly publicized House ethics committee investigation and reprimand of Gingrich that culminated in his embarrassing agreement to pay a $300,000 penalty.
He had set himself as a target for close scrutiny following the ethics charges that he brought in 1987 against Speaker Jim Wright, which resulted in Wright's 1989 downfall.
"Democrats used it against him that he agreed to pay a fine, and they said that he broke the law," Shays says. "They made it seem like he did something horrific. That weakened him."
'A Post-Newt World'
That did not stop Gingrich from contemplating a run for the White House. In an August 1998 interview with CQ, he said that was "something to think about at the last possible minute. . . . We have to wait and let the field sort itself out."
That in turn, produced more grumbling from party rivals. "We're living in a post-Newt world," Graham said at the time. "This chapter of the book is eventually coming to an end. When he talks about presidential ambitions, he has to know that has an effect."
In the 1998 midterm election, the GOP lost five House seats, leaving them with the smallest majority since 1953. The 106th Congress started with 223 Republicans, 211 Democrats and one independent in the House. A national exit poll put Gingrich's approval at 36 percent.
Newt's Next Act
On the Friday afternoon after the election results, Appropriations Committee Chairman Bob Livingston, a Louisiana Republican, announced that he would challenge Gingrich for the Speaker's post in the new Congress. For more than 48 hours, GOP members,including Gingrich, had been talking with each other about the causes and implications of the election setback. When former allies told him that he could not rely on them for support, the die was cast.
Early that evening, Gingrich issued a brief statement that he would not be a candidate for Speaker. "The Republican Conference needs to be unified, and it is time for me to move forward where I believe I still have a significant role to play for our country and our party."
He largely sat back in the next two months as DeLay became the GOP leader who drove House action on the charges against Clinton.
The idea of a 2012 Gingrich presidential campaign was hardly surprising to those who had followed his career. Before he stepped down as Speaker, the news media were rife with speculation that he would run for the open seat in 2000. Some characterized his 1998 "Lessons Learned the Hard Way" book as making the case for his candidacy. Earlier, he sparked a flurry of speculation when he and Clinton in June 1995 traveled to New Hampshire to debate the nation's agenda.
It is difficult to draw conclusions from Gingrich's Speakership about what kind of president he would be. James K. Polk, a Tennessee Democrat, is the only former Speaker who also served as president. He was elected to the White House in 1844 after stepping down in 1839 following four years as Speaker.
In the past century, the closest parallel may be John Nance Garner, a Texas Democrat who served eight years as vice president under Franklin D. Roosevelt after a two-year stint as Speaker. But Garner was chiefly a backroom operator and was little-known nationally.
Leadership of the executive branch, no doubt, requires different skills than legislative leadership. Even with the frequently close scrutiny that Gingrich attracted as Speaker — and is receiving in his current campaign — actions and statements from the White House typically receive intense levels of attention, both at home and abroad.
Perhaps an apter model for Gingrich is President Woodrow Wilson, a Democrat and Virginia native who had been a political science professor and president at Princeton University before gaining executive experience as governor of New Jersey. Both men "dreamed of responsible party government," Connelly and Pitney wrote. And each "favored politics of grand ideas, rhetoric, partisanship and political education," and also suffered from intraparty conflicts. In what will be the centennial of Wilson's first election, next year's contest may well evoke broad discussions of "party government."
Given his radical reshaping of the Speaker's job — much of which California Democrat Nancy Pelosi and her successor, Boehner, have embraced in their separate ways — Gingrich's potential victory next year would open new vistas for the presidency.
For now, of course, that prospect is highly speculative, although the odds have increased in recent weeks.
There remains ambivalence about Gingrich in the tempered comments of his former allies. "Newt did something amazing," says Shays, who worked with Gingrich and a handful of others for nearly two years before the 1994 election to prepare their game plan. "Sometimes it went left. Sometimes it went right. It went up. And it went down. It might have been better to be more consistent," Shays says. "But he was the most interesting person I ever worked with on many issues."
"To lead Republicans to the majority after 40 years and collaborate with Clinton, you need the energy and excitement from a tight rubber band," says Hoekstra, who was a close ally of Gingrich during much of those four years. "Occasionally the rubber band became too tight and broke." The effect, he adds, "was that we became dysfunctional. But we still got things done because of Newt's leadership. No one else could do that."
FOR FURTHER READING: Gingrich's rhetorical style, CQ Weekly, p. 1114; resignation as Speaker, 1998 Almanac, p. 7-4; reprimand and coup, 1997 Almanac, p. 1-11; welfare overhaul, 1996 Almanac, p. 6-3; GOP takeover, 1994 Almanac, p. 14.