CQ WEEKLY – IN FOCUS
Dec. 3, 2011 – 12:29 p.m.
Would a Sequester Really Be So Bad?
By John M. Donnelly, CQ Staff
There has been no shortage of apocalyptic warnings about what would happen to the U.S. military under the forced-spending-cut mechanism known as sequestration that is set to begin in January 2013.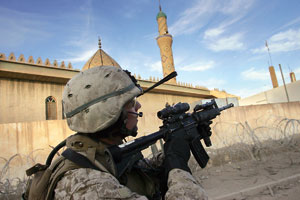 | | |
| --- | --- |
| FLASHBACK: Sequestering the defense budget would return it to the level of fiscal 2007, when the U.S. military was engaged at peak levels in two wars: one in Iraq, above, and another in Afghanistan. (JOHN MOORE / GETTY IMAGES) |   |
Defense Secretary Leon E. Panetta has repeatedly called it a "doomsday" scenario that would leave America essentially defenseless. "It's a ship without sailors. It's a brigade without bullets. It's an air wing without enough trained pilots. It's a paper tiger," he told reporters last month.
On Capitol Hill, South Carolina Republican Lindsey Graham, who sits on the Senate Armed Services panel, told reporters last week that the cuts would result in "destroying the Defense Department" and "gutting the military."
But would the cuts really be that painful to a military whose budget nearly doubled in the past decade? An analysis by a nonpartisan think tank, the Center for Strategic and Budgetary Assessments, found that under the severest case, the base Pentagon budget for fiscal 2013 would be $472 billion — almost the same level as in fiscal 2007, after adjusting for inflation. At that time, spending was budgeted for a larger force in Iraq and Afghanistan, in addition to the military's other functions.
Looking ahead, under sequestration the base Pentagon budget would still rise about 7 percent from fiscal 2011 to 2021 — not counting war spending, which is not capped by the Budget Control Act. Those levels would be lower than currently planned but would still leave the U.S. military with some of the largest budgets in its history.
But the sudden and unsparing nature of the reductions would force some tough choices on lawmakers and the Pentagon and would result in a loss of capabilities. It could mean killing several weapons programs or perhaps shrinking the overall size of the armed forces. On the other hand, the military is ending two major wars, and its needs are changing. Smart planning could minimize the impact of the cuts.
In the wake of the joint deficit committee's collapse — an event that has boosted the likelihood of sequestration starting in fiscal 2013 — some moderate voices are emerging on the likely fallout. Missouri Democrat Claire McCaskill, a member of the Senate Armed Services Committee, says talk of doomsday is "an overstatement," even though she isn't ready to support reducing defense spending to the level required under sequestration.
"I think it is premature to say that sequestration is going to be the end of the strength of our military," she says. "I also know there's a lot of money that can be cut there, because I've taken such a close look at all the contracting."
Gauging the Pain
When Panetta discusses sequestration, he warns of $1 trillion in cuts as compared with the administration's 10-year defense budget plan, or what he says would be a 20 percent reduction. His figure assumes that pay and benefits would be exempted; otherwise, the reduction would be closer to 16 percent. But both chambers have already approved levels for fiscal 2012 that are well below Panetta's request. Using today's actual level of spending as the baseline, the reduction would be just under $900 billion. With defense spending topping $6 trillion over the next decade, that's 14 percent below current spending levels.
When the expected drawdown of the separate war account is included, the reduction amounts to 31 percent, according to the Center for Strategic and Budgetary Assessments. That figure is consistent with or below the percentage seen after previous wars, said Todd Harrison, an analyst with the group.
Would a Sequester Really Be So Bad?
Of course, war spending may not go down as much as planned, because it isn't capped in law. In addition, there is nothing to prevent the Pentagon or Congress from getting around the budget restrictions by moving items over to the unlimited war budget, Harrison and other experts point out.
"The level of spending we are talking about over the next 10 years is certainly not 'doomsday,'" says Russell Rumbaugh, an analyst with the Stimson Center, a nonpartisan security budget think tank. Rumbaugh previously worked for the Senate Budget Committee and the Pentagon.
The public debate on Capitol Hill has focused almost entirely on more alarming scenarios. Panetta, in a letter to Arizona Republican Sen. John McCain, wrote that under sequestration the military's size would have to be reduced, leaving "the smallest ground force since 1940, the smallest number of ships since 1915 and the smallest Air Force in its history."
What Panetta did not say, according to Rumbaugh, is that the services are nearly at those historically low levels already. And those inventories of ships, vehicles, planes and weapons, although smaller than historical norms, are far more capable in just about every respect.
Indeed, several observers, including President Obama's fiscal commission and Sen. Tom Coburn, an Oklahoma Republican, have looked at the Pentagon budget and found that officials could cut about $1 trillion within the next decade without reducing the size of the armed forces much, or perhaps at all.
Many observers disagree and think that some reduction in forces would be necessary but not necessarily devastating. "There certainly can be some debate over what we fund and don't fund in defense, but most of it is common sense," Coburn said last week on the Senate floor. "Will people squeal? Yes. Everybody is going to have to squeal if we are to get out of the problem we have in this country."
Returning to the fiscal 2007 spending level would not necessarily fund a military of the same size or capability as the one back then. Even setting aside inflation, a defense dollar does not go as far as it did five years ago, primarily because servicemembers' pay and benefits are more expensive. And there are new bills to be paid. Although a lot of new equipment has been procured over the past decade, a number of aging assets, such as midair refueling planes and nuclear-missile submarines, have to be replaced.
What's more, defenders of large defense budgets say, the end to the war in Iraq and the planned drawdown of combat troops in Afghanistan by 2014 doesn't end the need for a large military to combat global threats. And with new challenges emerging — from cyberwar to a rising China — many conservatives argue that the defense budget should be growing, not shrinking.
Fighting Sequestration
Under the spending caps in the budget law, nearly $450 billion in projected defense cuts is already required whether or not sequestration kicks in. That is already too much, according to Howard P. "Buck" McKeon, the California Republican who chairs the House Armed Services Committee. "Now, unfortunately, America's military is facing cuts that will devastate the armed forces and force us to break faith with servicemembers. I do not accept that outcome," he said in a recent statement.
Republicans have pledged to try to lift sequestration. But they will face the same political dynamic that doomed the joint deficit committee, only with partisan tensions exacerbated in an election year. The most likely outcome is that Congress, even if it doesn't repeal the law, will give the administration more flexibility to apportion the reduction as it sees fit in its budget request.
Sequestration would not only apply in equal proportion to all programs in fiscal 2013; it would also represent a steep drop-off in actual defense spending, even though the budget would be able to increase after that. Assuming that Congress appropriates about $530 billion for the Pentagon in fiscal 2012, the drop to $472 billion in fiscal 2013 under sequestration would be nearly $60 billion.
"It's not the depth of the cuts that makes them hard," Harrison says. "It's the abruptness."
Would a Sequester Really Be So Bad?
Democrats are more willing to abide the defense cuts. Some believe there is still fat in the Pentagon budget. Virginia Democratic Sen. Jim Webb, an Armed Services member who formerly served as Navy secretary, says there is a lot of room for reduction.
"There are ways to approach tightening the Defense Department budget," he says. "I say that as somebody who spent five years in the Pentagon. You just need to do this in a responsible, structured way."
Frances Symes contributed to this story.
FOR FURTHER READING: Deficit committee, CQ Weekly, p. 2490; Panetta's challenges, p. 2482; past drawdowns, p. 2262; Budget Control Act (PL 112-25), p. 1754.