CQ WEEKLY – VANTAGE POINT
Dec. 10, 2011 – 11:50 a.m.
Warren vs. the Kitchen Sink
By Joseph J. Schatz, CQ Staff
Critics of consumer advocate and Harvard law professor Elizabeth Warren have called her many things, but never a friend of big banks. That, however, is the implied message of a television commercial that the conservative group Crossroads GPS is running in Massachusetts, where Warren is seeking the Democratic nomination to take on Republican Sen. Scott P. Brown next year.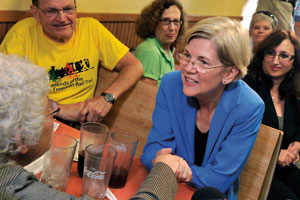 | | |
| --- | --- |
| TARGETED: Critics have called Warren a foe and a friend of banks. (JOSH REYNOLDS / AP) |   |
The ad, unveiled last week as Warren began to overtake Brown in head-to-head polls, attempts to tie her to the unpopular $700 billion bailout of the financial industry, even though her role was more that of a watchdog appointed by Congress and her attitude was aggressive distrust of the industry. Republicans, in fact, said she was trying to stifle the banks.
The Crossroads commercial, though, looks back to late 2008, when Congress passed the Troubled Asset Relief Program, or TARP, and appointed Warren, a well-known bankruptcy law professor, to head the five-member panel charged with overseeing the program. The Crossroads ad shows a clip of Warren promising to be a "voice in the room on behalf of middle-class families." The narrator then intones, "Really? Congress had Warren oversee how your tax dollars were spent bailing out the same banks that helped cause the financial meltdown." The narrator adds that executives got bonuses, "while middle-class Americans lost out."
All true, but a somewhat different narrative than the one normally told by Republicans. In her role as bailout observer, Warren could not make decisions on how TARP was implemented. She quickly became known as an aggressive critic of the Treasury Department's actions, making enemies within the financial sector and also the government — so much so that it risked the program's political support.
President Obama subsequently named Warren a White House adviser to set up the Consumer Financial Protection Bureau created by last year's Dodd-Frank financial regulatory law, and her advocacy of government regulation drew vehement opposition from the business community. Obama ultimately decided not to nominate her to be the bureau's director, a position that requires Senate confirmation.
The ad's attempt to tie Warren to the handling of the bailout is particularly striking given that just last month, Crossroads, which has connections to President George W. Bush's political adviser Karl Rove, ran a very different kind of ad: one linking Warren to the Occupy Wall Street movement.
Crossroads' response to inquiries is to restate the contentions of its commercial. "Warren," says spokesman Nate Hodson, "acted just like her congressional patrons: lecturing others and giving press interviews but doing little to actually control how taxpayers' money was used to subsidize executive bonuses and perks."
"The point of the ad," Hodson says, "is that struggling middle-class families need real jobs, not intellectual theories and empty political rhetoric from Professor Warren."
Warren responded to the ad on her Facebook page: "I expected Wall St. to throw everything they had at me in this race," she wrote, "But I never did imagine they'd fund an ad attacking me as being their own ally."
Brown's office, meanwhile, criticized the ad as outside interference — albeit with a tweak at Warren.
"Senator Brown has made it clear that he wishes third-party groups on both sides would keep their negative ads out of Massachusetts," campaign manager Jim Barnett wrote. "Regrettably, Professor Warren has cheered on negative attack ads against Scott Brown, and refuses to join his call for outside groups to stop interfering."
Brown has been a major recipient of campaign contributions from Fidelity Investments, Goldman Sachs and other financial firms. Warren's top campaign contributors include liberal groups such as EMILY's List and Moveon.org.