CQ WEEKLY – IN FOCUS
Dec. 10, 2011 – 12:30 p.m.
Teamwork: A New Concept in Health
By Fred Barbash, CQ Staff
Next month, the Obama administration officially launches the next phase of its health care overhaul, in the form of a project that sounds to a layman more like medicine as practiced on the TV show "House" than in real life — minus the melodrama and the multiple costly MRIs.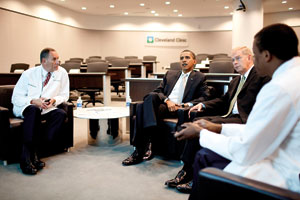 | | |
| --- | --- |
| MODEL MEDICINE: The Cleveland Clinic is one of the Obama administration's prime ACO examples. (PETE SOUZA / WHITE HOUSE) |   |
The program envisions different types of specialists working as a team alongside the hospital administrator and singlemindedly focusing on the best way to treat each individual patient.
The initiative is called the Medicare Shared Savings Program and involves setting up, ultimately, perhaps hundreds and maybe thousands of multi-disciplinary "accountable care organizations" (ACOs) across the country. These are collaborations of physicians, hospitals and other service providers who serve Medicare patients in their particular geographic areas.
The ACOs' mission is to stop thinking about how many expensive procedures they can perform or how many hospital beds they can fill, and work efficiently together in the interest of quality care and reduced cost.
If an ACO reduces costs enough, saving Medicare money, it will get a share of the savings. If it keeps improving — and saving money — year after year, it continues to get a share of the savings.
Of course, if an organization gets so efficient that it can no longer improve, it may not have anything to gain by way of shared savings. That's why some experts see the accountable care organization as a transitional model that could lead to a system in which payments to providers are capped at a certain level, per patient, in a method known as "capitation." If the overall program succeeds, it could conceivably set a performance standard for the non-Medicare world as well.
That's the best-case scenario. The worst case, say critics and even some supporters, is that all this collaboration produces a wave of regional consolidations among providers that would locate around large hospitals and become monopolies or duopolies that increase, rather than decrease, costs. The government's two antitrust enforcers, the Federal Trade Commission and the Justice Department, have created a "zone of safety" for accountable care organizations in the shared-savings program in order to let them proceed.
If this consolidation occurs, Medicare itself might not suffer, since its payment schedule would remain intact. But private patients and insurers might end up paying more because the new, larger organizations would lack competition. "If they create or entrench market power in any of the provider markets, the whole premise of a benefit gets lost," said Thomas (Tim) Greaney, a Saint Louis University law school expert on health care antitrust issues. "You really need rivalry among accountable care organizations, or between them and other networks in the market," he said.
If the ACO movement contributes to market dominance by large providers, "it's counterproductive."
Writing for the conservative Heritage Foundation, Rita E. Numerof warned of a new collection of "too big to fail" behemoths being created by the accountable care movement.
Right now, however, the Centers for Medicare and Medicaid Services are just getting started. The initiative was authorized under the 2010 health care overhaul and fleshed out in regulations that were finalized in October after months of drafting and redrafting in order to make them palatable to the health care industry.
Now, there's a rush to sign up to be an ACO, with new teams announced every week somewhere in the country. A study by Leavitt Partners counted about 164 ACOs so far (including some that have been around for years) in 41 states, with 99 of them primarily sponsored by hospital systems, 38 by physicians' groups and 27 by insurers.
Teamwork: A New Concept in Health
The application process for the shared-savings program starts in January, according to a schedule set by the Department of Health and Human Services, and the first batch of officially authorized ACOs should be up and running by April.
Shifting the Game
Officials estimate a savings of up to $940 million in the first four years, assuming a base of between 50 to 270 organizations. But even the most ardent champions, while hopeful things will turn out, shy away from extravagant predictions because of the challenges involved in breaking habits that have become so entrenched in the medical system.
Former CMS administrator Donald M. Berwick, the chief government architect of ACOs, acknowledged as much when he unveiled the final regulations for the program in an Oct. 20 video statement.
"American medicine is fragmented today," he said, with doctors operating separately not only from hospitals, but from other doctors. "We built the system that way. We pay for it that way. We train for it that way and institutions manage themselves separately."
"Hospitals get rewarded for keeping their beds full," he said. "Doctors get rewarded for doing as much as they can. We're shifting that game."
Some say it's not shifting enough, however. The new shared-savings approach is superimposed on the traditional fee-for-service payment system, which is generally seen as a major cause of health care cost inflation because it rewards providers for the volume of services performed. The more they do, the more they make.
It relies on the shared savings to provide the incentive. That distinguishes it from some earlier failed experiments. The metrics being developed to measure the quality of care makes it different as well, and are designed to make sure the ACOs don't save money by cutting corners. Unlike the traditional managed-care programs, patients can seek services outside the organization as they please. That, too, is different.
Thus, as the Urban Institute's Robert A. Berenson and Rachel A. Burton wrote in a November article, it comes closer than previous attempts to "aligning health care providers' and patients' interests."
The seed for all this was planted just five years ago by a team of academics led by Elliott Fisher in a scholarly article addressing ways to tackle the "serious gaps in quality and widespread waste" in the U.S. health care system.
Surveying failed attempts to reform medicine, Fisher and his colleagues noted that they had all focused largely on the individual provider as the center of both performance and accountability. While understandable, they said, that was the wrong approach because, in fact, no provider is an island.
"Virtually all physicians are either directly or indirectly affiliated with a local acute care hospital," they wrote. Collectively, they form "extended hospital medical staffs," or "virtual" group practices, though they might never actually collaborate directly.
But what if the "virtual" could be made real? What if they could be induced to join together into actual organizations working in a coordinated fashion with each patient to deliver improved quality service at a lower cost, with each member accountable for the result?
Teamwork: A New Concept in Health
That's where "shared savings" comes in. It's supposed to be the inducement.
But what if these virtual teams actually can't get along with one another once joined together? Jeff Goldsmith, a University of Virginia professor of health sciences, thinks they won't. Indeed, he wrote in a widely discussed article a year ago in the journal Health Affairs, Fisher's supposed "virtual" teams are more like warring tribes in deeply troubled relationships grounded in "ill will" and "mistrust."
Hospitals, he wrote, basically want to tell doctors what to do. Doctors, rather than drawing closer together, are moving further apart, splitting off to form single-speciality practices (a partnership that does only imaging, for example), with the lower pay reserved largely for a dwindling supply of primary care physicians.
The accountable care model is redistributive, Goldsmith wrote, meaning that the physicians who get a lot of money to do procedures may have to share it with the less well-compensated primary care practitioners. He does not see that happening.
In fact, he wrote, Fisher's understanding about private-practice physicians clustering around hospitals is becoming less and less the norm, as hospitals increasingly build their own staffs specializing exclusively in handling hospitalized patients. "In the real world, "there is no 'extended medical staff.' "
There are in the real world some good models, though, like the Cleveland Clinic, where physicians work on fixed salaries and yearly contracts, and where teams are organized not by traditional professional competencies (such as surgery or cardiology) but by the conditions patients bring to them (such as cancer or digestive disease.)
Trial Run
The shared-savings accountable care organization got a trial run in 10 organizations from 2005 to 2010, with mixed results. It suggested, according to the Urban Institute article by Berenson and Burton, that ACOs "will be able to improve the quality of care they deliver . . . but will have a harder time generating savings."
Berenson, in an interview, noted that the low rate of savings was unsurprising for a short-term demonstration in which participants were reluctant to revamp their business models.
Berenson, while generally receptive to the ACO model, said he worries that there is "not much in it" for hospitals, which ultimately will be the dominant players in most ACOs. Right now, they get a 100 percent payment from Medicare for filling a bed, he said. Under an ACO model, they'll get maybe 50 percent of an undetermined shared-savings payment for not filling the bed.
For those hospitals, he said, "the current thing will be the surer thing."
FOR FURTHER READING: The complexity of ACOs, CQ Weekly, p. 1193; Berwick's treatment in Congress, CQ Weekly, p. 574.