CQ WEEKLY – IN FOCUS
Dec. 10, 2011 – 12:46 p.m.
'Green' Funds Withering in Current Climate
By Geof Koss, CQ Staff
International climate change negotiations in Copenhagen ended on a frozen December day in 2009 on a note of cautious optimism. For more than 10 days, the talks had been on center stage, attracting a high-profile House delegation led by Democratic Speaker Nancy Pelosi and a Senate contingent featuring Foreign Relations Committee Chairman John Kerry, also a Democrat. Even Sen. James M. Inhofe, the Oklahoma Republican who has famously labeled global warming a "hoax," turned up to warn delegates that no climate change bill could ever pass the Senate.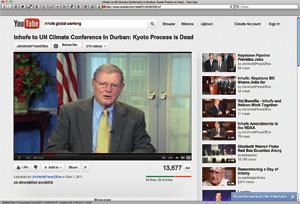 | | |
| --- | --- |
| NOW HEAR THIS: Inhofe uses a YouTube video to proclaim, 'The message from Washington to the U.N. delegates in South Africa this week could not be any clearer: You are being ignored.' |   |
When the talks led by Secretary of State Hillary Rodham Clinton faltered, President Obama dropped everything and flew to Denmark to personally close a deal with Chinese Premier Wen Jiabao. The resulting agreement, known as the Copenhagen Accord, included non-binding pledges by all nations — even developing countries exempted under the 1997 protocol reached in Kyoto, Japan — to reduce greenhouse gas emissions.
The session's most tangible achievement was an agreement by rich countries to develop a $30 billion "green-climate fund" by 2012, growing to $100 billion annually by 2020, that would fund climate-mitigation and climate-adaptation projects in the developing world.
Two years later, not a single member of Congress — let alone the president or secretary of State — bothered to show up for two weeks of U.N. climate change talks, which concluded last week in Durban, South Africa. Inhofe this time used YouTube to deliver his view that the international climate change process is "dead." All but a handful of reporters ignored a Capitol Hill news conference on the Durban talks by Senate Environment and Public Works Chairwoman Barbara Boxer, a California Democrat.
The lack of interest underscores how climate change has fallen off the congressional agenda, at least for now. And there are growing doubts about the U.S. commitment to the green-climate fund.
The Obama administration insists that it is meeting its share of the "fast-tracked" 2012 commitment, which it said totaled more than $5 billion going into the South Africa talks from prior appropriations to mitigate the causes of climate change and adapt to its effects. But the source of funds for longer-term commitments remains an open question.
New Funding in Doubt
Foreign aid is a tough sell politically in the best of times. Given the antipathy of many new conservative lawmakers toward deficit spending, international assistance and the science of global warming, the likelihood of further U.S. appropriations to help Third World countries prepare for the effects of climate change seems remote.
Even Richard G. Lugar of Indiana, the ranking Republican on the Senate Foreign Relations Committee, who has expressed concern about global warming, questioned U.S. contributions to the fund. "There really is not a program there that I think bears that investment," he said last month.
Alternate financing mechanisms that were floated in Durban — including fees on carbon-laden fuels used in international shipping and air travel — are political nonstarters in Congress. The House earlier this year passed legislation explicitly barring U.S. airlines from participating in a European Union emissions-trading scheme for international flights. Sen. John Thune, a South Dakota Republican, said he was "very aware" of the Durban discussions when he introduced a Senate companion measure last week.
"The idea that European countries could assess these types of fees for planes coming to the United States just seems bizarre, and I think that's the reaction you're going to get from both sides," Thune said.
Outright carbon taxes won't fare any better in the current political environment than earlier "cap and trade" proposals, which Democrats had seen as a potential source of trillions of dollars in revenue for fighting global warming. In 2009, the Democrat-controlled House passed a bill to cap carbon emissions, but bipartisan talks to write a Senate version collapsed a year later. The election in 2010 of a GOP House majority dominated by climate change skeptics ended prospects for a bill limiting greenhouse gas emissions any time soon.
'Green' Funds Withering in Current Climate
As a result, the domestic impasse over controlling emissions is threatening to undermine U.S. efforts to tackle climate change abroad.
"It's very difficult," Kerry said about meeting the U.S. pledges to support the global fund. "It doesn't mean we shouldn't be trying, but obviously it's very difficult now."
Conflict Over Responsibility
The green-climate fund evolved from an effort to defuse the central conflict underlying international efforts to tackle warming: Who should bear the responsibility of making emissions cuts? Developing economies contend that the onus should fall on industrialized nations that have profited from the burning of fossil fuels since the advent of the industrial age. As a result, developing countries are exempt from binding emissions cuts under the Kyoto Protocol — a condition that prevented the Senate from even considering ratifying the treaty.
The United States and other industrialized nations say it makes no sense to allow countries such as China, which is now the world's biggest carbon dioxide polluter, to continue producing greenhouse gases without binding restrictions. The issue hamstrung negotiations in Copenhagen and follow-up talks in Cancun, Mexico, and dominated the Durban talks. So far, the impasse has thwarted efforts to extend the Kyoto obligations past their scheduled expiration next year or to negotiate a successor treaty.
To prevent the repackaging of existing aid into the new fund, the Copenhagen agreement required the initial $30 billion to be "new and additional" to funding available before 2009.
The Obama administration maintains that the United States has already contributed $5.1 billion for the initial period ending in 2012, an amount that is expected to grow in fiscal 2012. The slow-moving House-Senate appropriations process, however, highlights the challenge for continued taxpayer funding for the program.
The Senate spending bill that funds international assistance would provide $1.2 billion for climate change programs funded by the State Department, the U.S. Agency for International Development and the Treasury Department. The House version contains language barring the use of funding for the U.N. climate framework.
Republican lawmakers have already made clear that they have overseas climate aid in their sights. California Republican Dana Rohrabacher, chairman of the House Foreign Affairs Oversight and Investigations Subcommittee, earlier this year called it "pure fantasy" that the United States would be footing a large chunk of the bill for the green fund. Sen. Jim DeMint, a South Carolina Republican, called for terminating U.S. efforts to send aid overseas to fight warming.
Todd Stern, the State Department's top climate negotiator, has said the administration expects that the private sector will provide the bulk of the funding. To that end, 16 senators last week wrote Clinton to express support for "innovative approaches to generate additional public and private sources of climate financing," including contributions from global transportation sectors.
While negotiators appeared to be closing in on an agreement on the structure of the fund in the conference's closing hours last week, a concrete deal on financing seemed out of reach.
As progress in reducing emissions internationally sputters along, forecasts of the impacts and pace of global warming are becoming more alarming. Scientists predict that warming is occurring more rapidly than was previously thought and that humans may be nearing the point where it will be too late to avert a worldwide calamity. The International Energy Agency recently forecast that the current level of emissions could increase the temperature by almost 11 degrees Fahrenheit by 2100.
Boxer, in her long-distance pep talk to the Durban conference, emphasized actions that are under way to reduce emissions in her home state and at the federal level, including stringent new fuel-economy standards recently unveiled by the Obama administration. She acknowledged, though, that more action is needed.
'Green' Funds Withering in Current Climate
"Good things are happening," she said. "But not enough good things."
FOR FURTHER READING: Climate policy shifts, CQ Weekly, p. 2485; airline caps, p. 2271; Senate rejects climate change bill, 2010 CQ Almanac, p. 12-7; House passes cap-and-trade bill, 2009 CQ Almanac, p. 10-3.