CQ WEEKLY – COVER STORY
Dec. 10, 2011 – 1:04 p.m.
Shaping America's Power
By Jonathan Broder, CQ Staff
When it comes to America's place in the world, the top Republican presidential contenders enthusiastically embrace the idea of American exceptionalism. In their debates and speeches, Mitt Romney and Newt Gingrich emphasize that Americans are a special people, with a special destiny to lead the world. And their prescription for continued global leadership calls for increased defense spending and a muscular worldwide presence to ensure that rivals such as China, Russia or Iran will think twice before defying the United States.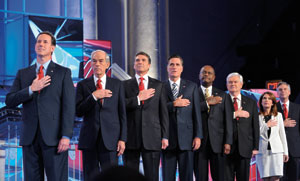 | | |
| --- | --- |
| WORLD VIEWS: Most of the Republican presidential hopefuls have offered a muscular view of how to preserve America's superpower status, which stands in sharp contrast to Obama's efforts to reshape how the world views the United States. (MANDEL NGAN / AFP / GETTY IMAGES) |   |
"God did not create this country to be a nation of followers," Romney declared in October in South Carolina. "America is not destined to be one of several, equally balanced global partners. America must lead the world, or someone else will."
President Obama also believes in America's unique strengths. But his foreign policies have emphasized diplomatic engagement, even with hostile regimes such as North Korea, over the habit of some earlier administrations to dictate U.S. preferences as the world's sole superpower and, if need be, to intimidate those who refuse to comply.
"I know that engagement with repressive regimes lacks the satisfying purity of indignation," Obama said in his 2009 Nobel Peace Prize acceptance speech. "But I also know that sanctions without outreach — and condemnation without discussion — can carry forward a crippling status quo. No repressive regime can move down a new path unless it has the choice of an open door."
A year before the nation goes to the polls to choose a president and a new Congress, two distinctly different visions of America's role in the world are coming into focus: one that depends on overwhelming military might to guarantee continued U.S. global predominance, and another that willingly shares the stage with other powers, seeking their cooperation toward agreements on issues ranging from trade to nuclear nonproliferation.
The competing visions suggest that the entire defense and foreign policy landscape could be uprooted in 2013, with effects rippling from Europe to the Middle East to Asia. But neither side is willing to wait until then, as the White House pursues a more inclusive foreign policy and GOP lawmakers push a series of more aggressive, unilateral measures on Capitol Hill. As part of this vision, they are also looking to overturn automatic deep cuts in defense spending.
In the campaign, the Republicans have framed their rhetoric around fighting America's decline, a line of attack they have used as a cudgel against Obama. The issue, however, is more subtle. While America, with the world's most powerful military, isn't in literal decline, the days when the United States could shape world events as the unchallenged superpower may already be over. If anything, American power is in relative decline. Today, economic strength counts at least as much, if not more than, military might, and countries such as China, Russia, India and Brazil are rising in economic power and political influence to challenge U.S. pre-eminence.
"We're not going to enjoy total global domination anymore," says Stephen M. Walt, a political scientist at Harvard University's Kennedy School of Government. "It means that everything isn't always going to go our way, and that we won't be able to get everyone to do what we want 24/7. The days of Pax Americana are over."
Economically, things could get worse in the years ahead, with the United States facing enormous long-term challenges, including a deteriorating infrastructure, barely perceptible growth, high unemployment and a debt last clocked at more than $15 trillion. These economic woes are forcing Obama and his Republican challengers to choose how they plan to compete in this post-sole-superpower world.
"We now face a reckoning," says Jeremy Pressman, a political scientist at the University of Connecticut. "Do we still want to play this global role, which is expensive? Or do we want to scale back our commitments? We're talking about balancing our commitments and interests with the cost and our financial capabilities. That's a choice."
Bush Nostalgia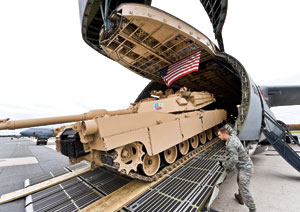 | | |
| --- | --- |
| MORE TANKS: Some lawmakers want to overturn automatic defense cuts, despite worries about ballooning deficits. (U.S. AIR FORCE) |   |
Shaping America's Power
With the exception of former Utah Gov. Jon Huntsman and Rep. Ron Paul of Texas, all of the GOP presidential candidates have presented a broad vision of America's role in the world that recalls the tough-talking early years of George W. Bush's presidency.
Front-runners Romney and Gingrich accuse Obama of weak, indecisive leadership, and say they'll restore America's global pre-eminence by strengthening the military and standing up to rivals. Only overwhelming American military power — and the willingness to exercise it unilaterally, if need be — can guarantee continued U.S. dominance over the world order, they say.
"If we were serious, we could break the Iranian regime within a year, starting with cutting off the gasoline supply to Iran; then, frankly, sabotaging the only refinery they have," Gingrich said during last month's Republican foreign policy debate.
Romney says he'll build more Navy warships and send aircraft carrier battle groups steaming into the eastern Mediterranean and the Persian Gulf to confront Iran over its suspected nuclear weapons program.
"I will not surrender America's role in the world," Romney said last month in his major foreign policy speech. "If you do not want America to be the strongest nation on Earth, I am not your president. You have that president today."
Such remarks reflect a return of the assertive, neoconservative vision that guided Bush. Indeed, a number of Bush administration neoconservatives have resurfaced as foreign policy advisers to several Republican candidates.
Of the 22 people named to Romney's foreign policy team, 15 served in the Bush administration, including Robert Joseph, a senior non-proliferation official who pushed the charge that Iraq had nuclear weapons. Others were members of the Project for a New American Century, a neoconservative group that pressed for an invasion of Iraq after the Sept. 11 terrorist attacks. Gingrich pledged last week to name John R. Bolton, the most polarizing diplomat from the Bush years, as his secretary of State. Douglas J. Feith, Bush's undersecretary of Defense for policy, is advising Texas Gov. Rick Perry.
The brawny rhetoric from the GOP candidates has obvious appeal among Republicans on Capitol Hill, who are hoping their party will take back the White House and the Senate in 2012. Some of the strongest lines are probably mostly for political effect, trying to paint Obama as a weak leader.
"A president has to make a case to the American people — as Ronald Reagan did — that America's vital national security interests rest in having U.S. presence and military capability throughout the world," says Arizona's John McCain, ranking Republican on the Senate Armed Services Committee. He is particularly critical of Obama's policies of pulling the remaining U.S. troops out of Iraq by the end of the month and setting a 2014 deadline for the withdrawal of U.S. forces from Afghanistan. McCain says such policies have created the image of a superpower in retreat.
"I can assure you, from my many visits to the Arab world and North Africa, there's a clear perception among leaders in the Arab world that the United States is withdrawing and is weaker," McCain says. "Therefore they're making their own arrangements for a U.S. withdrawal from the region."
At the same time, many Republicans insist the nation's woes — such as its huge debt, its 8.6 percent unemployment rate, its questionable accomplishments in Iraq and Afghanistan — are merely temporary setbacks that won't undercut the U.S. position in the world. "The tenets of American exceptionalism are still valid," insists Susan Collins of Maine, a Republican member on the Senate Armed Services Committee. "Although we're undoubtedly going through a difficult period in our history, I don't think it signifies a long-term decline in our influence globally."

The Republicans' determination to press their assertive brand of global leadership has led to a number of aggressive legislative initiatives. They include, among others, an effort by Illinois Republican Mark Steven Kirk to prohibit any sharing of missile defense technology with Russia, which Republicans distrust; and a House measure that would force Obama to sell F-16 warplanes to Taiwan, which China regards as a renegade province. In another move, this one to demonstrate support for Israel, two GOP House chairwomen are blocking $200 million in economic aid to the Palestinian Authority as punishment for its statehood bid at the United Nations. The latter measure enjoys some support among Senate Democrats as well.
The strongest sign of Republicans' commitment to unmatched military power is their determination to overturn a law that requires nearly $500 billion in additional across-the-board defense cuts, to begin in fiscal 2013 if Congress can't come up with a debt reduction plan. House Armed Services Chairman Howard P. "Buck" McKeon, a California Republican, says he'll introduce legislation to prevent what he calls "catastrophic damage" to national security. In the Senate, McCain and South Carolina Republican Lindsey Graham are also working to reverse the automatic defense cuts.
Shaping America's Power
Independent analysts and military budget specialists question the logic behind the GOP's effort to prevent further defense cuts. The U.S. military is already stronger than any combination of foreign forces. Even with the sequestration cuts, U.S. defense spending would still be three times that of China. And while the United States is likely to use force against terrorist targets, it is highly unlikely to confront its main economic competitors militarily. Exports and sovereign debt, not aircraft carriers, these experts say, are the new arbiters of competition.
"You can say we have the largest army in terms of expenditures, but what can that actually accomplish?" says Steven E. Meyer, a former CIA analyst and now a professor at the National Defense University. "You can't just talk about carrier task forces for their own sake. The question is how — and whether — that force is applied in today's world."
The rhetoric coming from the GOP campaigns suggests an assumption that America's global pre-eminence is the normal state of global affairs, says Leon Fuerth, who was national security adviser to Vice President Al Gore and is now a professor of international affairs at George Washington University. "As soon as a society begins to assume that its best features are laws of the universe, it gets into big trouble."
Notably, the Republican defense of national security funding does not extend to foreign assistance, a relatively inexpensive way to pursue foreign policy goals and spread good will. With the exception of Egypt, the most populous Arab nation, Republicans on Capitol Hill oppose any meaningful aid to the pro-democracy uprisings now roiling the Arab world, beyond advice on how to run democratic elections. McCain has proposed sending American medical teams to war-torn countries such as Libya and Yemen to treat the wounded and flying the worst cases to America for treatment. He and Connecticut independent Joseph I. Lieberman have also been urging Obama to take military action against Syria's repressive regime.
"But no foreign aid," he says. "We're going through a very difficult period, and I understand the American people are focused on domestic issues."
This is the only issue on which the Republican foreign policy hawks agree with Paul, a longtime libertarian who has voted against all foreign aid ever since he returned to the House in 1997. He represents the isolationist wing of the Republican Party, which eschews foreign entanglements.
Paul is trying to tap into the nation's war fatigue and resentment over the beleaguered economy. "The policy of American domination of the world, as nation-builder-in-chief and policeman of the world, has failed and must be abandoned — if not as a moral imperative, then certainly out of economic necessity," he said in a September video address. But in today's globalized world, his faction has remained relatively isolated within his party and seems to have little chance of influencing its policies.
Foreign Policy on a Budget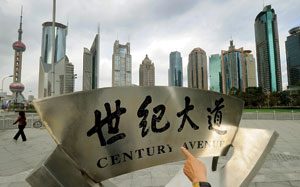 | | |
| --- | --- |
| RISING TIDE: As America's largest creditor, China has become an economic power more than a military one. (MARK RALSTON / AFP / GETTY IMAGES) |   |
Obama's realpolitik approach to foreign policy didn't originate as an answer to America's economic woes, but it may come closer to what the nation can afford than the triumphalist Republican prescriptions. Obama also argues that it can be a much more effective way to achieve America's goals.
"At a time when threats and challenges require nations to work in concert with one another, we remain the greatest catalysts for global action," he said in May during an address to the British Parliament. "In an era defined by the rapid flow of commerce and information, it is our free-market tradition, our openness, fortified by our commitment to basic security for our citizens, that offers the best chance of prosperity that is both strong and shared."
The limited U.S. involvement in NATO's air campaign in Libya — along with the heavy use of drone strikes and the commando raid that killed al Qaeda leader Osama bin Laden — may be the best harbinger of Obama's selective approach to military engagements overseas.
In Libya, Obama helped assemble a coalition of NATO countries and the Arab League against strongman Muammar el-Qaddafi and received a green light for military action from the U.N. Security Council. U.S. warplanes performed the initial task of destroying Libya's air defenses. But the United States then dropped back into a supporting role as French, British, Danish and Norwegian air power systematically degraded Qaddafi's forces and paved the way for his fall at the hands of Libyan rebels in August. The entire six-month campaign cost the United States $1.1 billion.
Shaping America's Power
"Libya is a lesson in what the international community can achieve when we stand together as one," Obama told a United Nations meeting on the future of Libya in September. "This is how the international community should work in the 21st century: more nations bearing the responsibility and the costs of meeting global challenges."
Under Obama's approach to foreign policy, the United States is very discriminating in its use of its military power. Despite GOP calls for U.S. military intervention against Syria, Obama has relied on tough diplomacy, economic sanctions and, most importantly, other countries to pressure President Bashar al-Assad to halt his deadly crackdown on pro-democracy protesters. The European Union and the Arab League have announced economic sanctions against Damascus, and Turkey has gone as far as providing rebel Syrian soldiers with sanctuary along their common border.
"We cannot and should not intervene every time there is an injustice in the world," Obama said.
The bin Laden killing and the drone strikes, which have decimated the ranks of al Qaeda's leadership, have offered an effective, and far cheaper, alternative to Bush's full-fledged war on terrorism. They also offer a strong counterpoint to the notion that his strategy is one of a weak nation. Asked last week about GOP candidates accusing him of appeasing America's enemies, Obama responded: "Ask Osama bin Laden and the 22 out of 30 top al Qaeda leaders who've been taken off the field whether I engage in appeasement. Or whoever is left out there, ask them about that."
Obama is also resisting calls by some Republicans for U.S. military action to stop Iran's suspected nuclear weapons program. He's relying for now on an ever-tightening noose of unilateral and international sanctions to force a change in Iran's behavior. "If Tehran does not change course, the pressure will continue to grow," Thomas Donilon, Obama's national security adviser, said last month in a speech to the Brookings Institution. "Working with allies and partners, we will continue to increase sanctions. . . .We will continue to build a regional defense architecture that prevents Iran from threatening its neighbors. We will continue to deepen Iran's isolation, regionally and globally. And, again — even as the door to diplomacy remains open — we will take no option off the table."
That, of course, is code for the possibility of military action against Iran — an option that only the most neoconservative of Obama critics believe to be viable. Most Middle East experts say a military attack on Iran would ignite a devastating regional war that would draw in Israel, Saudi Arabia and other Persian Gulf states and send the price of oil soaring. Moreover, the United States could not guarantee that an attack would eradicate Iran's alleged nuclear weapons program, which is widely dispersed around the country in secret locations.
Most importantly, such a war would be prohibitively expensive at a time when Obama is trying to reduce defense spending. The president has threatened to veto any Republican attempt to overturn defense sequestration, indicating he is prepared to let it occur if that's what it takes to get Congress to take debt reduction seriously. The bottom line under Obama is that the Pentagon — and Congress — are going to have to be more selective in their spending.
"Because there is going to be no way to insulate the defense budget completely from the austerity measures here at home, the U.S. military is going to have to make choices — not just where and how it is deployed but also what weapons systems get built and how it chooses to operate going forward," Walt says. "Ours will still be a superb military, but a smaller, less capable force that will go fewer places and do fewer things."
The very notion of the United States deliberately choosing to do less around the world is anathema to most Republicans. Such thinking, they say, reflects the limits of Obama's foreign policy vision. "We're very much playing small ball," scoffs Kirk, a member of the Senate Appropriations Committee.
Indeed, for such Republican foreign policy hawks, Obama's policies are nothing more than temporary detours on the inevitable arc toward American global triumphalism. They cite earlier, bleak periods in American history, such as the post-Vietnam years of the Carter administration, when the U.S. military was plagued by problems of manpower, drug abuse and morale. "We came out of it with the right leadership," says McCain, alluding to the military buildup that followed under Carter's successor, Ronald Reagan.
"The lesson is that the U.S. has had unsuccessful presidencies and inattentive Congresses that misled the United States for a period," Kirk says. "But the historical record shows that the American people replaced Buchanan with Lincoln, Hoover with Roosevelt, Carter with Reagan, and the country bounced back very quickly."
That may have been true in those instances, but history doesn't always repeat itself or even rhyme. And given the profound economic challenges that the United States faces at home, setting priorities in foreign policy might not be such a bad thing.
"People on the right will tend to portray this as a sign of weakness or pusillanimity, but it's not," Walt says. "Rather, it should be seen as an opportunity for the United States not to do as many foolish things and to think which are the places that really demand our attention, and which are the places where our allies can shoulder the burden."
Shaping America's Power
Reality Bites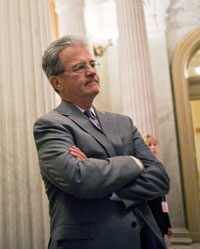 | | |
| --- | --- |
| COMPOUND INTEREST: Coburn says that rising debt could make the nation's global role unaffordable. (TOM WILLIAMS / CQ ROLL CALL) |   |
While Obama's approach may nod to the limits of U.S. power more than the Republican vision, neither approach can fully insulate the United States against the very formidable challenges ahead. Indeed, considering the resentment toward Washington that has built up abroad over the past two decades of U.S. global preeminence, analysts say both parties should get used to further attempts by the rising powers to erode America's power and influence.
For example, once the last U.S. troops leave Iraq at the end of this month, that country faces the very real prospect of a return to sectarian conflict as rival Sunnis and Shiites intensify their fight for power. In any such scenario, most foreign policy experts believe neighboring Iran will be the principal strategic beneficiary. That's not to say that Iraq's ruling Shiites, who are Arab, won't clash with their Iranian co-religionists, who are Persian. But that is one struggle the United States will not be part of.
Arab allies are already making policy adjustments to accommodate the loss of the U.S. military presence in Iraq as well as Iran's greater influence in the region. But none of the Gulf Cooperation Council members — including Saudi Arabia, Qatar, United Arab Emirates, Oman and Kuwait — want to make up for the U.S. withdrawal from Iraq by hosting more U.S. troops.
Meanwhile, after 10 years of fighting in Afghanistan and a U.S. troop surge in 2009 by Obama, the war there shows no signs of bringing that country closer to peace. U.S. forces will remain bogged down in what has become an expensive nation-building exercise for at least another three years if Obama retains the Oval Office — and possibly longer if a Republican wins.
Inevitably, Walt says, whoever is elected president will realize that Afghanistan is not worth the price the United States is paying. "It's just a question of how much money we waste and how much trouble we get into unnecessarily between now and then," he says.
Meyer, the former CIA analyst, says it's arrogant for U.S. leaders — both Democrats and Republicans — to assume victory on the basis of America's standing as the world's strongest military. "What we're finding in places like Iraq and Afghanistan is that it's very difficult for a traditional military to have its way, the way it used to," he says. "The real question now is what comes after we're gone, and we have no way of controlling that outcome."
What is clear is that as the perception grows that America is turning inward, other countries, including some close allies, are pursuing policies that conform more with their own national interests, rather than U.S. preferences.
The biggest challenge, of course, comes from China, which is now claiming vast stretches of the western Pacific as its territorial waters. It has also developed a number of so-called anti-access weapons, such as a fledgling blue-water naval fleet and ship-destroying missiles, which are designed to make U.S. commanders think twice before sending their warships into the western Pacific. Most Republican candidates, as well as GOP lawmakers, cite China's military buildup as their primary rationale for resisting reductions in defense spending and urging the construction of more warships.
China's growing power and influence are also behind Obama's recent foreign policy shift in focus from the Middle East to the Asia-Pacific region. Although administration officials deny that they are trying to contain China, Obama's recent trip to the region was clearly aimed at strengthening ties with old allies and new partners who are also concerned about China's rise.
But China's real power these days is economic, not military. Beijing holds a staggering $1 trillion in U.S. debt, making it the largest U.S. creditor. And with such economic sway, China is in no mood to be pushed around. Beijing continues to ignore U.S. complaints that it is undervaluing its yuan currency, making its exports cheaper and U.S. exports to China more expensive.
"Our greatest challenge is not deterring any single military foe, but advancing our global leadership at a time when power is more often measured and exercised in economic terms," Secretary of State Hillary Rodham Clinton told the Economic Club of New York in October.
Shaping America's Power
Another challenge is Russia, which is now threatening to pull away from the New START agreement limiting nuclear weapons because of differences with the United States over missile defense. India continues to buy oil from Iran despite U.S. protests, as does Turkey, a NATO member that is emerging as a major independent power in the Middle East. In June, Turkey defied the United States and voted against a new round of U.N. sanctions against Iran. And despite U.S. entreaties to mend relations with Israel, Turkish Prime Minister Recep Tayyip Erdogan has declined, accusing Israel of behaving like a "spoiled child" for refusing to apologize for a 2010 commando raid on a Gaza-bound Turkish aid ship that left nine Turks dead.
Then there is Pakistan, which continues to defy U.S. demands that it stop supporting the Taliban. Islamabad regards the group as a hedge against encirclement by its archrival, India, once U.S. troops leave Afghanistan.
Meyer sees some tough lessons looming in the challenges ahead. "What we're seeing is that we can accomplish a lot less as a country in the world now because there are so many more other actors who are becoming economically powerful, militarily sophisticated, and who just don't listen to us anymore," he says. "These are facts we have to get used to."
Paying to Play
For Oklahoma Republican Tom Coburn, a member of the Senate Finance Committee, the most important factor contributing to the erosion of America's global power and influence is its precarious economic situation. With the nation's $15 trillion debt still rising, Coburn argues that it won't be long before the United States is paying so much interest on its loans that it won't be able to afford to play any meaningful international role.
"The most powerful force on Earth is not the atom; it's compound interest," he says. "We're borrowing money to pay interest now. So we're not only paying interest; we're paying interest on the interest."
Niall Ferguson, an economic historian at Harvard University, sounds a similar warning. "If the United States doesn't come up soon with a credible plan to restore the federal budget to balance over the next five to 10 years, the danger is very real that a debt crisis could lead to a major weakening of American power," he says.
Another problem looming beyond America's control is Europe's debt crisis. A failure by European leaders to resolve the crisis would have a major impact on American markets, banks and exporters, for whom Europe is the biggest customer — not to mention hurting Obama's re-election chances if Europe's debt problems push the U.S. economy into recession.
Obama dispatched Treasury Secretary Timothy F. Geithner last week to urge leaders in Europe to get their political houses in order to address the debt crisis. But coming from a country that can't get much done politically itself, Geithner's appeals may strike European leaders as less than credible.
"This is how empires decline," Ferguson says, citing the collapse of the French, Ottoman and British empires as historical precedents. "It begins with a debt explosion. It ends with an inexorable reduction in the resources available for the Army, Navy and Air Force. And it can happen quite suddenly."
Indeed, the records of both Obama and Congress for producing a debt reduction plan so far have not been promising. In addition to the failure of the joint deficit committee to reach an agreement on cuts, Obama declined to embrace the recommendations of a bipartisan debt commission that he appointed.
The political gridlock suggests that any measures to address the nation's economic problems may have to wait until after the 2012 elections. Still, in a speech last month at the National Defense University, Michèle Flournoy, undersecretary of Defense for policy, assured her audience that even if little happens on Capitol Hill over the next year, the United States is not a declining power. "Don't bet against the United States, she said.
Skeptics dismiss such boosterism, noting that whether the election produces a second-term Obama or his Republican successor, the same economic and geopolitical problems will be waiting.
Shaping America's Power
"'Don't bet against the United States' — this is a bumper sticker. The ones who say that also are saying, 'Don't worry. Everything will be OK,'" says Meyer, who is writing a paper with a colleague on how to avoid decline. "We're saying that's not true. We're saying they're whistling past the graveyard."
How the next president and Congress respond to those problems will determine whether America's current decline remains relative or becomes something more enduring. Fuerth, Gore's former adviser, counsels that both policy makers and lawmakers would be wise to embrace the nation's new reality as a sorely needed corrective to the unrestrained borrowing and ill-advised wars of the past decade.
"These are not yet signs of decline," he says. "These are signs of mistakes and reasons to start thinking constructively about how to secure our future. Decline is a matter of choice, not destiny."
FOR FURTHER READING: The Taiwan bill is HR 2992. Pentagon's many missions, CQ Weekly, p. 2434; policy pivot toward Asia, p. 2374; U.S. dilemmas in Bahrain, p. 2317; U.S.-Pakistan relations unraveling, p. 2206; Budget Control Act (PL 11225), p. 1749; future of U.S. military, p. 1618; fiscal 2011 spending bill (PL 112-10), p. 862.