CQ WEEKLY – VANTAGE POINT
Jan. 7, 2012 – 12:14 p.m.
Santorum's Past Is Prologue
By Sarah Vanderbilt, CQ Staff
In the months before the Iowa Republican caucuses, Rick Santorum's national poll numbers were so abysmally low that no one even bothered to attack him.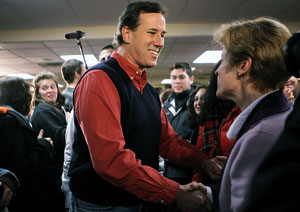 | | |
| --- | --- |
| BIG BOOST: Santorum campaigns for votes at a town hall meeting last week in New Hampshire. (ALEX WONG / GETTY IMAGES) |   |
As a result, the former representative and senator from Pennsylvania was able to come within a whisker of winning the Jan. 3 caucuses — he finished second to Mitt Romney by only eight votes — while escaping the scrutiny that had scorched his opponents, driving some of them out of the race.
It was not the first time that Santorum came back after being written off. When he took on a seven-term Democratic incumbent in his first House race, the 32-year-old lawyer was virtually ignored by even his own party's campaign committee. He ran an aggressive grass-roots campaign and eked out a victory with 51 percent of the vote.
Twenty-two years later, Santorum is back on the campaign trail, preparing for this week's New Hampshire primary, followed by South Carolina's 11 days later.
After Santorum's break-out performance in Iowa, both his opponents and the news media are paying more attention to his background, particularly the 16 years he spent in Congress. What they will find is an intense, sometimes quixotic social conservative who has centered his political career on faith, family and anti-abortion issues. His voting record is more loyal than average to his party, as it was to Republican President George W. Bush.
First elected in 1990, Santorum quickly gained notoriety as a member of the "Gang of Seven," a group of junior House Republicans, including fellow freshman John A. Boehner , who defied institutional elders, emulating the confrontational style of rising leader Newt Gingrich.
Four years later, Santorum defeated another incumbent Democrat to join the Senate, where he established himself as a staunch social conservative.
Santorum vocally opposed Bush's 2001 decision to allow research on existing stem cell lines — one of his few public disagreements with Bush — and was the chief sponsor of the "partial birth" abortion bill signed into law in 2003. He took the lead on Bush's "faith-based initiative" to allow religious groups to compete for more government grants and contracts, advocated for a constitutional amendment defining marriage as between a man and a woman, and was a leader in the effort to keep Terri Schiavo, a brain-damaged Florida woman, on life support despite a court order.
Early in his second Senate term, Santorum was elected chairman of the Senate Republican Conference, the third-ranking leadership position. Positioned to become whip in 2007, and potentially to run for president in 2008, Santorum had his plans cut short by a 17-point loss to moderate Democrat Bob Casey in the 2006 Senate election.
After leaving the Senate, Santorum became a senior fellow at the Ethics and Public Policy Center, a conservative Washington think tank. He also provided strategic consulting on behalf of a Pittsburgh-based law firm and contributed to Fox News.