CQ WEEKLY – VANTAGE POINT
Jan. 7, 2012 – 12:17 p.m.
A Different Campaign Strategy
By Joseph J. Schatz, CQ Staff
In much the same way pundits and pollsters are tracking the presidential campaign and its candidates, China experts in the administration and Congress are busy sizing up potential new leaders in distant Beijing and Taipei. That's because 2012 will be a big political year for U.S.-China relations, and not just because of the American election.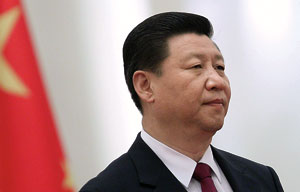 | | |
| --- | --- |
| IN LINE: Xi Jinping is expected to become China's leader. (FENG LI / AFP / GETTY IMAGES) |   |
Voters in Taiwan will go to the polls Jan. 14 to decide whether to re-elect President Ma Ying-jeou, who has overseen a thaw in relations with Beijing. And later in the year, just as American voters prepare for the November general election, China will begin its own, far more opaque leadership transition when President Hu Jintao retires after 10 years in office.
It will be the first such transition since China emerged as a global power player, an idea that Congress is still grappling with, notes Cheng Li, director of research at the Brookings Institution's John L. Thornton China Center.
The U.S. election and the transition in Beijing may have a political impact in both countries. China's restrictive trade practices, for instance, have been rebuked by Republican presidential front-runner Mitt Romney, as well as by traditional critics in organized labor.
Likewise, the run-up to China's transfer of power will feature its own politicking. "Nationalist sentiment will constrain [Chinese] leaders from taking some initiatives that will be perceived as sacrificing China's interests," Li says. "Any moves that would be too pro-U.S. would resonate very badly at home."
The Taiwan election may have the most immediate effect on the U.S.-China relationship. Tsai Ing-wen of the opposition Democratic Progressive Party, which at times has advocated more independence from China, has mounted a strong challenge to Ma. Beijing clearly prefers Ma, and the Obama administration has welcomed the closer Beijing-Taipei ties, which have calmed military tensions in the Taiwan Strait.
But Taiwan's strong allies in Congress are on alert. Ileana Ros-Lehtinen , the Florida Republican who chairs the House Foreign Relations Committee, warned last month of Beijing's attempts to influence Taiwan's elections, and she said her committee would be watching Saturday's elections to analyze whether they were conducted fairly.
The transfer of power in Beijing begins sometime in autumn, when the 18th National Congress of the Chinese Communist Party convenes. Vice Premier Xi Jinping is expected to assume the title of general secretary of the party from Hu; if things play out as expected, Xi would then be named president in early 2013.
Vice President Joseph R. Biden Jr. met with Xi in August on a trip to China. Treasury Secretary Timothy F. Geithner will meet with Xi during his three days in Beijing this week, and Xi is expected to visit Washington this year.
The shift occurs as North Korea undergoes its own sudden leadership transfer, and as the Obama administration tries to reassert U.S. influence in Asia and counter Beijing's growing assertiveness in the region.
Deputy national security adviser Michael Froman says it's unclear how China's leadership transition will affect its stance on trade, although both nations have mutual, long-term interests. Brookings' Li, however, worries that American policy makers aren't watching the Chinese transition closely enough and are ignoring the possibility that it will be bumpy, given that the new generation of Chinese leaders are less tested and have been prone to factional infighting.
As usual when it comes to China, the U.S. business community may be paying the most attention, Li says. "I have been constantly consulted" by U.S. companies in the past year, he said