CQ WEEKLY – IN FOCUS
Jan. 14, 2012 – 1:45 p.m.
Pipeline Questions: Energy and Powers
By Geof Koss, CQ Staff
Earlier this month, Republicans on the House Energy and Commerce Committee posted an online clock ticking down the minutes and seconds to Feb. 21, the deadline set in the recent tax cut extension for President Obama to approve or deny the proposed Keystone XL oil pipeline.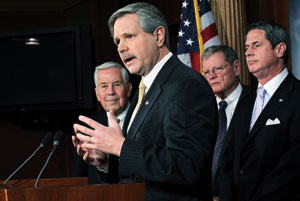 | | |
| --- | --- |
| PLAYING HARDBALL: Sen. John Hoeven of North Dakota, at podium, and other GOP senators explain their plan to force a final decision by President Obama on the Keystone XL oil pipeline from Canada. (ALEX WONG / GETTY IMAGES) |   |
The clock taunts the president to make the difficult election year choice, which threatens to alienate key segments of his political base either way. That was the aim of Republicans who forced the deadline into the must-pass tax legislation. But the political trap raises complex questions of separation-of-powers theory, threatening to spark a constitutional confrontation between the White House and Congress and a new test of presidential power.
At issue is who has constitutional authority to issue permits for pipelines crossing international borders. Since 1968, that responsibility has rested with the State Department, which was assigned the authority through an executive order by President Lyndon B. Johnson. The legal justification, which President George W. Bush reinforced in 2004, originates in the Constitution, which broadly authorizes the president to conduct foreign policy.
Since the Keystone XL pipeline would carry oil across the Canadian border, from the Alberta tar sands to Midwestern and Gulf Coast refineries, Obama might invoke his power to set foreign policy and ignore the deadline. A Democratic operative with close ties to the White House said the so-called constitutional option is under consideration.
"Even better from [the administration's] point of view than denying the permit is just saying lawmakers don't have the authority to do this," he said. "And if they don't like the result, we'll see them in court."
Even if Obama simply rejects the permit, a constitutional fight could be ignited over legislation that Senate Republicans are preparing to shift pipeline authority from the president to Congress, under the legislative branch's power to regulate foreign commerce.
Louis Fisher, a separation-of-powers expert and residential scholar with the Constitution Project said Congress would be within its rights to exercise that option. "Congress has used the foreign commerce power repeatedly over the years, and the Supreme Court has recognized its breadth," Fisher says.
Political Headache
The 1,700-mile pipeline, which when completed would carry 830,000 barrels of crude oil each day, is a top priority for business groups and some labor unions, which view its $7 billion price tag and the potential to create thousands of jobs as a boost for a weak economy. Supporters say the flood of Canadian oil would make the United States less dependent on supplies from unstable regions of the world.
Environmental groups have made blocking the pipeline their top priority and have threatened to withhold support for Obama's re-election if he endorses the project. While environmentalists have raised concerns about pipeline spills along the route, their biggest objection is that fully developing the tar sands would dramatically boost greenhouse gas emissions. NASA climatologist James Hansen has warned that unhindered development would mean "game over" for the world's climate.
The conflict between jobs and the environment has been a political headache for Obama. He found an excuse in November to delay a decision, saying the administration needed more time to review alternatives to the route that pipeline builder TransCanada had proposed through Nebraska's environmentally sensitive Sandhills region. With a new route unlikely to be identified before next fall, that conveniently pushed a decision past this year's election.
Pipeline Questions: Energy and Powers
Congressional Republicans, seeing political opportunity in a campaign year likely to be focused on the economy and unemployment, were not about to let Obama off the hook. Forcing his hand also allows Republicans to exploit the deep divide on the issue between Obama's union and environmental backers.
Including a provision in the payroll tax cut extension that required Obama to make an expedited decision on the Keystone permit was a major victory for congressional Republicans, who left town for the holiday recess confident they had boxed in the president.
But the State Department warned in December that setting the 60-day deadline would force a rejection of the pipeline, because it would be impossible to evaluate a new route through Nebraska that had yet to be identified. Even if the application were denied, there would be nothing to stop TransCanada from coming back with a new application.
'Constitutional Option'
An analysis in December by the Congressional Research Service (CRS) said it was "unclear" whether legislation setting a deadline for presidential action "would be binding or how such a requirement would be enforced in light of the constitutional nature of the president's authority to issue border-crossing permits."
In most cases, states — not the federal government — make siting decisions for oil pipelines, even those that cross state lines. The federal government is involved in the Keystone application only because the pipeline would cross international boundaries.
Courts have generally upheld the president's authority to regulate pipelines crossing the border with Canada, citing the chief executive's constitutional authority to conduct foreign policy, according to the CRS analysis. At least one court suggested that "Congress has accepted the authority of the president to issue cross-border permits" through the lack of any federal statutes addressing the question. That decision could come into play if Obama rejects the legislative mandate and members of Congress take the dispute to court.
"If the permitting authority of the executive branch is derived directly from its constitutional authority to regulate foreign affairs, the ability of Congress to withdraw or amend that authority would be restricted," CRS reported. "However, as mentioned above, courts have considered the silence of Congress regarding this permitting authority in the past as implied assent; ending this implied assent could result in a different finding in the courts."
Andy Fisher, communications director for Sen. Richard G. Lugar, the Indiana Republican who authored the Keystone provision that became law, said Republicans believe that giving Obama the option to deny the Keystone permit passes constitutional muster. "It's written that way for that reason," he said.
Louis Fisher, who handled separation-of-powers issues for CRS from 1970 to 2006, says Congress "has every constitutional right to intervene" in the Keystone dispute, given its power to regulate foreign commerce.
"It's a total misconception" that the president has exclusive power to conduct foreign policy, Fisher said, noting that lawmakers frequently legislate on foreign policy and participate in treaty negotiations.
Congress and the executive branch have clashed on the question before. In 1981, a House subcommittee found Interior Secretary James Watt in contempt for withholding documents involving relations with Canada related to the Mineral Lands Leasing Act, which the Reagan administration justified in part by citing "sensitive foreign policy considerations." Watt vowed to go to jail over the issue, but the administration eventually let lawmakers review the documents.
Fisher acknowledged that a lack of congressional interest on an issue bolsters the president's hand. "Presidents can do a lot of stuff with executive orders, and if no one challenges them, then they're good to go," he said.
Pipeline Questions: Energy and Powers
For their part, presidents from both parties tend to jealously guard their constitutional authority. Obama asserted his executive authority this month, when he made several important "recess" appointments even though Senate Republicans claimed that pro forma meetings kept the chamber in session. With the approval rating of Congress at 12percent in a CBS News poll this month,Obama may also decide that defying lawmakers can bring political reward.
Senate Republicans are wrestling with the separation-of-powers questions as they prepare legislation to give Congress pipeline siting authority if the president refuses to act.
"We are researching the constitutional issue and will continue to work through that," said Ryan Bernstein, deputy chief of staff and legal counsel for Sen. John Hoeven, a North Dakota Republican working with the GOP leadership on a Keystone bill.
TransCanada is trying to navigate a shifting political landscape further complicated when Nebraska lawmakers passed legislation expanding state oversight of major oil pipelines, spokesman Shawn Howard said.
"Right now what we're doing is focusing on advancing this application," he said. "We don't control the political process, we don't control the regulatory process; we will respond to things as they happen, and that's about all we can do."
FOR FURTHER READING: Pipeline deadline was part of PL 112-78, CQ Weekly, p. 41; environmentalist opposition, 2011 CQ Weekly, p. 2314; pollution worries, p. 993.