CQ WEEKLY – IN FOCUS
Jan. 14, 2012 – 1:49 p.m.
Tightening the Screws On Iran — and Obama
By Jonathan Broder, CQ Staff
It has been only a few weeks since Congress passed its latest round of Iran sanctions. Already the legislation has ramped up tension and set a political clock ticking for President Obama and Western allies to act against Tehran's nuclear program.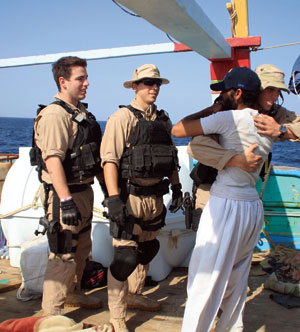 | | |
| --- | --- |
| RELIEF: An Iranian fisherman hugs one of the U.S. Navy sailors who rescued him from Somali pirates. (U.S. NAVY / AP) |   |
The sanctions, which Obama expressed reservations about as he signed the fiscal 2012 defense authorization bill into law on New Year's Eve, reflect Congress' latest attempt to force a halt to Iran's nuclear-enrichment activities. Tehran claims that its program is strictly peaceful, but U.N. monitors say it shows evidence of atomic weapons research.
Unlike past sanctions bills, the latest measure, which passed the Senate in a rare 100-0 vote in December, gives the president less flexibility. The new law requires the president after 60 days to slap an embargo on any country or entity that conducts non-oil trade with Iran's central bank. After 120 days, the president must impose similar sanctions against those who buy oil from Iran. The president can issue waivers, but he must report back to Congress every 30 days to explain them — an unusually high hurdle.
"We must apply maximum pressure to the Iranian regime," says New Jersey Democrat Robert Menendez, a senior member of the Senate Foreign Relations Committee and the sanctions amendment's co-author along with Illinois Republican Mark Steven Kirk. "We need the ban on trade with Iran to be strong, significant and airtight."
The sanctions law already has jacked up oil prices, devalued Iran's currency and further heightened the tense U.S.-Iran relationship. Iran has threatened to blockade the Persian Gulf in retaliation, and the United States has warned it will use military force if necessary to prevent such a move. But the legislation has done something more: With its tight schedule for presidential action, it has created a series of deadlines and markers throughout this year that will indicate the success or failure of the sanctions. Inevitably, these markers also will serve as a gauge for the likelihood of military confrontation with Iran.
Not Legally Binding?
Another Middle East war is the last thing Obama wants right now. In a Dec. 31 signing statement that accompanied his enactment of the defense policy bill, Obama said that the Iran sanctions usurp the president's constitutional power to conduct foreign affairs. He said he would regard the sanctions as more advisory than legally binding, making it unclear how strongly he will enforce them.
Obama's approach has only intensified the political furor surrounding the measure. Kirk has warned the White House against such a reading of the sanctions law. "With the Senate voting 100-0 to cripple the Central Bank of Iran, the president's signing statement hinting he will ignore parts of this law risks overwhelming opposition in the Congress," he says.
In addition, Republicans have made a tough line toward Iran a litmus test for the commander in chief in the upcoming election. With the exception of Texas Rep. Ron Paul and former Utah Gov. Jon Huntsman, every GOP presidential contender has threatened to bomb Iran if it develops a nuclear weapon.
To be sure, Obama is not taking the legislation or the politics lightly. But the president is trying to achieve results through quiet diplomacy rather than by congressional fiat.
Over the past few weeks, he has dispatched overseas several top aides, including Treasury Secretary Timothy F. Geithner and Deputy Secretary of State Wendy R. Sherman, to persuade foreign leaders to cut trade with Iran voluntarily before the legislation's deadlines run out. In what appears to be an early success for Obama, the European Union has indicated it is prepared to comply with U.S. calls for an embargo on Iranian oil. Both congressional and administration officials believe they should have a clear idea of the EU's plans for sanctions against Iran by the end of this month. Of Iran's daily export of 2.3 million barrels, Europe buys roughly 20 percent.
The first deadline in the law comes at the end of February, when the sanctions targeting companies and financial institutions that do business with Iran's central bank are scheduled to come into force. Soon after that, the sanctions law requires the Energy Department to issue a report on which countries remain Iran's oil clients. That list is likely to include China, India and close U.S. allies Japan, South Korea and Turkey, all of which are heavily dependent on Iranian oil.
Tightening the Screws On Iran — and Obama
In an effort to wean these countries off Iranian oil, administration officials have sought assurances from Saudi Arabia that it will use its excess capacity to offset any loss of Iranian crude. Saudi officials, who fear Iran's nuclear ambitions, have pledged in principle to step up production. Saudi Arabia produces nearly 10 million barrels of oil per day and could ramp up daily production to 12.5 million barrels.
But according to an analysis last week by the Center for Strategic and International Studies, "the resulting reduction in effective 'spare' capacity would likely spook traders . . . and consequently result in increased oil prices at a time when the fragile global economy can ill afford additional price shocks."
Meanwhile, as the June deadline for sanctions against Iran's oil customers approaches, Obama will come under congressional pressure to decide if he is going to boycott those countries or give them a temporary waiver.
"The trade and oil embargoes don't have to be 100 percent effective to hurt Iran," says a pro-Israel lobbyist who follows the sanctions issue closely and asked not to be identified. "Even if it's 25 percent effective, Iran will have to think twice before going forward with its nuclear plans."
Israel's supporters on Capitol Hill are another factor that Obama must consider. In November, Israeli Defense Minister Ehud Barak stated that only nine months remain before military action against Iran's nuclear program would be futile. The Obama administration says Iran has not yet decided to build a bomb, but in the event Tehran decides to, it would need about a year to put one together. "If we get intelligence that they are proceeding with developing a nuclear weapon, then we will take whatever steps necessary to stop it," Defense Secretary Leon E. Panetta told CBS last month.
All Politics Are Local
In a sign that the sanctions are beginning to bite, Iran recently called for a resumption of negotiations over its nuclear program with the United States, Russia, China, Britain, France and Germany.
But despite that gesture, experts on Iran warn that Tehran is unlikely to surrender to U.S. demands regarding its nuclear program. That doesn't mean Iran is going to make good on its threat to close off the Persian Gulf's gateway Strait of Hormuz — a move that would restrict both Iran's exports and imports and, the experts note, ultimately hurt Iran economically more than the sanctions.
But according to Vali Nasr, a former Middle East adviser in the Obama administration, the more sanctions threaten Iran's ruling clerics' hold on power, the more defiant they will be — and the more determined they will be to push forward with their nuclear designs.
Indeed, last week Iran announced the opening of a new uranium-enrichment plant near the holy city of Qom. And after the U.S. Navy rescued a dozen Iranian fishermen being held by Somali pirates in the Sea of Oman, Tehran responded by sentencing an Iranian-born American to death as an alleged CIA spy.
Just as election politics are amplifying the issue in the United States, domestic politics are stoking passions in Iran. In March, the country holds parliamentary elections that will pit conservatives aligned with President Mahmoud Ahmadinejad against his critics.
In assessing Iran's confrontation with the West, Nasr says hard-liners in Tehran regard the United States as economically weak and vulnerable to high oil prices, especially during an election year. By inflating tensions in the Persian Gulf, Iran has said it could push up the price of oil to $250 per barrel — a development that would wipe out the fragile U.S. economic recovery, send the country into a full-blown depression and destroy Obama's chances for re-election.
"Subsequently, the Iranian regime thinks it can counter international pressure on its nuclear activities long enough to get to a point of no return on a weapons program," says Nasr, now a professor at Tufts University's Fletcher School of Diplomacy and Law.
Tightening the Screws On Iran — and Obama
Not surprising, Iran's announcement of its new uranium enrichment plant has brought Congress back into the picture. When the Senate returns to work next week, Republican Lindsey Graham of South Carolina and independent Joseph I. Lieberman of Connecticut, both members of the Armed Services Committee, plan to introduce a resolution that rules out containment of a nuclear-armed Iran as a policy option.
"Containment is failure, and failure cannot be an option," they said in a joint statement.
Expect such rhetoric to intensify as the deadlines in the sanctions legislation get closer in the coming months. No one is suggesting yet that an outbreak of war is likely, but the politics in both countries virtually guarantee that tensions — as well as oil prices and the chances for miscalculation — will grow higher.
FOR FURTHER READING: Fiscal 2012 defense authorization (PL 112-81), CQ Weekly, p. 31; Iran sanctions, 2011 CQ Weekly, p. 2339.