CQ WEEKLY – COVER STORY
Jan. 14, 2012 – 1:52 p.m.
For Republicans, a United Front, but Tension Beneath
By Joseph J. Schatz, CQ Staff
With less than 10 months to go before the 2012 election, Mitch McConnell, the Senate minority leader, can see a path to becoming majority leader.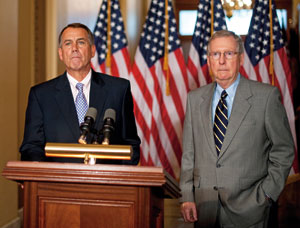 | | |
| --- | --- |
| STANDING TOGETHER: As Congress in 2011 lurched from crisis to crisis, Boehner and McConnell stood together, as they did during the debt limit standoff in July. But they had much different management challenges. (BILL CLARK / CQ ROLL CALL) |   |
It's a tricky route that requires his party to win back seats in several conservative-leaning states while holding fragile GOP turf in places such as Nevada and Massachusetts. It also involves pragmatism, occasional compromise and careful choices about when to fight with the Democrats, lest the party be seen as obstructionist, a label that President Obama is ready to use in this year's campaign.
In the House, Speaker John A. Boehner has the majority, but he does not appear to have the luxury of picking his fights. For many in his rowdy caucus, particularly a gaggle of ideologically driven freshmen who have become no less combative after one year in office, answering the question of which fights to pick with the Democrats is easy: all of them.
And that's where McConnell's goal meets Boehner's headache. Many of Boehner's members, and not just the freshmen, view the Senate as a dysfunctional and plodding place. They see McConnell's acquiescence in the way the chamber does business as anathema to the ideals that got them elected to the House 14 months ago. Their concerns have Boehner struggling to keep his head above water, his gavel in hand and his team in the majority.
That's what led McConnell and Boehner, after maintaining a united front all year — at least in public — to part ways on the year-end payroll tax debate, in which Senate Republicans sided with Democrats and abandoned their furious House allies.
It underscored a dynamic that congressional Republicans have sought to downplay but that is on full display as 2012 begins: House and Senate Republicans may belong to the same party, but they have very different political interests. Those interests are born partly of age-old institutional rivalries and partly of the current state of Republican politics.
The tensions in the party's congressional wing reflect, as is often the case, the broader divisions — among Chamber of Commerce Republicans, social conservatives, tea partiers, libertarians and other assorted factions — that are playing out in the race for the Republican nomination. That's one of the main reasons why former Massachusetts Gov. Mitt Romney, despite placing first in the Iowa caucuses and then winning the New Hampshire primary last week, faces a continued challenge from former House Speaker Newt Gingrich of Georgia, Rep. Ron Paul of Texas, former Sen. Rick Santorum of Pennsylvania and other candidates who speak to a slice of the GOP electorate.
Wendy Schiller, a political science professor at Brown University, argues that those divides are reinforcing the tensions among congressional Republicans. "Republican senators today do not want to hinge their electoral fortunes on the House GOP," Schiller says. "It makes it very difficult to cooperate across the chambers."
Michael Franc, vice president of government studies at the conservative Heritage Foundation, says House Republicans "sincerely want to have something to show to the voters in 2012 — that they made a measurable difference." Senate Republicans are "more aware of how a rash action might appear in an election year," argues Franc, who once worked for former House Majority Leader Dick Armey, a Texas Republican. "When they look at the kind of seats that are open, they can see a path to a majority. The path is not one that requires a dramatic confrontational style of politics."
Democrats, of course, are generally better known for ideological disarray than are Republicans. But they seem to have found a strategy for unity: focusing on the increasing economic inequality in American society, a prominent theme in the payroll tax fight. And the recent GOP tensions give Democrats an unexpected opening as the second session of the 112th Congress begins, with the payroll tax cut quickly re-emerging as the first order of business.
To be sure, Republicans are generally united across the Capitol on most issues: the Obama health care law, the deficit and the threat that tax rates might rise. Since Obama took office with Democratic majorities in both chambers in 2009, and after the GOP took the House last year, House and Senate Republicans have worked together to thwart large chunks of his agenda.
Boehner and McConnell have worked in tandem to advance the party's common goals, particularly during the summer debt ceiling fight, when they carefully maneuvered to minimize any public split. That's what made it all the more striking when McConnell decided that he could no longer back his House counterpart's play, cutting a deal on the payroll tax with Senate Majority Leader Harry Reid of Nevada.
For Republicans, a United Front, but Tension Beneath
That infuriated Boehner's members and prompted the Speaker to reject it, under pressure from his conference. McConnell's team tried to engineer a face-saving way out of the jam but insisted that House Republicans accede to the Senate, which they did after a week of pressure from the White House — leading many House conservatives to feel that the Senate had sold them out.
Institutional Pressures
The bad feelings the episode sparked between House and Senate Republicans — and their differing interests — are certainly not a new phenomenon. The chambers' innate institutional tensions often trump party loyalties despite the best efforts of the leadership.
In some sense, they're hard-wired by the Constitution, which prescribes two-year terms in the House and six-year terms in the Senate, insulating senators from short-term political calculation. Also, House and Senate lawmakers have different constituencies and different electoral challenges and often speak different political languages, a reality that Boehner's caucus has come to know all too well.
"While Republicans are always Republicans and Democrats are always Democrats, they tend to look at things a little differently on different sides of the Capitol," says former Rep. Bill Frenzel, a Republican who represented Minnesota from 1971 to 1991.
That's why McConnell's agreement with Reid to extend the expiring tax break until the end of February and buy time for a broader deal looked like a sell-out to most GOP House freshmen even though it seemed like a pragmatic compromise to most Senate Republicans.
"There was a joke years ago — I think it's probably gone back to the beginning of time — that the House Republicans have to deal with the Democrats and the Senate. And the Senate was always deemed to be the enemy, Republican or Democrat," says Robert L. Livingston, a Republican who represented Louisiana from 1977 to 1999 and chaired the House Appropriations Committee. Livingston is now a prominent lobbyist.
Managing intraparty differences across the Capitol can be a Herculean task for leaders and staff, filled with opportunities for miscalculation.
That's probably less the case when a party is in the minority in both chambers. In the 1960s, House Minority Leader and future President Gerald R. Ford of Michigan and Senate Minority Leader Everett Dirksen of Illinois, both Republicans, did a broadcast news conference together from the Capitol — nicknamed the "Ev and Gerry Show" — in which the two took aim at President Lyndon B. Johnson. They even instituted the minority rebuttal to the president's State of the Union address. "In our relationship, I was the spear carrier, and I must say, we used to aim some sharp ones in the direction of the then-occupant of the White House," Ford said in a 1975 speech dedicating a research center in Dirksen's honor.
That, of course, was during an era in which both parties spanned the ideological divide and getting things done required bipartisan coalitions — a far cry from today, when polarization is the norm. And former Rep. Frenzel, now a guest scholar at the Brookings Institution, notes that for the past few decades House Republican leaders have "had a little more trouble holding their crowd together than the Senate Republican leader has had."
In 1990, as the parties became increasing polarized, Gingrich, then House Minority Whip, and other House conservatives unhappy with President George Bush's decision to raise taxes undercut House Minority Leader Robert H. Michel of Illinois and Senate Minority Leader Bob Dole of Kansas, both Republicans, on a major budget deal.
The stakes are higher when the party controls one or both chambers. Senators will often work out bipartisan deals in their own chamber and insist that the deal is the only path that can get the 60 votes needed to surmount a filibuster, to the immense frustration of more-partisan House members.
For Republicans, a United Front, but Tension Beneath
That's essentially what happened with the payroll tax debate. But it's also what happened in 2003, when Senate Majority Leader Bill Frist of Tennessee roiled relations with House Speaker J. Dennis Hastert of Illinois by cutting a senatorial deal with Finance Chairman Charles E. Grassley of Iowa and Olympia J. Snowe of Maine on a $350 billion tax cut package — just hours after he had led Hastert to believe that they had a bicameral pact on a $550 billion deal.
Aides to McConnell and Boehner have worked hard over the past few years to portray the two men as being in lockstep. They talk at least weekly, usually more often, and share a geographic bond: Cincinnati-born Boehner spoke at the McConnell Center in Louisville, Ky., in October and noted that "he's a man of integrity and one of the best legislators I've ever worked with. I'm truly grateful for his friendship and for our partnership."
McConnell and Boehner kept a largely united front throughout the summer debt ceiling negotiations, with the Kentuckian often deferring to Boehner's political needs in the House, which helped them extract significant spending cuts from the White House.
Still, McConnell's wariness of the desire among many House GOP freshmen for brinkmanship was apparent when he proposed a "contingency plan" to end the crisis. For Senate Republicans, it represented a way to avoid a debilitating default and keep the GOP brand intact. House Republicans panned it, but it ended up being part of the final deal.
Yet when Boehner repeatedly sought to cut a "grand bargain" with the White House to overhaul the tax code and make far-reaching entitlement changes, McConnell, warier of losing the GOP advantage on taxes, kept his distance.
Boehner seeks to show that his caucus can govern, but he can't control an ungovernable group of freshmen. McConnell seeks to defeat Obama and take the Senate majority, yet he must protect his vital moderates as well as the GOP brand. Ultimately, McConnell put his own caucus's interests first in the payroll dispute, refusing to publicly support Boehner's decision to hold out for a yearlong fix and finally demanding that House Republicans pass the deal.
The dispute laid bare the divisions and put vulnerable Senate Republicans, such as Dean Heller of Nevada and Scott P. Brown of Massachusetts, in a tight spot, yet also gave them an opportunity to do a bit of their own triangulation, siding with Obama against House Republicans on an issue with popular appeal. While many of the Senate seats that Republicans hope to capture are in fairly reliable Republican territory, such as Nebraska, the Nevada and Massachusetts seats remain toss-ups and will probably be crucial to control of the chamber.
The dispute led many observers to conclude that Boehner had miscalculated and assumed that his party would back the Senate deal. He says he knew there would be problems.
Regardless, Boehner is realistic. When asked whether he has thought about the prospect of working with a GOP-controlled Senate in 2013, he's quick to downplay any notion that a Republican-run Congress would operate smoothly.
"The Senate won't have 60 [Republican] votes. Quick and easy is not that institution," Boehner said a recent interview. "We will have people who want it all immediately. I see challenges."
Navigating Factions
That's probably an understatement. The divisions between House and Senate Republicans aren't just institutional; they reflect the ongoing churn within the Republican Party.
Since taking over the chamber a year ago, House Republicans have, by any measure, won some notable victories: statutory spending caps, the promise of automatic budget cuts next year and an overall shift in focus to restrain spending. Yet even after the embarrassing payroll tax dispute, many House GOP freshmen remain frustrated by their inability to unilaterally force significant change. They are insistent that compromise is not an option.
For Republicans, a United Front, but Tension Beneath
"The voters who hired us had high expectations based on the bold plans we promised during our election 'interviews.' Unfortunately for the Americans who put their confidence in new Republicans, the first-year report card is unimpressive," freshman Rep. Tim Huelskamp of Kansas wrote in a Washington Examiner opinion piece Jan. 3, slamming the House GOP leadership's decision to quickly cave in to the Senate on the payroll deal.
"It's amazing that so soon after the 2010 elections the Republican House of Representatives is now faced with having to rebuild trust with the voters," he wrote.
Brown University's Schiller sees a shift from the unity that House and Senate Republicans displayed starting in 1995, when Republicans gained full control of Congress for the first time in decades. Gingrich and Dole largely put aside their differences and unified the party's agenda — a dynamic that lasted into the past decade.
That ended with the election of 2010, in which grass-roots energy and the tea party movement sent a large number of inexperienced Republicans to the House — but not so many to the Senate. Despite the addition of firebrands such as Rand Paul of Kentucky, the Senate GOP caucus remained more experienced than its House counterpart and also saw the entry of some more traditional or moderate Republicans, such as former House members Roy Blunt of Missouri and Mark Steven Kirk of Illinois.
The experience level has made a difference during the past year. The two caucuses' divergent approaches can be seen in their voting patterns. With issues on which Obama took a clear position, Senate Republicans voted "aye" on average 53 percent of the time. The average House Republican presidential support score was just 22 percent.
Before 2010, Schiller says, "there was a sense that the Republican Party as a whole was represented by the House and Senate together." Now "that connection is severed."
In the Republican presidential nomination fight, party divisions have been on full display. It's evident in the unexpected turns that the race has taken, as Gingrich and others criticize Romney's history in private equity — an unlikely line of attack in a party that has long been the bastion of free enterprise.
And that may only increase as Republicans settle on a presidential nominee and Democrats seek to link the new standard-bearer to the congressional GOP and exploit what Steve Bell, a former GOP staff director of the Senate Budget Committee, calls the "Balkanization of the party."
Bell, now a senior director at the Bipartisan Policy Center, argued in a recent blog post that last year's votes on the House GOP budget plan, and its proposed overhaul of Medicare, "will come back to haunt Republicans as Democratic strategists roll out the 30-second commercials and the blogosphere machinery. One would think that the scenario outlined above would concentrate the minds of the House Republican caucus on unity and survival. It probably won't."
To former Rep. Frenzel, this smacks of an earlier era (albeit with a different party in control of the House): the aftermath of the 1974 election, which saw an influx of 75 Democratic "Watergate babies" after the resignation of President Richard Nixon.
Elected with big ambitions, they forced internal changes in the party but quickly grew frustrated with House Speaker Carl Albert, the diminutive and old-school Oklahoma Democrat nicknamed the "Little Giant from Little Dixie." Within a year or two, much of their energy had been sapped. "The system has swallowed us up," Rep. Norman Y. Mineta of California said at the time.
Frenzel says that although House and Senate Republicans aren't that different ideologically, "I think the House members have to work their way through kind of an indoctrination and a learning process . . . before they develop the coherence" that the Senate Republicans have. "Another election or two might bring them closer together."
Richard E. Cohen contributed to this story.
For Republicans, a United Front, but Tension Beneath
FOR FURTHER READING: Boehner's management challenges, 2011 CQ Weekly, p. 854; Republican tensions, 2009 CQ Weekly, p. 290.