CQ WEEKLY – VANTAGE POINT
Jan. 21, 2012 – 11:26 a.m.
Adding Sparkle to Museums Plan
By Rachel Bade, CQ Staff
The Florida Republican who chairs the House Transportation and Infrastructure Committee, John L. Mica , has been trying for several years to pass a bill that would evict the Federal Trade Commission from its downtown Washington headquarters so that the majestic 1938 building could become an annex for the National Gallery of Art, just across Constitution Avenue.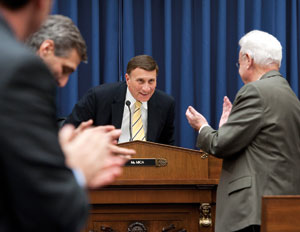 | | |
| --- | --- |
| BILL BUNDLER: Mica added a popular plan for a women's museum to his bill to relocate a reluctant FTC. ( SCOTT J. FERRELL / CQ ROLL CALL) |   |
The FTC, which has some influence in Congress, doesn't want to move. Just last month, in fact, Congress came close to passing a provision of an appropriations bill that would have specifically blocked Mica's plan. It was dropped in conference, however.
In the meantime, Mica is trying the well-worn tactic of combining his bill with another one that might be more popular: the transfer of a different parcel of land along the Mall for the construction of a National Women's History Museum, which has become a pet project for actress Meryl Streep.
Unlike his FTC proposal, which has some Democrats in an uproar, the women's museum idea appears to have a bipartisan green light. The House passed the bill by voice vote in 2010, as have Senate committees in two Congresses, although Republican Sens. Tom Coburn of Oklahoma and Jim DeMint of South Carolina held up the House-passed version in 2010 after conservatives said the museum would glorify abortion. The project's organizers have placated some critics by adding to their online museum the biographies of anti-abortion activist Ellen McCormack and Eagle Forum founder Phyllis Schlafly, whose organization helped defeat the Equal Rights Amendment.
That, combined with the spotlight Streep has been shining on the project, has brought momentum to the once-stalled idea.
Mica's committee last year approved an even larger legislative package, with a proposal for a "civilian BRAC," a special commission to propose a list of properties across the country that the government should relinquish. The president and Congress would have to accept or reject the entire list, in the same way it dealt with several military base closure recommendations.
Mica says he is removing the BRAC bill from his package, however.
In contrast to the museum plan, opponents of Mica's FTC proposal worry about the property deal. They say the government should not give away such prime real estate, which, if sold, could bring in a swath of cash. What's more, such a gift might cost the government money: According to the Congressional Budget Office, the building would need renovation and repair before it could be used by the Gallery of Art, which is an independent part of the Smithsonian. Critics also worry that the FTC will demand a new headquarters — new building, more money.
Mica says he needs to have the FTC and museum measures together. "I have to keep that as a security in moving forward," he says, although he hopes the FTC will agree to leave of its own accord. He also plans to leave a placeholder in the bill for a civilian BRAC. Just in case.