CQ WEEKLY – VANTAGE POINT
Jan. 21, 2012 – 11:38 a.m.
Second Look at Oversight Budget
By Shawn Zeller, CQ Staff
Republicans drove much of the budget cutting in Congress last year, but three GOP senators are having second thoughts about a nearly 50 percent reduction in the budget for the inspector general at the Corporation for National and Community Service, which supports initiatives such as AmeriCorps and Senior Corps.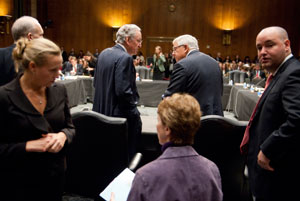 | | |
| --- | --- |
| HINDSIGHT: Enzi, right, and other GOP senators asked Harkin, left, to restore an IG office's budget. (TOM WILLIAMS / CQ ROLL CALL) |   |
Earlier this month, Sens. Michael B. Enzi of Wyoming, Charles E. Grassley of Iowa and Susan Collins of Maine wrote to their Democratic colleague, Tom Harkin of Iowa, to ask that he work to restore the funding. Harkin chairs the Appropriations subcommittee that funds the corporation.
"We simply do not understand what motivated this cut, considering the demonstrated need for a robust Office of Inspector General," they wrote.
Earlier this month, the corporation's acting inspector general, Kenneth Bach, wrote to lawmakers to complain that the reduction in his budget in last month's omnibus spending bill — from $7.7 million in fiscal 2011 to $4 million this year — would force him to lay off staff and postpone congressionally mandated audits and fraud investigations.
But Harkin thinks Enzi, Grassley and Collins would do better to talk to Republicans in the House. "There is no question where this funding cut originated," says Harkin spokeswoman Kate Cyrul. "This was only one of many, many difficult cuts in the fiscal year 2012 omnibus appropriations bill that resulted from negotiations with House Republicans." She says Harkin wanted to keep the office going, but it's unlikely now that the law can be reopened.
The Senate bill made no changes in the inspector general's budget; the House version proposed an appropriation, but only to pay for shutting the office down, while reducing the corporation's entire budget by nearly 75 percent. The final version cut the overall corporation budget by 2 percent.
The office has been without an inspector general since June 2009, when the administration fired Gerald Walpin, saying he was incompetent and was behaving oddly.
Republicans in Congress, including Grassley, questioned whether the administration was actually trying to silence an effective watchdog. Grassley said he was concerned that Walpin was let go because he was investigating the alleged misuse of AmeriCorps money by a charity run by Sacramento Mayor Kevin Johnson, a Democrat.
Grassley says there were allegations that AmeriCorps grant money was used to have Johnson's car washed and for political campaign work and that Walpin wanted Johnson to repay federal grant money that his charity could not account for.
Walpin sued for wrongful termination but was rebuffed earlier this month by a panel of judges at the U.S. Court of Appeals for the District of Columbia Circuit, who affirmed a previous district court decision. Walpin had argued that President Obama violated a 2008 law requiring the president to give Congress 30 days' notice before removing an inspector general. The judges said Walpin had been given 30 days of pay in compliance with the law, even though he'd been placed on leave.
Obama named Jonathan Andrew Hatfield, a deputy inspector general at the Federal Election Commission, to replace Walpin in February 2010, but after waiting more than a year for confirmation, Hatfield withdrew his name. In November, Obama said he would nominate Deborah J. Jeffrey, a partner at the law firm Zuckerman Spaeder, for the post.