CQ WEEKLY – IN FOCUS
Jan. 21, 2012 – 12:53 p.m.
The Web Rises Up, Hill Backs Down
By Keith Perine, CQ Staff
One thing is clear after last week's widespread Web-based protest against bills aimed at cracking down on online piracy: The Internet now has a seat at the bargaining table.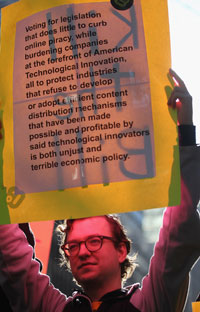 | | |
| --- | --- |
| IN PERSON: Not all the activism was virtual: Demonstrators protest outside the offices of New York's senators on Jan. 18. (MARIO TAMA / GETTY IMAGES) |   |
Thousands of websites, including Wikipedia, Google and Reddit, made grass-roots lobbying history Jan. 18 by going dark or posting prominent statements of opposition to the online piracy legislation, saying the measures would give the government broad censorship powers. The impact was immediate and unprecedented: Throughout the day, House and Senate cosponsors pried their names off the bills, tweeting and posting their newfound concerns. By week's end, Senate Democrats had scrapped plans to take the measure to the floor Jan. 24. House Republicans retreated as well.
The success of the revolt sent a jolt through the old-guard lobbying groups that represent Hollywood movie studios and the music industry. For decades, they've enjoyed largely unfettered clout on Capitol Hill. Despite tech-sector opposition over the months, the measures they backed to crack down on purloined movies, music and other copyrighted material had been moving quickly in both chambers.
There appears to be no clear way to salvage their efforts. "They can no longer propose policy and ignore the activists," says Allan Friedman, a fellow at the Brookings Institution. "Now they're going to have to take into account the different arguments that might be made and try to head them off."
Former Sen. Christopher J. Dodd, who heads the Motion Picture Association of America, struck a newly conciliatory tone in a Jan. 20 statement, shortly after Senate Majority Leader Harry Reid of Nevada announced he would cancel a planned Jan. 24 vote on whether to take up the measure.
"We hope the dynamics of the conversation can change and become a sincere discussion about how best to protect the millions of American jobs affected by the theft of American intellectual property," Dodd, a Connecticut Democrat, said. "The threat posed by these criminal operations has been widely acknowledged by even the most ardent critics. It is incumbent that they now sincerely work with all of us to achieve a meaningful solution."
The firestorm unleashed last week led many lawmakers to conclude that they had underestimated the technical problems with the bills.
"They didn't know about the technology," Friedman said. "And, frankly, you have to really know about the technology to understand the implications of this."
An 'Internet Uprising'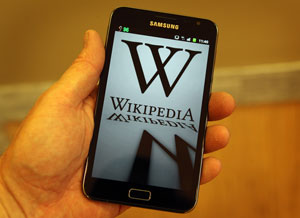 | | |
| --- | --- |
| GOING OFFLINE: Wikipedia made its English-language service unavailable on Jan. 18. (PETER MACDIARMID / GETTY IMAGES) |   |
The Jan. 18 protest was as much organic as it was organized.
Washington-based policy advocates and tech-sector trade organizations had been lobbying against the measures since one was introduced in the Senate, in 2010. But for months, their biggest allies were a crowded Senate calendar and Oregon Democrat Ron Wyden, who vowed to block floor action on the Protect IP Act, sponsored by Judiciary Chairman Patrick J. Leahy, a Vermont Democrat.
The Web Rises Up, Hill Backs Down
That measure, like a companion bill in the House known as the Stop Online Piracy Act (SOPA), would give the Justice Department and intellectual property holders new tools to move against foreign sites that illegally sell music, movies and consumer goods.
With action in both chambers heating up late last year, opponents began looking for ways to spread their message online. The Jan. 18 protest was the second of its kind against the piracy legislation. The initial, smaller-scale protest came Nov. 16, when the House Judiciary panel held a hearing on its version of SOPA, sponsored by Chairman Lamar Smith of Texas. Social-networking site Tumblr was among a number of websites that posted messages protesting the occasion.
Opponents decided to follow up with more website protests last week, on the day when the House Oversight and Government Reform Committee scheduled a hearing on the related subject of Internet domain-name blocking.
That hearing was canceled but the protest wasn't. Fight for The Future, a nonprofit activist organization that helped coordinate tech-community opposition, claims that more than 115,000 websites participated, generating more than 3 million emails in opposition to the legislation. "This is mainly a grass-roots Internet uprising," said the group's spokeswoman, Tiffiniy Cheng.
By week's end, Hollywood, the record companies and the U.S. Chamber of Commerce were regrouping with Leahy and Smith to figure out a new strategy.
Miles Apart
As Dodd noted, even vehement critics of the pending bills agree that online piracy is a growing concern. As if to underscore that point, the Justice Department on Jan. 19 announced that it had moved against one of the largest file-sharing sites on the Internet, Megaupload, and won indictments against seven people and two corporations for criminal copyright infringement.
But opponents say the House and Senate bills go about combating the violators in ways that could affect websites that do not engage in widespread, deliberate copyright infringement. The bills, they said, also would give the government unwarranted censorship powers and choke off innovation and growth.
Opponents were not mollified when Leahy and Smith offered to drop controversial language that would have allowed the Justice Department to seek court orders to block domestic Web users from accessing foreign infringing sites via their Internet domain names. As the groundswell of protest grew, the White House on Jan. 14 announced that it, too, had concerns about several provisions of the bills.
Questions arose about the breadth of other provisions, including the definition of what constitutes an infringing website and a provision that would empower the Justice Department to seek court orders to prevent search engines from steering Web users to such sites.
Late last week, Leahy was weighing a suggestion by Senate Minority Whip Jon Kyl, an Arizona Republican, that he drop the provision related to search engines.
In the House, Smith pulled back from resuming a contentious committee markup of his bill. Although he appears to have enough support to get it through his panel, whether he has sufficient backing from the rest of his caucus is not clear. A handful of GOP lawmakers who do not serve on Smith's panel came out in opposition last week. As it stands, there is no obvious middle ground between the two sides.
"I am open to constructive suggestions that protect American inventors and intellectual property rights holders," Smith said. "Unfortunately, some critics simply want to maintain the status quo, which harms U.S. companies, consumers and innovators."
The Web Rises Up, Hill Backs Down
California Republican Darrell Issa, who serves on the House Judiciary panel, has been leading opposition to Smith's bill. On Jan. 18, he introduced a companion bill to a Wyden alternative in the Senate; his measure would use the International Trade Commission as the mechanism for moving against foreign-based infringing sites. But Leahy and Smith aren't interested in that approach, in part because their panels would lose exclusive jurisdiction.
As the November elections draw nearer, it is less likely that any online piracy legislation will become law this year, with Internet regulation emerging as an even higher-voltage political third rail than it was during the early days of the Web, in the 1990s.
"I don't think that you can deal with a topic that's this complicated [by] just firing pieces of paper back and forth on the floor of the United States Senate," Wyden said. "You really need to think through how various approaches affect the architecture of the Net."
FOR FURTHER READING: Senate bill is S 968; House bill is HR 3261.