CQ WEEKLY – IN FOCUS
Jan. 21, 2012 – 1:12 p.m.
Damming Up Overruns at the Pentagon
By Frank Oliveri, CQ Staff
Six months after winning a coveted $35 billion aerial tanker contract, Boeing Co. announced last year that the first planes would cost $1 billion more than promised during the contract's competition. For many lawmakers and experts, that news vindicated the Obama administration's policy of favoring fixed-price contracts as a way to rein in out-of-control weapons costs.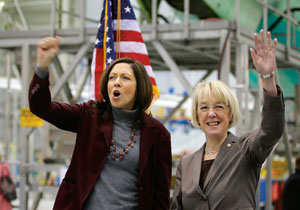 | | |
| --- | --- |
| BIG WIN: Washington Democratic Sens. Maria Cantwell, left, and Patty Murray at a Boeing rally celebrating the tanker deal. (TED S. WARREN / AP) |   |
These fixed-price contracts are increasingly viewed on the Hill as a way of ending the Pentagon's history of cost overruns. Even the most steadfast Pentagon supporters find it more and more difficult to defend military spending as weapon after weapon, from the tanker to the F-35 Joint Strike Fighter, exceeds Pentagon and contractor cost projections by tens of billions of dollars.
"I have been hearing from people in Phoenix and Tucson that food banks are very much strained this year," says John McCain of Arizona, top Republican on the Senate Armed Services Committee. "They don't have as much as they need to care for people over the holidays. Then our friend, the F-35, comes in with a $771 million cost overrun. It is out of whack."
But like many politically appealing "fixes," set-price contracts are unlikely to cure what ails the Pentagon's acquisition process. Indeed, the Defense Business Board, a federal advisory commission, warned in January last year against overreacting.
"History clearly shows that extreme policy mandates for one type of contract vs. another are not effective cost control management tools," wrote Mark H. Ronald, the board's vice chairman.
In March 2009, President Obama issued a policy memorandum that called for increased use of fixed-price contracts across government after the administration determined that cost-reimbursement contracts — where the taxpayer incurs all the risk associated with cost overruns — had almost doubled over an eight-year period.
Obama said such contracts create "a risk that taxpayer funds will be spent on contracts that are wasteful, inefficient, subject to misuse" or not serving the needs of taxpayers.
One of the Pentagon's first fixed-price contracts for a major acquisition was awarded to Boeing, for the KC-46 tanker aircraft in February 2011. Boeing's target cost was $3.9 billion with a ceiling of $4.9 billion, which included the delivery of 18 aircraft by 2017. Under the contract, anything above the target cost but beneath the ceiling would be shared, with the government paying 60 percent of the overage. Beyond the cap, Boeing bears all costs.
Within months, Boeing informed the Pentagon that costs would jump $1 billion. "That was pure coincidence," McCain says sarcastically.
He charges that there is a culture of corruption within the acquisition process. But he adds that he also understands that developing entirely new weapon systems comes with costly risks. McCain argues that fixed-price contracts should be employed largely when a system moves into production. It is in that phase when the weapon's design should be stabilized and relatively mature.
But few see fixed-price contracting as a panacea. Ajay Patel, president of defense consulting firm Monitor National Security, agrees that fixed-price contracting is the trend, but its use has a checkered past.
He notes, for example, that Boeing and the Pentagon entered into a fixed-price incentive contract in the late 1980s to develop the Navy's A-12 stealth fighter-bomber, only to see the program fail and plunge into litigation. The Supreme Court took on the dispute last May, setting aside a Court of Appeals ruling against Boeing and returning the case to the lower court.
Damming Up Overruns at the Pentagon
"These sorts of initiatives have a tendency to become default positions," Patel says of the push for more set-price contracts.
Proper oversight by the Pentagon and Congress, he says, could avert many acquisition problems while effectively using a wide array of contract types. Instead, he says, the system is designed to reward the lowest bid, rather than the most realistic bid. Fixed-price contracts don't change that. "There is a sort of conspiracy of hope in the Pentagon's acquisition system," Patel says.
Further, shifting the cost burden to the contractor alone doesn't curb the Pentagon's tendency to add new capabilities to weapons, nor does it prevent contractors from setting costs higher at the outset to offset risk.
'Fragile' and Flawed
Russell Rumbaugh, co-director of the foreign affairs and defense budgeting program at the nonpartisan Stimson Center, says that while fixed-price contracting has political appeal, in practice it's "fragile." He says in a program such as the deeply flawed F-35, where McCain and others unsuccessfully pushed for a firm fixed-price contract for the next lot of production aircraft, many development problems persist.
"You can't let defense contractors go bankrupt," he says. "If the JSF goes fixed-price and goes bad, Lockheed Martin goes bankrupt."
The best solution, Patel argues, is for the Pentagon to use the tools it has more wisely.
"Industry will do what government wants it to do," Patel said.
FOR FURTHER READING: Pentagon budgets, 2011 CQ Weekly, p. 1974; budget choices, p. 1618; F-35, p. 1429.