CQ WEEKLY – VANTAGE POINT
Jan. 28, 2012 – 11:02 a.m.
Pat-Down Payoff
By Rob Margetta, CQ Staff
When Sen. Rand Paul 's office announced last week that he had been detained by the Transportation Security Administration at a Nashville airport, the story quickly made Internet headlines and led his father, presidential contender and Texas GOP Rep. Ron Paul , to issue a campaign statement condemning a "police state."
Criticism from the younger Paul about the TSA is hardly new: He was among the most vocal lawmakers condemning the pat-down of a 6-year-old girl from his state of Kentucky last year, a situation that prompted the TSA to make children younger than 12 exempt from such measures. What was unusual this time was the TSA's almost immediate response and its approach to telling its side of the story.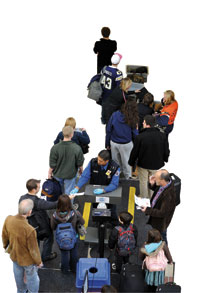 | | |
| --- | --- |
| FINDERS KEEPERS: Screeners have discovered guns, knives, stun guns and brass knuckes in carry-on bags. (JEWEL SAMAD / AFP / GETTY IMAGES ) |   |
"That's sort of new — the quick response," says Jeffrey Sural, a lawyer at the firm of Alston and Bird who served as the TSA's adviser for congressional relations in the George W. Bush administration.
The TSA's reaction, in fact, is part of a much broader effort by one of the most criticized government agencies to make a case that it is protecting the public day in and day out.
In Paul's case, the agency said the Republican senator wasn't detained. He had triggered an alert from a full-body scanner, then refused a pat-down, which meant he was barred by TSA security rules from passing through the checkpoint. Paul booked a later flight and was allowed to board when he passed through another scanner without incident.
Reinforcing TSA's response to the incident was the backup provided by the Obama administration, which Sural says was more aggressive than in the past. On the day Paul made his announcement, White House press secretary Jay Carney told reporters, "When an irregularity is found during the TSA screening process, it must be resolved prior to allowing a passenger, any passenger, to proceed to the secure area of the airport."
After years of invective and ridicule from members of Congress, media critics and people who post on YouTube complaining about its body scanners, pat-downs, and policies on liquids and restricted items, the TSA spent much of 2011 trying to build up its own narrative, both in the public and on Capitol Hill, to show that it is finding real security threats.
In an appearance before a congressional committee late last year, TSA head John S. Pistole emphasized the number of dangerous items being confiscated, including about five firearms a day around the country — TSA says just over 1,300 last year.
Although many lawmakers remain skeptical about the agency, Sen. Joseph I. Lieberman, the Connecticut independent who chairs the Homeland Security and Governmental Affairs Committee, said the numbers are persuasive. Many think that removing their shoes and coats and queueing up in airports is a nuisance, he told Pistole at a recent hearing, "but when you tell us and the American people that an average of four or five weapons are found every day in airports around the country, it reminds us why."
The agency's blog provides regular updates of the weapons and other hazards that screeners find. During a single week in January, agents found a dagger concealed as a hairbrush, an inert grenade, a 12-inch Bowie knife, 24 loaded guns, two unloaded ones, and various brass knuckles, batons, knives and ammunition. Screeners regularly find disguised weapons, including stun guns that resemble cell phones and a tube of lipstick that concealed a blade. One passenger tried checking luggage containing a chainsaw with a full tank of gasoline earlier this year.
The TSA would not comment on the reason for its public relations uptick, but said it is trying to provide more information about its activities. "I think it's accurate to say we're putting more out there," says spokesman Kawika Riley. "We're trying to reflect the day-to-day happenings of 450 airports."
Many of those who show up at airports with firearms may have simply forgotten they were carrying them, or didn't check TSA regulations. If they did, they would know that guns are prohibited from carry-on, but can be checked in baggage if they're unloaded and packed in hard cases. Knives, swords and other blades can also be checked. Even with the chainsaw, Riley said, the problem wasn't the tool itself, but its tank of gas.
Pat-Down Payoff
And while there's a common perception that weapons can get passengers in legal trouble with the TSA, its agents have no law enforcement authority, Riley said. They refer cases to the airport police.
Sural says the TSA should be aiming higher than public service announcements. "When people say they've been detained or inconvenienced by TSA," he says, the agency should "be proactive in talking about why certain procedures are taken."