CQ WEEKLY – VANTAGE POINT
Jan. 28, 2012 – 11:05 a.m.
Getting Out the Vote (on the Weekend)
By Rebecca Shabad, CQ Staff
Six states hold their Republican presidential primaries or caucuses on a Saturday this year, although a recent study by the Government Accountability Office concluded that the modest increase in voter turnout that can be expected with weekend elections — on the order of 4 percentage points — wouldn't justify the extra cost for poll workers, polling places and ballot security.
Besides, the GAO wrote, 35 states and the District of Columbia offer voters at least one alternative way to cast ballots, such as early voting, absentee voting without having to list an excuse or voting by mail. Two rural states, Maine and Wyoming, allow their towns and counties about a week in which to hold party caucuses.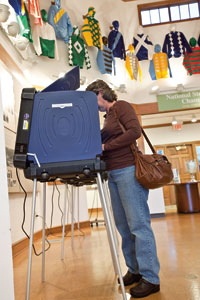 | | |
| --- | --- |
| WEEKEND BALLOT: Voters in South Carolina's Republican primary got to show up on Saturday. (RICHARD ELLIS / GETTY IMAGES ) |   |
That leaves 15 states "where you only have the option to vote on Tuesday at the polls during the hours the polls are open," says Jacob Soboroff, executive director of a group, "Why Tuesday?" that has campaigned since 2005 for ways to increase turnout.
Federal elections are on Tuesday, the group explains, because of an 1845 law for a largely agrarian society. "Farmers needed a day to get to the county seat, a day to vote, and a day to get back, without interfering with the three days of worship, so that left Tuesday and Wednesday," the group's website explains, "but Wednesday was market day. So, Tuesday it was."
Several states have juggled their dates for presidential primaries. When Louisiana held its 2008 Republican primary on Saturday rather than Tuesday, turnout was 64 percent higher than in 2000, when there had last been a contested race. Some election experts, though, say many factors can influence turnout, and they agree with the GAO report that changing the day or method makes little difference.
"Turnout is driven not by election rules," says Doug Chapin, a political science professor at the University of Minnesota's Hubert H. Humphrey School of Public Affairs. Rather, turnout is controlled by the facts and circumstances of a campaign. A state might have a traditional voting system and a hot race, for instance, and turnout will soar. He adds that in the many states with early voting, people already are casting ballots on the weekend.
Charles Stewart III, a political science professor at MIT, says weekend voting might have an appreciable effect in smaller elections, such as some primaries. "Convenience voting might make a difference in low-turnout affairs," he says, "and that's what a primary is."
Such lukewarm endorsements won't stop Soboroff and some members of Congress from trying to shift the date, though.
Sen. Herb Kohl , a Wisconsin Democrat, introduced a "Weekend Voting Act" bill in 2005 — it went nowhere — and Rep. Steve Israel , a New York Democrat, took up the cause in 2009, with no results. The bill would move the general election from the Tuesday after the first Monday in November to the first weekend of that month, spanning both Saturday and Sunday.