CQ WEEKLY – COVER STORY
Jan. 28, 2012 – 11:50 a.m.
The Testing Trap: Health Care Panel Is Now Under the Microscope
By Nellie Bristol, CQ HealthBeat Associate Editor
The mammogram flap of 2009 will probably go down as one of the government's more confusing and uncoordinated health communications in modern times. At the height of the health care debate in Congress, the U.S. Preventive Services Task Force advised against routine mammograms for most women under 50.
The reaction was explosive. Women's groups, cancer survivors and many cancer specialists protested, invoking the specter of health care rationing and increased disease. Within days, Health and Human Services Secretary Kathleen Sebelius advised women to "keep doing what you have been doing," and said government programs would continue to cover the test starting at age 40, despite the recommendation. An amendment was added to the health care legislation to ensure coverage for the procedure by private insurance as well. In essence, the panel's recommendation was simply overpowered by all the furor.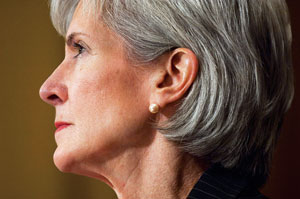 | | |
| --- | --- |
| IN THE MIDDLE: As with the mammogram recommendation, Sebelius will probably come under pressure to guarantee coverage even when the task force gives a procedure a low grade. (SCOTT J. FERRELL / CQ ROLL CALL) |   |
End of story?
Actually, no. Now, a little more than two years after that experience, the task force is facing another high-profile test as it considers final recommendations for prostate cancer screening, expected out this year. A draft statement issued in October advised against the provision of a common blood test for the disease, the prostate-specific antigen (PSA) test, setting off a new round of criticism, second-guessing and lobbying by disease groups and specialty doctors. Groups concerned about equal access to medical testing have weighed in. And members of Congress have asked Sebelius to again intervene to ensure that the test is covered.
The result is that the task force, which is convened by the government but designed to be an evidence-based advisory panel independent from political and money pressures, has become intertwined with both. In fact, the 2010 health care law directly tied the panel's recommendations to full coverage under Medicare and many private plans by requiring that all of the panel's top-rated services must be covered, without copayments from patients.
That provision of the law was designed to ensure affordable access to preventive health screenings. But some experts say connecting the task force directly to coverage may be a mistake, both for the panel and for the insurance coverage process. Task force members focus solely on available scientific data, but they are now conscious that their recommendations could directly affect coverage decisions. That knowledge could hamper objective decision-making, some experts contend. In addition, others say, the practice of medicine is an art as well as a science, and additional factors beyond strict data need to be taken into account when deciding benefits, including expert opinion, medical tradition and patient wishes.
The debate brings to light the difficulties of attempting to influence the use of established medical services, even on the basis of whether they provide a benefit to patients, and could mean trouble for the Obama administration's attempts to reduce health care costs. Making health care more efficient by focusing on the most effective services is a cornerstone of the health care law. But attempts to limit services on any grounds frequently evoke emotionally charged reactions from patients, those concerned about disparities in care and medical specialists.
Part of the problem is the nature of medical care, which is often provided without complete certainty as to its outcome. "I wish everything we did was based on absolute evidence and that the ability to determine that evidence was clear, concise and agreed to by all," says Leonard Lichtenfeld, deputy chief medical officer for the American Cancer Society. The reality, he said, is that much of medicine is based on expert opinion and interpretations. "We have to find a political process that acknowledges that and to some degree is going to have to acknowledge the desires of the people who are receiving those tests and those treatments," he added.
Steven Woolf, director of the Virginia Commonwealth University Center on Human Needs, agrees. Woolf says some estimates indicate that only about 10 percent of patient care has been thoroughly tested through clinical trials. "In principle, it's a very good idea to be evidence-based and to limit interventions to those that have been proven beneficial," he said. "In practice, it's complicated, and assumptions and extrapolations have to be made."
Connecting the task force's recommendations to coverage can also disrupt established medical practices and norms. "Any time we learn later that something that we thought was good isn't actually good, there's a whole industry that's already built to do whatever that service is," said Rita Redberg, director of women's cardiovascular services at the University of California, San Francisco, and chief editor of the Archives of Internal Medicine. "It always is harder to take away something that already is built. The machines are there, and there's a lot of capital investment and other kinds of investment in that technology, and I'm afraid that also makes the conversation less based on what's good for patients."
But an equally big obstacle may be many Americans' innate distrust of authority, especially in a high-stakes area like health care. "The average American is not much interested in having their choices diminished by experts, however fancy their degrees may be," said William Roper, dean of the University of North Carolina School of Medicine.
The upshot is that the task force, which for more than 25 years had quietly been making recommendations to primary care doctors about the effectiveness of screenings, counseling and preventive medications for such diseases as cancer, diabetes and hypertension, is increasingly in the public eye.
The Testing Trap: Health Care Panel Is Now Under the Microscope
Before 2009, said panel Chairwoman Virginia Moyer, members "frequently spent our downtime bemoaning how nobody knew who we were."
Now, it appears, the group is getting the attention it wished for — and probably more.
"This heretofore largely obscure independent panel of experts got thrust into the limelight," said Ned Calonge, who chaired the panel when it issued the mammography recommendation and is now CEO of The Colorado Trust, a health-oriented foundation. "Secret government 'death panel,' that was us."
Grading Medical Procedures
The scrutiny has been a jolt for the task force's 16 members, all of whom have high-profile day jobs. The panel includes primary care providers and experts in evidence-based medicine, that is, health services and procedures proven by scientific studies to provide a net benefit compared with possible harm.
After looking at available evidence, the task force rates services with letter grades to help guide primary care physicians in what they should recommend for their patients. Services are rated A, B, C, D or I (for insufficient data). In the past, it has recommended steps such as screening pregnant women for iron deficiency anemia, testing for high cholesterol and providing tobacco cessation interventions for smokers.
The 2010 law has made the panel a target for medical device and service providers who see an A or B recommendation as a ticket to millions of patients getting reimbursed by insurers, or who view a lower ranking as having a potentially negative effect on both the way they practice medicine and their bottom line. (The law does not, however, prevent coverage for C or D ratings).
"A lot of payment policies could be impacted by these decisions," Lichtenfeld said. "We're beginning to wake up to the fact that the task force has been assigned a significant role in establishing a benefits floor for health insurance policies going forward."
Task force supporters are concerned that the change could affect the panel's deliberations. "I do worry that if you're trying to be pure to the evidence and you know there's this direct link to coverage, the task force's thinking around things might be colored by that, so rightly or wrongly the purity and the cold, hard approach to evidence is a little jeopardized by that link," said Calonge.
Scott Gottlieb, a resident fellow at the conservative American Enterprise Institute, also says the task force is not the best choice for coverage decisions, but for different reasons. Even though it has made efforts to make its deliberations more open, the panel is not bound by transparency procedures required of federal entities, including open meetings, public comment requirements and appeals processes. Yet, Gottlieb said, the health care law gave the board "enormous power" over the health insurance market. "It's sort of an ivory tower institution out there making purist judgments about what should and shouldn't be included in clinical care based on a very high standard, certainly not by the standard medicine is practiced," he said.
He said the panel had been put in that role as the health care law's authors cast about for a framework to ensure access to preventive services. The task force may have seemed a logical choice. "I don't think this was a sinister plot," he said. "I don't think this was done by design, I think it was done by accident."
Even some panel members, while embracing the concept of improved access to preventive services, are wary of the new role. "I don't want to be in the coverage business. I don't think any us want to be in the coverage business," Moyer said. "Our charge is to evaluate the scientific evidence. We need to make our decisions without regard for the implications for coverage."
The Testing Trap: Health Care Panel Is Now Under the Microscope
Storm Over Mammography
In the mammography case, the recommendation came at the height of the contentious health care overhaul debate, resulting in what Calonge called a "perfect storm of unfortunate alignments." The judgment downgraded the procedure for women in their 40s with no particular risk factors for breast cancer from a B to a C, meaning mammograms provide only a small net benefit. It also changed from annual to biennial the panel's recommended schedule for exams for women starting at age 50.
The change, quickly denounced as health care rationing by radiologists, cancer survivors and women's groups, drove the task force into a maelstrom of medical and cultural tradition. The American College of Radiology said the decision could reverse declines in breast cancer, issuing a joint statement with the Society of Breast Imaging saying mammography should be performed regularly on women starting at age 40. "Starting at age 50 would sacrifice 33 years of life per 1,000 women screened," the groups said.
At a December 2009 House hearing, lawmakers questioned the recommendation, the way it was communicated and whether it could lead insurers to stop covering the procedure. They suggested that the studies the panel had looked at did not address the disease in African-American women, who tend to get an aggressive form of the cancer and at early ages. "I am not pleased, to say the least, with the report not specifically addressing those of us who die most often from this disease," said Democrat Donna M.C. Christensen, the House delegate from the Virgin Islands.
Task force members were pointedly targeted. "I was accused of killing women," Moyer says. "Obviously that's a very uncomfortable thing."
While they stand behind the mammography judgment, panel members concede that the recommendation was poorly worded, and the language has since been changed. In particular, they regret the first sentence of their message: "The [task force] recommends against routine screening mammography in women aged 40 to 49 years." Panel members say the sentence was meant to convey that physicians should discuss the pros and cons with patients, including rates of false positives and unnecessary biopsies, before automatically ordering the procedure. "What was clear to us retrospectively was that no one ever got beyond the word 'against,'" Calonge says. "And they didn't understand the word 'routine' as we meant it."
The panel has since dropped the first line. The recommendation now reads: "The decision to start regular biennial screening mammography before the age of 50 years should be an individual one and take patient context into account, including the patient's values regarding specific benefits and harms." The task force also is deciding how to rework all its C recommendations to ensure that its intentions are clear. The Agency for Healthcare Research and Quality, the health services research arm of HHS, has contracted with a communications team led by Abt Associates to help the panel consider the implications of its wording and to handle the influx of news requests resulting from its higher profile.
"The words we say matter a lot, and how we say them," says Michael LeFevre, panel co-vice chairman and professor of family medicine at the University of Missouri. "[We are] 16 people, generally out of academia, who are communicating principally with primary care physicians, and we don't always use language that everybody understands," he adds. "Increasingly we have to appreciate that our audience is far wider than the primary care community."
Despite the efforts at damage control, the recommendation still serves as a point of contention. The American Cancer Society says the evidence on mammography effectiveness "points in another direction," Lichtenfeld says. "We do believe that different conclusions could have and should have been drawn. We still believe mammography plays a central role in part of a larger process of cancer detection." It continues to recommend yearly testing starting at 40, a position also held by the American College of Obstetricians and Gynecologists.
Prostate Screening
The task force took on another popular cancer detection test when it suggested a D grade for the PSA test in an October draft. It cited studies that showed no benefit, and instead actual harm from overreacting to the test results. Prostate cancer is slow-growing, and potential side effects from treatment are considerable, including surgical complications, impotence and incontinence.
The decision launched another wave of criticism. Urologists and cancer survivors oppose the recommendation. In an article titled "The Department of Health and Human Services' Death Panel," Steve Forbes wrote in Forbes Magazine in November that the task force "makes a big deal about the unpleasant side effects in treating prostate cancer. But with a disease like cancer I'll take the side effects of treatment over letting nature take its course."
Del. Christensen, a physician, was equally pointed. Most concerning, she said, is the recommendation's potential to discourage high-risk men, especially African-Americans, from seeking screening and having it covered by insurance. "Men don't want to get a blood test, and they don't want to get a rectal exam, that's for sure," she said. Public health experts and physicians have worked to encourage men to get tested, and the recommendation "really could set us back," she added. In a Nov. 8 letter, she said the recommendation was based on limited research, particularly regarding African-American men, and asked that the draft be withdrawn.
The Testing Trap: Health Care Panel Is Now Under the Microscope
In a Nov. 7 letter to Sebelius, 44 members of Congress from both parties requested that the secretary maintain Medicare coverage for the procedure regardless of the panel's final decision.
In addition, a newly formed Congressional Prostate Cancer Task Force wrote to Sebelius on Jan. 17 expressing its concerns about the recommendation. "Particularly, the [task force] recommendation will potentially negatively affect the three highest at-risk groups for developing prostate cancer: African-Americans, men with a family history of prostate cancer and veterans exposed to Agent Orange," wrote Reps. Joe Baca, D-Calif., and Jon Runyan, R-N.J. The concern over the task force's work is not limited to Capitol Hill. New Jersey's Republican Gov. Chris Christie recently signed legislation unanimously passed by the state legislature that calls for withdrawal of the PSA statement.
While ambivalence about the PSA test is widespread in the medical community, and the recommendation was not as contentious as the mammography decision, it still is generating controversy. "We don't believe the task force is completely off-base in the conclusions it reached," Lichtenfeld says. "We do believe it reached a very draconian conclusion while there's still a possibility that PSA testing may save lives but we don't know for sure. We do know it causes harms." The cancer society wants the procedure to have a C recommendation, he adds.
In a Dec. 30 letter to Christensen, Sebelius defended the panel's "rigorous process for gathering and reviewing evidence, developing recommendations and engaging experts and stakeholders in the review of its work." She also said she was pleased that the task force is now issuing draft recommendations and soliciting comments on them.
She did, however, say she had urged the panel "to explain the evidence underpinning the applicability of their recommendations to men at higher risk of prostate cancer, such as African-American men."
Evidence-Based Medicine
Despite the recent controversies, many in the medical field express support and respect for the task force's work. Time Magazine even included Moyer in its "People Who Mattered in 2011" section in December. But misgivings remain. Some criticize the task force's make-up, saying it includes only primary care physicians and not doctors who treat the diseases in question, although members say they vet recommendations with specialty physicians.
The American Cancer Society Cancer Action Network wants the panel to include a wider range of experts and patient representatives, and wants meetings to be open to the public.
Some of the criticism may be mitigated by new processes designed to make its deliberations more transparent. While meetings remain open only to select participants, including physician groups and government representatives, the panel now seeks public input at several stages, starting with the initial selection of the topic. In addition, the PSA recommendation, unlike the one for mammography, was issued in draft form, a process now in effect for all panel recommendations. Panel members hope the new procedures will help them discover if there were any data they missed and also to make people more comfortable with their decisions. "We don't want to be hiding behind a curtain some place and just sort of pronounce something at the end," LeFevre says. "We really want people to know exactly what we're doing and how we're doing it and why we came to the conclusion we came to."
The panelists hope such steps can counteract its image problems. "We're there because we strongly believe in prevention," Moyer said. "We are so not a death panel. We are a group of people whose mission is to help people choose the preventive services that are most likely to benefit them."
Particularly as the United States faces fewer resources and an aging population, provision of medical care will need to be more efficient and effective, experts say, and the task force could play an important role in that process. "I think our society deserves to have bodies like [the task force] that they can count on to give you a straight answer about what the facts are, and then people can go off with their agendas and decide what they're going to do about it," VCU's Woolf said.
FOR FURTHER READING: Health care overhaul (PL 111-148, PL 111-152), 2010 Almanac, p. 9-3; mammogram recommendation, 2010 CQ Weekly, p. 1980; comparative effectiveness research, p. 1968.