CQ WEEKLY – IN FOCUS
Feb. 11, 2012 – 12:15 p.m.
Fueling Innovation Without Getting Burned
By Geof Koss, CQ Staff
One year ago this week, House Republicans sent a letter to Energy Secretary Steven Chu seeking information about a $535 million loan guarantee awarded to a California solar-panel manufacturer that had just halted a planned expansion and laid off workers.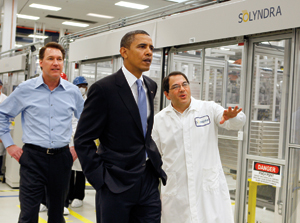 | | |
| --- | --- |
| SUNBURNED: President Obama tours Solyndra's plant, months before the company filed for bankruptcy. (PAUL CHINN-POOL / GETTY IMAGES) |   |
After the company filed for bankruptcy six months later, the name Solyndra became familiar to many Americans — either as a symbol of failed Democratic economic policies or an overblown inquiry by hyper-partisan GOP lawmakers. The ill-fated loan guarantee also became a proxy for a broader fight over the Obama administration's clean-energy agenda.
House Republicans show no signs of giving up their quest to prove the administration ignored warnings about the company's shaky financial state in a rush to reward a politically connected investor. In recent weeks, GOP lawmakers have discussed bringing contempt charges against the White House for not cooperating with the investigation.
The White House, which has turned over more than 185,000 pages of Solyndra-related documents to lawmakers, insists the loan was properly vetted and awarded on its merits. It dismisses the investigation as a fishing expedition intended to inflict election year damage on President Obama. An outside conservative group — Americans for Prosperity — has signaled it plans to make Solyndra an issue with a $6 million ad campaign in swing states.
But underlying the political circus, lawmakers are grappling with serious policy questions raised by the case, including the proper government role in energy markets and determining acceptable levels of risk when taxpayer dollars are at stake. And energy loan guarantees remain popular on Capitol Hill — Chu last year told a House committee his department had received 500 letters from lawmakers seeking loans for their states.
Although House and Senate appropriators canceled plans late last year to award the Energy Department up to $200 million in new funds for loan guarantees in fiscal 2012, Sen. Dianne Feinstein called it just a pause to allow Congress and the administration to absorb the lessons of Solyndra, and perhaps institute reforms.
"I think loan guarantees play a vital role in this and the establishment of a new industry in America, but there has to be a better way of doing it," says Feinstein, the California Democrat who chairs the Appropriations subcommittee that funds the Energy Department.
Loan-guarantee supporters hope an internal White House review delivered to lawmakers late last week provides the impetus for a straightforward discussion about the program.
"If we don't, you're going to have sufficient enthusiasm on the House side" to eliminate loan guarantees, warns Sen. Lisa Murkowski of Alaska, the top Republican on the Energy and Natural Resources Committee. She has been pressing Chairman Jeff Bingaman, a New Mexico Democrat, to hold an oversight hearing on the loan program's effectiveness.
"Whether it's nuclear, or whether it's solar, or anybody else that has the opportunity for a loan guarantee, I think everybody's going to get painted with the same brush," Murkowski says.
Extra Risk
Fueling Innovation Without Getting Burned
Solyndra's bankruptcy may have been the first time many Americans heard of loan guarantees, which entice private investors with a government promise to repay a borrowers' loan and interest in the case of default. But the mechanism has been commonly used since the Great Depression, when the federal government provided guarantees to help families buy homes. The idea is to provide low-cost financing otherwise not available by reducing the risks of private lenders.
The Congressional Research Service (CRS) reported that in 2010 the federal government was the guarantor of $1.9 trillion in loans, spread mostly across education, veterans and housing programs. Energy debt accounted for a small but growing fraction of that total.
Solyndra was hardly the government's first experience with the default of an energy-associated loan. In 1985, the owners behind the nation's first coal-gasification plant defaulted after spending $1.5 billion of a $2 billion loan guarantee. The Energy Department ultimately sold the plant for $85 million under an agreement that also netted it $391 million in cash payments through 2009.
Despite that experience, Congress in 2005 enacted legislation authorizing the Energy Department to back guarantees for innovative energy technologies that were not yet commercially available, including advanced fossil fuel, nuclear and renewable-energy projects. In the ensuing years, a frequent complaint from lawmakers was the department's slow pace in implementing the plan.
A Democrat-led Congress in 2009 expanded the program temporarily to encourage deployment of renewable-energy and electric transmission projects, including mature wind and solar technologies. A key difference between the two-year stimulus loans and the existing program was that Congress for the first time appropriated $6 billion to pay for the credit subsidy of a loan — a premium that reflects the estimated long-term costs of the loan to the government.
By paying the subsidy and guaranteeing the loan, the federal government essentially assumes all risks associated with default, which critics say promoted risky behavior.
"It certainly has caused me to conclude that the idea of taxpayers paying credit subsidies for loan guarantees is a bad idea," said Lamar Alexander of Tennessee, a nuclear power supporter who is the ranking Republican on the Senate Energy-Water Appropriations Subcommittee.
Another contentious element of the Solyndra loan was the federal government's decision to subordinate $75 million of its own stake in the loan to private investors. The legality of the move — intended to help attract private capital to Solyndra — has been questioned, and Feinstein calls it a "flawed business model" that resulted in the loss of government resources and private capital.
Although loan guarantees are intended to help nascent technologies obtain financing, the CRS highlighted several concerns about the way the program has been used to support energy projects. For starters, the terms of the loan guarantee require repayment schedules that often deplete capital for startup companies — a situation that may have contributed to Solyndra's initial default.
Another complication is the 20- to 30-year payback schedule associated with many of the renewable-energy loan guarantees. While the program is intended to bring new technologies quickly to commercial scale, it can paradoxically create situations in which that technology becomes obsolete, increasing the likelihood of an eventual default.
A third questionable component of the expired stimulus loan program was whether the two-year deadline allowed sufficient time to evaluate the risks of loans. Noting that some variables that would normally be considered were beyond the control of the Energy Department's loan office, the CRS report said the deadline may have "adverse results."
"Projects that received loan guarantees may not be the best projects to have supported; rather these projects may have been in a better position to meet the deadlines," CRS reported.
Policy Fallout
Fueling Innovation Without Getting Burned
As the clamor surrounding Solyndra intensified during 2011, House and Senate appropriators ultimately decided against providing funds for new loan guarantees.
"We took the money out and called for the moratorium," Feinstein says, calling it "entirely appropriate that the administration is relooking and rethinking this."
While the stimulus loan program that backed Solyndra expired in September after leading to government backing of 27 projects totaling $16 billion in loans, Chu told reporters last week that his department is working to improve the guarantee program as it considers pending applications still allowed under the 2005 law.
By comparison, under the pre-stimulus loan program, the department has conditionally backed $10.6 billion in loans for just four projects, including an $8.3 billion guarantee for two nuclear reactors in Georgia that critics have dubbed "Solyndra on steroids." A Congressional Budget Office report in 2003 estimated the risk of default on a loan guarantee for a new commercial nuclear plant would be "very high — well above 50 percent."
Comprehensive budget overhauls pressed by the top Republicans on the House and Senate Budget committees would force the federal government to recalculate the way it estimates loan guarantee risks to bring them more in line with the way private lenders assess risks. That would probably lead to higher budget estimates of loan programs — as well as higher upfront costs for applicants.
Jeff Sessions of Alabama, the top Republican on the Senate Budget Committee, said that approach would produce a better overall picture of the risks assumed by the federal government when investing taxpayer money.
"It's pretty clear that we've learned from this that making loans has more risk than people like to admit, and it certainly needs to be properly scored when we do it," he says.
FOR FURTHER READING: Obama energy agenda, 2011 CQ Weekly, p. 2378; solar industry prospects, p. 2266; energy loan guarantees in 2009 stimulus (PL 111-5), 2009 Almanac, p. 7-8; energy policy act (PL 109-58), 2005 Almanac, p. 8-3.