CQ WEEKLY – IN FOCUS
Feb. 25, 2012 – 3:52 p.m.
Schiavo Case Now a Campaign Dilemma
By Alan K. Ota, CQ Staff
In 2005, Rick Santorum put himself in the center of the congressional debate over the fate of Terri Schiavo, a 41-year-old Florida woman who doctors said was in a persistent vegetative state after a brain injury suffered in 1990.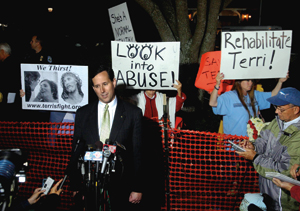 | | |
| --- | --- |
| ON THE SCENE: Santorum attends a vigil outside Schiavo's hospice in Florida two days before her death. (DAVID ADAME / EPA / NEWSCOM) |   |
The goal of the second-term Pennsylvania Republican senator was to stop the removal of a feeding tube for someone whose cerebral cortex was largely gone, which Santorum depicted as "close to equivalent of someone with the disease cerebral palsy."
Proclaiming the issue to be the sanctity of life, he spoke with passion when he took the floor March 17, 2005, to plead for federal intervention to save an innocent woman "sentenced to death" by the Florida courts.
In the end, the controversy turned out very badly for congressional Republicans. Polls showed that most Americans, including a majority of Republicans, disapproved of Congress' role in the case, a rebuke that contributed to Santorum's 18-point defeat in the 2006 elections.
Now, with Santorum a leading contender for the GOP presidential nomination, his passion seems to have faded. The episode has sporadically come up on the campaign trail, and each time Santorum has publicly tried to minimize his role. Asked about it at the Jan. 23 Tampa debate, he portrayed himself as a neutral party just trying to help a constituent.
"I called for a judicial hearing by an impartial judge at the federal level to review a case in which you had parents and a spouse on different sides of the issue. And these were constituents of mine. The parents happen to live in Pennsylvania, and they came to me and made a very strong case that they would like to see some other pair of eyes, judicial eyes, look at it."
The toned-down version of the Schiavo case now coming from Santorum illustrates the pitfalls confronting any member of Congress who takes strong stands on emotional or controversial issues and then runs for president: There's a lot of explaining to do later.
In recent days, he's run into similar problems explaining why he voted for what is now the deeply unpopular education law known as No Child Left Behind.
"I have to admit, I voted for that," he said at the Arizona debate last week. "It was against the principles I believed in, but you know, when you're part of the team, sometimes you take one for the team, for the leader, and I made a mistake."
The Schiavo incident poses a particular dilemma for Santorum as he seeks to corner the support of social conservatives without saying anything that could damage his claim to electability among independent voters should he win the nomination.
"There are two Rick Santorums. One is the pragmatic legislative mechanic," said John J. Pitney Jr., a political scientist at Claremont McKenna College in California. "The other is the passionate preacher. It's hard for the two Rick Santorums to show up at the same debate."
Congress' Debate Over Death
Schiavo Case Now a Campaign Dilemma
In 2005, the emotional issues raised by the Schiavo case seized control of Congress for a frantic week.
Schiavo's husband and her parents had been engaged in a bitter fight since 1998 over whether to keep her alive through artificial means. Her husband, Michael Schiavo, said his wife would not want to be kept alive artificially and wanted the feeding tube removed. But her parents, Robert and Mary Schindler, wanted her kept alive, saying rehabilitative therapy would help her improve. Their pleas stirred social conservatives who said anything short of keeping her feeding tube was tantamount to murder.
Far from being neutral, Santorum put himself in the center of the fray. His position swung from urging the Senate to pass the strongest possible measure, as the GOP-led House had done, to working to salvage a limited Senate compromise that eventually allowed Schiavo's parents to take the issue into federal court, a battle they would lose after a Florida judge ordered their daughter's feeding tube removed.
Behind his public grandstanding on the Senate floor, Santorum helped behind the scenes to forge a far narrower compromise after he acknowledged that there was insufficient Senate support, from Republicans or Democrats, for the House's measure.
The broadly worded House bill, championed by Majority Leader Tom DeLay, a Texas Republican, would have essentially made the federal courts the final arbiter in many life-and-death decisions, authorizing the transfer to federal courts of any cases that involved incapacitated people who had not executed advance directives authorizing withholding sustenance. Proponents said the move was necessary to protect Schiavo's legal rights. But opponents protested that the bill would swamp the federal courts, defy Florida state court decisions, usurp state law and trample private family medical situations.
As the House was preparing to pass its measure late March 16, 2005, just two days before the Florida state court set in motion the scheduled withdrawal of Schiavo's feeding tube, Santorum said the Senate is "going to pass something here" and threatened to block any attempt by the Senate to adjourn for a two-week break.
The next day the Senate passed by voice vote a narrow, private relief bill to allow Schiavo's parents to take their claim to federal court.
"This does not get us involved in a medical decision," Santorum said. "This does not get us involved in making decisions of life and death. It simply protects the constitutional rights of someone whose only — only— mistake was not having a living will."
Just the other day in California, he said, "a man was sentenced to death for killing two people. He will have ample opportunity to have everything California did to be reviewed by the federal court under a habeas corpus appeal. He will have multiple courts to look and see whether the state court in California properly behaved in providing him his due-process rights under the 14th Amendment. A multiple murderer."
Majority Leader Bill Frist of Tennessee, a well-known heart surgeon before joining the Senate, took the floor for the second time later that night to question Schiavo's diagnosis after watching a videotape of her apparently responding to "visual stimuli."
House leaders balked at the Senate bill and insisted on their measure, which Santorum said had little chance in the Senate.
The Florida trial judge who had long overseen the case stood his ground, and the tube was removed March 18, meaning that Schiavo was likely to die within weeks.
House and Senate leaders could agree on no way forward. Lawmakers instead issued subpoenas intended to reverse the removal of the feeding tube, a move that drew more public opposition to Congress' moves.
Schiavo Case Now a Campaign Dilemma
Final Maneuvering
Santorum was intent on getting a legislative achievement to avert an emerging political catastrophe that threatened his party and his standing as a rising star in the Senate GOP leadership ranks at a pivotal time, a little more than a year before he faced re-election.
He swung into action as a negotiator for Frist and Mel Martinez of Florida, the author of the original Senate measure. Santorum helped win changes to the Senate version that won the support of some House Republicans and liberal Senate Democrats. He shuttled between the two chambers and eventually helped firm up a compromise that gave Schiavo's parents access to federal courts for a final consideration of their daughter's case.
The Senate passed the compromise bill March 20 during a rare Sunday session, and the bill was cleared by the House, which had been called back into session, the next day.
A series of federal court decisions quickly turned aside the bid by Schiavo's parents to reinsert their daughter's feeding tube, and she died March 31.
Public opinion went soundly against Congress for grandstanding on a private matter — particularly after an autopsy showed that Schiavo was incapable of vision, which Frist's videotape purported to show, and that her brain had shriveled to half its normal size.
In pressing for the House's conservative prescription first, then embracing a pared-down Senate alternative and finally pushing for a yet-weaker bill, Santorum personified the mounting struggle within the Republican Party over how hard to push an activist conservative agenda. It's a battle now fully engaged, as seen with the problems Speaker John A. Boehner has had to deal with since Republicans took control of the House last year. And should Santorum be pressed to more fully discuss his role in the Schiavo debacle, he runs the danger of having to rationalize the messy business of getting something done in Congress, a line of explanation that has never helped a presidential candidate with a significant congressional portfolio to pick through.
G. Terry Madonna, professor of public affairs at Franklin & Marshall College, said the Schiavo incident eroded Santorum's support among independent voters in Pennsylvania.
Before his 2006 re-election bid, Santorum was poised to move up to in the Senate leadership as Frist retired. But there was no promotion after Santorum was trounced by his state's treasurer, Bob Casey.
In hindsight, Claremont McKenna's Pitney said the Schiavo fight was probably one that Santorum should have avoided as a matter of political strategy. "He concluded it was a fight worth making regardless of political cost," Pitney said. "When he talks about social issues, he talks from his heart and not from political calculation."
For Further Reading: Schiavo case, 2005 Almanac, p. 14-16.