CQ WEEKLY – VANTAGE POINT
March 3, 2012 – 11:02 a.m.
The Measure of Debt: Senator's Budget Yardstick Is Not Obama's
By Paul M. Krawzak, CQ Staff
When President Obama unveiled his fiscal 2013 budget, the White House said it would save at least $3 trillion over a decade. Alabama Sen. Jeff Sessions , the top Republican on the Budget Committee and a frequent critic of the president's policies, came up with a different figure: just $300 billion in savings over the same period.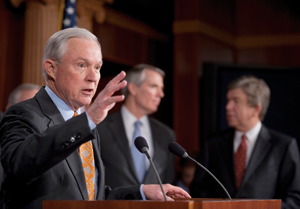 | | |
| --- | --- |
| MEASURING UP: Sessions' way of measuring the budget gives President Obama less credit for savings. (DOUGLAS GRAHAM / CQ ROLL CALL) |   |
How could the projected savings diverge so widely? In short, Sessions employed a different form of measurement and different assumptions.
The White House used a common gauge of a spending plan's impact: how much a budget would reduce projected annual deficits as compared with what would happen if the budget were not adopted. The administration made that calculation by comparing the budget's effect on deficits with a current policy baseline, which projects what will happen to spending, revenues, deficits and debt if current policies are continued unchanged.
Sessions looked at what would happen to the national debt — specifically gross debt — under the budget. He calculated that under the president's proposal, the debt would fall by only $300 billion over an 11-year period compared with what would happen if current policies were continued.
Gross debt is the broadest measure of debt, including both debt held by the public and intragovernmental debt. Debt held by the public is borrowed money that the government owes to creditors, including foreign governments and investors, and must repay. Currently $10.7 trillion, it accounts for about two-thirds of the $15.5 trillion in gross debt. The remaining $4.8 trillion of debt is intragovernmental holdings: money the Treasury has borrowed from Social Security and other trust funds and technically would have to repay at some point.
Many budget experts see merit in using debt as a tool to assess the budget, though they disagree about what kind of debt to measure.
Jason J. Fichtner, economist and senior fellow at the Mercatus Center, a free-market-oriented research center at George Mason University in Virginia, views gross debt as the "best picture of where our total obligation is going forward."
Gross debt, he says, includes "debt we have to pay back when Social Security comes to Treasury and says we need to start paying benefits that payroll taxes aren't covering, we need to cash these bonds. Treasury has to either raise our taxes to pay for it, or go on the market, which means gross debt becomes publicly held debt anyway. So it's just a future obligation."
Many economists who see virtue in measuring debt prefer publicly held debt, which excludes money the government owes to itself.
"If you're looking for hard and fast numbers, you can compare different budgets in terms of what debt held by the public would be, because those are . . . absolute numbers," says Charles S. Konigsberg, president of the Federal Budget Group and a former Democratic budget aide.
Sessions, in his calculations, also made two modifications in the president's baseline. First, he rejected the administration's claim that $848 billion in declining costs for the wars in Iraq and Afghanistan should be treated as a spending cut in the budget. Arguing, as others have, that those declining costs are widely anticipated, he put the reduction in war spending within the baseline.
Sessions also removed an assumption from the baseline that Congress would spend $429 billion to stave off scheduled cuts in Medicare payments to doctors over the next decade. By adding the war savings to the baseline of current policy and subtracting from it the extra Medicare spending, Sessions in effect reduced the cost of the baseline by $1.3 trillion, not counting interest, leaving that much less for Obama to claim in savings from his budget proposal.
The Measure of Debt: Senator's Budget Yardstick Is Not Obama's
Ultimately, the adjustments that Sessions made to the Obama baseline do not affect where the gross debt ends up. Under the Obama budget, gross debt is projected to reach $25.9 trillion in 2022. However, the modifications that Sessions made — which result in a baseline that produces lower deficits — greatly reduce the amount of deficit reduction in Obama's budget.
Sessions' modified baseline produces a $26.2 trillion gross debt in 2022, lower than the $27.3 trillion debt in 2022 under the president's baseline. As a result, the difference between 2022 debt under the modified baseline and 2022 debt under the president's budget is only $300 billion – the source of Sessions' argument that the savings are minimal.