CQ WEEKLY – IN FOCUS
March 3, 2012 – 11:51 a.m.
A Budget in Search of a Resolution
By Paul M. Krawzak and Kerry Young, CQ Staff
The conservative Republican firebrands whose election helped hand the House Speaker's gavel to John A. Boehner in 2011 are credited — and blamed — for changing the conversation in Washington and putting a sharp focus on taming the federal debt.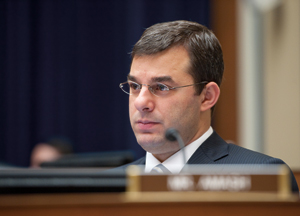 | | |
| --- | --- |
| DO-OVER: Amash and other conservatives are pushing Boehner and Ryan to disregard the spending caps set last summer. 'Small reductions in spending are not acceptable at this point,' he says. (BILL CLARK / CQ ROLL CALL) |   |
Yet many of these conservatives aren't at all satisfied with their first-year record. So they are steeling themselves for another stand during the next few weeks, when the House takes up a budget resolution to set the parameters for tax and spending decisions for the rest of the year.
They want to use the budget to lower the stringent statutory caps on discretionary spending imposed by last August's debt limit law — and lower them by a lot.
This may be their last opportunity before the election to stop the tide of spending, and they intend to make the most of it. In this effort, which will mark yet another episode in the conflict within the House GOP, the conservatives are putting Ohio's Boehner and House Budget Chairman Paul D. Ryan of Wisconsin in a tight spot.
Writing a budget is a partisan exercise, even in less polarized times, so Boehner and Ryan will need almost every Republican vote. If the conservatives lose this fight and withhold their support, the outcome might be no budget resolution at all. If they prevail, and the House imposes a lower spending cap on itself, appropriations bills might fail later in the year, because they usually need Democratic votes to pass.
That's a risk that conservatives such as Justin Amash of Michigan, a freshman lawmaker on the Budget Committee who holds the highest score in the House from the anti-tax, anti-spending Club for Growth, are willing to take. Amash and his compatriots are pushing Boehner and Ryan to ignore the August deal.
"Small reductions in spending are not acceptable at this point," Amash says. "We are nearing crisis."
Amash and many others see the past year as a series of capitulations. The GOP-run House has been too willing in their view to accede to the demands of Democrats and pass contested measures, including two spending packages for fiscal 2012 and a yearlong extension of the expiring payroll tax cut. The debt limit law was particularly egregious to them because it didn't sufficiently apply the brakes.
"Things that are being called compromises are not really compromises," says Amash, whose Grand Rapids area district was once represented by Gerald R. Ford. "What they are, are political deals to give both sides some talking points."
What Boehner and Ryan propose as a spending cap for the fiscal year that begins Oct. 1 will show just how much clout the conservatives have. And the outcome will also show whether this band of objectors has grown more politically savvy following their earlier defeats.
They have a special advantage with the budget resolution. If they change it, then the House Appropriations Committee would begin work on more stringent bills that would put conservatives in a better position to negotiate with the Senate. Moreover, the resolution must first move through the Budget Committee, where the opposition of just three maverick Republicans could derail an attempt to reaffirm the August spending cap.
At the same time, Boehner and Ryan face pressure from fellow Republicans to honor the current cap. Appropriators in both chambers, including Senate Minority Leader Mitch McConnell of Kentucky, say holding to that figure will allow Congress to proceed with its most basic work before the election and demonstrate in one way to an increasingly skeptical public that it can function.
A Budget in Search of a Resolution
Rep. Mike Simpson of Idaho, a senior GOP appropriator and a member of the Budget Committee, says the tussle is important but largely symbolic. "While I realize that there's a significant number of our conference that want to go lower, the reality is, we're fighting over a few billion dollars," Simpson says.
Staying on Course
Producing a budget resolution is a priority for Ryan and party leaders, and they are holding "listening sessions" with rank-and-file lawmakers to see what will keep the caucus happy.
The House can consider appropriations bills without adopting a budget — that's what the Senate plans to do — using the current spending caps as a guide. And a House-imposed cap wouldn't bind the Senate or the final bill. But giving up would deprive House Republicans of a valued electoral attack point against Democrats, who have not passed a budget in the Senate since 2009.
And Republicans recognize that not adopting a budget would mark a serious break in GOP unity. Even many of those who favor a lower spending limit are hesitant to cast that alone as a prerequisite for their support.
"We are trying to get to the point where we can rally around a single budget. How do we get there? It's fair to say that that top-line number does need to get down a little bit," says Republican Mick Mulvaney of South Carolina, another freshman on the Budget Committee. In Mulvaney's view, Ryan would abandon the statutory cap if he were calling the shots. "If it were up to Paul, absolutely."
Some conservatives appear willing to consider backing the current cap if Ryan offers a bold vision for how Congress might eventually address the bigger budget threats of financing Medicare and other entitlements.
Along with Amash and Mulvaney, Tom McClintock of California is one of the nine Republicans on the Budget Committee who voted against the debt limit law. Although McClintock says he would prefer to see the spending cap lowered, he is waiting to see what Ryan proposes on Medicare and other mandatory expenses before deciding how he will vote on the budget resolution.
"You could cut the discretionary budget down to zero and it still would not be enough to balance the budget," McClintock says.
Another of the nine naysayers, Jason Chaffetz of Utah, said adhering to the spending cap would not be a deal-breaker. "You've got to look at the totality of it and you need to look at it over the course of time so we start putting this on the right trajectory," he says.
Some believe that Boehner prefers the current cap, but he has not publicly said one way or the other.
"The only way we're going to solve our deficit and debt problems," says Boehner ally and fellow Ohio Republican Pat Tiberi, "is going to be on the mandatory side." Tiberi said addressing entitlement spending "is more important to me than getting sucked into this debate about" discretionary caps.
A Budget in Search of a Resolution
Still One Number
For Tim Huelskamp of Kansas and other conservatives, that talk isn't helpful. Huelskamp has harsh words for GOP leaders who propose sweeping entitlement reforms in the future to win support for the current cap.
"That's just a shell game," says freshman Huelskamp, another Budget panel naysayer.
Annual budget resolutions traditionally serve as a venue for presenting wide-ranging suggestions for overhauling federal finances, but in the end they often carry little weight.
A budget resolution can only dictate changes in entitlement spending through the inclusion of directions for reconciliation, a procedure allowing prompt consideration in both chambers of legislation to make those changes. Reconciliation, though, can take place only if both chambers agree to a budget resolution, and Senate Majority Leader Harry Reid of Nevada has said his chamber won't consider one this year.
Even if Ryan included a call for reconciliation in his budget, which doesn't appear likely, it would be the budgetary equivalent of one hand clapping.
Huelskamp and others seem to understand this distinction. "The real number that counts is that discretionary number" in the budget resolution, says Huelskamp. "The others are just suggestions, visions, which are very critical in an election year, but they don't pin anybody down in this place."
Huelskamp said last week that he didn't think he could back a budget that reaffirmed the fiscal 2013 cap from the debt limit law, which amounts to $1.047 trillion, divided between the Pentagon and other programs.
Mulvaney is likewise doubtful that his fellow conservatives will accept that level of discretionary spending, which is often referred to in budget discussions simply as "1047."
Mulvaney says 1047 "is not the number that everybody can support. If there is a way to get 1047 out of committee and across the floor, I don't understand how this town works."
FOR FURTHER READING: Obama budget, CQ Weekly, p. 400; debt divisions, p. 154; debt limit law (PL 112-25), 2011 CQ Weekly, p. 1750.