CQ WEEKLY – IN FOCUS
March 3, 2012 – 12:05 p.m.
Tug of War Over Uranium Prompts Odd Alliances
By Geof Koss, CQ Staff
Senate Energy and Natural Resources Chairman Jeff Bingaman went to the Senate floor last month to plead the case for five pending nominees for senior Energy Department positions. While the energy panel had approved all without controversy last year, the New Mexico Democrat said the nominations were languishing on the Senate floor for no apparent reason.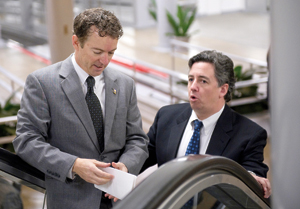 | | |
| --- | --- |
| SEEKING HELP: Paul, left, usually hates government intervention, but not when a home-state uranium plant is in trouble. He says saving the Kentucky facility would make money for the Treasury. (CHRIS MADDALONI / CQ ROLL CALL) |   |
"I am not aware of a single objection that has been raised on a substantive basis to any of them," Bingaman said before requesting that the nominees be confirmed by unanimous consent, a parliamentary maneuver that can avoid a lengthy debate and floor vote but requires the assent of all senators.
The gambit, intended to smoke out the opposition, succeeded in forcing Kentucky Republican Rand Paul to come to the floor to block Bingaman's motion. Paul admitted that his concern was not with the nominees but rather the fate of an Energy Department-owned uranium enrichment plant in Paducah, Ky., that could close as early as May, when its contract with the Tennessee Valley Authority for low-cost electricity runs out. The facility uses outdated, energy-intensive technology and is scheduled to be replaced by a new plant in Ohio that would utilize newer technology.
"We are in the midst of a great recession, and 1,200 people are destined to lose their jobs," said Paul, who has joined Senate Minority Leader Mitch McConnell and other Kentucky lawmakers in pressing a rescue plan for the facility.
It's an odd position for Paul, who typically opposes government intervention in the private sector and wants to eliminate the Energy Department. But supporters say selling reprocessed waste stored at the site could extend the plant's life and earn billions of dollars. "This doesn't cause any spending, doesn't cost any taxes," Paul said. "And actually, if you would allow us to re-enrich this uranium, it would bring money back to the Treasury."
Intervention Dilemma
Despite the pressure, the Obama administration has resisted the plan, questioning its impact on domestic uranium markets, the wisdom of investing in the inefficient and outdated technology used at Paducah, and the assertion that it could make money for the government. Energy Secretary Steven Chu told Paul last month at a budget hearing that the Congressional Budget Office had concluded that "this is not a moneymaker."
"In fact, it could be a big liability" that might ultimately cost the Treasury hundreds of millions of dollars, Chu argued.
As a result, the Kentuckians' rescue plan has hit a brick wall, raising questions not just about the Paducah jobs but also about the future of U.S. uranium enrichment. Should the Paducah plant close before its successor plant is completed in Ohio, the United States will lack an indigenous source of enriched uranium and be dependent on suppliers largely controlled by foreign governments. Critics say that could leave the U.S. unable to meet non-proliferation requirements that a key component of its nuclear weapons be generated from homegrown sources.
Further complicating matters, the fate of the Ohio plant also is in doubt. Without congressional approval for $106 million in research funds by the end of March, layoffs at the plant may begin, says Paul Jacobson, a spokesman for USEC Inc., which runs both the Paducah and Ohio facilities.
The predicament has sparked an intense and somewhat ironic debate in Congress, where a bipartisan bloc that includes deficit-focused, small-government conservatives such as Paul, as well as senior House and Senate leaders, is advocating federal intervention to save a company struggling to stay afloat. Many of those same lawmakers have attacked the Obama administration's backing for similar intervention to assist emerging renewable-energy technologies. Opposing them is an odd coalition that includes a conservative think tank, Western lawmakers from mining states and anti-nuclear liberal Democrats.
The administration in January threw a lifeline to USEC when it assumed $44 million of its liability for tailings, radioactive waste produced when uranium is milled, while also requesting $150 million in fiscal 2013 for research funding at the Ohio site. But the company is focused on impending March and May deadlines that Jacobson calls crucial.
Tug of War Over Uranium Prompts Odd Alliances
Within weeks, he says, "the United States could well find itself without any plan for indigenous uranium enrichment for the first time since the dawn of the atomic age."
Proper Federal Role?
The U.S. government has played a central role in enriching uranium — that is, concentrating it and changing its isotope to a powerful form — for civilian power and military weapons applications since the 1940s. With the conclusion of the Cold War, Congress decided in 1992 to privatize its enrichment activities for civilian use.
The United States Enrichment Corporation, known as USEC, was created to take over enrichment plants in Piketon, Ohio, and Paducah. Both plants processed uranium through gaseous diffusion, a decades-old and energy-intensive technology that Jacobson says is about 95 percent less efficient than modern centrifuges. The company consolidated enrichment activities at the Paducah plant in 2001, later announcing that it would build the American Centrifuge Project at Piketon.
To fund construction, USEC in 2008 applied to the Energy Department for a $2 billion loan guarantee under the same program that backed the now-bankrupt solar manufacturer Solyndra. While President Obama promised during his 2008 campaign to support the Piketon plant, his administration asked the company to withdraw its application in 2009, citing concerns about the technology.
That prompted complaints from House Republican leader John A. Boehner of Ohio, who wrote to Obama that October to criticize the decision. "As companies introducing new and advanced technology to the United States typically struggle to find financial support in the commercial market, DOE's loan guarantee would have given the American Centrifuge Plant the jump-start it needed to immediately employ up to 6,000 individuals while cutting emissions of carbon dioxide by approximately 10 million tons annually," Boehner wrote.
While the company's loan application remains pending, the Energy Department last fall suggested as a compromise the appropriation of $300 million over two years for research at the Piketon facility. But the initial $150 million payment did not make it into the final fiscal 2012 spending deal, in part because of Boehner's pledge to avoid earmarks once he became Speaker. That led to the $44 million liability transfer in January, although Chu has told lawmakers that the remaining $106 million will need congressional approval to make good on the $150 million pledge for the current fiscal year.
Critics of nuclear energy have argued against further government support. Rep. Edward J. Markey, a Massachusetts Democrat, reminded Chu in January that USEC is struggling financially. "Private markets would never provide a company with such a small capitalization and poor credit rating the financial backing to complete a project worth 25 times the value of the entire company," he wrote.
USEC's Jacobson says the company's shareholders have already invested $2 billion in the Piketon plant, and he says "significant overlap" between the government and the firm should be expected given the nature of its business. He notes that USEC's three main competitors are owned or backed by foreign governments.
"We're not making playground sets," he says. "We're enriching uranium."
Global uranium markets are strictly regulated by international non-proliferation treaties and programs, which may bolster USEC's bid for aid. Backers argue that USEC is, as the sole U.S. "indigenous" source of enriched uranium, the only supplier that can meet international prohibitions against using foreign technology to manufacture tritium, a key component of nuclear warheads. That would disqualify a uranium enrichment facility in New Mexico operated by URENCO, which is partially owned by the Netherlands, the United Kingdom and Germany, as well as a similar facility planned for Idaho by France's state-owned AREVA.
Chu referred to the issue in defending his budget request for the second $150 million installment for USEC's Piketon plant before the Senate Energy panel. He said a "homegrown new technology for enriching uranium" would allow the U.S. to sell enriched uranium to developing countries.
"You know, France is a player in this. Russia's a player in this," he said. "We think that if the United States is a supplier of this uranium, that we could have a moderating effect on non-proliferation [issues]."
Tug of War Over Uranium Prompts Odd Alliances
That national security argument has been hotly debated. In his letter to Chu, Markey argued that the U.S. has enough tritium to last for decades. Even if supplies run low, more could easily be generated at the Paducah plant from the spent uranium on hand, he said.
The plant's fate hinges on whether USEC can keep getting the large volumes of electricity it consumes to run the facility at low rates. The current contract with the Tennessee Valley Authority expires May 31.
Jack Spencer, a nuclear policy analyst with the conservative Heritage Foundation, says he sympathizes with the plight of the Kentucky lawmakers even though he criticized their proposal for a lack of competitive bidding.
"Everyone knew the problems with the USEC facility in Paducah and that it was going to be coming to an end sooner or later," he says. "No one should be surprised by this. All of the parties should have gotten together and come up with a better solution than what they ended up doing, which is waiting until the last minute."
FOR FURTHER READING: Nuclear waste strategy, CQ Weekly, p. 234; nuclear policy, 2011 CQ Weekly, p. 680; enrichment corporation (PL 102-486), 1992 Almanac, p. 231.