CQ WEEKLY – IN FOCUS
March 10, 2012 – 12:11 p.m.
Déjà Vu All Over Again in Afghanistan?
By Emily Cadei and Frank Oliveri, CQ Staff
The international community faces a long list of questions about the fate of Afghanistan in the coming year. But, as Rhode Island Democratic Sen. Jack Reed says, one thing "is pretty clear: We're coming out."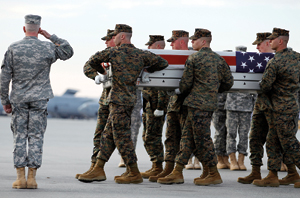 | | |
| --- | --- |
| FINAL REST: There was a spike in attacks on U.S. soldiers in the wake of a Koran-burning incident. (JOSE LUIS MAGANA / AP) |   |
How the United States — and the international coalition it helms — extricates itself will go a long way toward determining whether Afghanistan emerges as a minimally stable country, although still desperately poor, or whether it descends once again into chaos, as it did the last time a foreign occupying force beat a hasty retreat.
Lawmakers insist that the United States can avoid repeating history, when it and the Soviet Union abruptly abandoned Afghanistan in the late 1980s after a nine-year proxy war, leaving a vacuum that allowed room for the Taliban to grow.
But the signs are increasingly worrisome. Lawmakers are already starting to balk at providing U.S. funds for Afghanistan's government and security forces — while tens of thousands of U.S. troops are still on the ground. A group of 24 senators fired a warning shot last week, saying it's time to focus on nation-building at home. "We simply cannot afford more years of elevated troop levels in Afghanistan," they wrote.
That resistance is likely to grow after the bulk of those troops have come home.
With the Afghan government almost entirely dependent on foreign support, the stakes couldn't be higher. Under American leadership, the international coalition is working to build up Afghan security forces — army and police — to at least 350,000 by next September. But there are growing questions about who will pick up the tab for that force going forward and whether the target should be adjusted downward as a result.
Experts estimate that maintaining the Afghan force after international troops withdraw will cost between $6 billion and $8 billion a year. The Afghan government currently relies on donor aid for more than 95 percent of its gross domestic product; its revenue for 2011 is estimated at less than $2 billion. Afghan President Hamid Karzai has said in the past that the country will be unlikely to fund its own security forces for another decade after international troops depart.
In recent years, the United States has proved willing to foot most of the bill, and members of Congress have signaled that they are likely to go along with that again, at least for fiscal 2013. Advocates of a robust Afghan security force have pointed out that helping to pay for it is far less costly than keeping more than 100,000 American troops in place, as the U.S. was doing last year.
But as the number of U.S. troops in Afghanistan declines, so will Congress' willingness to spend money on Afghan forces and other activities there. That will be particularly true if all U.S. military forces are required to depart after 2014 and the State Department — which lawmakers trust less than the Pentagon — takes the reins on training and maintaining security forces, as it has done in Iraq.
International Help
Even the most vocal Hill advocates of an American role in Afghanistan agree that the U.S. will be unable to underwrite all, or even the majority, of the cost of Afghan security forces in the years ahead.
Déjà Vu All Over Again in Afghanistan?
"The support has to be international," Reed says. He acknowledges, however, that "the Europeans, in particular — the vast majority — are also facing budget problems."
The chairman of the Senate Armed Services Committee expressed alarm last week that the United States is now circulating a proposal within NATO to reduce the final target size of Afghan security forces by up to a third. The move is driven, he suggested, by a lack of international will to fund a larger force.
"I am surprised and disappointed to hear our military commanders are focusing on Afghan force size based on what they think might be affordable instead of what number of Afghan security forces they believe will be needed to maintain security," Michigan Democrat Carl Levin said at a hearing.
History offers some cautionary flags on this front. Reed recalls that the Soviet Union initially trained and equipped an Afghan force as it prepared to retreat in 1989, much as the U.S. is doing now. Afghanistan, he notes, did not immediately collapse into anarchy after Soviet forces left. "The real crises came," he says, when Moscow "stopped supporting it financially, and that was a few years later, when their economic situation collapsed." Around the same time, Washington stopped funding the Afghan rebels who had been fighting the Soviets.
Large Civilian Effort
In addition to underwriting Afghan security forces, the Obama administration has long maintained that the United States will keep a large advisory and diplomatic presence in Afghanistan after the 2014 deadline to remove combat troops. That has also been the premise of those on Capitol Hill calling for an accelerated withdrawal of U.S. troops.
"I don't believe" that a speedier transition to Afghan security control "means abandoning Afghanistan," Democratic Sen. Tom Udall of New Mexico said recently.
But his claim is based on the assumption that Washington will be willing to maintain a significant advisory presence after most of the 90,000 American troops have departed.
The roadblocks to that plan are mounting. With the recent murder of U.S. advisers in retaliation for American forces' accidental burning of Korans, lawmakers and others in Washington have raised questions about the safety and practicality of embedding advisers with Afghans. If Americans are unwelcome in these posts, they ask, what chance do they have of succeeding in their missions?
Senators on the Armed Services panel say that, to a certain extent, they have been reassured by statements from military officials, who have testified on the Hill in recent days that the violence against advisers consists largely of isolated incidents.
"I must say it is very concerning to know that our military personnel can't serve in a ministry without being at risk," says Democratic Sen. Ben Nelson of Nebraska. But, he notes, "there is just a general belief among military leaders that treachery experienced is exceptional, not the rule."
Lawmakers are less sanguine about the current impasse between Washington and Kabul on a strategic partnership agreement, intended to define the military relationship between the U.S. and Afghanistan after 2014. The yearlong talks have gotten hung up over the issue of night raids and control of detention facilities, although the two sides had a breakthrough on detainees late last week.
"I am going to pull the plug on Afghanistan from a personal point of view if we don't get this strategic partnership agreement signed," warns Sen. Lindsey Graham of South Carolina.
Déjà Vu All Over Again in Afghanistan?
Graham, a member of the Armed Services Committee and the ranking Republican on the Appropriations subcommittee that funds the State Department, says he would not support the sort of presence the United States has in Iraq, where the State Department is employing thousands of security contractors to help protect an enormous civilian footprint in the absence of U.S. military forces.
Graham estimates that the United States needs to maintain in Afghanistan "a 20,000-troop follow-on force with three or four air bases, with special-forces units and American airpower" to keep the Taliban at bay.
Indiana Sen. Dan Coats, another Republican on the Appropriations Subcommittee on State and Foreign Operations, cited the worrying parallels between Iraq and Afghanistan during a February hearing.
"We're pulling our military out of both Iraq and Afghanistan, and that does achieve significant savings. But, I mean, can we rest easy on that as we watch what happens?" he asked Secretary of State Hillary Rodham Clinton.
The subcommittee's chairman, Vermont Democrat Patrick J. Leahy, was even blunter: "Our ambitions in Afghanistan and Iraq were naive and enormously wasteful. I think we should scale back our costs in both countries to amounts that can be justified and sustained."
Clinton acknowledged that State has learned lessons from Iraq. Based on that experience, she said, the department is starting to ramp up its civilian capabilities "earlier in Afghanistan, because we do have through the end of 2014."
As troop levels in Afghanistan sink, however, lawmakers are already signaling that they will not countenance the sort of rise in funding for civilian operations that State has sought for Iraq. U.S. assistance to Iraq through the State Department jumped by nearly $1 billion between fiscal 2010 and fiscal 2012.
For Afghanistan, the Obama administration requested $4.6 billion for assistance through the State Department and the U.S. Agency for International Development in fiscal 2013. That's up from $4.2 billion appropriated in fiscal 2012 — largely for economic support, rule-of-law programs and diplomatic security. The Pentagon received another $800 million in fiscal 2012 for its primary development and infrastructure funds and is requesting the same amount for fiscal 2013.
"Building power grids and power plants and roads and bridges and road projects, that is not primary to the mission" in Afghanistan, says Democratic Sen. Claire McCaskill of Missouri, a member of the Armed Services Committee. "If we are pulling out of Afghanistan over the next two years, what I don't want to see happen is us ending up with our military gone and us still on the hook with a lot of contractors with a lot of contracts that are going to be years before completion. That doesn't make sense to me, not with the stresses we have on our economic situation."
FOR FURTHER READING: Afghanistan spending, 2011 CQ Weekly, p. 1379; State Department in post-war Iraq, p. 1856; Afghan War, 2010 CQ Weekly, p. 2382.