CQ WEEKLY – IN FOCUS
March 17, 2012 – 11:19 a.m.
To Russia, With Limited Love
By Joseph J. Schatz, CQ Staff
There's a tinge of déjà vu to Barack Obama's quest to repeal Cold War-era trade restrictions on Russia. The president is asking members of Congress to temporarily set aside their concerns about a former enemy's poor human rights record, its autocratic leaders and its aggressive stance toward pro-Western neighbors, all in the name of potential profits that await eager American companies and the jobs they might create back home.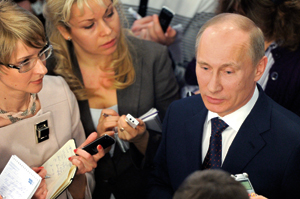 | | |
| --- | --- |
| WILD CARD: Putin's election as Russia's president earlier this month raises concerns for lawmakers debating a more open trade policy with Moscow, although democracy advocates may favor the change. (YANA LAPIKOVA / AFP / GETTY IMAGES) |   |
Sound familiar? That's because, in many respects, it is the same gamble that President Bill Clinton asked lawmakers to make 12 years ago, when he persuaded Congress to normalize trade ties with China.
Then, Clinton and U.S. company officials made the case that gaining access to what was likely to become the world's largest consumer market was worth the risk of doing business with a government viewed as a rights abuser. Swinging wide the doors of commerce, the argument went, would push China to become more open, politically and economically.
Clinton carried the day, and China is now the third-largest overseas market for American-made goods. Moreover, although the U.S. trading relationship with China has grown more complicated and controversial, most companies and lawmakers still regard the payoff as worth the challenges.
That experience with China looms large as the Obama administration and its allies on Capitol Hill try to get Congress to lift restrictions on trade with Russia, which is set to join the World Trade Organization this summer.
The effort has strong backing from major corporations, including Alcoa Inc., one of the world's largest aluminum producers, and PepsiCo Inc., one of the largest beverage manufacturers. It is reinforced by the lobbying clout of the U.S. Chamber of Commerce, the National Association of Manufacturers and the Business Roundtable.
Russia, however, is not China, and in a bitter election year, Congress seems to be putting foreign policy and human rights concerns before economic expediency. If Russia's oligarchical economy and its reputation for corruption weren't enough, Vladimir Putin's return to the Russian presidency has compounded the concerns of lawmakers wary of Russia's human rights record and reluctant to take a vote that might be seen as embracing it. That's particularly true given Russia's role in blocking U.S.-backed diplomatic efforts in Syria.
The House Republican majority has made clear that the onus is on the White House to persuade lawmakers to set aside their foreign policy concerns in favor of the business community's interests. And in a March 15 hearing, the Senate's No. 2 Republican, Jon Kyl of Arizona, said that normalizing trade "isn't a slam dunk." In response to the arguments from business leaders, Kyl asked, "What has that gotten us in our trade relationship with China?"
The China comparison doesn't work, though, on a fundamental level. The potential Russian market, and the opportunities for U.S. companies to set up shop there, fall well short of the Chinese model. That weakness in the economic argument increases the likelihood that any deal to lift the old restrictions on Russia will come with new strings attached.
Even proponents acknowledge the difficult dynamics. In the late 1990s, when opening the trade door with China was front and center, the tragedy of Tiananmen Square was almost a decade removed, and China's human rights record seemed to be improving. Today, though, lawmakers have growing worries about Russia, says Gary Clyde Hufbauer, a senior fellow at the Peterson Institute for International Economics and a deputy Treasury secretary during the Carter administration.
"The business and commercial interest in China was just substantially greater than with Russia today," says Hufbauer, who supports granting what is called permanent normal trade relations, or PNTR, to Russia. "We have commercial interests in Russia, no doubt, but not of the prospective magnitude of China."
Utah's Orrin G. Hatch, whose views are normally pro-trade and who sits as ranking Republican on the Senate Finance Committee, said as much at a March hearing. "The president would have Congress pass PNTR and ignore Russia's rampant corruption, theft of U.S. intellectual property, poor human rights record and adversarial foreign policies for a market that amounts to 0.05 percent of U.S. exports," Hatch said.
To Russia, With Limited Love
Leverage or No Leverage?
Those are the concerns that the Obama administration, its congressional allies — including Democrat Max Baucus of Montana, the Finance panel chairman — and business lobbyists have to contend with as they begin to build support for a vote this summer to grant normalized trade status to Russia.
Supporters contend that maintaining the status quo would give Congress little leverage over any of these issues.
The fact that Russia's trade status is an issue stems from an amendment to the 1974 Trade Act, written by Democratic Sen. Henry M. Jackson of Washington and Democratic Rep. Charles A. Vanik of Ohio, which penalized communist and other non-market countries that restricted Jewish emigration by withholding trade privileges.
Emigration, of course, is essentially a moot point with Russia — it hasn't been an issue since the collapse of the Soviet Union — and many say the entire Jackson-Vanik law is a relic of the Cold War that should be eliminated. The president regularly waives the law's requirements every year for Russia — a major symbolic irritant in the relationship between Moscow and Washington, say Russia watchers.
Nonetheless, human rights and foreign policy groups see granting Russia a permanent exemption from Jackson-Vanik as a consequential vote.
But Baucus notes that "there is no leverage here." He and the administration say this is business and nothing more. Under World Trade Organization rules, Congress must permanently lift Jackson-Vanik or accept that U.S. companies would continue to face non-tariff barriers in Russia, lacking any recourse to contest them, as European and Asian competitors enjoy new business opportunities.
Remembering China
To a striking degree, the United States' often-difficult trade relationship with China hangs over the Russia debate for lawmakers, who fear more closed factories at home and more stolen intellectual property. Russia's economy is often described as a kleptocracy.
Normalizing relations would mean that the U.S. government and American companies could use the WTO dispute settlement process to challenge Russian behavior deemed unfair. But Kyl pointedly said at last week's hearing that China is a full member of the WTO and continues to engage in rampant piracy and corruption.
Russia's record on business corruption is even worse than China's, Kyl says, wondering, "if this is what we get from China, what can we expect from Russia?"
At the same hearing, Paul Williams, president of the American Society of Composers, Authors and Publishers, told lawmakers of his members' experience in dealing with legal authorities in Russia. "Based on our ongoing problems with China, we are under no illusions that Russia's entry into the WTO, by itself, will improve the predicament of ASCAP members," Williams told senators.
To Russia, With Limited Love
To counter these economic complaints, those who favor open trade stress that Russia's industries are unlikely to compete with American companies for years — or maybe decades. By contrast, China is a major competitor to the United States not just in cheap products but increasingly in high-tech manufacturing of products such as solar panels.
"Some worry about possible parallels between PNTR for China and Russia. In fact, their economies are very different," write Hufbauer and Anders Aslund, also a senior fellow at the Peterson Institute, in a forthcoming book. "First and most importantly, Russia is not likely to become a significant exporter of manufactures for the foreseeable future," they write. As a result, "Russia is not likely to evoke protectionist concerns in the United States, standing in stark contrast to China."
U.S. exports to China totaled $16 billion in 2000, when Beijing joined the WTO. By 2011, they had increased to $104 billion. Imports have grown far more, to $399 billion from $100 billion. For Russia, the numbers are much smaller. Still, proponents assert that U.S. exports to Russia might more than triple, to $26 billion annually from roughly $9 billion, if trade ties are normalized.
Russia is a significant market for U.S. companies in several industries. Alcoa heads up the National Association of Manufacturer's task force on the issue, and the Coalition for U.S.-Russia Trade, a group formed to push for normal trade relations, is co-chaired by PepsiCo, Caterpillar Inc., Chevron Corp., General Electric Co., International Paper Co. and Procter & Gamble Co.
Still, Baucus is aware that many lawmakers view normalized trade as a reward of sorts to Russia — and that's why he and the business community say this debate is not about Moscow but rather about ensuring that U.S. companies share in the benefits of trade that will accrue to other countries once Russia joins the WTO.
"I traveled to Russia last month, and I saw a country with vast potential for U.S. business," Baucus said at a March hearing. "I also saw a country with a troubled democracy and human rights record, and I heard about the importance of PNTR from some unexpected sources — namely, democracy, human rights and transparency activists. The activists all have serious concerns about Russia, but they all support PNTR."
Foreign Policy Trade-Off
In some ways, this argument is right out of the playbook used more than a decade ago for China. Then, Clinton stressed to Congress that "while we will continue to have strong disagreements with China over issues ranging from human rights to religious tolerance to foreign policy, we believe that bringing China into the WTO pushes China in the right direction in all of these areas."
Baucus' office called attention last week to a letter from prominent members of the Russian opposition — timed to coincide with Baucus' hearing — who argued that maintaining the Jackson-Vanik restrictions would only play into Putin's hands. Refusing to grant normal trade would help Putin "depict the United States as hostile to Russia, using outdated cold-war tools to undermine Russia's international competitiveness," they wrote.
Whether U.S. lawmakers will take that message to heart with Russia, as they did with China, remains uncertain. Russia represents a rare fissure in the Republican Party's traditional coalition of business advocates and national security hawks. For many Republicans, this fight provides an opportunity to put Obama in the awkward position of advocating business interests over human rights concerns — a stance seemingly at odds with the president's position on trade with other nations.
Some top Republicans have been harshly critical of the administration's "reset" policy toward Russia since 2009. Last October, House Speaker John A. Boehner of Ohio made clear that normalizing trade with Moscow would depend on Russia's settling its border disputes with Georgia.
The two countries, which went to war briefly in 2008, worked out a customs deal in late 2011, but it's unclear if that will be enough to appease congressional critics.
And some Russia critics, led by Sen. Benjamin L. Cardin, a Maryland Democrat, are seeking to tie normalized trade to legislation that would impose new sanctions on human rights abusers in Russia. Cardin's bill is named for lawyer Sergei Magnitsky, who died in Russian police custody, and many lawmakers — and Russian opposition party members — want Congress to enact it as a replacement for Jackson-Vanik. Finance Committee negotiations are under way to find language from Cardin's bill that might be attached to a Russia trade measure.
To Russia, With Limited Love
Jacqueline McLaren Miller, a senior associate at the EastWest Institute, a New York- and Moscow-based think tank, says Jackson-Vanik was of questionable effectiveness in promoting Jewish emigration and contends that the sanctions proposed by Cardin might be no more effective. A different option, she says, might be to provide money for Russian non-governmental organizations.
Regardless of the approach, imposing some form of new pressure on Russia will be unavoidable. "The administration is going to have to give something to the human rights folks," Miller says.
The question is whether anything will be enough. Getting lawmakers to see Russia as a source of export riches for their states and districts, and not a foreign policy problem, presents a major challenge.
Although administration officials say Russia is their top trade priority this year, they have laid little groundwork. The issue is new to many lawmakers. And while Russia's inclusion in the WTO took 18 years — longer than China's — it is a recent development, and the Russian government has until late June to formally approve it.
Also, Republicans may be reluctant to give Obama a trade victory in an election year — meaning companies may need to assume the lead role in lobbying wary lawmakers. Michael Froman, Obama's deputy national security adviser for international economic affairs, has been working with the business community, and in coming months, a bipartisan delegation of Finance Committee trade staffers is expected to travel to Moscow. So far, labor unions have made far less noise about the Russia effort than they did about a bilateral trade deal with Colombia last year.
One problem for the administration is that many lawmakers view the stakes as low.
Lifting trade restrictions on China was necessary to tap into the huge and growing Asian markets — as was Congress' decision to lift Jackson-Vanik for Vietnam in 2006. Embracing Beijing's entry into the WTO changed the way the global trading and manufacturing system worked, thanks both to the size of China's market and the heavy influence from Beijing on China's economy.
Yet even though Russia is the world's 11th largest economy and the largest still outside the WTO, the benefits for U.S. companies appear far less tangible for lawmakers and the public. That's likely to have a big impact on vote-counting in the House and Senate.
As one Republican aide put it: "The American people are still leery of Russia, and the concept that there is an economic boon from dealing with Russia is an equally tough sell."
Members of Congress overcame a similar wariness 12 years ago with China. For the administration to get its way on Russia, lawmakers will have to conclude, once again, that money talks.
FOR FURTHER READING: Russia joining the WTO, 2011 CQ Weekly, p. 2589; normalized trade for China, 2000 Almanac, p. 20-3; Jackson-Vanik enacted, 1974 Almanac, p. 553; Cardin's bill is S 1039.