CQ WEEKLY – IN FOCUS
Corrected June 7, 2012 – 1:57 p.m.
For Mica, a Bumpy Year in the Driver's Seat
By Nathan Hurst, CQ Staff
Rep. John L. Mica just might have the most undesirable job on Capitol Hill.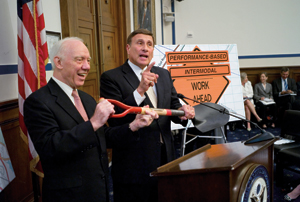 | | |
| --- | --- |
| HAPPIER DAYS: Mica, right, gives Oberstar a shovel in 2009 to symbolize their bipartisan approach. (SCOTT J. FERRELL / CQ ROLL CALL) |   |
Dwindling financial resources, a ban on legislative earmarks, an unpredictable rank and file, and a demanding Republican leadership have made getting the basic work of passing a surface transportation reauthorization — once the bread and butter of the House Transportation and Infrastructure Committee that the Florida Republican leads — a full-throttle partisan battle.
And initiating major policy changes? Fat chance.
A chairmanship that, in the hands of such power brokers as Republicans Bud Shuster of Pennsylvania and Don Young of Alaska, was a plum position for setting policy and doling out dollars has become unmanageable. Many of the changes that House Republicans touted as reforms during the 2010 campaign, including the earmark ban and "open" rules that allow members to freely offer amendments, have further deprived the Transportation and Infrastructure chairman of the leverage needed to shepherd a bill through the House.
"I've never seen such turmoil and internal conflict," says former Rep. James L. Oberstar, a Minnesota Democrat who headed the committee in the last Congress and failed to pass his own six-year, $450 billion highway bill.
House leaders backed away from Mica's transportation bill after it came to the floor just before last week's recess, concluding that they didn't have the votes to pass it. Meanwhile, the Senate easily passed its version, 74-22, on March 14. Despite facing similar obstacles such as a lack of earmarks, Republicans joined Democrats in writing the bill in committee and it enjoyed broad bipartisan support. With a March 31 deadline looming, the House may be forced to swallow the Senate's minimalist bill, which would mark a humiliating comedown for a once-powerful position.
To track the erosion of the chairman's clout, it helps to go back a few years to the days of Democratic control.
Apprentice to Power
Oberstar's entire career — first as chief of staff for 11 years to a member who became chairman of what was then called the Public Works Committee and later after winning his own seat as one of the "Watergate babies" of 1974 — had been preparation for the task of writing a highway bill.
Oberstar's moment arrived when he ascended to the chairmanship in 2007. A wonk at heart, he touted the highway bill he assembled as one of the most significant steps in surface transportation policy since the Interstate Highway System was created during the Eisenhower administration. In addition to pumping billions of dollars into road and rail projects, Oberstar proposed reorganizing and consolidating transportation programs.
Unlike his predecessors, Oberstar lacked the resources to match his ambitions. The gasoline and diesel taxes that produce most of the revenue for the Highway Trust Fund were no longer keeping up with authorized spending. Not only had the fund lost ground to inflation — the 18.4-cents-per-gallon gas tax hasn't been increased since 1993 — but also the growing use of fuel-efficient vehicles meant that motorists were pumping less gas. Just to maintain funding levels from the 2005 surface transportation law, Congress has had to prop up the Highway Trust Fund with infusions of general tax revenue. And neither President Obama nor Congress had the stomach to raise the motor fuels taxes during a recession.
That dilemma has only worsened since Mica took the gavel a year ago. His five-year, $260 billion proposal is more limited than the Oberstar blueprint and would maintain transportation funding at roughly current levels. But even paying for that plan would require billions of dollarsin revenue or spending offsets. Many of the tea party-backed Republican freshmen view the Mica plan as too expensive.
For Mica, a Bumpy Year in the Driver's Seat
In the past, Transportation chairmen were able to build overwhelming bipartisan support for their bills by doling out earmarks for popular local projects. The 2005 law was greased with more than 6,000 earmarks, but that option isn't available to Mica. Not only have resources dried up, but a backlash against earmarks — symbolized by the controversy surrounding $204 million in the 2005 highway bill for an Alaska project labeled the "bridge to nowhere" — left Mica without the tools to reward friends and punish enemies.
End of the Ride
Oberstar's ambitions for a transformational highway bill collided with political reality in June 2009, when the White House and the Senate instead endorsed an 18-month extension of the 2005 law. Although Oberstar's draft legislation was marked up in subcommittee, it never even advanced to consideration by the full Transportation and Infrastructure panel, and the Ways and Means Committee never came through with the necessary financing package.
"They cut the legs out from under him," Mica said at the time. Mica joined Oberstar in vowing to fight for the bill, and the pair even posed together clutching a shovel.
But Oberstar was among the casualties of the 2010 elections that swept Republicans to power in the House. After 18 terms, Oberstar lost to Chip Cravaack, a tea party-backed Republican. Mica succeeded Oberstar as the committee's chairman.
The first item on Mica's plate was a reauthorization of aviation programs that set the tone for the highway fight to come. The House-passed Federal Aviation Administration bill would have rolled back a National Mediation Board ruling, opposed by Delta Air Lines, that had the effect of making it easier for airline workers to unionize.
In an attempt to force the Senate's hand on the issue, the House passed a short-term FAA extension last summer that included cuts to rural airline subsidies in the states of key senators. The Senate refused to clear the measure, resulting in a partial FAA shutdown that led to thousands of furloughs and stalled airport construction projects until a face-saving compromise was patched together.
House Speaker John A. Boehner, an Ohio Republican, eventually took the labor issue off Mica's plate and negotiated a settlement directly with Senate Majority Leader Harry Reid, a Nevada Democrat. With that impasse resolved, the FAA legislation was enacted in February. But Boehner's intervention hinted at a disconnect with his chairman.
Scaling Back
Like his predecessor, Mica had big ideas about a highway bill. During the 2008 campaign, he was pitching a $1.5 trillion plan to rebuild the nation's transportation infrastructure, raising a third of the money in federal revenue, another third through public-private partnerships and the rest by selling bonds.
By the time he became chairman, Mica had scaled back those goals, settling on a plan to fund the programs at current levels. Under pressure from a White House attack on Congress for failing to pass a "jobs bill," Boehner saw the highway bill as his answer. But instead of building the kind of bipartisan support that had worked in the past, Boehner — who was among just nine House members who voted against the 2005 law — tried to tailor the measure to appeal to his GOP caucus.
To help plug the gap between spending levels and revenue, the transportation measure was linked to a proposal to expand oil and gas drilling off U.S. shores and in the Arctic National Wildlife Refuge and a plan to make federal workers pay a bigger share of their pension costs. Boehner's measure also included a proposal to remove public transit programs from the Highway Trust Fund and put them at the mercy of appropriators.
For Mica, a Bumpy Year in the Driver's Seat
Instead of pulling the caucus together, however, the plan drew criticism from all quarters. Fiscal conservatives remained unhappy about funding levels, while suburban Republicans opposed the changes to transit funding. The pension offset was used to pay for other legislation, and the energy provisions eliminated any hope of Democratic support.
As the bill blew up, the Mica and Boehner camps traded blame. When Boehner floated the idea of an 18-month bill, Mica ridiculed it in a speech to the American Association of State Highway and Transportation Officials, commenting that anyone who thought a long-term authorization would fare better after the November elections was "smoking the funny weed."
Boehner's supporters let it be known that they were unhappy with Mica for crafting what they viewed as a flawed bill. Even before becoming Speaker, Boehner outlined his expectations for committee chairmen. "Chairmen shouldn't be content to churn out flawed bills and then rely on their leadership to bail them out," Boehner declared in the fall of 2010. In the view of Boehner's supporters, this was exactly where Mica had left them.
Before recessing, Boehner said the House would take up the Senate's two-year highway bill when it returns unless Mica finds support for his longer-term bill. In a House polarized along partisan and ideological lines, that will be a daunting task — especially without the ability to buy votes the old-fashioned way: with earmarks.
"The shift in character in the House, particularly away from bipartisanship on must-pass bills, is most acute on the T&I Committee," said a lobbyist who worked with Mica's staff on the bill and asked to remain anonymous. "You just didn't see this abandonment of a chairman and his bill this close to the finish line before."
Richard E. Cohen contributed to this story.
FOR FURTHER READING: House bill is HR 7; Senate bill is S 1813. Senate action, p. 552; bills stall, CQ Weekly, p. 361; Republican factions, p. 94; Senate bill approved, 2011 CQ Weekly, p. 2396; previous authorization (PL 109-59), 2005 Almanac, p. 18-3.
First posted March 17, 2012 11:29 a.m.
Correction
Corrects to $204 million the amount in the highway bill for the "bridge to nowhere."