CQ WEEKLY – IN FOCUS
March 17, 2012 – 11:33 a.m.
Into the Hangar Before They're Out of the Gate
By Megan Scully, CQ Staff
Air Force officials routinely ask Congress for permission to retire decades-old aircraft, banishing them to a desert boneyard in Arizona. Some are tapped for future missions, but most of these old airframes are simply scavenged for scrap. Usually, the Air Force's aim is to rid its fleet of costly planes that are well past their prime and to make room in the budget for newer, more capable aircraft.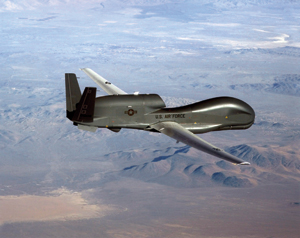 | | |
| --- | --- |
| EYES AND EARS: The Global Hawk's Block 30 variant has been used over Iraq, Afghanistan and Libya. (U.S. AIR FORCE) |   |
But this year, service officials are turning that practice on its head. Their fiscal 2013 budget proposal seeks to mothball 18 brand-new, high-flying intelligence drones the Pentagon considered indispensable less than a year ago. In their place, Air Force officials say, they now would rather fly the venerable U-2 — a manned spy plane first deployed in 1956. Although extensively modernized, the planes are, on average, 25 years old.
The decision, outlined in President Obama's budget request delivered to Capitol Hill last month, came down to cost and capability. The Air Force estimates it will save $2.5 billion by retiring and stopping the purchase of the Global Hawk "Block 30" drones, designed to detect electronic signals and capture imagery. What's more, service officials say, the U-2s have updated reconnaissance and radar systems with a far greater range than the imaging sensors aboard the Global Hawks.
But the plan is proving to be a tough sell on Capitol Hill, where key lawmakers want the Pentagon to get something for the billions invested in the 14 drones the Air Force already has in its fleet — all added within the past 18 months — not to mention the four still in production, which would be transferred to the boneyard at Davis-Monthan Air Force Base in Tucson before they ever fly a mission.
Perhaps most perplexing for many lawmakers is that the Global Hawk — the largest drone in the Pentagon's growing fleet — was designed to perform a crucial mission for a military that is increasingly reliant on high-tech intelligence, surveillance and reconnaissance assets. The planes, which can fly halfway around the world to monitor an area the size of Illinois for 24 consecutive hours from 60,000 feet above sea level, have already been used extensively in the Iraq and Afghanistan conflicts.
'Not Acceptable'
The Global Hawk, which has been troubled from the start, has seen its price tag balloon to more than $200 million apiece, a rather large bill for aircraft the Air Force will park in the desert indefinitely. And that figure doesn't include the costs of shutting down production, which have not yet been negotiated with prime contractor Northrop Grumman Corp.
"The idea that we'd spend all this money to buy them and then put them in a hangar is just not acceptable," Washington Rep. Norm Dicks, the ranking Democrat on the House Defense Appropriations Subcommittee, said at a March 6 hearing with Air Force leaders.
Dicks is hardly alone. During a hearing a week earlier, House Armed Services Chairman Howard P. "Buck" McKeon, a Republican whose district includes the Palmdale, Calif., plant where Northrop Grumman builds the Global Hawks, questioned whether retiring the nearly new drones was a "shortsighted decision that favors near-term savings over long-term capability and cost."
Pentagon budgets are, of course, littered with examples of weapons programs canceled before they enter production. Also common are significant reductions to the numbers of aircraft, ships and ground vehicles that the military buys. But defense analysts are having a hard time finding a precedent for the Global Hawk decision. "It's highly unusual that you buy airplanes and then immediately within a few years turn around and mothball them," says Todd Harrison, an analyst at the Center for Strategic and Budgetary Assessments.
Another question is puzzling lawmakers: How could the ancient U-2s be the superior aircraft? "When I have to talk to my constituents and the taxpayers, and I say, 'Yes, we've got these really cool surveillance Global Hawks that are going to take the place of this 50-year-old plane. We've got 14 of them made, but now we've made the decision to just park them in the garage somewhere' — you see, it's hard for me to be able to explain that," Republican Rep. Tom Rooney of Florida said at the Armed Services hearing.
The military has repeatedly maintained that unmanned aircraft are essential, providing the military with what has been dubbed "persistent" intelligence, surveillance and reconnaissance and thereby allowing officials to keep a constant eye on enemies and potential threats. The Block 30s were deployed for operations over Libya last year and for the humanitarian relief effort after the devastating Japanese earthquake.
Into the Hangar Before They're Out of the Gate
"Our intelligence, reconnaissance and surveillance is a high national priority. So if the Air Force isn't going to use them, we have to find a home for them," Dicks said.
A Better Solution?
Not willing to see late-model unmanned aircraft parked at Davis-Monthan alongside planes that have spent years — if not decades — in the fleet, Dicks suggested that the Defense Department consider giving the Block 30 aircraft to NATO, U.S. special operations forces or even the Navy, which is buying new surveillance drones based on the same platform.
The Air Force has been noncommittal about the future of the aircraft. Air Force Secretary Michael B. Donley said only that the service is "open to further discussion" on how the military could use the aircraft for other purposes. In response to questions, an Air Force spokeswoman said the service has not yet determined its exact plans for divesting itself of the Global Hawks. "The Air Force is developing a plan, to include costs, to place these assets in usable storage for future possibilities, whatever they might be," she said.
The Global Hawk program has never been a model acquisition program. The drones, of which there are several variants, have been beset by cost overruns and testing challenges. In a May 2011 report, Pentagon testers concluded that the Block 30 was "not operationally suitable" and could not conduct near-continuous surveillance and reconnaissance missions. Around the same time, the Pentagon reported that the Global Hawk program as a whole had exceeded initial cost estimates by more than 25 percent, breaching cost-growth limits set by Congress.
But Pentagon officials asserted that there were no affordable alternatives to the high-altitude unmanned aircraft for crucial information-gathering missions. In a June 14 letter to key lawmakers, Pentagon acquisition chief Ashton B. Carter called the Global Hawk "essential to the national security" and urged Congress to keep funds flowing to the program despite the cost hikes. The Global Hawk "provides a critical capability for the war fighter, and its future success depends on congressional support," wrote Carter, who is now the deputy Defense secretary.
Air Force officials, meanwhile, told lawmakers that operating the U-2 would cost $220 million more per year than operating the Global Hawk, in part because more manned aircraft would be needed to perform the job of one drone. Lawmakers were swayed by the Pentagon's arguments and ultimately decided to pump $1.5 billion into the Global Hawk program for this year, including three Block 30 drones not yet under contract.
Now, however, the cost analysis has changed, and Air Force officials say the U-2, particularly with its superior sensors, is more cost-effective for signals intelligence and imagery collection. The Pentagon has left intact the Block 20 communications drone and the Block 40, which locates moving targets on the ground.
Some observers say that the sudden change of heart on the Block 30 is based on the Pentagon's decision to reduce the military's requirements for high-altitude surveillance and reconnaissance, thereby throwing the analysis in the U-2's favor. "After they adjusted those requirements, we then went back and looked at the existing fleets and capabilities, and we said, 'Can we live with the U-2 capability that we have, because the U-2 will be good through 2040, basically?'" Donley recently explained to the House Armed Services Committee.
Air Force officials say that the operational costs for both aircraft, estimated at $32,000 per flight hour, are basically a wash. But the acquisition bills for the Block 30s outweighed any work that would need to be done on the U-2s. The Air Force expects the savings generated by standing down the Global Hawks to total $3.8 billion from fiscal 2013 to 2017, including nearly $2 billion in procurement, $877 million in research and development, $590 million in operations and maintenance, and $362 million in military personnel. Updating the U-2 fleet would cost $1.3 billion over the next five years. That includes $234 million in procurement, $75 million in research and development, $843 million in operations and maintenance costs, and $139 million in military personnel.
Despite the prospect of cost savings, many lawmakers are still dissatisfied with discarding nearly new aircraft that have already been built.
"I just think the American people have a hard time understanding that when you said a year ago that these were $220 million less expensive to operate than the [U-2s], that all of a sudden now we're just going to put 18 of these things in a warehouse," Dicks said. "That just doesn't seem right to me."
Into the Hangar Before They're Out of the Gate
FOR FURTHER READING: Budget request, CQ Weekly, p. 352; limits on growth of weapons costs (PL 97-86), 1981 Almanac, p. 212.