CQ WEEKLY – IN FOCUS
March 24, 2012 – 12:19 p.m.
In Case of Emergency, Tap the Reserve
By Geof Koss, CQ Staff
The annual rise of gasoline prices in anticipation of the summer travel season has particular political potency this year as the specter of another supply disruption in the Middle East intersects with a presidential election.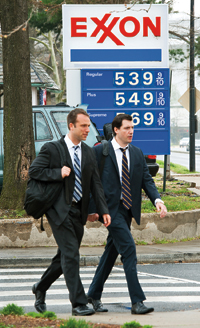 | | |
| --- | --- |
| PUMPED-UP PRICES: Gasoline at a Washington filling station topped $5 a gallon on March 16, well above the national average and underscoring fears of an expensive summer driving season. (PAUL J. RICHARDS / AFP / GETTY IMAGES ) |   |
Like the spring weather, the jump in gas prices occurred earlier than usual this year, largely due to escalating tensions with Iran. Republicans have responded with calls for more domestic drilling, while Democrats demand tighter controls on Wall Street speculators.
And, as often happens, the president is eyeing one of the few tools that could affect gas prices in the short term: the Strategic Petroleum Reserve.
While Congress has broadened the president's drawdown authority over the years, Republicans are now maintaining that the president has too much flexibility, allowing him to exploit the reserve to escape an election year liability.
In the past, releasing a small amount of petroleum from the 696 million barrels put aside after the 1973-74 Arab oil embargo has been enough to bring down prices at the pump. Two weeks ago, news reports that President Obama and visiting British Prime Minister David Cameron had agreed on a joint release from their reserves sent the price of oil futures down by 1.6 percent in a single day, even though the White House called the reports inaccurate.
But even if such a move would work to bring gas prices down a few cents, Republicans say that the magnitude of the brewing conflict with Iran should give Obama pause about deploying a major weapon in a minor way. A shutdown of shipping through the Strait of Hormuz or an Israeli attack on Iranian nuclear facilities could disrupt oil supplies worldwide and spark the kind of financial panic that would require big drawdowns.
Prematurely releasing oil, says Alaska Sen. Lisa Murkowski, would stress the nation's "insurance policy."
"I don't think that that's a safe place for us as a nation at a time like we are facing right now, when the geopolitical scene is more than just a little bit shaky," continues Murkowski, the top Republican on the Energy and Natural Resources Committee. She says the parameters guiding a potential release from the reserve "need to be more clearly defined" by Congress.
Arguments over how to deploy the reserve date to the beginning, with presidents since Jimmy Carter interpreting its function differently and Congress responding over the years with a litany of legislative changes.
The key questions: When is it appropriate to dip into the reserve? Should it be held solely as an insurance policy against catastrophic shortages that could endanger national security? Or is it an economic safety valve to moderate fluctuations in crude oil supplies that affect consumer prices?
"The Strategic Petroleum Reserve is for emergencies — not political disasters," Sen. John Barrasso, a Wyoming Republican, said recently, criticizing the White House acknowledgment that a release is under consideration.
Advocates of a drawdown say just the fear of a disruption has driven up oil futures. "Signaling that the United States will continue to employ an aggressive SPR policy in the near term would send a strong signal to oil markets responding to the unrest in the Middle East," House Democrats Rosa DeLauro of Connecticut and Peter Welch of Vermont said in a draft letter to Obama and circulated among colleagues.
In Case of Emergency, Tap the Reserve
Given that Obama released 30 million barrels from the reserve last June to help calm world oil markets spooked by upheaval during the Arab Spring, he is widely expected to order another release sometime this spring — again in concert with other members of the International Energy Agency.
Crises and Prices
In creating the reserve, Congress aimed to prevent a repeat of the economic aftershocks that followed the first Arab oil embargo. The five underground salt caverns in Louisiana and Texas that constitute the reserve were originally designed to hold enough crude oil to replace imports for 90 days, or 500 million barrels.
Congress set a goal of 1 billion barrels in 1975, but practical and fiscal constraints limited it to about half that level in the 1980s. After the Sept. 11 terrorist attacks, President George W. Bush ordered the reserve filled to 700 million barrels and later sought to go to 1.5 billion barrels. Obama has resisted adding more oil to the reserve.
The 1975 law allowed the president to utilize the oil in the event of a "severe energy supply interruption."
According to a 2011 Congressional Research Service report, "Price was deliberately kept out" of presidential "drawdown authority because of concerns about what price level would trigger a drawdown, and that any hint of a price threshold could influence private sector and industry inventory practices."
Congress, however, has twice amended the law to give the president broader authority. After the 1989 Exxon Valdez oil spill, Congress allowed the president to use up to 30 million barrels of oil from the reserve over 60 days to offset domestic shortages and accompanying price increases that fell short of an emergency, so long as the reserve stayed above 500 million barrels.
Congress broadened the drawdown authority in 1992 to include instances in which supply shortages were likely to produce price increases capable of causing a "major adverse impact on the national economy." That tweak followed the first emergency use of the reserve, when President George Bush ordered a drawdown to calm international oil markets after the 1991 U.S.-led invasion of Iraq. President Bill Clinton allowed sales in 1996-97 to offset the Strategic Petroleum Reserve's maintenance and operating costs, and to reduce the deficit.
The second President Bush released 30 million barrels in September 2005, after Hurricane Katrina hit the Gulf Coast. Over the years, there have been multiple small-scale sales, swaps and loans to facilitate maintenance or prevent refinery disruptions.
The current legal framework allows the president wide latitude to determine how to use Strategic Petroleum Reserve oil, hamstringing efforts by a politically fractured Congress to overrule the White House.
"We're limited in the way the SPR is set up; it allows for that discretion," Murkowski says.
Jeff Bingaman, a New Mexico Democrat and chairman of the Senate Energy and Natural Resources Committee, says a drawdown should depend on whether supply shortages are driving prices. He called it unclear whether a perceived risk of shortage would warrant a release. "I don't know," he says. "We haven't gotten into it in any great detail."
In Case of Emergency, Tap the Reserve
A comprehensive energy bill that Bingaman and Murkowski wrote in 2009 would have explicitly allowed a Strategic Petroleum Reserve drawdown when a supply interruption was expected to cause "a severe increase" in prices. The energy panel approved the bill with bipartisan support, but it never got a floor vote.
How Much Is Enough?
Almost four decades after the creation of the reserve, policy makers can't agree even on how big it should be.
In 2005, Congress directed an expansion of the reserve to a billion barrels "as expeditiously as possible." The Energy Department initially studied a potential storage site in Mississippi, but the Obama administration did not seek funds in fiscal 2012 to complete the environmental review process. The department also missed a 2009 deadline for submitting a report on the effects of a larger reserve on domestic petroleum markets, and Congress later rescinded $71 million appropriated for expansion. A department spokesman did not respond to a request for comment on why the program was terminated.
Interior Secretary Ken Salazar in 2009 halted the scandal-plagued royalty-in-kind program, which allowed oil companies to pay royalties for drilling on public lands by providing oil to the reserve. Adding to the reserve now would require purchases in an expensive marketplace — a daunting prospect, given the focus on deficit reduction. The administration has not refilled the 30 million barrels released last year, although its fiscal 2013 budget request "assumes replacement" of about 27 million barrels by 2017, paid for with revenue from last year's emergency sale.
Another unknown is the suitability of existing stocks, which the Government Accountability Office has noted are proportionally lighter than the heavier grades increasingly used in U.S. refineries.
Murkowski says the tension with Iran invites a fresh look at strategic-reserve policies.
"I'm always hoping that my house is not going to burn, and I'm not going to have to wonder whether or not I have enough of an insurance policy to cover me," she says. "With the SPR, I want to know that what we've got in there is the best we can possibly have. Right now, I'm thinking that it's not."
FOR FURTHER READING: Gas-price politics, 2011 CQ Weekly, p. 562; 2005 energy law (PL 109-58), 2005 Almanac, p. 8-8.