CQ WEEKLY – VANTAGE POINT
March 24, 2012 – 12:53 p.m.
Back to School: On Campaign Trail, Education Gets New Focus
By Lauren Smith, CQ Staff
Education might become a real issue in this year's presidential campaign, thanks to an offhand comment by GOP candidate Rick Santorum that President Obama was a snob for promoting post-secondary education for all, and to Obama's new campaign video, "The Road We've Traveled," which mentions education several times.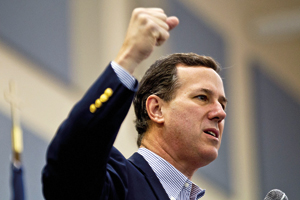 | | |
| --- | --- |
| INSTIGATOR: When Santorum called Obama a snob on education, he may have raised the issue's profile. (WHITTNEY CURTIS / GETTY IMAGES ) |   |
Until recently, Republican presidential candidates scarcely mentioned education, and debate moderators posed only a handful of questions on the topic. That seemed odd to many, because education ranks high in polls and was one of the main themes of this year's State of the Union speech. Obama's economic recovery plan includes revamping the public education system and keeping college affordable.
Joel I. Klein, former chancellor of the New York City public school system, put it this way in a Washington Post editorial at the beginning of March: "This is crazy."
"The conventional wisdom holds that education 'doesn't work' as a central issue in presidential campaigns," wrote Klein. "Meanwhile, the countries out-educating us view education as central to their success. When the future of our economy and society turn on our ability to dramatically upgrade the skills of all our children, how can we view it as anything less?"
But that conventional wisdom might be changing after the former Pennsylvania senator's awkward pitch to working-class voters that Obama's secondary education program denigrated labor. For one thing, Mitt Romney has recently added an education section to his campaign website.
Obama's 16-minute campaign video released this month makes several short references to education. It reminds voters that the economic stimulus plan passed early in his first term included money — $30 billion — to prevent massive teacher layoffs, and it highlights the administration's signature competitive grant, "Race to the Top," as an example of how he is prodding states to raise academic standards.
The video also emphasizes changes designed to make college more affordable. "He reformed the student loan system," actor Tom Hanks narrates, "shifting billions in subsidies from banks and middlemen to millions of young Americans."
Romney's state of Massachusetts usually ranks among the best education systems in the country, and as its governor he supported raising academic standards, developing a more rigorous accountability system and expanding charter schools. If those sound familiar, they all occupy a place on Obama's education wish list. But in an effort to avoid a replay of his "Romney-care" dilemma with health care, the presidential hopeful hasn't veered far off a script that emphasizes state and local control of schooling.
Romney's website also jabs at Santorum's reference to the president as a "snob" for boosting higher education, saying that "post-secondary education cannot become a luxury for the few."
Meanwhile, Santorum's education platform focuses on homeschooling and limiting the footprint of the federal government. Santorum, a devout Catholic, has drawn media attention to the fact that he homeschools his children.
Former House Speaker Newt Gingrich is fairly complimentary of the Obama administration's education agenda, agreeing with its efforts to expand charter schools and establish a pay-for-performance system for teachers and principals that grades them in part on student test scores. His campaign website, however, promises to roll back the federal role so that the Education Department's only job would be to collect research and data and help find new education models that could be voluntarily adopted by local school districts.
True to his libertarian roots, Rep. Ron Paul of Texas says the federal government has no place in education. Paul, if given the chance, would eliminate the federal governmenta??s more than $60 billion investment in public schools and financial aid for college. His campaign website also focuses on homeschooling, and touts his efforts to pass legislation that would provide parents a $5,000 tax credit for each homeschooled child for tutors, books, and computers, and ensure that the federal government treats high school diplomas earned through homeschooling the same as other high school diplomas.