CQ WEEKLY – COVER STORY
March 31, 2012 – 1:34 p.m.
Making It in the 21st Century
By Sam Goldfarb, CQ Staff
Manufacturing is back on Washington's agenda. In his State of the Union address, President Obama discussed the need to give a boost to those who make things in the United States. The subject has been a focal point in the presidential campaign, and not just in familiar rhetorical flourishes. Politicians from both parties are proposing specific ideas that they say would revive industrial companies and, by extension, the broader economy.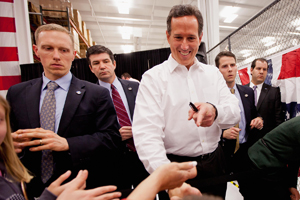 | | |
| --- | --- |
| GOP BOOSTER: Santorum, shown visiting a Missouri alarm manufacturing company last month, would cut tax rates on manufacturers to zero to help give American industry a lift. (WHITNEY CURTIS / GETTY IMAGES) |   |
As one piece of a larger strategy that also includes new spending on workforce training and on research and development, Obama says he wants to cut taxes on manufacturers to 25 percent from 35 percent. On that front, Republican Rick Santorum has the president beat, with a proposal to bring down the tax charge on manufacturers to zero.
All of this may provoke skepticism from Americans, who have heard for years that factory jobs are not coming back, that the United States is transitioning to a "knowledge economy" and that attempts to reverse the trend would be the product of misguided nostalgia.
Yet the evidence suggests that a certain amount of re-thinking is in order. That Obama has offered a national manufacturing strategy is undoubtedly tied to election year politics. But his proposals also reflect changed circumstances and a shift in what's acceptable to talk about in polite economic circles. That much comes through in a paper titled "Why Does Manufacturing Matter?" by economists Susan Helper, Timothy Krueger and Howard Wial, issued by the Brookings Institution in February.
In Washington these days, every week brings another panel discussion on the subject — and, sometimes, unexpected affirmations that manufacturing isn't dead.
"You still need to make things," says Robert L. Ehrlich Jr., a Maryland Republican who served in the House for eight years and as governor for four. During a break at an all-day manufacturing and trade "summit" last week, Ehrlich made clear that he's in the camp that believes in promoting industry.
"What built the American middle class? Manufacturing. What's going to sustain the American middle class? Higher-technology manufacturing," he says. Ehrlich, who is chairman of Republican Mitt Romney's presidential campaign in the state, said the past few years have proved that manufacturing is crucial. "We can have service sector, but you can't build an economy on the service sector."
International economist Dani Rodrik of Harvard University's Kennedy School of Government is more blunt about the transformation in thinking. "Industrial policy is back," Rodrik wrote in a recent online column.
His view may be a bit overstated. The notion that government should take an active role in protecting and promoting manufacturing remains deeply unpopular among the many economists and lawmakers who generally oppose "picking winners and losers" in the marketplace. "One needs to be incredibly good at figuring out which sectors can do well, and my sense is, nobody has that ability," says Howard Pack, a professor of business and public policy at the University of Pennsylvania's Wharton School. "Certainly government officials are unlikely to have the expertise to do it."
Moreover, Pack represents a view still common among economists: that little can be done about the small portion of the American workforce — less than 10 percent — employed by factories.
"It's not going to be that easy to reverse what has occurred, nor should it be reversed," he says.
But if that has been the common wisdom, the voices that disagree are gaining volume and pushing for a change in public policy.
Making It in the 21st Century
For those analysts — Helper, Rodrik and others like them — the big concern isn't that Congress and the White House will go overboard in an attempt to help manufacturers. Instead, they fear that tight budgets and persistent philosophical objections will prevent lawmakers from doing enough to assist a portion of the economy that they view as uniquely important to building the middle class and vulnerable to foreign competition.
In the past couple of years, U.S. manufacturers have actually added workers, reversing a 10-year run of declines unprecedented since the huge factory shutdowns that followed World War II. This increase has prompted only tempered optimism, however.
Ensuring that the current trend continues "is going to be tough," says Robert Scott, an economist at the Economic Policy Institute, a liberal think tank. "It's going to require an investment."
A New Reality
To put recent political events in context, it's helpful to remember just how hard mainstream economists have fought against industrial policies in the past — and also to consider just how much the world has changed since these ideas were last debated in earnest.
Concern about the future of American manufacturing dates back at least as far as the 1980s. But the idea that the federal government should adopt a full-scale manufacturing strategy never quite took off. Opposition to government intervention in the economy, such as that espoused by Pack, draws from a belief that helping manufacturers would distort trade between countries and lead to outright protectionism. Moreover, most economists generally concluded that fears of U.S. "deindustrialization" were widely overblown.
Writing in 1994, Paul Krugman, the future New York Times columnist and Nobel laureate, said the industrial policy debate was a "peculiar" one "because deindustrialization never happened." In the preceding 10 or 15 years, the relatively modest size of the U.S. trade deficit did little to suggest that domestic manufacturers were unable to compete globally. In addition, total manufacturing employment had not declined, nor was there evidence that international trade had hampered job growth or depressed the wages of Americans.
In fact, by the time Krugman made this argument, political interest in forming a manufacturing policy had already begun to wane; it all but disappeared during the subsequent technology boom of the 1990s.
By 2008, however, Krugman had admitted to having a "guilty conscience" about some of his earlier writings. The reason, in essence, was that much had changed in the meantime.
In 1994, the U.S. trade deficit was $98.5 billion, significantly less than the high-water mark of $151.7 billion reached in 1987. But by the end of that decade, the annual shortfall between imports and exports had widened considerably and was accelerating. By 2006, the trade deficit was $753.3 billion.
Amplifying the concern about manufacturing, the United States has long enjoyed a surplus in its services trade with other counties, which meant that the trade deficit in goods — mostly, but not entirely, manufactured products — was even wider than the overall figure. In 2006, the goods shortfall was $835.7 billion, and although the overall trade deficit narrowed considerably during the recent recession, the deficit in goods trade was $738.3 billion for all of last year.
Trends in manufacturing employment likewise set off alarms. Although factory positions as a share of total payrolls have been falling steadily since the end of World War II, the total number of manufacturing jobs had held relatively steady between 17 million and 18 million for the roughly 20 years before 1999. That's when factory payrolls began to fall abruptly, reaching a low of 11.5 million at the end of 2009.
Making It in the 21st Century
The trend in factory employment was long regarded as an inevitable benefit of modern production techniques. As companies became more technologically advanced and their workers became more productive, fewer were needed to do the same work. But today, increased import competition from low-wage countries is commonly seen as contributing significantly to more recent declines.
One widely discussed study last fall concluded that Chinese imports alone may account for a quarter of the manufacturing job losses of the past decade.
And, although economists have had difficulty determining the effect of trade on wages, a growing consensus says that the impact has almost certainly has been negative, particularly for blue-collar workers.
How Far to Go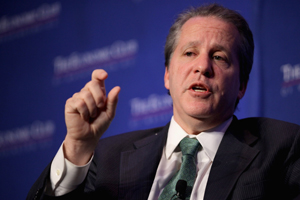 | | |
| --- | --- |
| WHITE HOUSE VIEW: Sperling, director of Obama's National Economic Council, sees beneficial spillover effects for the broad economy from steps taken to promote manufacturing. (CHIP SOMODEVILLA / GETTY IMAGES) |   |
The United States still boasts a large and diverse production engine. Even as production workers were being let go in droves during the past decade, total manufacturing output continued to grow at about the same pace as the overall economy.
Last year, the United States was the second-largest manufacturer in the world, only slightly behind China. But that reflects America's fall from the No. 1 spot, owing both to a decline in U.S. factory output and to a surge in Chinese production.
This shift coincided with a decade of relatively tepid overall job growth and stagnant middle-class incomes in the United States, followed by the global financial crisis, deep recession and slow recovery.
Given the events of the past decade, there is a widespread sense that the country might be doing better. Republicans and Democrats aren't necessarily in agreement, however, about what steps government might take to improve matters.
Most Republicans subscribe to the view that manufacturing is important, but Santorum, with his proposal to single out goods-makers for special tax treatment, is an exception in his party. In fact, most GOP office-seekers are campaigning for the opposite of an industrial policy. The standard Republican vision of "pro-growth tax reform," for example, involves eliminating tax breaks and lowering tax rates to distance government from the marketplace as much as possible.
Speaking at last week's manufacturing and trade summit, Republican Sen. Rob Portman, who represents the industrial state of Ohio, says it is Washington's job to "create the climate for success" for all businesses by overhauling the tax code and culling unnecessary regulations.
Portman is also a former U.S. trade representative, and his most aggressive and controversial pro-manufacturing idea is that the United States should take a tougher position on China for artificially deflating the value of its currency. Portman's stance echoes that of Romney, who is leading Santorum in his bid for the GOP presidential nomination.
A stronger Chinese currency might improve the U.S. trade balance by making Chinese goods more expensive and American goods cheaper by comparison. That, in turn, might cause a rise in U.S. manufacturing jobs and benefit the broader economy.
Making It in the 21st Century
In essence, Portman's view — and that of many Republicans — is that the United States should promote free-market ideals both at home and around the globe, with the idea that this would help manufacturers everywhere. Of course, many Democrats also support a tougher approach to China. But they express less faith than Republicans that a completely free world market is a realistic — or even desirable — goal.
On Capitol Hill, this has led Democrats to stake out a more direct approach to help manufacturers, articulated through the "Make It in America" agenda promoted by the No. 2 House Democrat, Steny H. Hoyer of Maryland. This includes targeted support for domestic producers, incentives for the development of "clean" technology and broader policies to improve math and science education and the nation's infrastructure.
Boosting both manufacturing and exports is the goal, Hoyer said in a speech last month. "If we can do that, it will enable more of our people to 'make it' in America — to succeed, to advance, to climb ladders of opportunity."
In calling for more robust policies that promote manufacturing, Obama, Hoyer and others are drawing on a complicated mix of classical economics and somewhat unscientific pragmatism.
Their approach reflects a view that the country's trade imbalance is not only a consequence of unbalanced exchange rates and global savings patterns, but also a competitiveness problem, created by a gap between what other countries do to help industry and what the United States does.
Beyond shrinking the trade deficit, they say, offering assistance to domestic producers might help lift U.S. wages because manufacturers, on average, pay more than non-manufacturers, particularly to men on the lower end of the income scale. They also note that manufacturers play an outsize role in commercial innovation, accounting for almost 70 percent of all private research and development spending.
Although Obama has proposed a combination of tax breaks and tax increases to encourage manufacturers to locate in the United States, most economists who promote a manufacturing strategy tend to favor policy tools on the spending side of the budget.
Notably, the study by Helper, Krueger and Wial published by the Brookings Metropolitan Policy Program proposes a greater role for government in training workers and helping manufacturers adopt new technology and manage their supply chains. They point to Germany as a model that the United States could follow.
The No. 4 exporter in the world, Germany has managed to maintain a steady trade surplus in recent years even though its manufacturing workers earn more, on average, than U.S. workers. Germany also has an abundance of vocational schools to train workers. It operates a popular apprenticeship program and maintains a network of publicly funded research institutes that work closely with manufacturers to formulate business strategies and develop new products.
Helper, Krueger and Wial acknowledge that the United States cannot simply transform itself into Germany. But, they write, "the German example shows that it is possible to use public policy to address basic challenges of manufacturing and to do so in a way that promotes the critical national goals of high wages, innovation, avoidance of large trade deficits, and environmental sustainability."
Incremental Steps
In fact, the United States already operates programs resembling those in Germany. They're just "really tiny" and not always well coordinated, says Helper, who is also the chairman of the economics department at Case Western Reserve University in Cleveland.
Signed into law in 1998, the Workforce Investment Act helps train dislocated workers, as does the much older Trade Adjustment Assistance program. Throughout the country, different types of institutions, including community colleges and vocational schools, can collaborate with federally financed workforce boards to design programs that can provide students with manufacturing skills certificates. At the same time, the Commerce Department finances a few scientific research programs, through the National Institute of Standards and Technology, that are designed to help manufacturers.
Making It in the 21st Century
The proposals by Obama and other Democrats to use tax policy to promote manufacturing tend to grab the headlines, but their research and education proposals also feature prominently.
In a fiscal 2013 budget request otherwise marked by austerity, Obama proposed sizable spending increases for research into advanced manufacturing technologies. He later proposed spending $1 billion on a new network of manufacturing research centers, citing Germany as an inspiration.
To address one complaint of manufacturers — that they're unable to fill upwards of 600,000 positions because there are too few qualified candidates — Obama has sought to use the federal government's limited role in post-secondary education to reshape community colleges, with proposals to make them less expensive to attend and more focused on training students to fill local job openings.
Congress, however, has been reluctant to accept even the least controversial actions sought by manufacturing advocates. For example, spending for Workforce Investment Act programs has declined over the past decade. In spite of frequent calls for the legislation to be overhauled and updated, lawmakers have been unable to reach a bipartisan agreement on reauthorization language that could move out of committee, let alone pass both chambers.
Similarly, Obama won an extension of Trade Adjustment Assistance programs last year only after a long battle with conservative Republicans, who balked at what they viewed as wasteful welfare spending.
As the debate over Trade Adjustment Assistance and a current fight over reauthorizing the Export-Import Bank shows, Republicans are moving in the opposite direction from Democrats and maintaining a tough stance against industrial policies.
Even Obama's call to cut taxes for manufacturers has been met with a cool reaction. Michigan Republican Rep. Dave Camp, the Republican chairman of the tax-writing Ways and Means Committee, criticized Obama's plan "as nothing more than the usual Washington game that has led to a tax code already littered with lobbyist loopholes."
Academic Issues
Clearly, broad concerns about the federal budget deficit and the size of the government are obstacles to implementing any new pro-manufacturing agenda. At the same time, a more fundamental skepticism also greets such proposals.
While Rodrik of Harvard was happy to announce the return to discussions of industrial policy in 2010, other economists have been less sanguine about this development.
Jagdish Bhagwati, a Columbia University economist and free-trade advocate, has described this same phenomenon as a "revival of the 'manufacturer's fetish.' " And Christina Romer, the former chairwoman of Obama's Council of Economic Advisers, scolded the president in a New York Times op-ed article for letting "sentiment and history" get in the way of rational thought in his call for special assistance to manufacturing.
Aware of the resistance they face, advocates for new manufacturing policies have tried to link their arguments to established economic theories. Whereas Obama spoke of "winning the future" in his State of the Union address, his academic defenders usually avoid such language. Instead, they say a sensible manufacturing strategy is less about winning anything than it is about correcting "market failures."
Making It in the 21st Century
For example, Gene Sperling, one of Obama's top economic advisers, has argued that manufacturers have positive "spillover effects" on the economy, effects that are not fully accounted for by private investors. In Sperling's view, the fact that a factory closure can lead to the decline of an entire network of enterprises is enough to suggest that government intervention is a wise course of action — whether that takes the form of providing tax subsidies or emergency loans, as the government did with automakers.
Taking a different tack, some economists have argued that the past decade offers proof that the market doesn't always allocate resources efficiently.
Much of the economy's poor performance recently has been due to a "lock-in of inefficiency," says Jared Bernstein, a senior fellow at the Center on Budget and Policy Priorities and former economic adviser to Vice President Joseph R. Biden Jr. "Simply put, instead of making tangible products, we were securitizing loans and writing derivatives off of them. That creates a certain amount of growth and activity but ultimately proved to be a bubble that burst at great cost."
Because of the long-standing objections to a direct government role in industry, few advocates of a manufacturing strategy use the term "industrial policy" these days. Rather, those who might have used it in the past speak about building up an "industrial commons" and helping manufacturers develop "shared assets," such as trained workers and new technology.
There is, Helper says, "lots of good economics to show that private actors will under- invest in creating those shared assets, and so I think a good manufacturing policy should promote the development of these shared assets that make firms and workers more productive."
Some manufacturing advocates say the best-case scenario would be that domestic factory employment holds steady over the next decade. But Helper, for one, disagrees. She says the United States "could get substantially more jobs, and substantially better jobs, with better policy." Her expectations of that happening are limited. She is, nonetheless, somewhat encouraged by recent developments.
"What we're having now is a productive discussion," she says. "In some ways, it's kind of a discussion we also had in the '70s, '80s and '90s, but it's good we're having it again."
FOR FURTHER READING: Chinese currency and trade issues, CQ Weekly, p. 290; auto industry bailout, 2011 CQ Weekly, p. 1200; protecting the steel industry, 2007 CQ Weekly p. 2287.