CQ WEEKLY – IN FOCUS
April 7, 2012 – 12:13 p.m.
Is the Endangered Species Act Culling a Herd of Investors?
By Geof Koss, CQ Staff
Although environmentalists have long pushed for the widespread deployment of renewable-energy sources, such projects are not exempt from the concerns and controversy that surrounded the development of more traditional power sources in the past.
Chief among the emerging concerns is the impact of such massive projects on wildlife, especially anything protected under the Endangered Species Act.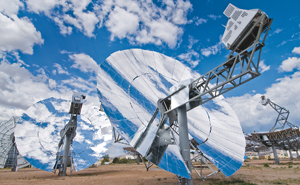 | | |
| --- | --- |
| SUNCATCHERS: Renewable-energy projects such as this solar thermal test facility are designed to be environmentally friendly. But they still sometimes inspire lawsuits from environmentalists. (RANDY MONTOYA / SANDIA NATIONAL LABORATORIES) |   |
Passed by Congress in 1973 to aid imperiled plants and animals, the law assigns broad responsibilities to the federal government to protect threatened plant and animal species — while also allowing outside parties to sue to ensure that it is enforced.
Last year alone, liability fears related to the Endangered Species Act led to the cancellation of a $400 million wind farm in North Dakota and to a pause in construction at a $2 billion California solar-energy project.
The problem was again apparent in California last month, when frustrated environmental groups sued the federal government over plans to build a 4,000-acre solar farm on public land in the Mojave Desert.
Investors are increasingly paying attention to such examples, which serve as a warning of the unexpected costs that can arise when threatened species are present, says Charles Berckmann, an analyst with Moody's Investors Service and the author of a recent report detailing problems that arose when endangered species and renewable-energy projects crossed paths.
"For the investor community, we know that it's been growing in importance, especially as we start seeing larger-scale projects being developed and the impacts," he says.
In the Mojave Desert instance, fears about global warming — which renewable energy is supposed to alleviate — were displaced by the more immediate concern about the project's potential risks to the endangered desert tortoise and other threatened species.
"There are just some places that are not right for development," says Johanna Wald, a senior attorney with the Natural Resources Defense Council, who acknowledged the dilemma that the suit presents for her group and the other plaintiffs.
She says the lawsuit was a last resort, after three years of talks failed to convince federal officials and project developers of the need to move the project to an alternative site.
"We did everything we could to avoid this litigation," she says, noting that past collaborative talks have led to environmentalists' support for five of the seven large-scale solar projects approved for California by the Interior Department since 2009.
Stimulus Funds: Pros and Cons
Is the Endangered Species Act Culling a Herd of Investors?
The groups are seeking to invalidate the Interior Department's approval of the Calico Solar project, alleging that federal officials failed to consider properly the risks to the desert tortoise, to Nelson's bighorn sheep, and to rare birds and plants. The complaint blames the haste in part on the 2009 economic stimulus, which provided tens of billions of dollars in investments for clean-energy projects capable of meeting the two-year deadline prescribed in the law.
Wald praises the unique opportunity that the stimulus afforded renewable-energy projects but says it also created challenges for Interior's Bureau of Land Management (BLM), which she said lacked experience with solar technology and large-scale projects.
The Interior Department declined to comment on the suit, but one official noted that the department has required mitigation measures in all of the 16 solar projects it has approved since 2009, such as reducing overall project size or water use and requiring the "enhancement" of habitat for desert tortoises or the outright purchase of new land.
BLM later this year is expected to finalize policies for balancing utility-scale solar-energy development with environmental concerns.
Adding to the growing tensions about wildlife is pressure from state governments to accelerate renewable-energy development. According to the Energy Department, at least 30 states and the District of Columbia have laws requiring that a certain percentage of electricity be generated from renewable sources.
Moody's recently noted that California utilities are behind schedule to meet the state's aggressive target of 33 percent renewable generation by 2020. To catch up, larger projects are being planned, drawing more scrutiny from environmentalists and inevitably leading to higher development fees.
In addition, fears about endangered species are hampering projects that have already been completed or are under construction. For example, a West Virginia wind farm in 2010 was forced to idle its turbines at night for nearly a half-year, after a federal judge ruled that it lacked a permit allowing the incidental deaths of a protected bat species.
"What happens if something is reintroduced?" asks Berckmann, who notes that similar questions surround the endangered California condor, whose resurgent numbers and wide range are giving pause to wind farm developers in the state. "At the time, you didn't need a permit; now you're stuck and someone's saying, 'Hey, too bad — we reintroduced this unique species, you've got to do something about it.'"
'Double Down' on Renewables
The Obama administration last month signaled that it will move full speed ahead in approving new large-scale renewable projects; it has released a memorandum of agreement that commits five states and multiple federal agencies to streamlining permit requirements — including those that address endangered species and other wildlife issues — in order to encourage offshore wind farms in the Great Lakes.
Echoing a line uttered by President Obama in recent weeks, Nancy Sutley, the chairwoman of the White House Council on Environmental Quality, told reporters last month that the multiparty agreement is part of a continuing strategy to "double down" on renewables. "The goal . . . is to is to cut through red tape so we can efficiently and responsibly evaluate offshore wind projects that have the potential to create American jobs and reduce pollution in our communities," Sutley said.
But with many states and the federal government mounting a full-scale clean-energy push, affected parties are increasingly grappling with complex legal issues associated with the broad parcels of land typically required by wind and solar farms if they are to be economically viable.
Moody's has not downgraded its rated renewable-energy projects because of the trend, but Berckmann says the message is clear. "There are pretty big environmental challenges for renewable projects, so they aren't immune from those costs."
Is the Endangered Species Act Culling a Herd of Investors?
FOR FURTHER READING: The Endangered Species Act of 1973 is PL 93-205.