CQ WEEKLY – IN FOCUS
April 7, 2012 – 12:24 p.m.
Coast Guard Considers How to Make Do With Less
By Rob Margetta, CQ Staff
Coast Guard leaders have to make tough choices these days. One trade-off they're planning in response to a tight budget is to cut back some operations — including counternarcotics patrols close to U.S. shores — in order to save money for ship construction and rebuilding other long-term assets.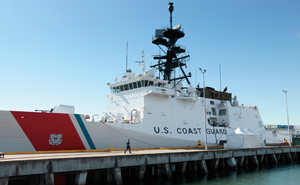 | | |
| --- | --- |
| ROUGH WATERS: Coast Guard leaders are prioritizing building ships such as the National Security Cutter, a vessel that can operate far offshore for missions including drug interdiction and rescue operations. (JEFF CHIU / AP) |   |
But that's not what lawmakers want to hear. Rep. Robert B. Aderholt, chairman of the House Appropriations Homeland Security Subcommittee, did not like the Coast Guard's fiscal 2013 spending request. "To put it mildly, this is a budget that is challenging for us to accept," the Alabama Republican said during a March hearing. While Aderholt said he understands the service's budget challenges, he added that Congress "has never supported a plan that so bluntly guts operational capabilities."
Aderholt's reaction illustrates how difficult it will be to reconcile congressional demands for security-related spending, the budget constraints imposed by last year's debt limit law and the House's fiscal 2013 budget resolution. The disconnect is particularly evident in the budget for the Coast Guard, which has complained for two decades about being underfunded, but also extends to other parts of the Homeland Security Department. The budget crunch will get even worse if a sequester is imposed next year, as required under current law.
The Coast Guard's discretionary funding, under budget caps included in the debt limit law, would drop by about 4 percent from this year's level, to $8.3 billion, in fiscal 2013. The Obama administration has proposed decommissioning two High-Endurance Cutters — the 378-foot ships introduced in the 1960s, which have been a mainstay of the Coast Guard's long-range missions — to save an estimated $17 million. Three 110-foot patrol boats would also be taken out of service, saving $2 million, and the Coast Guard would end a $34 million program that shortens the maintenance cycle for other patrol boats. With those vessels docked, the Coast Guard could reduce its workforce by 1,000 positions, mostly through attrition and a hiring freeze.
Forward Planning
Adm. Robert J. Papp Jr., the Coast Guard's commandant, says the cuts are necessary if the service is to adhere to its plan to replace a decades-old fleet equipped with obsolete technology. Old ships are expensive to maintain, Papp has told Congress, and the older they get, the more they cost to repair.
"These decisions will provide the Coast Guard with the capabilities and force structure it needs for the next 40 years," Papp said during a speech earlier this year.
After years of post–Sept. 11 spending to build up the Homeland Security Department, which includes the Coast Guard, the administration and its congressional overseers are split over whether spending can be reduced without harming national security.
"I understand exactly what the Coast Guard did, although I'm not sure I would have done it the same way," says Paul Schneider, who was deputy secretary of Homeland Security during the George W. Bush administration and is now a principal at the Chertoff Group. "In an era of declining budgets, they're really trying to continue their recapitalization effort. And when you're working with a fixed amount of money, that's when you've got to make some really hard trade-offs."
Papp and his predecessors have warned lawmakers for years that the post–Sept. 11 funding boom would not nearly make up for more than a decade of budgetary neglect — and that the Coast Guard has been starved for so long that it has trouble fulfilling its mission, which includes antiterrorism duties.
"I've been on those cutters and actually seen where you could see through the side of some of the cutters because of the poor condition that they are in," said Susan Collins of Maine, the top Republican on the Senate Homeland Security and Governmental Affairs Committee, during a budget hearing.
The service is currently undergoing a fleet replacement program costing as much as $29 billion, but since the project will take decades, Coast Guard officials say they must continue to prioritize operations.
Coast Guard Considers How to Make Do With Less
The patrol boat cuts would not greatly affect readiness, Papp said. The Coast Guard would still operate more boats than it did 10 years ago. By the end of fiscal 2013, it expects to have seven new vessels to replace aging patrol boats.
The reductions and decommissionings do indicate the types of missions that Coast Guard leaders view as less important. The patrol boats are used mostly for near-shore operations, and Papp said the major threats he sees are farther offshore. Instead of using resources to chase drug smugglers near the U.S. coastline, the commandant would prefer to replace larger ships that can operate away from the mainland, closer to trafficking hotspots such as the Caribbean.
"The last place that we want to confront maritime threats is in our ports or nearby our coasts," he told Aderholt's subcommittee in March. "We prefer to push those threats out in the offshore region as far off our coast as possible."
The large cutters are increasingly expensive to maintain as they age, Papp said, adding that he will use any budget headroom that Congress gives him to replace them.
But appropriators question whether the administration's budget request sufficiently addresses that goal. David E. Price of North Carolina, the top Democrat on the House Appropriations Homeland Security Subcommittee, told Papp he was dismayed that the request includes funding for construction of the sixth ship in the National Security Cutter line but not for the planned seventh and eighth. Meanwhile, he noted, the Coast Guard plans to send one of its cutters to serve as a mobile base in Alaska while Shell Corp. conducts oil exploration offshore.
"We are effectively halving the Coast Guard's largest cutter fleet at the same time that you plan to place one of the new National Security Cutters in Alaska for up to six months of the year," Price said.
Rick "Ozzie" Nelson, director of the homeland security program at the Center for Strategic and International Studies, says the Coast Guard is in a better position than anyone else to decide how to allocate its resources. "Congress is going to have to exercise some restraint here," he said. "This is the plan they've come up with, and you can't tinker with it piecemeal."
Risk-Based Budgeting
The Coast Guard is not the only Homeland Security agency planning short-term operational cuts to help pay for long-term investments. House appropriators bristled in February when Border Patrol officials presented a plan to cut air surveillance operations by more than half, dropping annual flight hours from 106,000 to about 65,000.
Price has said that if that cut is implemented, along with a proposed staff reduction, he will have "serious reservations about the ability of the Office of Air and Marine to effectively carry out its mission."
Border Patrol officials acknowledge that the flight curtailment would present challenges but contend that aircraft technological upgrades would make up for some of the reductions. The cut is necessary, they add, to offset increased maintenance costs and to help pay for new planes, drones and parts.
Homeland Security agencies did not have to make those kinds of choices in the Sept. 11 aftermath. Congress poured money into a bigger workforce and new boats, airplanes and facilities. But Schneider says personnel costs now soak up most of the department's budget, leaving agencies such as the Border Patrol and Coast Guard little spending flexibility as they attempt to balance the costs of operations and infrastructure.
"If you continue to spend money on these old, outdated systems, you're never going to have the money to recapitalize," he adds.
Coast Guard Considers How to Make Do With Less
Nelson says the current budget squeeze has required agencies to re-examine their goals. "Previously, the terrorism mission was driving the DHS budget, and it was unrestricted," Nelson says. "The current budget environment has forced the department to sharpen its mission."
Homeland security experts have for years discussed "risk-based" spending, which would address the most pressing threats instead of trying to eliminate all possible danger. The Homeland Security Department now has to adopt a more risk-based approach in recognition of limited resources, Nelson says, although a policy that tolerates any degree of risk is bound to set off alarms in Congress.
"We can no longer pretend that we're going to be able to provide complete security," he says.
Appropriations aides insist that lawmakers recognize that Homeland Security agencies need to prioritize — they just don't like the decisions reflected in the Coast Guard budget.
Jessica Zuckerman, a research associate at the conservative Heritage Foundation think tank, shares that concern. The Coast Guard budget request creates security gaps without including steps to address them in the future, she says. Most significant, she notes, the budget would decommission the two High-Endurance Cutters but makes no provision for acquiring two new National Security Cutters to eventually take their place, as the Coast Guard has broadly envisioned.
"We certainly do need to be having this debate, and I would hope that this drives us more toward risk-based security," she says. "But the moniker of risk-based security is often used disingenuously."
FOR FURTHER READING: Debt limit law (PL 112-25), CQ Weekly, p. 29; fiscal 2012 Homeland Security appropriations (PL 112-74), p. 22; fiscal 2012 House reauthorization measure, 2011 CQ Weekly, p. 2452.