CQ WEEKLY – IN FOCUS
April 14, 2012 – 12:48 p.m.
Dental Care: Big Gap in the Health Agenda
By Jane Norman, CQ Staff
When you're struck with a toothache, there's nothing more important than seeing a dentist as soon as possible. But for millions of poor and uninsured Americans who can't afford dental care or find dentists to treat them, such pain isn't easily alleviated. The situation is spurring advocates to press for changes in the way state and federal governments fund and regulate oral health, sometimes in the face of resistance from the dental profession.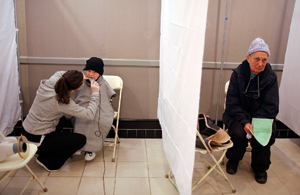 | | |
| --- | --- |
| OPEN WIDE: A child gets dental X-rays at a free dental clinic in Oakland, Calif., last month. (JUSTIN SULLIVAN / GETTY IMAGES) |   |
America's inattention to decaying teeth has never been a prominent issue. In a landmark 2000 report, the U.S. surgeon general pronounced it a "silent epidemic."
But with a nation now implementing a health care overhaul, questions are increasingly being raised about why dental care has been overlooked by lawmakers as an essential element of health care.
Burton Edelstein, a Columbia University professor of dentistry, says dental problems are linked to school absences, family stress, unemployment and even military readiness. "The mouth is an essential body organ," needed for eating, breathing and speaking, Edelstein says.
Why dental care for the poor has been allowed to languish is a complex question, and experts say there's no single answer. Some say that, just like access to regular preventive medical care, only in the past two or three decades has dental care been viewed as vital to health. Others say that two-thirds of Americans have dental insurance and aren't aware that much of the poor goes without it. And dental care advocates have only recently begun to make their voices heard.
Dental complaints resulting from conditions that could have been prevented accounted for a 16 percent increase in emergency room visits nationwide between 2006 and 2009, according to the Pew Children's Dental Campaign. More than 16 million U.S. children went without dental care in 2009 due to lack of insurance, an inability to pay or the absence of a nearby dentist, Pew says.
No Relief
In the Senate, Bernard Sanders of Vermont, an independent, is leading a drive to improve dental care for the poor. A report produced by his staff says that one-fourth of all U.S. adults age 65 and older have lost all of their teeth, and 60 percent of children ages 5 to 17 have cavities. Sanders organized a February hearing on access to dental care where one witness spoke of treating a two-year-old boy with a broken, infected tooth that turned black.
"We're not just talking about a pretty smile," said Sanders, chairman of the Health, Education, Labor and Pensions Subcommittee on Primary Health and Aging. "What we are talking about is people going through their lives with severe pain."
One problem is that dental care falls into a kind of black hole when it comes to health care, despite its connection to overall health. While the 2010 health care law for the first time extends affordable health insurance to millions of Americans for medical needs, Congress did little about dental coverage for adults other than authorizing grant programs to be funded at the whim of appropriators. For example, there's no requirement that the health benefits exchanges that in 2014 will begin serving as marketplaces for individuals and small groups offer dental care for adults.
Even though one-third of Americans lack private dental insurance, according to National Association of Dental Plans data cited in the Senate report, having such coverage is no guarantee that care will be affordable. Group health plans often have a separate policy for dental care, but families usually have to pay a high portion of the costs.
The health care law also does not require that poor adults eligible for the expanded state-federal Medicaid program get oral health care. States now can decide whether to cover dental care through Medicaid for their adult enrollees. When recipients are covered, it's often only for emergencies or pain relief.
Dental Care: Big Gap in the Health Agenda
As for Medicare, the millions of baby boomers who will soon retire and leave their employer-sponsored health insurance may be shocked to find there's no provision for most dental care in traditional Medicare. The American Dental Association (ADA), preferring a system based on private practices, opposed dental care for seniors when Medicare was written in the mid-1960s, although it did lobby for it to be included in Medicaid, according to a 2005 paper in the journal Public Health Reports. Now Medicare pays for limited services, such as extractions in preparation for treatment for certain diseases involving the jaw.
Seniors can buy dental coverage through supplemental Medicare plans. But the Institute of Medicine says that only 38 percent of retirees had dental insurance in 2006.
Children do get some government coverage. Congress requires that Medicaid and the Children's Health Insurance Program (CHIP) cover dental care for low-income children. And pediatric oral care will be included in the health exchanges. But there are many reports of parents who have trouble finding dentists who accept Medicaid patients because the reimbursements are so low. And the few dentists who are available often have long waiting times for appointments. A few deaths have been connected to treatment delays, most prominently that of Deamonte Driver, a 12-year-old Maryland boy who died in 2007 of an infected tooth.
Sanders says he is drafting a bill to expand dental care. It will probably include increased federal Medicaid reimbursements for oral care and funds for community health centers to further expand their services.
The senator acknowledges that it will be a challenge to get his legislation passed. He says that beyond money, the real problem is the shortage of private dentists who will treat the poor. Just 20 percent accept Medicaid patients, he says.
The ADA, which represents dentists, says that student loans are a major factor in why dentists often don't practice in underserved areas. According to an ADA survey, the average student loan debt for class of 2008 graduates was $193,272, a 35 percent increase from 2004.
The ADA says that dentists provide free care. The "Give Kids a Smile" annual one-day free care initiative has assisted 4.5 million children and drawn attention to problems with access to dental health, the group says. Dentists also are working to improve administrative problems with state Medicaid programs that prevent dentists from participating.
Sanders and the dentists disagree over whether enough new dentists are being trained to replace those who are retiring. While Sanders and advocates say there's a shortage looming, the ADA says that its own research shows that the number of dental school graduates is on target to increase through 2030, from the current 180,000 to as many as 200,000. Plus, older dentists are staying in the workforce longer than in the past, the group says.
But the Institute of Medicine (IOM) said in a 2011 report that not enough students get real-life experience with poor or minority patients. "Evidence points to limited training of dental students in community-based settings, thereby limiting their exposure to and practical experience with the broad range of patients cared for in these settings," the IOM report said.
Another conflict is over who should be licensed by states. States such as Minnesota are authorizing mid-level providers who are part of the dental team. Called dental therapists, they are trained to do certain procedures, much like physician assistants in the medical field. The IOM recommended that state legislatures amend their laws to allow therapists to practice. The ADA fought that movement in Minnesota and is skeptical of the model.
Huge Disparities
The latest wrinkle in the dental therapist dispute is a W.W. Kellogg Foundation report released April 10 on trends around the world. It concluded that dental therapists provide safe and effective care for children. In such nations as New Zealand, therapists are public employees who provide preventive dental care in schools such as cleaning teeth and filling cavities. However, "the introduction of dental therapists to the oral health care team in the United States is controversial," said the report by David Nash, professor of pediatric dentistry at the University of Kentucky. Indeed, the ADA called Nash's work an "advocacy document" rather than an evidence-based report and said: "The ADA's firm stance against non-dentists performing surgical/irreversible procedures is well known." The group prefers using a community dental health coordinator to teach how to care for their teeth and provide limited services.
Nash said he plans to use the report to show the value of dental therapists because there is not much literature on alternatives to the traditional dentist, and change is needed. "Our system of providing oral health care to kids is really inefficient and ineffective, and it's very costly," he said. "It creates huge disparities between the haves and the have-nots."
Dental Care: Big Gap in the Health Agenda
Shelly Gehshan, director of the Pew Children's Dental Campaign, says that the Department of Health and Human Services could do much more workforce development to encourage some sort of alternate provider to better deliver care.
On other advances there is more agreement. Among them are public health initiatives to increase the use of dental sealants — plastic coatings on molars — for low-income children and expanding the use of fluoridated water in communities. Fewer than one-quarter of children in low-income families have sealants, Pew says. Fluoridated water, which fights tooth decay, is still uncommon in too many communities, often because of opposition from those who fear that it is harmful, Gehshan said. In New Jersey, just 13.6 percent of water supplies are fluoridated, she said.
People need to consider teeth as important to one's health as a kidney or a lung. Says Edelstein: "You can't be healthy if you have poor oral health. There is no division of the terms in my mind."
FOR FURTHER READING: Health care overhaul (PL 111-148, PL 111-152), 2010 Almanac, p. 9-03; dental insurance debate, 2009 CQ Weekly, p. 2207.