CQ WEEKLY – COVER STORY
April 14, 2012 – 12:50 p.m.
On the Wrong Side of History
By Jonathan Broder, CQ Staff
Not since the fall of the Berlin Wall signaled the end of the Cold War has the United States been faced with such profound — and sudden — changes in a region's leadership, politics and the balance of power as those that have resulted from the Arab Spring.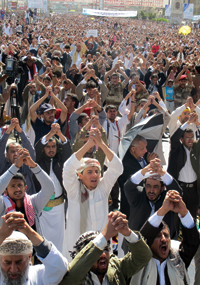 | | |
| --- | --- |
| PEOPLE POWER: Large pro-democracy protests such as this one in Yemen were once a rarity in the Arab world. Now, they have become commonplace. (GAMAL NOMAN / AFP / GETTY IMAGES) |   |
Already, uprisings have toppled long-entrenched dictators from Tunisia to Yemen, throwing out rulers with more than 125 years of combined tenure and jolting from complacency those who have managed to stay in power. In conflicts other than Libya's, America has been relegated to the unfamiliar role of bystander. Islamists are taking power in Egypt and Tunisia for the first time in modern Middle Eastern history, sparking concerns about longstanding U.S. allies falling under Islamic law.
Meanwhile, Washington is watching uncomfortably as the regime of Syrian President Bashar al-Assad brutally tries to snuff out pro-democracy demonstrations in that country.
The United States, everyone agrees, cannot afford simply to sit by and hope for the best, given the region's oil reserves, the close U.S. alliance with Israel and the specter of conflict over Iran's nuclear ambitions. But the pace of change has left policy makers scrambling to catch up.
Lawmakers are deeply divided over how far the United States should go in assisting anti-government rebels. In contrast, both the White House and Capitol Hill find themselves at a loss for words as some oil-rich Persian Gulf sheikhdoms crack down not only on their own protesters, but also on U.S.-funded democracy-building organizations. (United Arab Emirates, p. 769)
Just two or three years ago, changes of this magnitude would have seemed fanciful. Indeed, the landscape is changing so unpredictably that managing the collapse of communism now seems relatively simple by comparison.
Back then, the United States stood on the right side of history's natural arc toward political freedom. Congress was willing to provide money to help the newly independent countries of Eastern Europe and the former Soviet Union make the transition to democracy and market economies. In 1989, for example, Congress authorized $700 million in economic aid and grants to Poland and Hungary to help them to move out from behind the Iron Curtain and into the global economy. Adjusted for inflation, that's equivalent to more than $1.2 billion today. More dollars followed in subsequent years.
Today, a decade of wars in Afghanistan and Iraq has taken away lawmakers' appetite for generous foreign aid. Many in Congress are balking at a proposed $770 million fund to assist the Middle East transitions in the Obama administration's fiscal 2013 request. More worrisome, the Arab street resents Washington's long support for many of the dictators who have been overthrown, not to mention its continuing alliances with the monarchies that remain in power. As a result, anti-American sentiment across the Middle East and North Africa has never been higher.
More accustomed to cheering outbreaks of democratic change, officials and lawmakers alike have been quietly wringing their hands about some of the changes, particularly after years of bolstering authoritarian regimes in the name of stability.
"The guys that put the scars on the backs of the Tunisians, Egyptians and Yemenis are the guys we kept in power," says Gary L. Ackerman of New York, a senior Democrat on the House Foreign Affairs Committee. "So we shouldn't be surprised when people who want democracy overthrow those autocrats and then are not enamored of the people who kept the dictator in power."
Nowhere in the Arab world is Washington's policy dilemma more acute than in Egypt, the region's most populous country and its traditional center of gravity. For the past three decades, successive administrations and Congresses provided the country's authoritarian President Hosni Mubarak with billions of dollars in assistance in return for his close cooperation on security issues and the country's continued adherence to the 1979 peace treaty with Israel. After the Sept. 11 attacks, Egypt's security services played a central role in helping disrupt the al Qaeda terrorist network. The United States eventually joined the calls for the ouster of Mubarak, but it waited until nearly the last-possible minute, and relations with the country have been brittle ever since. (Egypt, p. 765)
From Tripoli to Damascus
On the Wrong Side of History
The United States played a more active role in the revolution that swept Libyan strongman Muammar el-Qaddafi from power last year, raising some hope that the United States could begin to harness the region's revolutionary energy. But the monthslong NATO-led campaign to isolate Qaddafi not only led to the ouster of the dictator, it also left lawmakers — and the international community — deeply divided.
Those divisions mean that the bloody civil war in Syria has ended up mostly underscoring the extent to which the United States has lost influence in the Middle East. While lawmakers and administration officials bicker over assisting Syrian rebels, Russia and Iran are supplying Assad with weapons and money to ensure that their client stays in power. Moscow also is using its veto on the United Nations Security Council to block the passage of any resolution that could open a door to intervention and regime change. (Syria, p. 767)
Whether Syria ends up representing a setback for the Arab Spring, the movements could still spread elsewhere. In countries such as Iraq, Lebanon and the Palestinian territories, popular anger has not yet reached critical mass, perhaps because all have gone through recent civil wars. But the tinder for revolution is plentiful, and with every day of continued unemployment, economic hardship and political repression, the likelihood of fresh revolutionary eruptions grows.
"It's going to take us years to assess what the Arab Spring meant," says Pennsylvania Democrat Bob Casey, who chairs the Senate Foreign Relations subcommittee on the Near East. "It's not just evolving country by country, it's evolving within each country. You can't go more than a few weeks without some internal change. The situation is inchoate."
For many lawmakers, the natural instinct is to remain engaged, somehow, at some level, to preserve the U.S. position in the region. "If we miss this opportunity to be a partner in on the ground floor, we will have missed the biggest change in the Muslim-Arab world in thousands of years," says South Carolina Republican Sen. Lindsey Graham, who says that the United States must continue aid to Egypt.
But there are many troubling trends in what some have termed the Arab Awakening. For one thing, calling these movements "pro-democracy" is a risky oversimplification.
"While we may hope for and certainly we firmly support all efforts for more democratic governments in the region, the awakening's origins are not necessarily a rush for democracy," Marine Corps Gen. James N. Mattis, the head of U.S. Central Command, told the Senate Armed Services Committee last month. "Rather, this awakening stems from a breakdown in the social contract between governments and their people." Mattis added that it was unclear what the resulting governments would look like.
Virginia Democratic Sen. Jim Webb echoed Mattis' warning. "The outcomes from these types of unrest are rarely quick, they're rarely clean and they're rarely fully predictable," he said at a hearing last month.
In countries such as Egypt, where revolutions are still playing out, their new constitutions and the individual rights they guarantee will provide a crucial test. Syria's future probably will be decided on the battlefield, where the government for now has overwhelming superiority in weapons. Assad probably will stay in power for the time being, but the Syrian regime's brutality will remain a source of instability, which has already has spilled over into neighboring Lebanon. Meanwhile, the Persian Gulf regimes appear to have learned once again that repression can work, particularly if they have money to take the edge off their monopoly on power.
Stephen J. Hadley, the national security adviser during President George W. Bush's second term, says that the most useful thing the United States can do at this point is lead by offering a better example than it has in the past. Washington's previous support for authoritarian rulers, he notes, makes us "an odd messenger for freedom and democracy."
And he concedes that the United States failed to impose its values by force. "But we can make it clear that we stand on the side of those who want greater freedom and democracy and who want to take control of the future of their countries," Hadley says.
Whether anyone in the Middle East is willing to listen at this point is another question.
On the Wrong Side of History
Emily Cadei contributed to this story.
FOR FURTHER READING: Pro-democracy group crisis in Egypt, CQ Weekly, p. 224; fiscal 2012 appropriations (PL-112-74), p. 25; U.S. diplomacy, 2011 CQ Weekly, p. 2594; Arab Spring, pp. 452, 332.