CQ WEEKLY – IN FOCUS
April 21, 2012 – 12:31 p.m.
Battling to Retain Sway On Military Spending
By Frank Oliveri, CQ Staff
For decades, Republican lawmakers on the Armed Services panels pretty much dictated which positions their party took on defense issues.
That may be changing.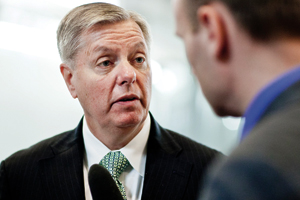 | | |
| --- | --- |
| ON DEFENSE: Graham says his fellow Republicans still heed the advice of the Armed Services panels. (T.J. KIRKPATRICK / GETTY IMAGES) |   |
Defense hawks have been on the defensive ever since the 2010 elections swept into Congress more than 80 fiscal conservatives, many of them tied to tea party groups, who view the federal debt and deficits as existential threats — even more so than Iran, North Korea or China.
These fiscal conservatives also have shown an isolationist bent — some have called for an end to the war in Afghanistan and a drawdown of forces from Europe — and a stubborn willingness to roll back planned defense spending in the next decade.
Indeed, many GOP military hawks last year caved in to pressure from House leaders to vote for a deficit reduction bill that mandated about $490 billion in planned defense spending cuts over 10 years. Congress' inability to reach a broader deficit reduction deal last year triggered a sequester mechanism that mandates an additional $500 billion in defense cuts starting in January 2013.
With that sequester looming, GOP military proponents are frantically attempting to persuade fiscal conservatives to block across-the-board cuts, but they are having a lot of trouble getting their colleagues to join them.
"It is uphill; there is no question," says Howard P. "Buck" McKeon of California, the chairman of the House Armed Services Committee, who has proposed a bill to delay the sequester for a year. He has gathered only 72 cosponsors from the 242 Republicans in the House, and only nine of the 47 Republicans in the Senate have signed on to a companion bill. "It doesn't make sense to me," McKeon says of the lukewarm response to his bill, "especially while we are in a war."
John McCain of Arizona, the ranking Republican on the Senate Armed Services Committee, says that in his almost three decades on Capitol Hill, he cannot remember a time when GOP defense hawks had to work so hard to assert dominance within their own party on defense issues.
"We never had this much pressure because we weren't running such high debt and deficits," McCain says.
Dead on Arrival
For months, McCain, McKeon and other GOP defense policy experts have been waging a campaign to persuade Republicans to draw a line on defense spending. They can point to some successes, such as the budget proposed by House Budget Chairman Paul D. Ryan of Wisconsin and passed by the House; it would set the fiscal 2013 defense budget at a level $8 billion in excess of the budget law caps. But most see the budget resolution as a political document because it concentrates the burden of deficit reduction in areas that Democrats back. Democrats say it's dead on arrival in the Senate. Even so, 10 Republicans joined 181 Democrats in opposition.
Republican Justin Amash of Michigan says he opposed the Ryan budget in part because it "exempts military spending from reductions, which makes it more difficult to achieve bipartisan support to reform the primary components of our annual deficit: Social Security, Medicare and Medicaid."
Battling to Retain Sway On Military Spending
Pro-defense Republicans, such as South Carolina Sen. Lindsey Graham, insist that Amash represents a "distinct minority" in their party.
"We are now exposing the Republican Party as being more defense-, national security– and Reagan-centric than we thought," Graham says, "because now that the day of reckoning is upon us, you see a real scramble among leaders in the House and Senate and rank-and-file members on the Republican side, as well as Democrats, to avoid gutting the Defense Department."
Graham had been chastising party members for several months, saying repeatedly that even considering sequester meant that the GOP was "no longer the party of Ronald Reagan." It remains to be seen whether Graham's current optimism is accurate or merely wishful thinking.
'Lazy' Congress
Not since the late 1980s and early 1990s have deficit hawks played such a strong role in the Republican Party's defense policy.
During that time, Ohio Republican Rep. John R. Kasich formed an alliance with Democrats and two of their former House Armed Services chairmen, Les Aspin of Wisconsin and Ronald V. Dellums of California. The coalition became instrumental in slashing the number of B-2 stealth bombers that the Pentagon could purchase from 70 to 20.
But in 1993, Kasich, now the governor of Ohio, fought efforts by President Bill Clinton and then-Defense Secretary Aspin to cut defense spending, saying he thought the cuts would be used to fund the Democrats' domestic agenda.
Now, with deficits running at never-before-seen levels, erstwhile budget cutters face off against experienced national security experts, including Graham, McKeon and McCain. The budget hawks see plenty of room in the enormous Pentagon budget for cuts, particularly when programs such as the F-35 Joint Strike Fighter are proving almost 100 percent more costly than originally promised, with no apparent end in sight to the cost growth.
Oklahoma Republican Sen. Tom Coburn, no 90-pound weakling on defense issues, lashes out at GOP defense hawks for what he views as a simplistic approach to defense budget oversight.
"I think everybody is just as hawkish, but there are two competing priorities," he says. "Remember, you can't have a defense if you don't have a vibrant fiscal policy. The American people see it that way."
Coburn says you could go to every department in the Pentagon and ask, can you save 10 percent? "Every one of them will tell you, 'Yes,'" he says. "Well, that is $50 billion a year right there."
Even so, Coburn is unhappy about the hacksaw, across-the-board nature of the sequester mechanism. Coburn blames this approach on a lazy Congress unwilling to do the work to identify, and cut, bad programs.
"I hope sequester doesn't happen — it's stupid — but I hope the same amount of dollars come out of defense," Coburn says.
Battling to Retain Sway On Military Spending
Given a choice between a sequester and not achieving the overall $1.2 trillion in federal savings required under the deficit reduction law, he says he favors a sequester.
McKeon disagrees with Coburn and argues that the Pentagon would be a shambles under a sequester. But he acknowledges that Coburn is not alone in his thinking.
"I could have quite a discussion with Coburn," McKeon says, with some frustration.
Fellow California GOP Rep. Dan Lungren argues that the strongest opponent of further defense cuts is Democratic Defense Secretary Leon E. Panetta.
"I think people are responding to Secretary Panetta's view that we run the risk of creating a hollow armed forces," says Lungren, who is facing a tough race in November because his district has been redrawn.
But the Panetta comments that Lungren is referring to have always come in the context of the imperative that Congress do the hard work of finding $1.2 trillion in savings across the government so a sequester is averted.
These nuanced arguments between fiscal and national security concerns are playing out within the GOP Conference as well, Lungren says.
"Members do feel very strongly about the state of national defense, but they also feel strongly about the state of our fiscal policy," he says. "Working those two things out in a comprehensive, responsible, prudent way is the challenge.
"But it is not that we have one group against the other. It really isn't. It is trying to work it out. What is the proper formula within the context of those two imperatives?"
Some Republicans may try to use the debate over the fiscal 2013 defense authorization bill to add language to either put off or entirely avert a sequester, say congressional aides. It wouldn't be an easy sell in the House, but such an effort would be met with intense opposition in the Senate unless lawmakers reach a deal over the full $1.2 trillion in savings, says Michigan Democrat Carl Levin, the chairman of the Senate Armed Services Committee.
Further, Graham says the GOP also must determine what in defense it is for, not just what it is against. His argument is that his party must be willing to accept overhauling defense "because you can't get out of $15 trillion in debt without everything being on the table."
Graham says the party must push the Pentagon to get its acquisition problems under control and that some programs and force structure must be eliminated. "We've got to make hard decisions," he says. "You can't just keep adding capabilities to weapons" without considering costs.
McCain says he believes the hawks will prevail within his party over the coming months. "These [other] elements have always been a minority in the party," he says. "I have confidence at the end of the day that the Republican Party will do the right thing."
Battling to Retain Sway On Military Spending
FOR FURTHER READING: McKeon's bill is HR 3662. Sequester mechanism, p. 807; fiscal 2013 budget resolution (H Con Res 112), p. 684; deficit reduction law (PL 112-25), p. 29; rethinking the military's many missions, 2011 CQ Weekly, p. 2434.