CQ WEEKLY – COVER STORY
April 21, 2012 – 12:43 p.m.
Prelude to a Showdown
By Joe Schatz, CQ Staff
It's become a standard line among political pundits: If you thought last year's debt ceiling crisis was bad, just wait for the "fiscal cliff."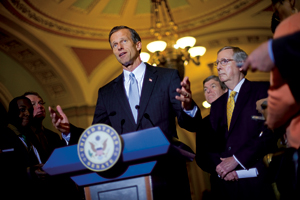 | | |
| --- | --- |
| WAITING FOR NOVEMBER: Thune says it's difficult to see how the issues will play until after the election. (CHRIS MADDALONI / CQ ROLL CALL) |   |
Start with roughly $500 billion worth of tax increases and almost $100 billion more in spending cuts that are scheduled to occur at the end of this year. Add in the probable need to raise the limit on federal borrowing, and then multiply by various possible outcomes from the November election. The result is elevated economic risks and the danger of political chaos that will reverberate well outside the Beltway.
That's why, with no pre-written playbook for what will happen on Capitol Hill seven months from now, aides, lobbyists and Wall Street analysts are digging into their history books for clues and tactical lessons about how the 112th Congress might end.
There's 1996, for instance, the year President Bill Clinton won re-election after a series of budget standoffs with congressional Republicans allowing him to strike the 1997 deal to balance the budget. There's 1980, when Congress delayed almost all its major economic decisions until after the election, and Jimmy Carter worked with a lame-duck Democratic Congress to enact their priorities before the Reagan revolution took hold.
The research team at banking giant Morgan Stanley has fixed its eyes on the more troubling years of 1968 and 1969. That's when Lyndon B. Johnson and Congress imposed a series of surtaxes to combat inflation and finance the Vietnam War, just as Social Security payroll taxes were also rising. The combination helped tip the economy into recession, Morgan Stanley's researchers found in an analysis last week.
They pointed to 1969 for a reason: It represented a fiscal "tightening" of about 5 percent — roughly the same level of contraction that may occur after Jan. 1, according to Morgan Stanley's calculations, if the George W. Bush-era tax cuts extended in 2010 expire and the first round of $1.2 trillion in automatic spending cuts stemming from last August's debt limit law are set in motion.
Estimates about the depth of the coming fiscal contraction vary, but lawmakers from both parties — even the staunchest deficit hawks — want to avoid anything like the nightmare that some analysts fear. Yet, the inability of lawmakers to agree on how to avoid the "fiscal cliff," as Federal Reserve Chairman Ben S. Bernanke calls it, is the very reason the cliff exists at all. A combination of temporary tax policy decisions, unsuccessful budget-cutting exercises and bitterly abandoned attempts at a "grand bargain" to reorder the federal budget litter the landscape of fiscal policy debates over the past decade.
Members of both parties acknowledge that the outcome this year depends in large part on whether President Obama or his presumed Republican challenger, former Massachusetts Gov. Mitt Romney, wins the presidential election in November — and to a lesser extent, whether Democrats retain control of the Senate.
Whether the election results yield compromise, stalemate or another instance of kicking the can down the road will depend on what the winners and the losers see as the risks — or the potential rewards — of allowing the tax cuts to expire and the spending "sequester" to hit just as a new Congress, and perhaps a new president, prepare to take office.
"There are opportunities for compromise," says the Senate's No. 2 Democrat, Richard J. Durbin of Illinois. "The question is whether or not it is going to be such a compelling moment that both sides are going to feel the requirement to sit down and compromise."
Given Congress's recent penchant for engineering quick, temporary fixes at the last moment, conventional wisdom assumes the government won't dive off the cliff. And lawmakers, lobbyists and party elders are already weighing in with potential ways to defuse the situation.
Some tax writers anticipate that leaders will devise some sort of extension, perhaps for as long as a year, to give time for larger-scale overhaul of the tax code. But efforts to buy time in a time-constrained lame-duck session might get complicated and face stiff resistance.
Prelude to a Showdown
"There is a high risk factor of holding everything off to the lame duck," says Maryland Democrat Benjamin L. Cardin, a member of the tax-writing Senate Finance Committee. Still, Cardin said, some issues could be dealt with in the context of a year-end deal, and some "can be held off until 2013."
G. William Hoagland, a former Senate Republican budget and leadership aide, is worried about how people outside Washington, particularly investors who buy Treasury bonds and finance the government, will react to another crisis. Hoagland sees hope in the possibility of a six-month extension of all the tax cuts plus the expiring payment schedule for Medicare physicians, combined with a short-term increase in the debt ceiling and a six-month delay in the sequester — offset by some sort of spending cuts in entitlement programs.
"We have to be realistic and put a little bit more certainty in the markets," says Hoagland, who is now vice president of public policy for insurance company Cigna Corp. "The last thing we need is to have this fiscal cliff hit us. I don't think that benefits anybody."
In spite of fervent protests from budget watchdogs and lawmakers themselves, little certainty is likely in advance of the election, before Congress is "peering over into the abyss," as Durbin puts it. Instead, the coming months will see lawmakers putting down markers and making opening arguments — plainly evident in last week's Senate vote to reject the so-called Buffett rule to set a minimum tax on millionaires, and the decision by Senate Budget Chairman Kent Conrad, a North Dakota Democrat, to propose a budget mirroring the far-reaching deficit reduction plan produced two years ago by the president's Simpson-Bowles debt commission.
Likewise, the budget-cutting process undertaken by House Republicans this month, through which committees must find $261 billion in savings to replace January's $98 billion in sequestered spending cuts, will not lead to enactment of a deficit reduction plan any time soon. But it might be the foundation for a post-election deal.
The potential end-of-year scenarios are many and varied, particularly since control of the Senate is in play and a Romney victory might portend a broader GOP sweep. But with Republicans expected to retain control of the House under almost any electoral forecast, the biggest single factor will be whether Obama wins re-election.
Following two years of stalemate between the parties over long-term deficit reduction, a re-election victory by Obama, combined with continued GOP control of the House, seems paradoxically to be the electoral outcome most likely to result in a major deal involving tax increases and spending cuts.
Status Quo Continues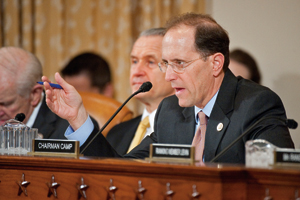 | | |
| --- | --- |
| HOPING FOR AN OPPORTUNITY: Camp would like to leverage the expiring income tax cuts into a full rewrite of the code. (BILL CLARK / CQ ROLL CALL) |   |
In some respects, that's what happened after the 1996 election, Hoagland says. After two years of budget wars and government shutdowns, Republican leaders chose to avoid another climactic confrontation with Clinton. The result was the 1997 balanced-budget deal, which included tax increases for some at the top of the income scale but an overall tax cut of $275 billion, coupled with $401 billion in spending cuts. That put the government on a path to a balanced budget achieved in fiscal 1998 — four years earlier than promised, thanks to a surging economy.
If Obama is re-elected, optimists see a chance for a replay, building upon resurrected "grand bargain" talks between the president and House Speaker John A. Boehner of Ohio. Boehner's ally, Michigan Republican Dave Camp, who is chairman of the Ways and Means Committee, has already begun informal listening sessions with his colleagues to feel out their views on overhauling the tax code and avoiding a major tax increase at the end of the year.
Taxes are by far the biggest issue. Obama has made a priority extension of tax cuts that benefit those with incomes below $250,000 and has pledged not to sign into law legislation that extends the tax cuts for those above that limit. Republicans want all the tax cuts extended.
Then, there are the automatic spending cuts. Republicans want to avoid the cuts as they apply to military programs — as do some top Democrats, including Defense Secretary Leon E. Panetta. Both parties also want a deal to forestall looming reductions in Medicare reimbursement rates for physicians. Lawmakers will surely try to prevent tens of millions of middle-income Americans from being saddled with the alternative minimum tax. Authorization for jobless benefits that go to the long-term unemployed is set to expire, as is the Social Security payroll tax cut that has been in effect since January 2011.
Prelude to a Showdown
"There is so much both sides want, I'm not sure any one item is more important than another," says one Republican staff member. "At some point, I stop counting who has the leverage and where, because the momentum will be on solving all these issues."
For all his insistence that the wealthy should pay higher taxes, Obama is likely to face pressure not to let the clock strike midnight Dec. 31 without a new set of tax laws in place — the ensuing partisan maelstrom would get his second term off to a deucedly tumultuous start. The prospect of a big tax increase pinching the economy's fragile recovery is already causing worries among investors.
"This is a big hit," says former Congressional Budget Office Director Douglas Holtz-Eakin, who is now chairman of the conservative American Action Forum. "If you're a reasonable market participant trying to look at the future trajectory of the economy, you have to be concerned about that."
Camp has been vocal about the desire for a committee-led overhaul of the tax code, which may increase pressure for a short-term extension of the expiring tax provisions — such as Hoagland envisions — to give lawmakers time to negotiate.
But lawmakers don't expect a long-term tax extension such as was enacted in December 2010, if Obama wins. "I don't think everything is going to get extended again," says Maryland's Chris Van Hollen, the top Democrat on the House Budget Committee. "It's an action-forcing event."
A path to resolution might be found in the wreckage of last year's budget negotiations, including the abortive work of a bipartisan, bicameral deficit reduction committee. The yearlong discussions left reams of detailed budget proposals, already scored by the Congressional Budget Office and ready to go, lying around behind closed doors on Capitol Hill.
"Every road leads to a different ending. The big picture here is something big has to happen next year, and we're probably going to have to the middle of the year to get it done," says Republican Rep. Devin Nunes of California, a member of the Ways and Means Committee. "When I say something big, that means tax reform along with fundamental entitlement reform."
Few, if any, Democrats are ready to embrace a lengthy extension, however. And many have doubts that they can force Republicans to negotiate on such fundamental issues as revenue increases. The threat of deep, automatic spending cuts for defense and non-defense programs alike was supposed to keep both sides of the powerful deficit-reduction committee at the table last fall. But it didn't work.
President-Elect Romney
A change in control at 1600 Pennsylvania Ave. would set in motion an entirely different set of scenarios — and lead to much greater uncertainty. That's why many analyses on and off Capitol Hill see a higher possibility that the tax cuts will expire — if only temporarily — following a GOP takeover of the White House.
A Republican president-elect would be likely to encourage the House to pass a short-term extension of all the tax cuts, and to delay the automatic spending cuts into the new year, when the GOP hand would be much stronger. Senate Minority Leader Mitch McConnell's incentive to back this approach would be great if the Kentucky Republican's party won control of the chamber. And one likely outcome would be a 2013 tax overhaul plan that is favorable to conservatives.
"People say, well, 'You have to save America in the lame-duck session.' If the results of the election are identical to the current political composition in the House, Senate and the White House, I can make that argument," Durbin says. "But if there's a change, one party's going to view an advantage in waiting."
A Republican victory would hand Obama and Senate Democrats a stark choice. The president might pick up his marbles and go home, wielding his veto pen and allowing the tax cuts to expire. That, in turn, might result in little political fallout for his party, because the election would be in the rear-view mirror.
Prelude to a Showdown
"If Romney wins, you probably will not do anything until he is sworn into office," says Democratic Rep. Bill Pascrell Jr. of New Jersey. "I'm not so sure President Obama will simply extend the tax cuts."
Obama and his lieutenants have been more aggressive in pledging to end the upper-income tax cuts than they were two years ago. Indeed, the president has centered his re-election campaign on the principle of economic fairness. Many liberals were disappointed in 2010 when Obama bowed to the new political dynamics of Washington after the mid-term election and agreed to extend all of the Bush-era tax cuts for two years.
"The answer is that the American people are very clear: It's totally absurd to be maintaining tax cuts for millionaires and billionaires when we are running $15 trillion debts," says independent Sen. Bernard Sanders of Vermont. Asked whether he's confident that the president will hold firm, Sanders just laughed. "Call him up at 1600 Pennsylvania Ave. and tell him I told him he should talk to you."
Still, Obama might see such a confrontation as a poor way to end his presidency. And many congressional Democrats may find it in their interest to negotiate with Republicans while they still have control of one chamber and the means to influence the contours of a deal.
That, in effect, is what happened in late 2002 after the mid-term election. Defeated Senate Democrats, faced with minority status and unified Republican control of the White House and Congress the following January, decided to settle their differences on a long-stalled proposal to create the Department of Homeland Security.
The atmosphere "has a profound impact on what happens in the lame duck," says one Senate Republican aide. "Who's going to give depends on whose butt got kicked."
And for all the vocal Democratic opposition to extending tax cuts for the rich, the real views within the party on how to tax the most well-off Americans are divided. Conservative Democrats and some members from high-income blue states are reluctant to raise taxes sharply on the wealthy. That's one reason why Senate Democrats never took a vote on extending only the middle-class tax cuts in the run-up to the 2010 mid-term election.
If the immediate outcome on taxes following a Romney election appears unsettled, that may not be the case for the automatic spending cuts. Congress is still likely to do something to reorder the sequester before it takes effect.
There might even be ways to avoid immediate tax increases or spending cuts without legislative action. If lawmakers and the White House announce their intention to act, the Obama administration might leave in place existing tax withholding rates and tinker with discretionary spending allotments, said Joseph Minarik, a former White House budget office chief economist who is now at the Bipartisan Policy Center, in a recent blog post.
Wild Cards in the Deck
The election isn't the only force that might drive Congress to act — or not. Lurking in the background is the Supreme Court's expected ruling on the 2010 health care overhaul. If the law is struck down, that might have big consequences for the course of both mandatory spending and taxes.
And the biggest wild card of all is the state of the economy.
Allowing taxes to rise and spending cuts to occur would immediately, and dramatically, shrink the deficit. But vigorous economic growth has a way of dampening Congress' always-limited appetite for steps aimed at trimming the deficit. A case in point was the 1997 budget deal, which reduced spending enough to allow for a large overall tax cut.
Prelude to a Showdown
If the big employment gains recorded in January and February return after a lackluster March, and if gasoline prices don't reach the dangerous threshold of $5 a gallon, and if growth ticks higher, the result won't just help Obama at the polls. Those events might begin to shrink the deficit in a measurable way, giving lawmakers more of an incentive to extend expiring tax cuts and put off expected spending cuts.
An economic slowdown would possibly make Democrats more reluctant to raise taxes, as was the case in late 2010.
"The election won't be the only factor determining whether these policies are addressed at year end. First and foremost, changes in the economic outlook could force lawmakers to shift their positions," the Goldman Sachs economic research team said in its April 4 analysis.
But the economy also has a far more practical impact on the dynamics, and the timing, of the post-election debate. That's because a strengthening economy and robust tax receipts over the summer would postpone the need to raise the debt ceiling, possibly until 2013. That might allow lawmakers and the president to agree on a short-term fix to the tax and spending questions, to carry them into the new year.
If Treasury borrowing threatens to bump into the debt ceiling before the end of 2012, however, the question becomes much more complicated. The debt limit will inevitably become the vehicle for acting on the tax cuts and the sequester.
"The fact that the government would need to address a potential debt ceiling increase would be non-negotiable. Nobody today can forecast what that would look like," says Eric Ueland, who served as chief of staff to former Senate Republican Leader Bill Frist of Tennessee, and is now a lobbyist with the Duberstein Group. "It becomes a driver on all the other policies."
How the debt ceiling plays into the showdown may depend on what lessons lawmakers took from the debilitating 2011 debate, which ended with foreign governments shaking their heads, and Standard & Poor's dropping the Treasury's credit rating a notch. The move was largely symbolic — and had no effect on interest rates or Treasury's ability to borrow — but it weighed on lawmakers' minds nonetheless.
A re-elected President Obama may have more power to force a quick debt ceiling increase — and hence a quick, broader fiscal deal. Many Democrats have questioned why he didn't do just that back in late 2010, when Republicans were demanding an extension of the Bush-era tax cuts.
"It will be a big test in Washington, a big test of the country to govern itself in how Washington deals with those challenges," said Treasury Secretary Timothy F. Geithner at the Brookings Institution last week. Geithner said it would be good for the country to dispense with "all the drama, politics and damage that Republicans and Congress imposed on the country last summer."
South Dakota GOP Sen. John Thune says Republicans again want to use the debt ceiling as a means to force entitlement spending cuts. But ask Thune — or any other lawmaker — to game out the likelihood of that in the post-election session, and the answer is almost always tentative. That's because when it comes to the fiscal cliff or "taxmageddon" — choose your hyperbolic name — all bets are off.
"There are, like, three different permutations that I think we could end up with," says Thune, who is mentioned frequently as a possible Romney running mate. "There is certainly a Republican wish list that we would like to see addressed. But I think whether or not we're able to achieve that will depend a lot on the election."
FOR FURTHER READING: Deficit-reduction committee comes up short, 2011 CQ Weekly, p. 2490; August debt limit deal, p. 1740; 1997 budget deal, 1997 Almanac, p. 2-18; 1980 lame duck session, 1980 Almanac, p. 16.