CQ WEEKLY – IN FOCUS
April 21, 2012 – 1:31 p.m.
Will We See Campaign Ads Air on Public TV?
By Eliza Newlin Carney, CQ Staff
A surprise federal court ruling that clears the way for campaign ads on public TV and radio stations has dragged public broadcasters into the national debate over free speech versus big money.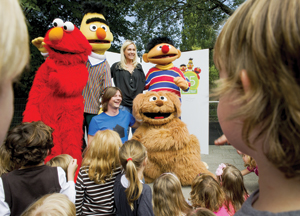 | | |
| --- | --- |
| STATION BREAK: Public broadcasters might have to take political ads, although not commercial ones. (MARCEL ANTONISSE / AFP / GETTY IMAGES) |   |
The ruling this month by a California appeals court probably won't mean that political attack ads will air during such shows as the "PBS NewsHour" or NPR's "All Things Considered" any time soon. Most public broadcasters are not clamoring to cash in on such commercials, and the legal dispute over political ads could drag on for some time.
But the case has alarmed advocates of non-commercial broadcasting, who warn that the system's reputation would be tarnished by high-dollar campaign ads. Such ads, for which funding sources can be hard to trace, have drawn controversy following a 2010 Supreme Court ruling that deregulated corporate and union campaign spending.
"We would urge public broadcasters to reject these ads, because they really go against the purpose of public broadcasting, which is to dive deep into issues of public importance, and not just be a vehicle for super PACs," says Craig Aaron, president of Free Press, a media and technology nonprofit group.
The nation's more than 1,300 public TV and radio stations have operated essentially commercial-free since Congress created the Corporation for Public Broadcasting in 1967. In 1981, Congress allowed stations to raise private money through underwriting announcements and sponsorships, but the law specifically barred political or public issues ads, as well as ads in behalf of for-profit entities.
In an April 12 decision, a 9th U.S. Circuit Court of Appeals panel ruled 2-1 in favor of the ban on commercial ads, but declared that issue and political ads were protected by the First Amendment. The ban on political and issue advertising is "a content-based restriction on speech, and this restriction in particular burdens speech on issues of public importance and political speech," Circuit Judge Carlos Bea wrote for the majority.
The government had argued that for-profit and political ads would harm public broadcasting by diluting its educational mission, encouraging mass market programming and making public broadcasting indistinguishable from commercial media.
In a dissent, Judge Richard Paez agreed. "For almost 60 years, noncommercial public broadcasters have been effectively insulated from the lure of paid advertising," he wrote. "The court's judgment will disrupt this policy and could jeopardize the future of public broadcasting."
Cautious Response
The case involved the Minority Television Project, an independent public broadcaster that had aired close to 2,000 ads over a three-year period for Chevrolet, State Farm and other for-profit companies on KMTP-TV in San Francisco.
In 2002, the Federal Communications Commission imposed a $10,000 fine on the group for violating the ad rules. The broadcaster sued, arguing that the federal ban violated the First Amendment. A trial court upheld the ban, but the Ninth Circuit panel disagreed.
Public broadcasters have reacted cautiously, withholding comment as they review the decision. Officials for PBS, NPR and the Association of Public Television Stations all declined to comment for this story. The Justice Department, representing the FCC, also declined to comment. The department has 45 days from the day of the ruling to decide whether to petition for a rehearing, either by the three-judge panel or by the full court.
Will We See Campaign Ads Air on Public TV?
"It's a victory for the First Amendment," said Walter Diercks, a lawyer with Rubin, Winston, Diercks, Harris & Cooke who is representing the Minority Television Project.
Republicans have argued for decades that public broadcasting should raise more money through advertising and not get public funding. Public broadcasters typically get about 15 percent of their funding from the federally supported Corporation for Public Broadcasting, and collect the rest from grants and through audience pledge drives.
Diercks acknowledged that even once the matter is settled in court, it will be up to individual broadcasters to decide whether to seek political ads.
"You tend to be cautious about doing something that could offend your audience, or be jarring to your audience," he said. "Changes like this tend to be evolutionary, not revolutionary. Everybody's going to have to feel their way."n
Eliza Newlin Carney is a Roll Call staff writer.
For Further Reading: Public broadcasting cuts, 2011 CQ Weekly, p. 620.