CQ WEEKLY – IN FOCUS
April 28, 2012 – 8:35 p.m.
FDA Fee Reauthorization a Prescription for Debate
By Emily Ethridge, CQ Staff
Every five years, lawmakers, lobbyists, patient groups and agency regulators line up to take their shot at changing how things get done at the Food and Drug Administration.
The occasion is the reauthorization of the FDA's authority to collect user fees from drug and device companies to help fund the agency's review of their products.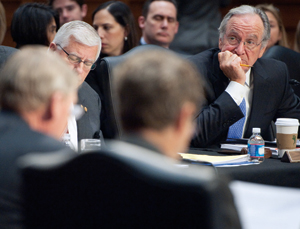 | | |
| --- | --- |
| RISK AVERSE: Harkin, right, wants only amendments that do not cause controversy. (BILL CLARK / CQ ROLL CALL) |   |
Strictly speaking, it's all about renegotiating the fees and the agency's "performance goals and procedures."
In fact, it can become a wide-ranging free-for-all in which the numerous interest groups in the field and members of the relevant committees on the Hill attempt to convert their agendas into the FDA's agenda — a mini health care debate, minus the ill will, drama and suspense.
But in an era in which everything seems to turn partisan, this process is no exception. The Democratic Senate has its version of the reauthorization. Republicans in the House have theirs.
And despite the shared goal of quick action on must-pass legislation, it's encountering delay, with the potential of more in store.
Republicans on the House Energy and Commerce Subcommittee on Health last week postponed until May 8 a scheduled markup as they worked to gain broader support from Democrats for their draft proposal.
Meanwhile, the Senate Health, Education, Labor and Pensions Committee approved its version by voice vote April 25 — but with the understanding that members would offer amendments on the Senate floor, which could lead to a protracted floor fight.
Already there are differences between the two measures, and several potential points of contention between the parties, such as changes to the FDA's mission statement, incentives for drugmakers to make new antibiotics, and changes to medical device regulations.
Job Creation, Too
Attracting the most attention recently is a proposal in the House Republicans' draft bill from Mike Rogers of Michigan to rewrite the FDA's mission statement to include "promoting economic growth, innovation, competitiveness, and job creation" among the industries the agency regulates.
FDA Fee Reauthorization a Prescription for Debate
The existing mission statement is concerned with issues of safety and public health — not jobs.
FDA officials have questioned how the agency could assess the economic impact of its decisions, and Democrats voiced concerns that such a change could detract from the agency's duty to protect the public health.
"Those are things that scientists shouldn't be dealing with," Jeffrey Shuren, director of the agency's Center for Devices and Radiological Health, said at an April 18 hearing. "We should focus on science and assuring that the products coming to the market are safe and effective."
He noted that lawsuits against the agency often cite its mission statement, so such a change could be fodder for even more court fights.
"Our primary public is the people who take medicines or drugs and the people who prescribe and give those medicines," Janet Woodcock, director of the FDA's Center for Drug Evaluation Research, said at the April 18 hearing.
"To them we owe our central obligation of making sure these drugs are safe and effective. . . . So I see this could have negative consequences."
Indiana Republican Sen. Dan Coats, who has a companion bill to change the FDA's mission, has said the provision is necessary to offset the "current regulatory environment created by the FDA," which "has forced American companies to eliminate jobs and move operations overseas."
In a hearing in February, Rogers voiced concern with a survey of venture capitalists that said 44 percent were looking at investing in life science companies overseas. If the FDA doesn't change, he said, "we jeopardize having to have our devices manufactured and innovated in Asia and Europe."
"I mean, the policies here don't work together, and that's why, I think, people like me are very, very frustrated with the FDA," he said.
Lawmakers also disagree on a provision from Georgia Republican Rep. Phil Gingrey that would give incentives to manufacturers to create new antibiotics to stop treatment-resistant bacteria.
While both House and Senate bills contain the incentives, the Senate bill would offer them only to antibiotics that treated serious and life-threatening conditions.
From Skinny to Fat
In contrast, the House bill would give the incentive to all antibacterial drugs that treated certain infectious pathogens. Henry A. Waxman of California, who leads Democrats on the House Energy and Commerce Committee, objects that the House language would reward drugmakers for producing expensive antibiotics that didn't meet the most acute needs and that proliferation of new antibiotics on the market might lead to even more drug-resistant bacteria.
FDA Fee Reauthorization a Prescription for Debate
The provisions involving FDA oversight of medical devices — including post-marketing tracking and safety information — have caused the most discord so far.
In general, the Senate bill would put more restrictions on the regulation of medical devices. For example, it would make it easier for the FDA to reclassify a device, thus making it subject to more regulations — a provision praised by Consumers Union but viewed with concern by the device trade association AdvaMed.
Despite the differences, lawmakers are expected to reach agreement and pass a reauthorization bill before the user fee programs' Sept. 30 expiration date.
"The user fee negotiations is a time when everything is on the table at FDA," says Dan Mendelson, who was associate director for health at the Office of Management and Budget during President Bill Clinton's administration and is chief executive of Avalere Health, which analyzes research and offers strategic advice to the health care industry.
Congress takes the opportunity to add other health-related provisions because the process is "a well-worn pathway and one that is frankly relatively civil," he says.
"Our original goal was a skinny PDUFA," says David Wheadon, senior vice president of the Pharmaceutical Research and Manufacturers of America, using the acronym for the Prescription Drug User Fee Act. "We moved to a lean PDUFA. We now recognize we have a PDUFA that probably needs to go to Weight Watchers."
The Congressional Research Service recently identified a dozen bills that members proposed adding to the user fee program — measures that seemed to have little or no relationship to the user fee process.
At this point, though, everyone agrees that the user fee authorizations are crucial for the agency to do its job adequately.
Without the funding that user fees provide, FDA officials say, the agency will be forced to lay off staff members and fail to keep up with the increasing number of product applications.
Shuren told a Senate committee in March that failure to reauthorize the program would result in "a death spiral."
The most recent reauthorization, in 2007, passed both chambers with strong bipartisan support: the House by a vote of 405-7, the Senate clearing it by voice vote.
But that happened only days before the expiration date, after Republicans and Democrats engaged in a summerlong stalemate over some controversial provisions.
The reauthorization was held up over the summer while lawmakers tried to negotiate the final divisive pieces added onto agreements. President George W. Bush said he would veto any final measure that included Democratic attempts to allow the importation of prescription drugs.
FDA Fee Reauthorization a Prescription for Debate
Members also argued over including language to create a database of drugmakers' clinical trials and their results, ultimately leaving it in.
"The user fees are an essential component of FDA's funding for reviews of drugs and medical devices," said Allan Coukell, director of medical programs at the Pew Health Group.
He added that the measure "has become an important point every five years to really address some of the shortcomings of FDA law or agency operations."
The first steps of the reauthorization process can begin more than two years before the expiration date.
In 2010, the FDA began holding a series of meetings with members of the drug and device industries, the public and other interested parties.
Throughout those meetings, the agency and the companies negotiate an eventual agreement for recommendations on the user fee programs. Once they achieve a resolution, they send the recommendations to Congress — where lawmakers look to put their own imprints on the measures.
"While the initial process reflects a lot of detailed discussions between FDA and industry, Congress always steps in and oversees those results and modifies along the way," says Mark McClellan, who was FDA commissioner under Bush.
"The reason things get in there is because various interest groups raise it, and they make their case to various members, and members are convinced on the policy, on the constituent interest, on the patient interest . . . and it rises to the occasion," says Stacey Rampy, a former lobbyist for Merck and congressional aide who is now a principal at Mehlman Vogel Castagnetti.
But the danger is that disagreement over those extra provisions can slow the measure's progress. That's why chief lawmakers attempt to find agreement between members and the agency on significant additions well before the legislation makes it to a markup.
"There are also side agreements that are reached, that are in essence some kind of understanding between FDA and the congressional staff as to what things are going to happen," Mendelson says.
After releasing bipartisan discussion drafts on many extra measures, Iowa Democrat Tom Harkin, chairman of the Senate Health, Education, Labor and Pensions Committee, and ranking Republican Michael B. Enzi of Wyoming warned their committee members that they would tolerate only a handful of additions — and only those that had bipartisan support.
"We'll face several obstacles that will make it difficult to enact these policies," Enzi said. "But the bill will need very broad bipartisan support to pass the Senate."
Why User Fees?
FDA Fee Reauthorization a Prescription for Debate
In the past, some lawmakers and patient groups have questioned why the FDA gets any user fees at all. Some wonder if having the agency accept funds from drug and device makers sends the message that the FDA is beholden to the industry it regulates.
There is a sense that "government functions should be paid for by government money," not extra funding from private industry, Mendelson says.
In addition, Rep. Joe L. Barton said the FDA's past performance did not merit the agency getting any extra funding.
In a written statement for a February hearing, the Texas Republican said, "Unless we make significant reforms to the Food and Drug Administration and their review process, I believe we should end all user fees."
Yet most everyone agrees that the FDA does not get sufficient funding through the appropriations process to keep on top of its review work.
User fees underwrite a significant amount of the cost of reviews: more than 60 percent of the prescription drug reviews and 20 percent of device reviews under the current reauthorization.
"Although I think lots of people would prefer the government to have enough resources to pay for all of FDA's regulatory costs, the reality is that there isn't enough in appropriations for the FDA to come anywhere near being able to do its job in an effective and timely way," McClellan says.
In exchange for the funds they pay to the FDA, drug and devicemakers are able sit down with the agency and negotiate goals for faster review times and more staff members and resources dedicated to reviewing their products.
"The industry agrees to it because it's not technically a tax and because it helps them solidify a seat at the table," Mendelson says. "If the Appropriations Committee would just man up and give [the FDA] enough money, then it wouldn't be necessary."
That change in funding tactics is highly unlikely, especially in a spending-wary congressional environment. That leaves everyone betting that lawmakers will work out a strong bipartisan agreement this year — even if it does take them all the way up to the deadline.
"Even though it's a year that's been particularly contentious around health care issues, this is legislation that must pass by September," McClellan says.
FOR FURTHER READING: Senate draft bill approved, p. 883; medical devices, 2011 CQ Weekly, p. 2269; 2007 user fees (PL 10-85), 2007 Almanac, p. 12-8.