CQ WEEKLY – IN FOCUS
April 28, 2012 – 8:43 p.m.
Culture Wars Claim Trafficking Law
By Emily Cadei, CQ Staff
A law aimed at protecting victims of human trafficking has been unanimously reauthorized three times since being enacted in 2000. But even this popular bipartisan law — aimed at preventing forced transport of women for prostitution, modern-day slavery and other offenses both within the United States and globally — has not been immune from the revived culture wars that have engulfed Washington over the past six months.
Congress' trafficking law authorizes increased law enforcement efforts to combat trafficking as well as assistance for victims, and it has raised visibility and spending on the issue domestically and overseas. The U.S. government estimates that approximately 600,000 to 800,000 people are trafficked across global borders each year, including roughly 17,000 who are brought into the United States. It's a cause that has united religious conservatives and left-leaning humanitarian activists.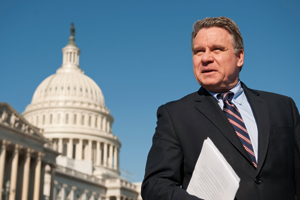 | | |
| --- | --- |
| IN THE MIDDLE: Rep. Smith, the original sponsor of the anti-trafficking law, is one of its most passionate backers. He blames the Obama administration for the current stalemate over the law's reauthorization. (TOM WILLIAMS / CQ ROLL CALL) |   |
But when the Health and Human Services Department (HHS) decided last fall not to renew its contract with the U.S. Conference of Catholic Bishops (USCCB) for trafficking victims' services, due to the bishops' refusal to cover reproductive health expenses, it quickly ignited yet another front in what has alternately been dubbed a "war on women" or a "war on religion," depending on one's political standpoint. In the months since, the bipartisan consensus on the trafficking law has disintegrated, leaving dueling House Republican and Senate Democratic reauthorization bills and no obvious path forward in what is already a crunched legislative calendar.
The department's decision "looked like an obvious attempt to box out the faith-based groups," says one Republican congressional aide. Hill Democrats, in contrast, say Republicans are ignoring the needs of female trafficking victims.
Anti-trafficking advocates — both faith-based and secular — are frustrated that politicians have allowed abortion and birth control, which represent a very small portion of the overall services that trafficking victims seek, to poison the issue. And they say the standoff could have been avoided had both sides made a better effort to communicate and seek consensus, rather than simply try to score political points. "I think there's a lack of attempt to reconcile differences," says Cory Smith, senior policy adviser for the Alliance to End Slavery and Trafficking. "That's frustrating."
The trafficking authorization was allowed to expire last fall, and the bad blood that has built up in intervening months has dimmed the prospects for compromise in an election year. Although funding for anti-trafficking programs is guaranteed through the end of fiscal 2012, the failure to enact a new law would make those programs far more vulnerable in the budget battles of the future.
An 'Amazing' Coalition
New Jersey Republican Rep. Christopher H. Smith, the original sponsor of the 2000 trafficking legislation, has been a key champion on the issue since the 1990s. But now Smith, chairman of the Foreign Affairs Subcommittee on Africa, Global Health and Human Rights, is at the center of an increasingly bitter dispute with HHS that has frozen the reauthorization process in its tracks.
Early on, Smith recalls, "there were a lot of people who thought it was a solution in search of a problem.
"I was convinced that it was real and the data was frightening about the buying and selling of women and children for sex exploitation purposes as well as for labor trafficking," he continues. "I decided we needed legislation."
The first trafficking bill, which Smith introduced in the House in 1999, counted 37 cosponsors, almost evenly split between Democrats and Republicans. On one side were social conservatives such as Republicans Joe Pitts of Pennsylvania, House Majority Whip Tom DeLay of Texas and Rep. Jim DeMint of South Carolina; on the other, liberal Democrats included Rosa DeLauro of Connecticut, Zoe Lofgren of California and Jim McGovern of Massachusetts.
Culture Wars Claim Trafficking Law
"For over a decade, we have achieved an amazing left-right, religious-secular, bicameral, bipartisan consensus unified in combating sex and labor trafficking at home and worldwide without promoting abortion," Smith said at a December hearing. "Until today."
"I'm so disappointed" in HHS Secretary Kathleen Sebelius and President Obama, Smith says. It was "not by my doing" that abortion politics were injected into the issue, he says, but, rather, the administration's.
Initially, everything was on track in 2011 for another smooth reauthorization process. On Oct. 5, the House Foreign Affairs Committee unanimously approved a reauthorization bill sponsored by Smith and ranking Democrat Howard L. Berman of California. The Senate Judiciary Committee approved its bipartisan companion measure, sponsored by Democratic Chairman Patrick J. Leahy of Vermont, a few days later.
"And then," says a Democratic aide, "things turned political."
HHS had quietly informed the Conference of Catholic Bishops' Migration and Refugee Services division on Sept. 30 that it was not renewing its grant. For five and a half years, the bishops had partnered with the federal government to coordinate foreign-born victims' services across the country — a program created under Congress' trafficking legislation. But now, department officials were citing new guidance, issued earlier in the year, stating a "strong preference" for grantees that would provide a comprehensive range of health services, including family planning and gynecological care.
Coming amid the swirl of controversy over another HHS rule requiring employers — religious or not — to cover reproductive health services such as contraception in their health plans, the termination of the bishops' trafficking grant heightened the sense among faith-based groups that they were under siege.
Republicans on the Hill seized on the episode as yet more evidence of what they saw as Obama's anti-religion agenda. The House Oversight Committee held two hearings in December on the "Politicization of Health and Human Services Department Grants."
In response, Smith introduced a new trafficking authorization bill Dec. 7 that added a conscience clause for religious groups and took the trafficking grants program out of HHS's hands entirely, shifting it over to the Justice Department. That measure has yet to be marked up.
'Not a Priority'
The Conference of Catholic Bishops and its GOP allies on the Hill have noted repeatedly that agency reviewers gave the conference's grant application the second-highest rating among four submitted in 2011.
"The bottom line is, everybody who applied got it except the incumbent" — the Bishops Conference — which was "at the top of the rating and dramatically higher than the two much less qualified," applicants Darrell Issa, the California Republican who chairs the House Oversight and Government Reform Committee, said at the panel's Dec. 1 hearing.
Pointing to those rankings, Smith declared at the same hearing that "if you are a Catholic or other faith-based [non-governmental organization] or a secular organization of conscience, there is now clear proof that your grant application will not be considered" under "a fair, impartial and totally transparent process by the Obama administration."
HHS officials have repeatedly defended the decision. "In looking at the scoring, it was my opinion that all of the applicants were qualified to administer the grant, which brought us to the decision of whether to apply the preference" for comprehensive reproductive health services, George Sheldon, acting assistant secretary of HHS's Administration on Children and Families, testified at the hearing. He noted that 70 percent of those trafficked to the United States are women and that 80 percent of those women are victims of sex trafficking, and thus likely to need gynecological treatment.
Culture Wars Claim Trafficking Law
But a Republican aide says that in meetings with nonprofit groups that assist trafficking victims, "all of them have told me abortion is just not a priority." And according to the Catholic Bishops Conference, its subcontractors used the money provided through the federal government to meet essential needs of victims, such as housing, food and medical services. When it came to reproductive services, "we were rarely, if ever, asked to cover those things," an official with the group said.
"This is about more than USCCB not receiving a grant," adds Kevin Appleby, director of migration policy and public affairs at the Bishops Conference. "It sets a dangerous precedent that could erode the effective partnership between faith groups and the government in serving the poor and vulnerable, both in the U.S. and abroad."
HHS has sought to counter the notion that it is anti-Catholic or anti-religious. "Over the last three years, we have awarded some $650 million to Catholic-affiliated organizations," Sheldon told the Oversight Committee. Rep. John F. Tierney, a Massachusetts Democrat, pointed out at the Oversight hearing that HHS awarded the bishops' conference a $19 million grant to help foreign refugees in America, just days after the department had rejected them for the anti-trafficking grant.
In March, a federal court in Massachusetts ruled against the bishops' and Republicans' arguments in a case that the American Civil Liberties Union brought against the department over the trafficking grants contract in 2009. The Bishop's Conference has appealed.
"No one is arguing that the USCCB can be mandated by government to provide abortion or contraceptive services or be discriminated against for its refusal to do so," U.S. District Court Judge Richard G. Stearns wrote in a note at the end of his ruling. "Rather, this case is about the limits of the government's ability to delegate to a religious institution the right to use taxpayer money to impose its beliefs on others (who may or may not share them)."
Most Advocates Back Senate Bill
Not only was health care a small portion of the services sought during the five-plus years that the Catholic group oversaw the $4 million grant, but the new three-year grant amounts to just around 4 percent of the roughly $300 million worth of funding authorized in 2011. Yet the issue has made the reauthorization so toxic that now, few leaders in the House or Senate want to touch the bill.
Anti-trafficking groups are for the most part keeping their support behind the bipartisan legislation in the Senate. Although six Republicans voted against that bill in committee, their objections largely revolved around costs and oversight, rather than reproductive rights, and anti-trafficking advocates are convinced they can reconcile most of those objections. The bill, however, has yet to receive a floor vote.
Advocates are not enthusiastic about Smith's proposal to move all domestic grant programs under HHS's jurisdiction to the Justice Department, saying that could result in victims' interests taking a back seat to those of prosecutors. Some, however, have indicated they would be open to the addition of a "conscience clause" like the one Smith included in his new bill, which bars discrimination against grant applicants that refuse to participate in certain activities due to religious or moral objections.
But although Democrats agreed to include a similar provision in a 2008 reauthorization of the President's Emergency Plan for AIDS Relief, there is little appetite to make the same concession this time around. With all the "war on women" talk circulating in Washington, and liberals on edge on the subject, the situation is "totally different now," one Democratic aide says.
Key House Republicans, however, aren't likely to back away from the Smith bill without concessions from HHS, or at least a recognition of how they believe the department mishandled the grant process. "I don't know how you move ahead without that acknowledgment," a GOP aide says.
An HHS spokesman declined to comment on any discussions with the Hill on the issue.
The one point of universal agreement: If Congress does not reauthorize the trafficking legislation, it would send a bad signal to policy makers in the United States and abroad and would weaken future funding requests.
Culture Wars Claim Trafficking Law
It would also mean that key updates to programs included in the latest bill would not be implemented — including measures to expand the State Department's partnerships with foreign governments and the private sector and new tools to combat child sex trafficking.
While lawmakers have begun looking at options to move pieces of the larger bill separately, Cory Smith said advocates would prefer not to "get into a piecemeal, patchwork solution."
The anti-human-trafficking law "is the underpinning and the architecture of our government's fight against trafficking," Smith says. And "in an era of debt and a lot of cutting, it's not good at all to have programs that aren't authorized for funding."
FOR FURTHER READING: Church groups and contraception, CQ Weekly, p. 288; 2008 PEPFAR reauthorization (PL 110-293), 2008 Almanac, p. 6-9; trafficking prevention law (PL 106-386), 2000 Almanac, p. 15-19. The House reauthorization measure introduced in December is HR 3589. The House reauthorization measure introduced in August is HR 2830. The Senate version is S 1301.