CQ WEEKLY – COVER STORY
April 28, 2012 – 10:18 p.m.
Fiscal 2013: Brave New Frugality
By Kerry Young, CQ Staff
Congress is at the beginning of a new era of penny-pinching.
In the past, budget-cutting efforts have been episodic and small by comparison. Beyond mere frugality, big reductions in the ordinary operating costs of government are now the order of the day.
Democrats are fighting to hold the line on next year's appropriations bills, a posture that would mean real reductions for many programs once inflation is taken into account. But that's not enough for many Republicans, particularly in the House. They are pressing for a third consecutive round of actual cuts.
The combination of deep resistance to higher taxes and the rising costs associated with the federal debt and the aging of baby boomers is putting lawmakers in a box where the only easy way to thin the budgetary red ink is by reducing spending that is euphemistically called "discretionary" on Capitol Hill.
The next budget year starts Oct. 1, but Congress has already signaled that it will wait to see the results of the November election before making a final call on how much to spend in fiscal 2013.
Each party intends to make an issue of spending in the coming campaigns. Republicans are touting their efforts to dismantle and weaken domestic programs that they contend are unnecessary at best and wasteful at worst, while seeking to soften the budgetary blow to the Pentagon.
Democrats are emphasizing that the government could protect many services and programs by raising additional revenue from wealthier Americans.
The election amounts to a public forum on "the role and size of government," says Jared Bernstein, a former economic adviser to Vice President Joseph R. Biden Jr.
And on that, conservative Douglas Holtz-Eakin agrees. "That's why this election is going to matter a lot," says Holtz-Eakin, a former director of the Congressional Budget Office and now an advocate for spending constraint in his role as president of the conservative American Action Forum.
But unless the election results in a significant — and at this point unlikely — change in the course of fiscal policy, the annual appropriations process will increasingly become what amounts to a street-by-street battle over what constitutes the country's fundamental needs.
Lawmakers agreed last August to set boundaries for annual appropriations over the next decade. That, in turn, will require them to start establishing more austere fiscal priorities in the spending bills that are just starting to move for the coming fiscal year.
In the past, Congress could often comfortably undo or ignore its budgetary controls after a few years. Now, lawmakers may find it necessary to mostly stick with them this time around.
Fiscal 2013: Brave New Frugality
As a consequence, budgeting for a rich and enviably prosperous nation suddenly demands more complicated policy choices than Congress has been accustomed to making. And current circumstances pose a risk, seen on both sides of the aisle, that lawmakers won't always make the right ones.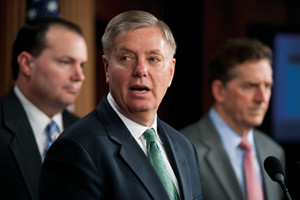 | | |
| --- | --- |
| LEFT BEHIND: Graham contends that other countries are gaining a commercial edge because of the United States' insufficient spending on port improvements. (BILL CLARK / CQ ROLL CALL) |   |
Plus, some lawmakers worry that the public doesn't fully understand what abstract calls to slash spending will mean to their lives some years down the road. Americans will still demand that Washington maintain the nation's defenses and guard the borders. They will count on the government to aid business in direct and indirect ways and to help educate and train the workforce. They will assume the nation stays on the leading edge of science and technology and remains competitive globally by preserving the network of highways, navigable rivers and ports.
The fear, though, is that those things will not be guaranteed in this era of new frugality, and that the country will pay a big price.
"Go to Shanghai, go to Hong Kong and other ports, go to Mideast ports, and we are 20 years behind," said Republican Lindsey Graham of South Carolina, a member of the Senate Appropriations Committee, during a February floor speech lamenting the ways that Congress considers spending bills, as well as its priorities.
Democrat Chaka Fattah of Pennsylvania, a member of the House Appropriations Committee, is even blunter in his assessment that other countries will continue to invest in such areas as research and infrastructure as America is tempted to stint. "We can't be a superpower on the cheap," Fattah says.
Not Like Before
The last time Congress made a serious bid to cut spending was in the 1990s, when many baby boomers — a cohort of roughly 78 million — were reaching their peak earnings potential and the economy was growing at a rapid pace. The collapse of the Soviet Union had made it easy to slow military spending, and a technology boom helped swell the reported value of retirement portfolios. That's all changed.
"Boomers are getting old, and the world's a dangerous place," says Holtz-Eakin. "We have not ever had to have this kind of discipline on a sustained basis before."
Today, with the oldest of the boomers past age 65, the country is paying off the cost of two wars fought in the aftermath of the Sept. 11 terrorist attacks. Many Americans still cope with the housing collapse. And even knowing that the tab for Medicare and Social Security is climbing, Congress has pushed the federal debt to a level last experienced at the end of World War II — where the total amount of government borrowing roughly equals the total yearly output of the U.S. economy, or about $15 trillion today in round numbers.
Bernstein says the country can afford to tax some citizens more to cover its bills, and thus spare the budgets of many agencies from stagnation and cutbacks. But he concedes that a bigger federal debt isn't a likely solution with the tea party movement still holding some sway.
"The demographics were baked into the cake long ago," says Bernstein, a senior fellow at the liberal Center on Budget and Policy Priorities. "It's a matter of political will, of whether we have the maturity to face reality and take the steps needed to meet the obligations of the entitlements in a balanced manner."
Fiscal 2013: Brave New Frugality
So, without a big increase in revenue, Congress looks to trim spending. The richest targets are programs that Congress either has put on legislative autopilot, such as Medicare and Social Security, or addresses only twice or so a decade, such as food and farm benefits. These so-called mandatory spending programs cost about $2 trillion a year, or roughly two-thirds of federal spending. But for political as well as technical reasons, they are hard to reach.
Instead, lawmakers have picked on the $1 trillion in annual discretionary spending to bear the brunt of cuts required by last August's debt limit increase law.
It's a two-step process, starting with strict annual caps on spending followed by an automatic spending "sequester" that will subtract roughly $100 billion more each year over the next decade. Those cuts must be sorted out through annual appropriations.
Lesson From Space
The future of NASA's manned space program is a test case for this new frugality.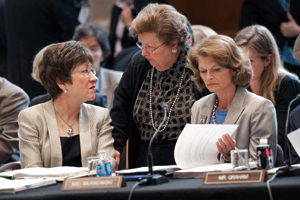 | | |
| --- | --- |
| AT RISK: Self-styled 'space senator' Mikulski, center, worries that a lack of commitment to space endeavors threatens the country's economic future. (CHRIS MADDALONI / CQ ROLL CALL) |   |
Congress has tried in recent years to spur competition among private engineering companies to drive down the cost of space travel. It halted the shuttle program in 2011 and has left NASA reliant at least for the next few years on Russian spacecraft to get American astronauts to the International Space Station.
Capitol Hill got a stark reminder of the potential drawbacks to this approach on April 17, when the shuttle Discovery was ferried on the back of a Boeing 747 three times around the dome on its way to retirement at a Smithsonian museum. The spectacle, which captivated Washington, came just hours before Senate appropriators unveiled their first fiscal 2013 spending bill, coincidentally the one that finances NASA and other science programs.
"After the excitement of the day's events died down, we are reminded that the Discovery flyover was more a funeral procession than a celebration," wrote F. James Sensenbrenner Jr., a Wisconsin Republican and member of the House Science, Space and Technology Committee, in an editorial. "NASA has no domestic replacements ready to fly."
Congress has already required NASA to push back the target date for transition to private astronaut transport by two years to 2017 because of a money shortfall. The space agency received $406 million for commercial spaceflight in fiscal 2012, less than half the amount requested. And the budgetary outlook isn't very much brighter for fiscal 2013.
The Senate's fiscal 2013 spending bill for NASA would provide $525 million for commercial spaceflight, far less than the $830 million requested. House appropriators so far have suggested only $500 million.
This relative stinting on commercial spaceflight is happening even with NASA's budget under the watch of one of its biggest fans, self-described "space senator" Barbara A. Mikulski of Maryland. Mikulski has been the top Democrat on the Commerce-Justice-Science Appropriations panel since 1989. As Congress moved NASA toward commercial space transport in 2007, she urged her fellow lawmakers to shorten the time the United States would need to "rely on the kindness of allies" to get into space. "Our national security and our national honor depend upon it," she said.
NASA must compete for budget dollars, Mikulski observed last year in a speech on the 50th anniversary of President John F. Kennedy's call to send a man to the moon. "America is no longer in a space race," Mikulski said. "We're in a race for our economic future."
Fiscal 2013: Brave New Frugality
Beyond NASA and manned space flight, the fiscal 2013 spending battle cuts to the government's role in scientific research writ large.
The House-approved budget written by Wisconsin Republican Paul D. Ryan would trim much science support, although sparing research and development money slated for the Pentagon. Some House conservatives say companies will fill the gap if the government withdraws some of its support for science. But that rings false to Sen. Mark Warner, a Virginia Democrat and former venture capitalist who made millions of dollars through investments in telecommunications companies.
Basic research is simply too risky an enterprise for companies, which are founded with the intent of generating a profit for their shareholders, Warner says. Cutting federal research dollars would put the United States at a disadvantage, especially with many countries continuing to invest despite hard times.
"It's bad business and bad policy, this 'short-termism' that only looks to the next election cycle," Warner says.
Congress also has powerful Republicans with a strong commitment to research, including Frank R. Wolf of Virginia, chairman of the House Commerce-Justice-Science Appropriations Subcommittee. Wolf wants to boost the National Science Foundation's fiscal 2013 budget by $299 million to $7.3 billion, topping a $240 million increase sought by Mikulski, his Senate counterpart.
Lamar Alexander of Tennessee, a senior Senate GOP appropriator, says government was the driver of the basic science underlying major breakthroughs in biology and the physical sciences, including ones that have helped the U.S. natural gas industry surge.
"We want the Googles grown here and not some other place," Alexander said last week during debate over fiscal 2013 spending.
Bumpy Road
Alexander is an ardent advocate of Congress taking a more orderly approach to federal spending. He led a polite floor protest in February to demand that the Senate return to its old habit of considering the dozen annual bills that finance the government individually and in a timely way — and not as some year-end omnibus passed in a crisis atmosphere.
The Senate has voted on only one such bill since 2010, and this inaction has contributed to the large multibill spending packages routinely used to complete appropriations.
Congress almost certainly will turn to this megabus approach again for fiscal 2013, with a December finish being the most optimistic guess on timing. It's unclear yet how many fiscal 2013 stand-alone spending bills will reach the floor of the House, which last year passed six of them. Congress finished its fiscal 2012 appropriations Dec. 17 with a nine-bill package that provided more than $900 billion.
This process damages the reputation of Congress and leads to poor decisions, said Graham, who joined Alexander's bipartisan floor protest in February. Had the Senate considered a stand-alone Energy-Water bill, for example, it would have had a chance to advance a strategy for modernizing the nation's ports, Graham said.
Fiscal 2013: Brave New Frugality
"If we keep continuing to appropriate in the last week of the session in a bill that nobody reads, not only will our fellow citizens think poorly of us, we won't have a vision," he complained.
Outdated ports are only one reason the nation earned a "D" in the most recent American Society of Civil Engineers' report card on infrastructure. For many years, Congress hasn't provided adequate money for roads, public transit, dams or inland waterways, the engineers' group said.
There is strong bipartisan support among Senate appropriators to give the Transportation Department almost $300 million more for fiscal 2013 to meet some of those needs. Patty Murray of Washington, the No. 4 Senate Democrat and chairwoman of the Transportation, Housing and Urban Development Appropriations panel, has said skimping on infrastructure "simply turns a budget deficit into an infrastructure deficit" that ends up costing Americans in other ways.
Yet the Transportation Department isn't getting quick help from Congress in terms of marching orders or cash. As will most agencies and departments, it is likely to spend the first three months of fiscal 2013 operating under stopgap funding that neither sets new priorities nor establishes a real budget.
Moreover, the department is waiting for Congress to complete an overdue reauthorization of the law that finances many road and bridge projects. Congress has passed nine short-term extensions of the 2005 highway bill, which expired in 2009, and negotiations have only begun to replace that law.
The eventual outcome for the highway bill may serve as an indicator for how well Congress will do with its fiscal 2013 spending bills, says Jim Dyer of the Podesta Group, a former House GOP Appropriations staff director. Both appropriations and highway bills were easier to pass before an informal ban on earmarks arose in Congress, Dyer says.
Former Senate Majority Leader Tom Daschle, a Democrat from South Dakota, also sees the current austerity drive and associated earmark ban complicating efforts to enact appropriations and other bills.
"Members of Congress have lost personal interest in a lot of legislation because they don't feel invested anymore," Daschle says.
Defending Defense Dollars
One pocket of federal spending continues to attract broad and deep interest across the political spectrum, and that's defense. It's fairly rare to find a lawmaker who doesn't have a well-developed view on how much money should flow to the Pentagon.
Conservatives in both chambers are fighting to protect the Defense Department from the automatic sequester scheduled to take effect next January. Liberals are pushing just as hard to make sure that the Pentagon shares in the pain as rising entitlement costs crimp other federal spending.
Defense consumes roughly half of all discretionary appropriations. Senate appropriators intend to give the military and related activities $511 billion next year, not counting the direct costs of the war in Afghanistan. Their House counterparts have set aside $519 billion for base defense spending.
There may be a drawing back in what Americans expect their military to do in a time of more austere budgets, says Michael Mandelbaum, a professor at Johns Hopkins University in Maryland and the author of the 2010 book "The Frugal Superpower: America's Global Leadership in a Cash-Strapped Era."
Fiscal 2013: Brave New Frugality
The nation will be far less likely to get involved with conflicts in which there is not an immediate and apparent threat to the United States, Mandelbaum predicts. Border security may take precedence over operations further away, he says. "People will care a lot more about Mexico than Afghanistan."
There's already a weakening in what the United States is willing to spend on conflicts close to its borders. Experts on Latin America say the United States invested more than $8 billion since 2000 in helping Colombia fight drug-related crime, an effort that advocates say paid off in having a far more stable neighbor, albeit one whose capital is more than 1,500 miles from Miami.
In this time of spending constraint, however, the United States appears to be skimping on partnerships with countries much closer to its shores, even as narcotic-related crime moves into those nations.
Appropriators from both chambers have targeted the State-Foreign Operations bill for spending cuts next year. President Obama offered at least one easy target for savings by proposing to cut almost a third from the combined budget for drug-crime initiatives in the Caribbean Basin and Central America.
At a March hearing, an official who oversees efforts to control the international drug trade said the State Department has "a challenge" for fiscal 2013 in terms of controlling drug traffickers.
"We're squeezing the balloon very hard in Mexico, and what is happening is that they are moving to Central America. It doesn't take a genius to realize that is what is happening," said William R. Brownfield, who leads State's Bureau of International Narcotics and Law Enforcement Affairs.
"The extent to which we do not put resources into Central America is the extent to which we are punishing ourselves in years to come," he said.
Brownfield's is a common refrain — echoed by those concerned about science, education, infrastructure and even defense. In this era of new frugality, the appropriators on Capitol Hill are having to take a fresh look at everything they do.
What's Next in the Appropriations Process
The House and Senate Appropriations committees have begun work already on the 12 regular spending bills for the fiscal year that begins Oct. 1. A few of those bills may see floor votes in coming months, but final action isn't expected on any of them — or the more likely multi-bill omnibus package — until after the election.
Many decisions about the shape of the bills will fall principally to the four dozen men and women who serve as the top Democrats and Republicans on the Appropriations subcommittees in each chamber. They and their fellow appropriators — 30 senators and 50 House members in all — will, in open meetings and behind closed doors, hash out the details for each line item in each bill.
On the stories linked at right are descriptions of each subcommittee's jurisdiction, a glance at the most recent actions for each bill and the outlook for how decisions might evolve this year. The summaries show appropriations for base programs for each bill for fiscal 2012, the president's budget request for fiscal 2013, and the House and Senate subcommittee allocations for fiscal 2013.
Those allocations are critical because they determine the maximum that each subcommittee can appropriate without taking extraordinary steps. But because the House and Senate are starting with different spending totals for the year, many or most of these figures will change as compromises are negotiated.
Fiscal 2013: Brave New Frugality
FOR FURTHER READING: Fiscal 2013 appropriations under way, p. 878; fiscal cliff ahead, CQ Weekly, p. 800; August debt limit law (PL 112-25), 2011 CQ Weekly, p. 1736; fiscal 2012 appropriations, p. 1118.