CQ WEEKLY – VANTAGE POINT
May 5, 2012 – 12:44 p.m.
Judges Give Tester High Marks
By Shawn Zeller, CQ Staff
Jon Tester says he has "established a standard for transparency and ethics in his offices that is unmatched in Congress," and he wants Montanans to send him back for a second term in the Senate this November because of it. But as it turns out, the Democrat bases his claim in large part on an office policy manual that he won't release to the public.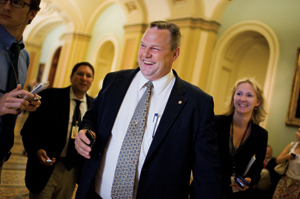 | | |
| --- | --- |
| CHECK ME OUT: Three times since 2007, Tester has asked retired Montana judges to review his office ethics; they praise his rules. (TOM WILLIAMS / CQ ROLL CALL) |   |
Tester's likely Republican opponent, at-large Montana Rep. Denny Rehberg , says Tester needs to do more to explain why voters should accept his claims to ethical leadership.
Tester does release his code of ethics, a separate document that details when his staff members may accept gifts and honors, and on three occasions Tester has asked different retired Montana judges to look at the more detailed policy manual. Last month, he released the latest review, by former Montana Supreme Court Justice W. William Leaphart. "I have no reservation in concluding that Sen. Tester is conducting the affairs of his public office with appropriate transparency," Leaphart wrote.
Leaphart praised portions of the policy manual aimed at limiting lobbyist influence, including a ban on former employees lobbying Tester's office for three years and a total ban on gifts from lobbyists and their employers. Leaphart notes that Tester takes that ban so seriously that he directed a staff member to write a $35.95 check to the Treasury after the staffer unwittingly ate salmon and onion rings and drank red wine in violation of the ban.
Montana judges are chosen in non-partisan elections, but Leaphart is sympathetic to progressive causes, according to the Democratic Judicial Campaign Committee, which supports Democrats running for judgeships.
Tester's spokeswoman, Andrea Helling, says she knows of no other member of Congress who conducts such reviews and that her boss "takes a lot of pride" in his rules. The judges who have reviewed them weren't paid.
Still, Leaphart's findings aren't shielding Tester from criticism by Rehberg. His campaign spokesman, Chris Bond, says "Tester has a hypocritical record of saying one thing in Montana, then doing the opposite in Washington." Bond cites Center for Responsive Politics research that has Tester at the top of a list of members of Congress taking campaign contributions from lobbyists.
And while the 2010 ethics review was mostly positive, Tester did take some criticism from Gordon R. Bennett, a former Montana district court judge. Tester won't allow anyone in his immediate family to lobby his staff, but Bennett argued that Tester should prohibit entirely his staff members from meeting with the spouses of senators who are lobbyists. "It is enough for the members and their staff to be beset on every hand by lobbyists; it is not and should not be acceptable that they sleep or live with them," Bennett wrote.