CQ WEEKLY – IN FOCUS
May 5, 2012 – 1:37 p.m.
Watching What You Watch
By Ambreen Ali, CQ Staff
Social media were nowhere in sight in 1987, when revelations about Supreme Court nominee Robert Bork's video rentals spurred a public outcry and a new privacy law. Twenty-five years later, an effort by Netflix to update that law is forcing Congress to confront difficult questions about privacy in the digital age.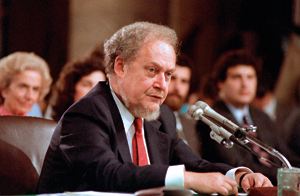 | | |
| --- | --- |
| THE 'BORK LAW': After Supreme Court nominee Robert Bork's movie rentals were disclosed in 1987, Congress passed legislation barring the release of such information without consumer consent. (CHARLES TASNADI / AP) |   |
Amid the debate over Bork's nomination, a story in the Washington City Paper about his viewing habits actually revealed nothing risqué: It described him as a "PG-to-G sort of fellow" who liked to rent mystery movies and James Bond thrillers. Still, many found the disclosures unsettling.
"The fact that I was able to obtain those records really startled a lot of people," recalled Michael Dolan, who wrote the piece. "There was a kind of groundswell. Then Congress passed the law."
Support was so resounding for the Video Privacy Protection Act of 1988 that it passed both chambers by voice vote. Long since referred to as the "Bork Law," it requires "videotape service providers" to limit access to consumers' rental records, even by law enforcement agencies. Companies have to request consumers' permission each time they seek to disclose personal data.
The law created a one-of-a-kind protection that does not exist for other types of content, such as music or books, in today's Internet age. Now Netflix, which rents DVDs and streams movies and television shows online, wants to amend the law so that it can seamlessly share on social networking sites information about what customers are watching, a feature the company says users want.
A 150-word bill to make that change breezed through the House with bipartisan support last year after a big lobbying push by Netflix. But the legislation has stalled in the Senate. In the absence of movement of broader Internet privacy proposals, some senators have latched onto the dated video law as one way to protect consumers and their information online.
"A lot of members are clinging to the VPPA because they don't want any privacy law repealed," said Christopher Wolf, privacy director at the law firm Hogan Lovells.
Although the Netflix bill would apply only to a small subset of e-commerce, it has sparked a debate over whether the notion of privacy has changed in the more than two decades since the original law was enacted.
At a Senate subcommittee hearing earlier this year, Democratic Rep. Melvin Watt of North Carolina referred in his testimony to "the challenges we confront as a society in determining the so-called 'new normal' for privacy expectations in the digital age."
'Automatic Sharing'
Many consumers appear eager to share information about themselves through social networks. The Washington Post now offers to automatically post the news articles that users read to their Facebook profiles. The music application Spotify, which shares information about customers' listening habits, grew rapidly through social networks.
Watching What You Watch
"For many people, automatic sharing and social media is how they shape their online identities," Wolf said at the same Senate hearing.
Netflix, however, has been constrained by the consent requirements in the 1988 video law. The company would have to ask U.S. customers for permission to share each time they sat down to watch a movie or TV show. Absent such restrictions elsewhere, Netflix has offered a sharing tool to customers in Canada and Latin America, where it is popular.
"It creates a better discovery engine for people to discover content they love on Netflix," said Christopher Libertelli, the company's head of government relations. "The more barriers you put in front of people sharing, the less they share."
Netflix has fought hard for a legislative fix that would allow it to share data after receiving one-time consent from customers, the general standard for other forms of content.
"The larger conversation should be how do we treat all of this personal information on the Web," Libertelli added.
The financial stakes are high for Netflix, given the popularity of social networks and their potential to help companies reach new customers and increase profits, but especially so after a recent lawsuit. In February, Netflix paid $9 million to settle a class-action case that accused it of violating the Bork Law by keeping years-old rental records of former customers on file.
To prevent further litigation, the company has turned its focus on Washington. It spent $500,000 on lobbying last year, up from $20,000 just two years prior; formed a political action committee earlier this year; and hired lobbying firms to work on changing the law.
Its efforts succeeded in the House, which voted overwhelmingly in December for the bill sponsored by Virginia Republican Robert W. Goodlatte to require only one-time consent for the sharing of video rental data. Goodlatte said the legislation "modernizes" the old law, and he received support from Democrats who represent technology hubs, including California Reps. Anna G. Eshoo, Doris Matsui, Henry A. Waxman and Zoe Lofgren.
"This is not a violation of anybody's privacy," Lofgren said. "It's an opportunity for people to move into the digital world."
'A Model Statute'
Yet the video law seen as antiquated by some has been upheld as model legislation in the Senate. Its proponents acknowledge that the law is an anomaly, but they have also kicked off a debate over whether it should, in fact, be the norm.
At a hearing of the Judiciary Subcommittee on Privacy, Technology and Law in January, Chairman Al Franken called for the expansion of the 1988 law to ensure that it applies to Web streams as well as hard-copy video rentals.
"I've seen a lot of people talking about the law like it was some kind of relic," the Minnesota Democrat said. "You probably don't care if people know that you watch some summer blockbuster. But if you're suddenly having trouble with your marriage and you're trying to get help, you might not want your friends and relatives to find out that you've been watching videos about marriage counseling or divorce."
Watching What You Watch
Franken, who has met with Netflix representatives since the hearing, said he plans to use the information he has gathered to revise the video law "in order to protect the privacy of consumers who use Netflix or other Web-based video services."
Senate Judiciary Chairman Patrick J. Leahy of Vermont, who introduced the original 1988 law with Iowa Republican Charles E. Grassley, focused on the larger privacy debate during the January hearing.
"It might be simpler for some if we had no privacy protections, if we had no antitrust protections, we had no consumer protections. It'd be simpler for some, but it certainly wouldn't be better for Americans," Leahy said.
With little progress made on sweeping privacy legislation — including a bipartisan bill introduced by Democratic Sen. John Kerry of Massachusetts and GOP Sen. John McCain of Arizona more than a year ago — the Netflix bill has become an avenue for senators to advance the overall discussion.
Sen. Tom Coburn, an Oklahoma Republican, said the Netflix debate boiled down to whether Congress should "err on the side of privacy, or should we err on the side of commerce."
Coburn questioned whether it makes sense for the default to be a world in which information is shared and privacy sought out, a concern echoed by privacy proponents.
Christopher Calabrese, counsel for the American Civil Liberties Union, called the Bork law "a model statute" that should be applied more broadly on the Web. He emphasized that it allows consumers to share personal information on a case-by-case basis.
"It just prevents them from mindlessly sharing it," Calabrese said. "Do people really want that? Is that the default they want?"
Just an Appetizer
That's a question Congress will have to tackle as the privacy debate advances, according to William McGeveran, a University of Minnesota Law School professor.
"There's nothing that says that the ideal default, without any law existing, is when I watch a movie, my friends find out. That's not the normal state of the universe. The normal state of the universe is my friends find out if I tell them," McGeveran said. "They want to change the universe."
He called the Netflix debate "an appetizer," noting that Congress is delving into Internet privacy issues on many fronts.
Democratic Reps. Eliot L. Engel of New York and Jan Schakowsky of Illinois recently introduced a bill to prevent employers and schools from requiring user names, passwords or other access to a person's online content.
Watching What You Watch
The Senate Commerce, Science and Transportation Committee also announced hearings on recent privacy proposals by the Obama administration and the Federal Trade Commission. Both called on Congress to pass a baseline privacy bill.
"Almost everyone agrees that you should be able to disclose information if you consent. The question is what is the meaning of consent," said David Jacobs, consumer protection fellow at the Electronic Privacy Information Center. "It's not just about your video viewing history. . . . These issues will keep surfacing."
FOR FURTHER READING: House bill (HR 2471) passed, 2011 CQ Weekly, p. 2607; video law (PL 100-618), 1988 Almanac, p. 120.