CQ WEEKLY – IN FOCUS
May 5, 2012 – 1:47 p.m.
Job Retraining Not Doing the Job?
By Micheline Maynard, CQ Staff
With the economic recovery still shaky and the rate of unemployment stubbornly high, federal funds for job retraining programs might seem to be untouchable.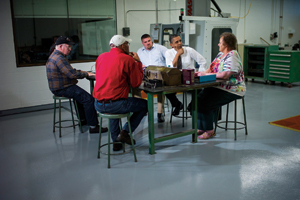 | | |
| --- | --- |
| ON SCENE: Obama talks with the students he cited in an April 18 speech at a community college in Ohio. 'We've got to do a better job training more people for the skills that businesses are looking for,' he said. (BRENDAN SMIALOWSKI / AFP / GETTY IMAGES) |   |
But that lack of a rebound in the economy is a major reason why retraining, also known as workforce development, is coming under increasing scrutiny. Skeptics are asking whether the government programs are effective — or accountable to anyone.
The wake-up call for retraining programs came in 2011, in a one-two punch from House Republicans and the General Accounting Office, which both questioned whether the billions of dollars spent each year to help the unemployed are being properly used.
As a result, advocates for retraining programs, including President Obama, are being put on the spot, facing the possibility that these efforts could be curtailed or even eliminated as Congress seeks ways to cut the budget.
On April 18, Obama used an appearance at Lorain County Community College in Elyria, Ohio, to argue in favor of sustaining the programs.
"I meet business owners all the time who want to hire in the United States, but they can't always find the workers with the right skills," Obama said.
Surrounded by men and women enrolled in the school in an effort to find new jobs, Obama went on: "You've got growing industries in science and technology that have twice as many openings as we have workers who can do the job. That makes no sense — openings at a time when there's still a lot of Americans, including some on this stage, who are looking for work. So we've got to do a better job training more people for the skills that businesses are looking for."
But in the current fiscal atmosphere, the president's support does not provide a shield for state and local workforce training programs.
Across the United States, these programs recognize the problem, and they are setting out to find new ways to measure the return on investment of the assistance they provide, hoping to justify their existence and head off more attacks.
"We need to start talking about the labor market and connecting people with the jobs that they're ready for and have the skills for, and making sure that they get trained for the jobs that are out there," says Annike Crapuchettes, a consultant with Economic Modeling Specialists Inc., which advises state and local workforce boards.
The firm has created a scorecard, used by officials in Michigan and elsewhere, that goes beyond the usual factors used to rate the effectiveness of job training programs — namely whether workers were actually hired.
The scorecard looks at the long-term impact those people will have on the economy, assuming they stay in their jobs.
Job Retraining Not Doing the Job?
While no one in the labor movement questions the need for accountability, the prospect of seeing so much pressure on programs meant to help the unemployed is grabbing the attention of some academics.
"Imagine a 52-year-old, high school- educated welder who started working at 21, and he's a damned good welder, and they close the operation. What is this guy supposed to do, become a medical technician?" said David Gregory, professor of labor law at St. John's University Law School in Queens, N.Y.
Of course, as long as industrial America has existed, there has been a need to retrain workers who lost their jobs when old ways of business went away and automation took hold. The nation's first major 20th-century effort at retraining came during the Great Depression, through programs such as the Civilian Conservation Corps, the Public Works Administration and the National Youth Administration, all intended to put people back to work, at least temporarily.
Postwar Solutions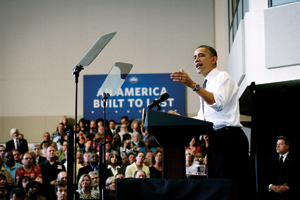 | | |
| --- | --- |
| Obama (MICHAEL FRANCIS MCELROY / GETTY IMAGES ) |   |
After World War II, President Harry S. Truman signed the sweeping Employment Act of 1946, intended to rev up the sluggish economy and provide work for returning veterans. A generation later, President John F. Kennedy signed the Manpower Development and Training Act of 1962, designed to help railroad workers and others whose jobs were disappearing.
In the 1970s and 1980s, Presidents Jimmy Carter and Ronald Reagan instituted programs to help automobile and steel workers, among others, who lost their jobs because of the economy and foreign competition.
Formal funding for job training as it is currently constituted is a result of the Workforce Investment Act, created during President Bill Clinton's administration in 1998. It funds 550 state and local workforce boards across the United States that administer programs for the unemployed. Additional programs have been added to the mix, like those contained in the stimulus bill approved by Congress in 2009.
But the Government Accountability Office (GAO), in its report last year, found that measuring workforce spending was vastly inconsistent. It examined the 47 programs under the scrutiny of nine federal agencies, with a collective budget of $18 billion. (Not all of the programs are for retraining of workers who have lost their jobs. The funding also includes projects to help the disabled, American Indians and the Temporary Assistance for Needy Families program.)
"Little is known about the effectiveness" of these programs, the GAO report said. Almost all the federal programs overlapped in some way, it added.
And, although nearly all the programs measured results in some way — such as keeping track of whether participants got jobs, kept jobs or earned more than in the past — only five of the 47 programs had conducted studies to determine whether the program itself was the reason why or whether some other factor might have been involved.
That critical GAO report spurred two attempts by House Republicans in 2011 to eliminate $2.2 billion in spending for employment retraining programs in the Labor Department budget. The money ultimately was protected, but the issue is back on the table this year.
In March, House Republicans introduced a new measure that would reauthorize the Workforce Investment Act. But it would keep overall funding at its current level instead of raising it by $8 billion, as Democrats are seeking.
Job Retraining Not Doing the Job?
Under the Republicans' proposal, funds for retraining programs would be given to states as a block grant, instead of going through federal agencies, and local workforce boards would be required to have more business executives.
Rep. George Miller of California, a leading Democratic voice on labor issues, says members of his party would fight any efforts to block more retraining money, saying there was "much more work to be done" to help the unemployed.
Amid that atmosphere, state and local agencies are seizing upon ways to prove the value of retraining programs to the taxpayer. One such effort took place at the South Central branch of Michigan Works, the state's job development agency.
Programs that served 2,932 adults and young people in Jackson, Lenawee and Hillsdale counties in 2009 used a scorecard devised by Economic Modeling Specialists. Of that number, 285 people found jobs. The agency estimates that over 10 years, they will generate $1.22 for every dollar that was spent on a jobs program.
That $1.22 is far greater than the rule of thumb for programs aimed at helping dislocated workers, says Crapuchettes of Economic Modeling Specialists.
Many retraining programs return only 50 cents on the dollar, she says. "Since their job is lost, it's not easy to find a job with equal pay or higher pay in the same economy," she says.
Thus far, seven out of the 550 workforce programs have adopted a similar scorecard, Crapuchettes says, including programs in Michigan, eastern Kentucky and the Virgin Islands.
On-the-Job Training
A return on investment of $1.22 per dollar and a 10 percent re-employment rate seems like a low return in comparison with the rhetoric that accompanied the programs' start. So the business community is rethinking the nature of job training.
Instead of allocating funds to the workforce boards, there is increasing talk of providing retraining money to individual employers with job openings so they can hire workers with the potential to learn the skills they need to do those jobs.
This shift from workers to businesses is a marked change in the philosophy behind job retraining programs.
For years, the emphasis has been on encouraging the unemployed to figure things out for themselves, with federal money available for those who want to chart a new path.
Sometimes, unions and companies have become involved. Since the 1980s, contracts between the United Automobile Workers and the Detroit auto companies provided tuition assistance for workers who wanted to take classes or earn a specialized degree.
Job Retraining Not Doing the Job?
Workers laid off when factories closed received job counseling and financial assistance to find new careers, but there was little emphasis on making sure those workers were channeled into something that might be effective. As a result, many required months and years to find new work, and many had to settle for positions that paid much less than their previous jobs did.
"The guys who can take a car apart and put it back together in 30 minutes have tremendous talent. These guys have been so sucker punched — they know jobs are out there," says Gregory at St. John's University.
Many experts believe the mismatch between ability and job openings is a main reason why the unemployment rate has remained high in industrial states, where employers complain that they can't find skilled workers even though so many people are looking for work, as Obama noted in his Ohio speech.
Labor Secretary Hilda L. Solis has "a golden opportunity" to address the issue of jobs and accountability, Gregory says, but he does not think conventional retraining methods should go on much longer.
"They're breaking peoples' hearts," Gregory says. "They go through two years of classes to come out and find that there are no jobs."
'Just Common Sense'
A complete overhaul of the retraining model isn't likely without direction from Washington, participation from workforce agencies and ingenuity on the part of people who are trying to put their lives back together.
While speaking at Lorain County Community College, Obama ticked off a list of people who were attempting to make the transition.
He spoke of Duane Sutton, laid off from a packaging company, who was learning how to operate high-tech machinery; Andrea Ashley, who lost a job as a human resources specialist but was earning certification in medical records; David Palmer, a truck driver and Marine who wanted a higher-paying job; and Bronson Harwood, laid off two years back and now attempting to learn machining.
"What's the better way to make our economy stronger?" Obama asked. "Give more tax breaks to every millionaire and billionaire in the country, or make investments in education and research and health care and job training — make investments in Bronson and Duane and Andrea and David and put folks back to work? This is just common sense," he says.
But the president also gave a nod to the debate roiling over retraining programs and the crisis that many workforce agencies now face.
"People understand government is not all the answer, and if they see taxpayer money wasted, that makes them angry. They know the government has got to be lean and mean and do smart things," he said.
Micheline Maynard is a freelance writer in Michigan and senior editor of Changing Gears, a radio and Web project that examines the industrial Midwest.
Job Retraining Not Doing the Job?
FOR FURTHER READING: Funding, CQ Weekly, p. 869; job programs, p. 640; stimulus funding (PL 111-5), 2009 Almanac, p. 7-3.