CQ WEEKLY – IN FOCUS
May 12, 2012 – 12:14 p.m.
Can Lawmakers Sell Liability-Free Gas?
By Geof Koss, CQ Staff
Even "the hammer" — at the height of his clout in the mid-2000s — couldn't protect makers of the fuel additive MTBE from a barrage of lawsuits over groundwater contamination. Texas Republican Tom DeLay, then the House majority leader, was among the powerful lawmakers who came up short in an effort to enact a "safe harbor" provision that would have voided product liability claims over the substance methyl tertiary butyl ether. Without a shield from liability, mounting litigation fears and later policy shifts ultimately led to a phaseout of MTBE from U.S. motor fuel supplies.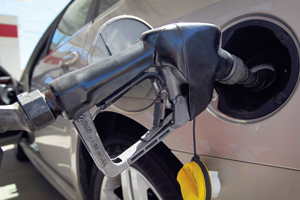 | | |
| --- | --- |
| WHO'S RESPONSIBLE? Gas station owners worry about lawsuits if a consumer uses the wrong fuel. (JOE RAEDLE / GETTY IMAGES) |   |
MTBE's loss was a huge win for producers of a competing fuel additive: ethanol. The ethanol industry has grown steadily since Congress enacted a renewable-fuels standard in 2005 that requires a growing percentage of biofuels to be blended with gasoline. Ethanol makers won a more recent victory last year, when the EPA allowed ethanol content in gasoline to increase from 10 percent to 15 percent.
But that latest triumph has triggered new demands by manufacturers, distributors and retailers of ethanol and other advanced fuels for the kind of liability protection that MTBE producers couldn't get almost a decade ago. While the higher ethanol blend was approved only for use in newer engines, the action has raised a host of tricky legal questions about liability for damage to automobiles or leakage from underground storage tanks.
Underlying the dispute is the same question at the heart of the MTBE fight: Who should be legally responsible for the effects of a product mandated by the federal government? Like the MTBE producers a decade ago, affected industries maintain that they should receive broad legal protection from Congress if they are selling a product that must comply with specific government standards.
"Common sense would dictate that if I follow the rules, I shouldn't be held liable," says John Eichberger, vice president of government relations for the National Association of Convenience Stores and a veteran of the earlier MTBE fight.
Legal 'Morass'
New House and Senate legislation would shield gas station operators and others involved with manufacturing and distributing fuels such as ethanol from defective product claims. But consumer advocates and trial lawyers say protection from product liability claims would upend the fear of litigation that keeps companies from bringing potentially dangerous products to market.
"We have never seen a consumer product get this extreme level of immunity," says Linda Lipsen, head of the American Association for Justice, a trade group for trial lawyers that is mobilizing opposition against the bill. Among the odd mix of interests opposing the measure are the pro-market Americans for Prosperity, a small-government group linked to the conservative Koch brothers, the liberal environmental group Greenpeace and the National Chicken Council.
Also opposing the legislation is the National Conference of State Legislatures, which says it would undercut long-established state powers. "We believe that this entire bill infringes upon the common-law police power of the state to protect the health, safety and welfare of its citizens," says Susan Frederick, the group's senior federal affairs counsel. "It is extremely troubling."
Supporters of liability protection contend that it is necessary to address legal questions raised by the EPA's decision to allow, conditionally, the use of E15 gas, as it is known. The approval covers only light-duty nonroad vehicles beginning in the 2001 model year and does not extend to small engines like those in boats and lawn equipment. This limited approval has raised concerns about the prospects of litigation over engine damage, particularly in cases where the fuel is accidentally used in older vehicles or small engines.
"The practical result of EPA's auction has been that a morass of pending legal liability and uncertainty have frightened the market and complicated the supply chain's ability to provide a means of delivery for new fuels," Rep. John Shimkus, an Illinois Republican, said last month at a hearing on the liability protection bill he wrote.
Can Lawmakers Sell Liability-Free Gas?
The measure aims to calm legal fears by barring lawsuits against anybody in the transportation fuel supply chain who complies with applicable regulations when producing, distributing and dispensing fuels approved by the EPA. Bob Dinneen, the head of the Renewable Fuels Association, praised the "simple premise" underlying the measure, saying businesses that comply with the standards "should not have to be concerned about defending meritless lawsuits."
The convenience store group's Eichberger says the bill would provide gas station owners with peace of mind, knowing that they would not face liability if a consumer accidentally fills a vehicle with the wrong fuel — in spite of the EPA regulations for preventing so-called misfueling. In addition to fears of voiding engine warranties, he notes that service stations faced fines for Clean Air Act violations in the 1970s when lead was phased out of gasoline.
"People were sticking funnels in their cars, they were taking bottle openers and prying open their fill pipes in order to get lead in their vehicle," Eichberger says. "EPA fined retailers for letting that happen."
Critics of the Shimkus bill acknowledge there are legitimate legal questions surrounding the implementation of the renewable-fuel standard, which Congress expanded in 2007. But they note the measure goes far beyond E15, essentially granting immunity to all fuels approved by the EPA.
That would make the EPA the arbiter for declaring a product safe for consumer use, even though the agency's review of new fuels is limited to their potential for air emissions and does not consider other potential health, environmental or safety effects.
Henry A. Waxman of California, the top Democrat on the House Energy and Commerce Committee, said the bill would provide immunity for the 1,500 registered fuels and 7,500 additives currently approved by the EPA, some of which he said have been kept out of commerce by oil companies because of concerns about groundwater contamination.
"We don't know on this committee the facts for each of these 9,000 fuels and fuel additives," Waxman said at the hearing on the Shimkus proposal. "But under this bill, oil companies can now use them with impunity."
Competing legislation by Rep. Charlie Gonzalez, a Texas Democrat, would allow damage suits over ethanol use solely against the federal government. Texas Republican Lamar Smith, chairman of the House Judiciary Committee, is also said to be writing a narrower liability bill addressing E-15 liability. A spokeswoman for Smith declined to comment on the issue.
Eichberger says broader liability protection makes sense, given that new and cleaner blends are expected to be brought to market more frequently to meet the requirements of the renewable-fuel standard.
"Whenever a new fuel comes to market, there's going to be constituents concerned about its effect on different things, whether it's the environment, whether it be on engines, whether it be on public health and safety, and I think the burden of evaluating the effect of these fuels should fall on the agency that's registering the fuel," he says.
State Fears
Compounding opposition to the Shimkus bill are its provisions that would limit the authority of state and federal courts to hear defective product suits over fuels covered under the law.
One of the leading concerns is the bill's possible effect on ongoing litigation over MTBE contamination. New Hampshire's Senior Assistant Attorney General K. Allen Brooks testified last month that the state fears the bill would threaten its lawsuits over widespread groundwater contamination by the highly soluble chemical, which escaped from underground storage tanks. 
While such suits would have been barred under language championed by DeLay in 2005, the provision was not included in the final House-Senate comprehensive energy law that was ultimately enacted. That measure did eliminate the provision in the Clean Air Act that required oxygenates, such as MTBE, to be mixed in gasoline, replacing it with the renewable-fuel standard.
Can Lawmakers Sell Liability-Free Gas?
Sen. John Hoeven, a North Dakota Republican and the lead sponsor of a Senate companion to the Shimkus bill, indicated the measure would be tweaked to avoid affecting ongoing MTBE suits, after a senator expressed concern about it. "We've covered it," he said last month. Shimkus says he did not intend to revive the MTBE fight.
But the National Conference of State Legislatures' Frederick says tweaks related to MTBE litigation will not change the group's opposition to the measure, which she said pre-empts longstanding state laws on product liability, consumer safety and negligence.
"We're talking about decades of state policy that have been crafted over the years in these very substantive areas of the law," she says. "And to just erode that with the stroke of a pen by a Congress that seems hell-bent on eroding state authority is really a momentous thing."
FOR FURTHER READING: The Shimkus bill is HR 4345; the Gonzalez bill is HR 523; and the Hoeven bill is S 2264. Ethanol's growing pains, 2011 CQ Weekly, p. 1979; ethanol subsidies, p. 947; energy law (PL 110-140), 2007 Almanac, p. 10-3.