CQ WEEKLY – IN FOCUS
May 19, 2012 – 11:06 a.m.
Management Versus Workforce
By Finlay Lewis, CQ Staff
For more than a year, the Labor Department has remained largely a bystander to battles about unions, fought in the hearing rooms of the National Labor Relations Board and in Republican-controlled governments in states such as Indiana, Ohio and Wisconsin.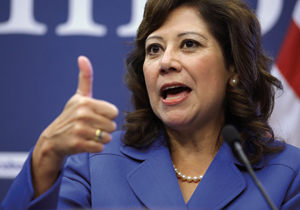 | | |
| --- | --- |
| LET'S MOVE: Solis has pressed her Labor Department to enforce wage and hour laws. It 'is arguably the most worker- and union-friendly that we've seen in the last half-century,' says a Cornell professor. (CHIP SOMODEVILLA / GETTY IMAGES) |   |
But the agency, which will mark its 100th anniversary next year, is advancing an expansive workforce agenda separate from the disputes about union organizing and collective bargaining that have provoked political showdowns.
And the issues being pressed by Hilda L. Solis, who assumed her job as Labor secretary by announcing, "There's a new sheriff in town," may prove no less contentious.
One involves Solis' aggressive enforcement of federal wage and hour laws.
By concentrating her efforts on workplace safety and increased whistleblower protections as well as on stepped-up enforcement of wage and hour laws, Solis has become a target for congressional Republicans and their pro-business allies who claim that she is exploiting her Cabinet post to advance union causes.
Solis' approach to administering the agency has been far more aggressive than that of her predecessor, Elaine L. Chao, who held the post for all of George W. Bush's administration. With unions a greatly diminished presence in the country's economic life, Solis has demonstrated a determination to establish the agency as a countervailing force to the power of management in the workplace.
"By increasing the minimum wage and holidays and things along those lines, the Labor Department can press for gains, which would essentially be the type that unions would get in collective bargaining," says Gary N. Chaison, an industrial relations professor at Clark University in Worcester, Mass.
A Teamster's daughter and former House member who represented a working-class district on the fringes of Los Angeles, Solis brought to the department a history of backing organized labor.
Although her supporters assert that Solis has avoided inappropriately tilting the balance in favor of organized labor, Republicans say just the opposite.
Dennis A. Ross, a Florida Republican on the House Education and the Workforce Committee, says, "There is a strong distinction between the American worker and the labor movement in this country. We are seeing the Labor Department being driven by big labor and union labor as opposed to being concerned with the American worker."
In a possible precursor of battles to come, concerted opposition by agriculture groups, employer associations and farm-state politicians — including several politically vulnerable congressional Democrats — prompted the Labor Department late last month to withdraw a proposed rule regulating child labor in agriculture.
Soon after, the department announced that Wal-Mart Stores Inc. had agreed to pay nearly $5 million in back wages and damages to 4,500 employees nationwide, along with almost $464,000 in civil penalties. The agreement followed an investigation by the department's Wage and Hour Division, which found that the company had misclassified the workers in exempting them from the Fair Labor Standards Act's requirements for overtime pay.
Management Versus Workforce
Steven M. Guttell, a former lawyer with the department and an expert on employment law, recently described the 1938 law as "the sleeping giant of the labor and employment world" that roused itself only after a couple of government investigations and President Obama's inauguration.
'Punitive Enforcement'
In congressional testimony last fall, Nancy Leppink, the department's deputy administrator for the Wage and Hour Division, said the division had hired and trained 300 new investigators and shattered a fiscal-year record in 2011 by collecting nearly $225 million in back wages owed to more than 275,000 workers.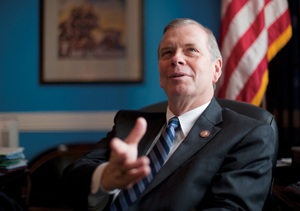 | | |
| --- | --- |
| PUNITIVE: Walberg says the Labor Department's 'adversarial approach' has hurt businesses. (BILL CLARK / CQ ROLL CALL) |   |
That failed to impress the leadership of the House Education and the Workforce Subcommittee on Workforce Protections, which heard the testimony.
Tim Walberg, a Michigan Republican and the chairman of the panel, complained that the department has "taken an adversarial approach to enforcement of the law." He added, "The bureaucracy is growing, with more staff dedicated to punitive enforcement activities and drafting burdensome regulations, which means employers will have fewer resources to help follow the law and face an ever-growing bureaucracy ready to catch them when they don't."
According to a Labor Department study cited by Lynn Woolsey of California, the subcommittee's ranking Democrat, between 10 percent and 30 percent of companies nationwide in 2000 had misclassified their employees — presumably meaning that in some cases workers had been improperly denied rights to overtime and other benefits.
Woolsey also cited a 2009 finding by the Government Accountability Office that misclassifications had cost the Treasury $2.7 billion in unpaid payroll and unemployment insurance taxes.
Many of the disputes investigated by the Wage and Hour Division involve sorting out conflicting claims by management and labor over who qualifies as an independent contractor on a work site and therefore can be excluded from the ranks of salaried workers eligible for a range of job benefits and protections.
In 2005, Woolsey said, the department's Bureau of Labor Statistics found that 10 million American workers had been categorized as independent contractors, making them ineligible for workers' compensation, overtime pay, benefits under the Family and Medical Leave Act and the right to join a union.
While indicating that it wasn't clear how many of those workers had been incorrectly listed, she added, "The misclassification of workers is one of the most odious forms of wage theft."
There are other ways in which the department's work can backstop organized labor.
Bill Samuel, the AFL-CIO's legislative director, credited the department with helping to shape an executive order favoring project-labor agreements for federal construction projects. The edict, issued early in the Obama administration, was similar to one advanced by President Bill Clinton and subsequently suspended by Bush.
Management Versus Workforce
Obama's order encourages, but does not mandate, that federal agencies enter into agreements with contractors to use union labor on construction projects in excess of $25 million.
Obama's action upset Republicans and many in the business community. Rep. John Kline, the Minnesota Republican who chairs the Education and the Workforce panel, complained that the agreements "are clearly designed to favor big labor at the expense of small businesses," while the editorial page of The Wall Street Journal contended that the order was a sop to unions.
When the Building and Construction Trades Department of the AFL-CIO recently endorsed Obama's re-election, its press release cited among its reasons the agreements along with the Labor Department's crackdown on misclassified independent contractors.
Richard W. Hurd, who teaches laborstudies at Cornell University, said Solis' record describes a Labor Department "that is arguably the most worker- and union-friendly that we've seen in the last half-century."
That's a sharp departure from the Labor Department under Chao.
In a Labor Day 2008 statement, California Democrat George Miller, then chairman of the House Education and Labor Committee, blamed Chao for losing sight of the department's original purpose and added that she and "other high-level appointees came to their posts determined to weaken the agency." He also scolded her for "severely" weakening the Wage and Hour Division, saying, "Wage theft has skyrocketed at the hands of this administration."
Two years later, Miller said the trajectory had been reversed. "This is partially the result of having a secretary who understands what it means to work for a living," he said.
Phil Roe, a Tennessee Republican and the chairman of the Education and Labor panel's Subcommittee on Health, Employment, Labor and Pensions, said that the department has become too adversarial in its workplace policies.
"If you end up making enough rules, sooner or later you are going to make lawbreakers out of law-abiding citizens," Roe said. "That's what these rule makers are doing: They are not making workplaces safer; they are not making [them] any better."
To curb what they consider the department's excesses, Republicans have introduced several measures aimed at limiting its regulatory options.
Given Obama's veto power, there is little likelihood of these bills making it into law during the 112th Congress. At the same time, the fate of the proposed rule affecting child labor in agriculture demonstrates that Republicans have sufficient muscle in Congress to stymie measures unfriendly to allied business and trade groups.
Samuel, the AFL-CIO lobbyist, said, "Supporters of organized labor and collective bargaining probably can't pass bills that improve conditions for collective bargaining, nor can the anti-union forces pass bills constraining it. I think we're at a stalemate."
FOR FURTHER READING: Labor agenda, CQ Weekly, p. 236; farm labor rules, 2011 CQ Weekly, p. 2311; NLRB, p. 2274.